On Thursday at Pittsburgh International Race Complex, a group of MotoAmerica riders got together with FIMNA Safety Officer Dan Argano and helped affix Medallia logos to some new sections of soft barriers that were deployed at PittRace.
The barriers were paid for by a generous donation to the Roadracing World Action Fund from friend of MotoAmerica Leslie Stretch, on behalf of Medallia, who is the title sponsor of the Medallia Superbike Championship.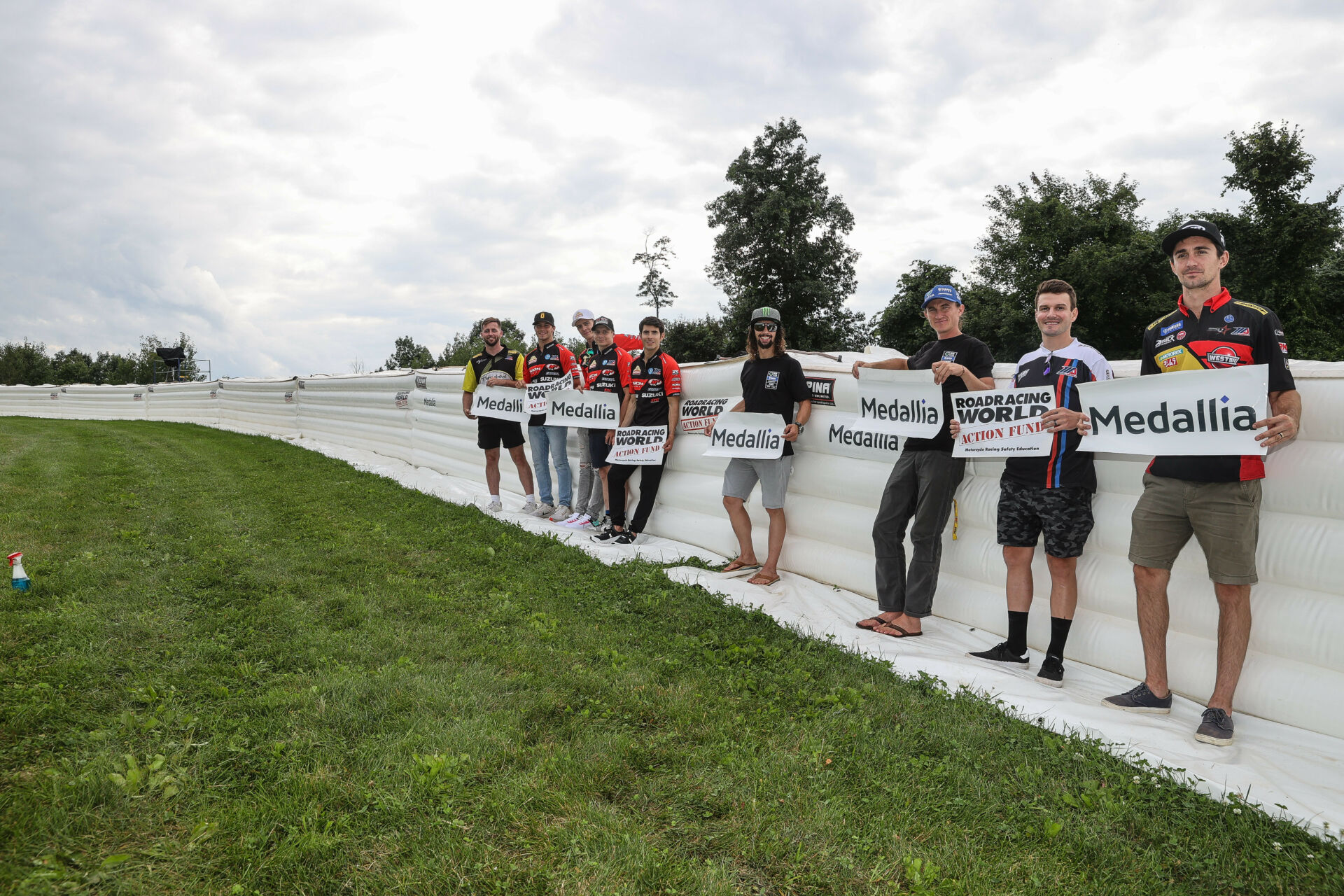 Among the riders who participated were Fresh N Lean Progressive Yamaha Racing's Jake Gagne (the two-time and defending Medallia Superbike Champion) and his teammate JD Beach; Vision Wheel M4 ECSTAR Suzuki teammates Richie Escalante, Brandon Paasch, Tyler Scott, and Teagg Hobbs; Tytlers Cycle Racing's Cameron Beaubier; Westby Racing's Mathew Scholtz; and Thrashed Bike Racing's Max Flinders. In addition, MotoAmerica Director of Operations Niccole Cox and Race Director Rick Hobbs pitched in and helped apply some of the Medallia logos, as well.
"Every racer in MotoAmerica, as well as our staff and officials, know the importance of the Roadracing World Action Fund in protecting our riders through the purchase and deployment of soft barriers," MotoAmerica President Wayne Rainey said. "I'm so grateful to Medallia and our good friend Leslie Stretch, for donating a significant sum for the purchase of new soft barriers, which are being used this weekend to protect our competitors during the MotoAmerica Superbikes at Pittsburgh event."
The Roadracing World Action Fund is a 501 (c) (3) non-profit organization that promotes motorcycle racing safety, and in particular, encourages and facilitates the use of soft barriers at motorcycle racing events, including all MotoAmerica races.
For more information about the Roadracing World Action Fund, including how to donate, click here.