Copyright 2019, Roadracing World Publishing, Inc.
By David Swarts
Three-time AMA Superbike Champion and former FIM Superbike
World Champion Ben Spies has been publicly doubting the future of the USA's premier
motorcycle road racing series, MotoAmerica, and series owners (including
President Wayne Rainey) and race team principals aren't impressed.
During this past weekend's FIM Superbike World Championship event
at Misano, Spies was interviewed by series reporter Gordon Ritchie about potentially
getting back into racing. It's a question Spies gets whenever he shows up at a
racing event considering his incredible racing resume and the fact that he is
still just 34 years old.
In that interview, which was published on multiple websites,
Spies commented on potentially racing in MotoAmerica and was quoted as saying,
"From what I have heard the factories are pulling out at the end of this year,
and I don't know the longevity of that series."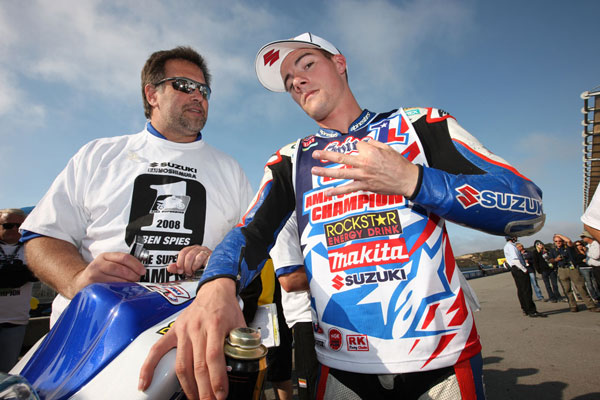 (Above) Ben Spies (with longtime crew chief Tom Houseworth) at Laguna Seca, after winning his third consecutive AMA Pro Superbike Championship, in 2008. Photo by Brian J. Nelson.
Roadracingworld.com then interviewed Spies on June 24 about
his potential return to racing, and Spies re-iterated and expanded those same
sentiments, saying, "I know the position of a lot of stuff in America. I know
Wayne [Rainey, MotoAmerica President] didn't really like that article and
probably what I said about the factories pulling out or the series longevity
because he said we just signed a 10-year rights deal for AMA sanctioning and
all that kind of stuff.
"But again for me, looking back when I'm not a spokesperson
for anybody, I know for sure MotoAmerica is losing seven figures a year and
there's no way they'll keep doing it no matter what licensing rights," said
Spies.
"That's why I'm saying like me coming back and trying to
think about MotoAmerica, I'm not going to say no because two years ago
[comeback plans] actually starting getting pretty real, but in the same time if
what I'm hearing is going to happen, that's definitely not exactly my
motivational plan," Spies said.
To get a response to Spies' comments about MotoAmerica,
Roadracingworld.com reached out to three-time 500cc Grand Prix World Champion Rainey,
who said, "This is our fifth year of MotoAmerica. Last year in 2018, we signed
a 10-year extension with the AMA for the commercial rights and sanction until
2029. We wouldn't have kept doing this for five years and signed up for another
10 years if we didn't believe in this, we would have quit a long time ago. And we're not going anywhere.
"I don't comment on rumors. I comment on facts. And he never
contacted us," Rainey continued. "I'm not sure where he got that info. The
other stuff that he commented on as far as rumors about MotoAmerica and the
factories, I don't think he even called Yamaha or Suzuki and asked them that,
because they sure haven't told me that. He's just commenting on rumors."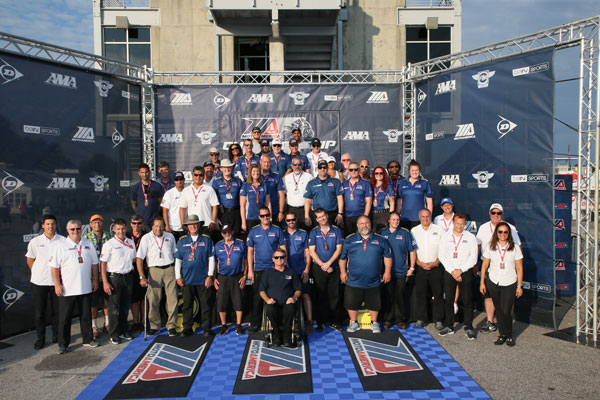 (Above) The men and women of MotoAmerica at the 2018 season finale at Barber Motorsports Park. Photo by Brian J. Nelson.
"I don't know where he got his information, but I know it
didn't come from anyone here at Suzuki," Pat Alexander, Racing Manager for
Suzuki Motor of America, Inc., told Roadracingworld.com. Alexander said he couldn't
comment on Suzuki's future plans, but he added, "Just like everyone else, I
think MotoAmerica has taken road racing to another level compared to what we
were used to in the past. The races that are put on are very high-class and
very strong. The racing is good in just about every class. They seem to have
done their homework and are trying very hard to put on the best road racing in
the country."
"I can't speak for anybody else's plans, but clearly our
plans are not announced or even relevant at this point. Maybe [Spies] has a
crystal ball or something," Keith McCarty, Yamaha Motorsports, Racing
Department Manager, told Roadracingworld.com. "I think things [in MotoAmerica]
are going good. The TV package is good. Entries are pretty good for most of the
classes. They are doing everything they can to give us a good series to race
in. I'm sure everybody feels the same way."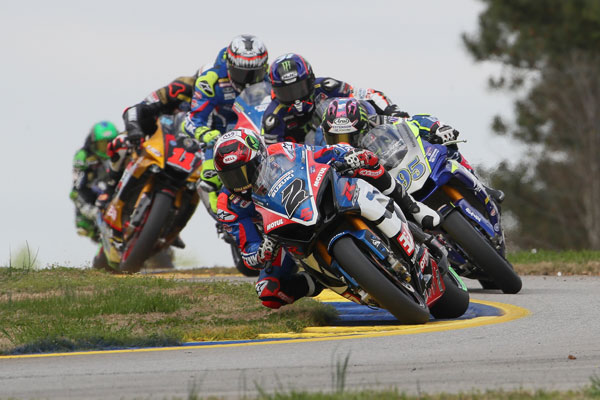 (Above) Action from a MotoAmerica Superbike race at Road Atlanta earlier in 2019. Photo by Brian J. Nelson.
In fact, the apparent strength of the MotoAmerica series had
led riders from the World Championship series and other national series to routinely
explore possibilities to race in the series, according to Chuck Aksland, who is
not only the COO of MotoAmerica but is also the manager for four-time Superbike
World Champion Jonathan Rea and deeply embedded in business dealings in the
MotoGP and World Superbike paddocks.
"We see that [interest] every off-season with the amount of European
riders, both from MotoGP and Superbike, who inquire about racing here in
MotoAmerica," Aksland told Roadracingworld.com. "I think that the influence
that Toni [Elias] has had and exposure that the series has had to those people
it looks like a viable place to continue racing. Our Superbike races are shown
on Eurosport UK and of course on MotoAmerica Live+, and generally the
perception is good, the racing is good, and the racetracks are fairly decent.
"Our TV ratings with the platforms we have going on we're
seeing about a 200% increase in viewership [over 2018]," continued Aksland. "We're
on credible networks and our Live+ has exceeded our expectations for this year.
I think people are happy with that and that will continue to grow.
"We're looking [toward the next MotoAmerica event] at Laguna
Seca with a huge problem with paddock space because we have a record number of
entries, more than any other race that we've had. With all those elements and
the feedback we're getting for sponsorship for 2020, we see a very bright
future, to be honest," Aksland said.
Rainey added, "I think back and this sport gave me
everything I have, by creating a competitive series so I could go and race
anywhere in the world, and it's no different now. America needs a competitive
racing series so we can breed young racers, whether you're a team or you have a
performance-based business. We're doing everything we can to make it work. I
remember working hard and putting on my helmet and getting race results. And if
something didn't work, trying something else. This is no different. We're
trying things and making changes if something doesn't work. The bottom line is,
we're making a big investment here, and we're making progress. "
Businessman, MotoAmerica partner and CFO Richard Varner told
Roadracingworld.com that the four partners—Terry Karges, Rainey, Aksland, and
Varner—sat down in 2015 and put together a five-year business plan. "It's
uncanny how close we've come to that plan," Varner said. "We're a five-year
start-up. And what we've distilled it
down to is attendance and viewership. We need to make people aware of what it
is, make sure they know how they can find it, and motivate them to attend or
watch the races on TV or live streaming on their mobile devices. And we've been
doing that.
"And despite what Ben Spies says, it's well-funded." Varner
continued. "I guess the rhetorical question I would ask is, 'Who is Ben Spies
to comment on our finances?' He doesn't know us. He hasn't seen the financials.
He used to race. Is he even relevant now? "
Rainey had the last words. "We're committed, top to bottom,"
Rainey said. "MotoAmerica's not going away. We're here to stay."