NJMP Awaits The MotoAmerica Superbike Series This Weekend
The Story Remains The Same: Can Anyone Stop Cameron Beaubier?
IRVINE, CA – Seven different riders have won AMA Superbike races at New Jersey Motorsports Park in the 11-year history of the series in the Garden State. Of those seven, three of them will be doing battle in the two HONOS Superbike races during the MotoAmerica Superbikes at New Jersey event this weekend, September 11-13.
Led by four-time MotoAmerica Superbike Champion Cameron Beaubier, the series arrives in New Jersey for round six of the nine-round series with the first of back-to-back races with the teams packing up on Sunday night and heading to Barber Motorsports Park for round seven, September 18-20.
Beaubier and his Monster Energy Attack Performance Yamaha will face off against 22 others in the HONOS Superbike races in search of his fifth career win on the 2.25-mile, 14-turn racetrack. Among those entered and hoping to stop him from doing just that are the other two active racers who have won at NJMP on a Superbike – M4 ECSTAR Suzuki's Toni Elias and Scheibe Racing BMW's Josh Herrin.
Following his ninth win of the 10-race-old season two weeks ago at the Ridge in Washington State, Beaubier holds a commanding 54-point lead in the championship. Thus far in 2020, Beaubier has been unstoppable, leading virtually every practice and qualifying session, starting eight of the 10 races from pole position, and winning nine of the 10 races. Only his teammate Jake Gagne has bettered him in qualifying, the former MotoAmerica Superstock 1000 Champion earning pole position for round five at the Ridge.
The only person other than Beaubier to win a race in 2020 is M4 ECSTAR Suzuki's Bobby Fong, the 2019 MotoAmerica Supersport Champion taking advantage of Beaubier's only miscue of the year – a crash out of the lead in race two of Road America 2 – to take the first HONOS Superbike victory of his career.
The four men at the front in the majority of this year's races are the four men at the top of the point standings. Beaubier leads Gagne by 54 points with the latter standing on the podium in eight of the 10 races.
Westby Racing's Mathew Scholtz is third in the title chase, the South African finishing second to Beaubier in four races while earning podium finishes in two other races. Scholtz is 22 points behind Gagne and 76 points in arrears of Beaubier.
The aforementioned Fong is fourth and already 111 points behind Beaubier. His title aspirations were squashed by a race-one crash at Pittsburgh International Race Complex that ended up putting him out of race two as the pain in his left hand/wrist made racing impossible. Fong, however, remains the only man other than Beaubier to taste victory in 2020 and he comes to NJMP fresh off two podium finishes at the Ridge and a few weeks of healing time.
The fight for points in the bottom half of the top 10 is intense with Herrin currently holding down fifth on the Scheibe Racing BMW but by just nine points over KWR Ducati's Kyle Wyman, the New Yorker coming off a miserable round at the Ridge where he failed to score a point, and Fong's M4 ECSTAR Suzuki teammate Toni Elias.
Elias, a three-time winner at NJMP, is having a difficult season and has seen his podium-less streak grow to an unthinkable 11 races. Of late, however, Elias seems to be getting closer to the form that you'd expect of a 32-time MotoAmerica Superbike race winner.
Sixteen points behind Wyman/Elias is team owner/racer David Anthony, the FLY Racing ADR Motorsports-backed Australian sitting eighth in the standings. Two men are trying to close the gap to Anthony and those two are Altus Motorsports' Cameron Petersen, the current points leader in the Stock 1000 class, and Anthony's teammate, Bradley Ward. Petersen and Ward trail Anthony by 15 and 16 points, respectively, with Ward rounding out the top 10 in the series after five rounds (and 10 races).
The HONOS Superbikes will take to the NJMP racetrack for the first time on Friday morning at 11:20 for qualifying practice one. They will compete for pole position in the Superpole session at 11:15 a.m. on Saturday, followed by HONOS Superbike race one at 4:10 p.m. On Sunday, race two will take place at 3:10 p.m.
The HONOS Superbikes will be joined at NJMP by the four MotoAmerica Series support classes – Supersport, Liqui Moly Junior Cup, Stock 1000 and Twins Cup.
New Jersey Motorsports Park Notes…
AMA Superbike racing has been held for the past 11 years in succession at New Jersey Motorsports Park with this year's race marking the 13th AMA Superbike event at the facility in Millville. The discrepancy in those two numbers stems from the 2016 season when NJMP hosted two rounds of the MotoAmerica Series.
That's Mr. New Jersey to you: The most successful AMA Superbike racer at NJMP is far and away Josh Hayes. Hayes, who is currently a rider coach in the MotoAmerica paddock, has won 11 of the 24 Superbike races held at NJMP. Fittingly, Hayes won the first two Superbike races held at NJMP in 2009 and followed that up with two more wins in 2010. In fact, the four-time AMA Superbike Champion won seven of the first eight races held in New Jersey. Hayes also won the first two Superbike races of the MotoAmerica era at NJMP in 2015.
Three active MotoAmerica racers have won Superbike races at NJMP: Cameron Beaubier, Toni Elias and Josh Herrin. Beaubier leads the way with four wins (two in 2016, one in 2018 and one in 2019), followed by Elias' three victories (one in 2016, two in 2017) and Herrin's two wins (one in 2013 and one in 2018).
If you see Roger Hayden walking around the paddock at NJMP this weekend during a break in his announcing duties on MotoAmerica Live+, buy him a soda or something. Hayden, who won twice in New Jersey during his Superbike career, finished second five times. Included in those five second-place finishes were a .044 of a second loss to Josh Hayes in 2015, a .156 of a second loss to Toni Elias in 2016 and a .039 of a second loss to Elias in 2017.
Four-time MotoAmerica Superbike Champion Cameron Beaubier arrives at NJMP with nine wins from the 10 HONOS Superbike races held thus far in 2020. His ninth win pushed his career total to 47 AMA Superbike wins, which puts him third on the all-time AMA Superbike win list behind Mat Mladin (82 wins) and Josh Hayes (61 wins).
Garrett Gerloff, who is now racing in the World Superbike Championship, is the current Superbike lap record holder at NJMP. The Texan earned pole position last year with a record-setting 1:20.323.
Gerloff went on to win Superbike race one a year ago at NJMP, besting his Yamaha teammate Beaubier by 1.7 seconds. Beaubier bounced back the following day to beat JD Beach by 1.4 seconds for the victory. Gerloff, meanwhile, was declared unfit to race on Sunday after crashing during morning warm-up and suffering a concussion.
The fastest race lap of last year also went to Gerloff with the Texan lapping at 1:20.588 in race one. Beach had the fastest lap in race two – a 1:20.785 – en route to second place behind Beaubier.
More, from a press release issued by Westby Racing:
Westby Racing's Scholtz And Wyman Are Ready To Race At New Jersey Motorsports Park This Weekend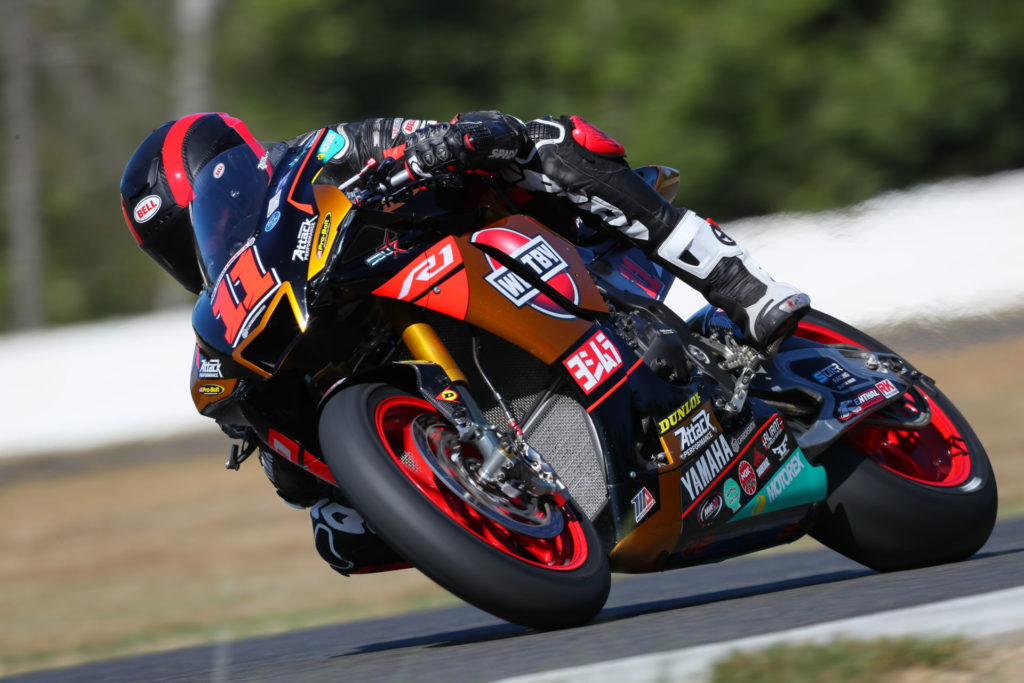 Tulsa, OK – Round six of the 2020 MotoAmerica AMA/FIM North American Road Racing Championship starts this Friday at New Jersey Motorsports Park (NJMP) in Millville, New Jersey, and riders Mathew Scholtz and Cody Wyman, along with the entire Westby Racing team, are ready to race at one of their favorite tracks.
Mathew, who pilots the #11 Westby Racing Yamaha YZF-R1 Superbike, unfortunately had his five-race podium streak snapped when he finished just off the podium with a fourth-place result in Superbike race two at Ridge Motorsports Park two weeks ago. He is determined to start another podium streak, and there is no better place to start than at NJMP's 12-turn, 2.25-mile Thunderbolt Raceway.
"The Jersey race has always been a track that's been good to me in the past," Mathew said. "The Ridge was a very good weekend for us, with improving the bike and just being that quick without having been there before. So, it'll be good to be back on a familiar track. (Crew chief) Ed (Sullivan), (electronics specialist) Herschel (Auxier), and I have a very good idea of where we need to improve the bike. The more track time we have, the better we've been getting. I think, if there are one or two tracks where we can challenge (championship leader Cameron) Beaubier, this is definitely one of them. So, I'm very, very excited. The weather's looking 50-50, but whether it's rain or sun, I should have a decent pace at New Jersey. We'll just take it as it comes, and I know what I need to do to put the Westby Racing R1 up at the front."
Superbike Superpole is on Saturday at 11:15 a.m. Eastern. Superbike race one starts on Saturday at 4:00 p.m. Eastern and will be broadcast LIVE on FOX Sports 2 (FS2) and Eurosport, as well as streamed onMotoAmerica Live+. Superbike race two starts on Sunday, also at 3:00 p.m. Eastern with LIVE TV coverageon FOX Sports 1 (FS1) and Eurosport, plus it will be streamed on MotoAmerica Live+.
Westby Racing's MotoAmerica Junior Cup rider Cody, who grew up in Western New York and now lives in Las Vegas, is excited to return to the Northeast, especially after recovering from the effects of a crash while testing at Ridge, which forced him to withdraw from both of the weekend's races. Cody has returned to form and is excited to race the #34 Yamaha YZF-R3 this weekend.
"It was a long trip back from Washington, and I couldn't be happier to get back to the East Coast," Cody said. "New Jersey is a great track with a large fan base. It'll be great to put on a show for the fans. I've done some oxygen therapy to help recover from my injury at Ridge, and I'm ready to go for the final few rounds. The team and I are determined to finish the season strong with some podium finishes."
Junior Cup race one starts on Saturday at 3:10 p.m. Eastern, and race two is on Sunday at 2:00 p.m. Eastern. Both Junior Cup races will be streamed on MotoAmerica Live+, and they will also be broadcast back-to-back on September 15 via tape-delay on FOX Sports 2 (FS2) starting at 9:00 p.m. Eastern.
Watch Great Racing While Maintaining Your Social Distance
MotoAmerica and New Jersey Motorsports Park will have safety measures in place this weekend to help protect you, the riders and teams, MotoAmerica staff, and track personnel. There is plenty of room for you, your family, and/or your entire crew to enjoy professional motorcycle road racing at one of the country's best racetracks.
Pick Up FREE Westby Racing Posters And A T-Shirt
Westby Racing posters of Mathew and Cody, as well as T-shirts, will be available next to the team garage throughout the weekend, so swing by and pick some up while maintaining proper social distancing.
Check Out The Westby Racing Sponsor Showcase
BrakeTech, Eazi-Grip, GB Racing, and Worldwide Bearings will be the featured team sponsors on display at the Westby Racing garage, so be sure to stop by, say hello, and find out more about some of the companies that support the team.
For more updates about Westby Racing, including news, photos, and videos, visit https://www.WestbyRacing.com
Also, follow "Westby Racing" on your favorite social media sites.
More, from a press release issued by RideHVMC Racing:
Alexander and RideHVMC Racing Set For Home Round at NJMP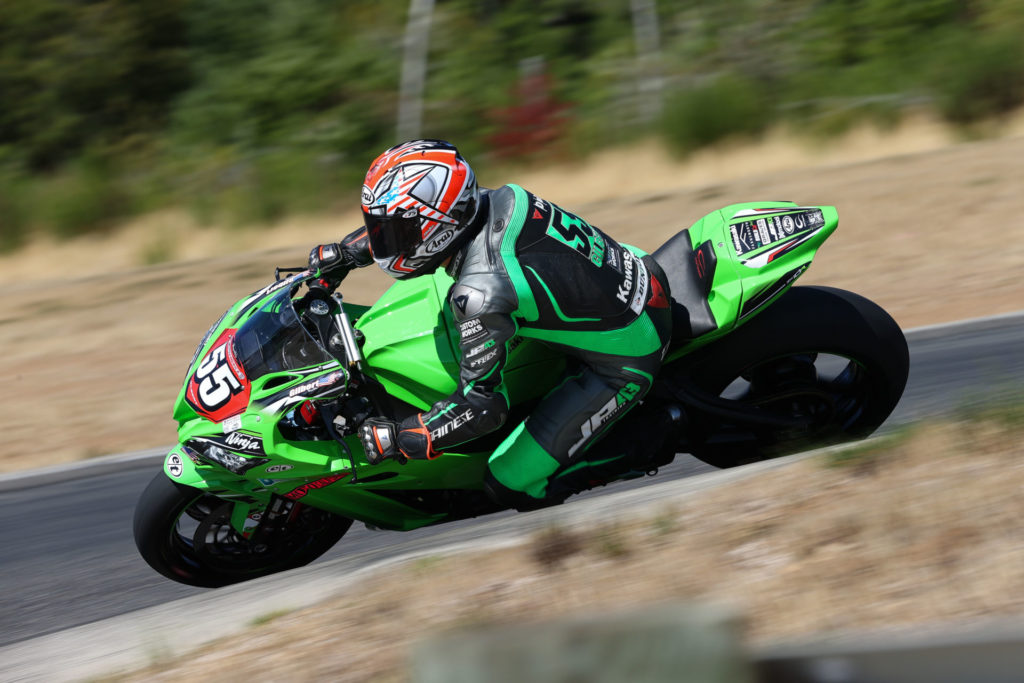 The New York based RideHVMC Racing team returns back to the east coast for the 6th round of the 2020 MotoAmerica championship at New Jersey Motorsports Park.
The previous race weekend at the Ridge Motorsports Park in Washington state proved to be very tough on both rider and equipment. After qualifying P2 on the front row of the grid for Sunday's Stock 1000cc Corey was involved in a pile-up on the first lap of Saturday's Honos Superbike race. While he fortunately walked away with just some bumps and bruises the RideHVMC ZX-10 experienced some severe damage to its frame. This left the team with no option but to perform a last minute swap to a spare chassis for Sunday's Stock 1000cc race.
Plagued by some electrical gremlins, the team missed Sunday morning's warmup and so Corey started the Stock 1000cc race with virtually no time on the freshly rebuilt bike. After a slow start and a late race battle with Travis Wyman, Corey was able to secure a third place finish and valuable championship points. This also marked Corey's sixth podium finish of the season.
Corey aims to leave the difficult weekend at The Ridge Motorsports Park behind in the rearview as he heads to his home race. Corey added, "I'm so excited to return to a track I'm way more comfortable with and have had success at in the past. The Ridge was difficult for me in a lot of ways but fortunately I've got a great team around me and we persevered to the best of our abilities. I'm eager to get this weekend's races underway in front of our friends and family, it will be great event!".
The RideHVMC team now trails in the Stock 1000cc championship points battle by 12 points as they head to New Jersey Motorsports Park this weekend, September 11-13th. Join Corey and the team at the races by using the discount code "RideHVMC" to save 10% off ticket purchases via MotoAmerica.com! We hope to see you all there.
The 2020 season would not be possible without the following team and technical partners: Hudson Valley Motorcycles, Iconic Motorbikes Auctions, New Rage Cycles, MJRS Freeman Racing, JJD Corporation, Trinity Construction Services, Graves Motorsports, Kawasaki USA, Maxima Racing Oils, Superlite Sprockets, Moto-D Racing, Accossato Racing, Galfer Brakes, Samco Hoses, From The Ashes Embroidery, Impact Canopies, Arai Helmets, Alpinestars, Gemini Racing, Flex Racing, Red Mist Racing, JP43 Training, MotoAnatomy, and Team Four3 Performance Lab.
If you're interested in partnering with the RideHVMC Racing team please email [email protected] for more information. You can stay up to date with Corey and the team on social media via: @corey23alexander or @ridehvmc.
About Hudson Valley Motorcycles
Hudson Valley Motorcycles is a family owned and operated motorcycle dealership that has been serving New York's Hudson Valley and Westchester County as well as Connecticut, Massachusetts, New Jersey, and New England region. HVMC has offered Kawasaki, Ducati, Scrambler Ducati, Suzuki, Energica and ATV, motorcycle or UTV Sales, Parts, and Service for over 50 years. For more info visit hudsonvalleymotorcycles.com, call (914)-762-2722 or follow @hvmotorcycles on social media.
More, from a press release issued by Kyle Wyman Racing:
KATO Fastening/StoneCastle/KWR team ready for New Jersey as MotoAmerica Championship heads east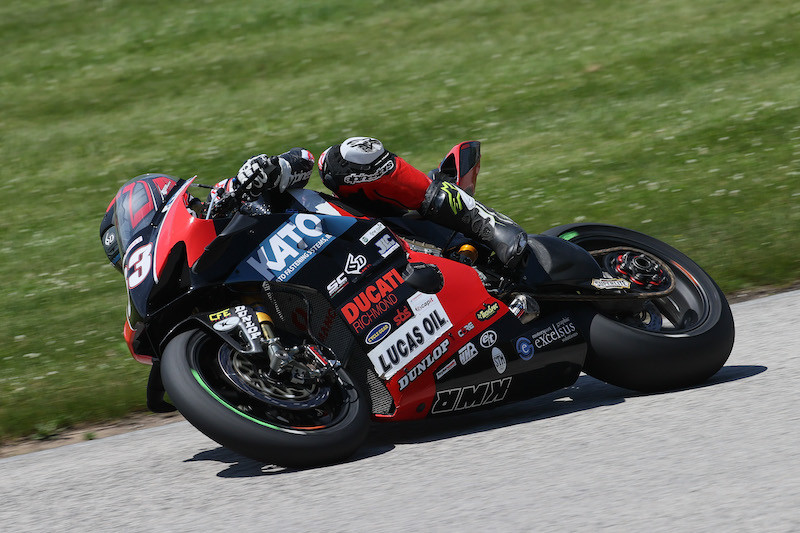 TUCSON, Ariz. — The KWR Ducati Team is heading to the east coast this weekend for the sixth round of the MotoAmerica Series at New Jersey Motorsports Park (NJMP). Kyle Wyman will ride the KATO Fastening/StoneCastle/KWR Ducati Panigale V4 R as the team looks to rebound from a challenging weekend at The Ridge Motorsports Park.
NJMP is a venue that Wyman has had success at in the past, with his first career Superbike podium back in 2017 and race wins in other categories. The KWR team has been hard at work preparing for two back-to-back weekends, with New Jersey this weekend and the following round at Barber Motorsports Park one week later.
"The last few rounds have been a challenge for myself and the crew as we've adapted to an ever-evolving motorcycle and team structure," Wyman said. "Sure, we have encountered some bad luck with some big crashes and unforeseen issues with the bike, but each and every scenario has been a learning experience that has contributed to an enhanced plan and focus in our approach. In short, I'm just trying to find positives in our setbacks that can make us stronger for future events and seasons. I'm proud of my crew and the hard work they have put in to get us prepared for these next few rounds."
KATO Fastening Systems returns as title sponsor for the Jersey round, the thread insert manufacturer and technical partner to KWR. They are joined by StoneCastle Financial as co-title sponsor, the NY-based investment company. With help from Ducati North America and Ducati Corse, the KWR team is in position to make a push for more podium results and a climb back toward the front of the grid.
"This season we have proven that we have the pace to fight for the podium," Wyman added. "The ability to be in that hunt every weekend is something that requires a high level of preparation and I'm very excited to be working with Ducati North America and Ducati Corse on improving our program to be at the front more consistently. We have some great things happening for our team that will carry through the balance of 2020 and into 2021."
After the zero-points weekend in Washington, Wyman dropped from 4th to 6th in championship standings. But with 10 more Superbike races still to be run, half of the 2020 season is up for grabs with some strong tracks for the KWR Ducati Team.
How to keep up with the KATO Fastening/StoneCastle/KWR Ducati Team:
Friday practice starts at 11:20am EST, with LIVE coverage on MotoAmerica Live+ streaming. Both race one and race two on Saturday and Sunday will be LIVE on Fox Sports 1 (FS1) at 4:00pm EST on Saturday and 3:00pm EST on Sunday.
Visit www.kylewyman.com for more news and updates.