Ducati M797 Monster returns for round 2 of the Moto America Twins Cup at VIR with Michael Barnes after a perfect maiden weekend at Road Atlanta.
Round one of the MotoAmerica Twins Cup saw double domination by veteran racer Michael Barnes on the Quarterley Racing Ducati entry. Michael was chosen as the bike's first rider based on his vast experience on everything on two wheels. In true form, he gave us the needed feedback and adapted quickly to get the bike on the top of the podium.
After Atlanta, it was an easy choice for us to invite Michael to pilot the bike again at VIR and some changes since Atlanta would be best evaluated by him. With the momentum of a points lead, we would be happy to work with Michael towards a full season of a championship chase if it can fit his plans. We know we came at him on very short notice before the season began as things had to be sorted with the bike and homologation process. We are also very happy to see this class filling up. It looks like 40 entries for VIR which is really great for the series and promises to be an action packed race on the technical VIR circuit. Ducati North America was instrumental in getting this program off the ground with the newly homologated bike and hopefully the competitiveness of it as it was prepared by MotoCorse Performance of Ft. Lauderdale, FL on the build will inspire others to jump on one as well.
Adding the Twin to our Junior Cup development program made sense as a future step forward for our young racers in their progression, and our team's association with Ducati and Eraldo Ferracci as a sponsor made it a natural fit.
The bike has transformed from fittingly "Test Bike Black" to the proper Ducati Red so look twice.
From Michael Barnes:
"We were extremely pleased with the results we got at Road Atlanta on our Quarterley Racing Ducati Monster 797. It was challenging to have such limited time on the motorcycle before going out to race, but the bike actually worked pretty well for me when I started the weekend. Thermosman made some ride height changes and valving adjustments to the front suspension based on the feedback I provided from the laps we had taken in the rain. It ended up working out very well for me in the dry races. I was able to put my head down and get out front quickly in Race 1, but Race 2 was a bit harder to get to the front as promptly as I did the day before. The bike sits high up for me and I wasn't able to get as good of a start as I did in Race 1. I think we will take into consideration some ergonomic changes before VIR to accommodate the tall seat height and improve my starts. I've been a bit sick during the last week, but I'm taking care of myself the best I can so I can be in fighting shape for racing this coming weekend. The amount of support from the paddock, my fans, friends, girlfriend, and family has been tremendous and very motivating. Thank you all!"
Twins Class team sponsors:
Ducati North America, MotoCorse Performance, Inter-Tech Supplies, Fast By Ferracci, Inc, Wiseco Powersports Motul USA., Regina Chain, BrakeTech USA, Inc., Ferodo Racing, Matt & Jesse, Defiance Lifestyle, Woodcraft Technologies, Dynojet Research Inc., Beta Tools of Italy – USA, RoadracingWorld.com, Drippinwet.com, MOTO-D Racing, VAN DYK Recycling Solutions, and Kiwi Classic Moto
More, from a press release issued by Attack Performance/Estenson Racing:
Beach Ready to Switch Gears Back to Superbike This Weekend at VIR
Fresh off of his historic American Flat Track Grand National win in Arizona, JD Beach is ready to jump back on his Attack Performance Estenson Racing Yamaha YZF-R1 Superbike this weekend at VIRginia International Raceway, May 4-5.
Now that Beach has added an AFT Twins win to his resume, a career first for him and a landmark win for the Yamaha brand (its first twin-cylinder flat track victory since 1981), the goal for Beach is to get his first career win in MotoAmerica's premier Superbike class. Beach has had a solid start to the season so far with a podium finish in his debut MotoAmerica Superbike race, as well as a pair of top-five finishes. Although there's still a lot to learn going into the third round of the championship, Beach looks forward to the challenge. It's also a track he likes, having taken home the double victory last season in the 600 class on his way to winning the 2018 MotoAmerica Supersport title.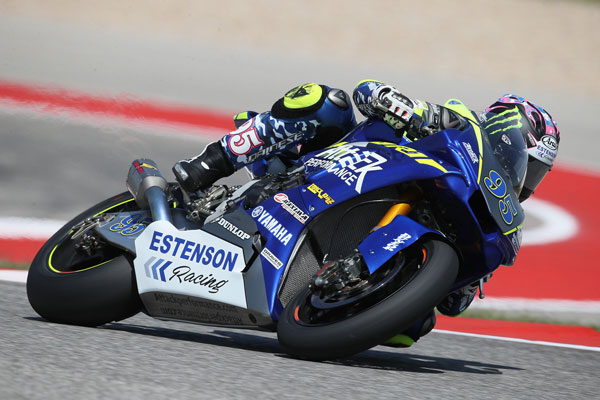 (Above) JD Beach (95). Photo by Brian J. Nelson. Courtesy of Estenson Racing.
JD Beach — MotoAmerica Superbike #95:
"I'm really looking forward to getting back on the Attack Performance Estenson Racing Superbike this weekend at VIR. It's a track that I've liked in the past. I think it's going to be interesting to ride the Superbike there, and with it being the new two-day weekend format, I think there's going to be a lot for us to all learn. I'm really hoping that from doing all these flat track races, which are just one day and packed all together, it will help me some. I can't wait to go racing."
The MotoAmerica Superbike races at VIR will be aired on FS2 Saturday, May 4 at 8:00 p.m. ET and Sunday, May 5 at 6:30 p.m. ET. You can also stream all the action live on MotoAmerica Live+ starting at 10:15 a.m. ET on both Saturday, May 4 and Sunday, May 5. To subscribe to the live streaming app, click here: https://www.motoamericaliveplus.com/
For more information about the event, click here: https://motoamerica.com/virginia/
Stay up to date with Estenson Racing on Facebook, Twitter , Instagram and YouTube.
More, from a press release issued by Roaring Toyz Racing:
As round 3 of the MotoAmerica series head to VIRginia International Raceway this weekend, Roaring Toyz shop owner Robert Fisher, 43 years young, has decided to double-down and get maximum track time by entering both the Twins Cup race and the 600 Supersport race.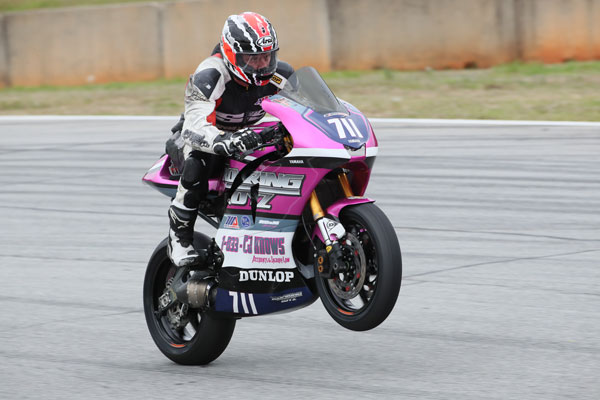 (Above) Robert Fisher (711) as seen during the MotoAmerica event at Road Atlanta. Photo by Brian J. Nelson.
Fisher will campaign a Yamaha FZ-07 in the Twins class and a Kawasaki ZX-6R in the Supersport class. With this weekend's debut of the new MotoAmerica two-day format and wet weather in the forecast, Fisher's decision to run two classes may prove even more advantageous than first thought. Fisher is looking to improve on his two 12th-place finishes at Road Atlanta, get some good exposure for his shop, and promote his long-time sponsor Czaia Law of Sarasota, FL.
Czaia Law is a personal injury law firm owned by motorcycle enthusiast and CCS racer CJ Czaia. Czaia can be reached at 1-833-CJKNOWS.
Roaring Toyz is a custom motorcycle shop located in Sarasota, FL that specializes in their own brand of CNC-machined custom motorcycle parts. Visit www.roaringtoyz.com for more shop information.