JD Beach Scores Spectacular Debut Superbike Victory at VIR
Eight days after making history with his debut American Flat Track AFT Twins win at the Super TT, JD Beach executed a masterful race to win MotoAmerica Superbike race two aboard the Attack Performance Estenson Racing Yamaha YZF-R1 at VIRginia International Raceway on Sunday, May 5.
The forecast going into the day looked questionable, but rain or shine, Beach was ready for either. It turned out to be a mixture of both with heavy rainfall leading up to the race and sunshine as bikes went out for the Superbike sighting lap. The decision was made to go with slicks even though the track was still pretty wet and it proved to be the right call. Beach got off to a good start, checking out early along with fellow Yamaha rider and former Supersport championship rival Garrett Gerloff. The pair swapped positions, but Beach was able to hold onto the lead and throw down laps to give him a 3.759-second advantage across the finish line.
It was an emotional win besides just getting his first because it was the anniversary of close family friend Ethan Gillim's passing, which is why he runs number 95. The victory also adds his name to the record books, becoming the first rider to win both a Grand National and Superbike race in the same season since Nicky Hayden in 2002 and the first rider to do so on a Yamaha since Kenny Roberts in 1980.
JD Beach — MotoAmerica Superbike #95: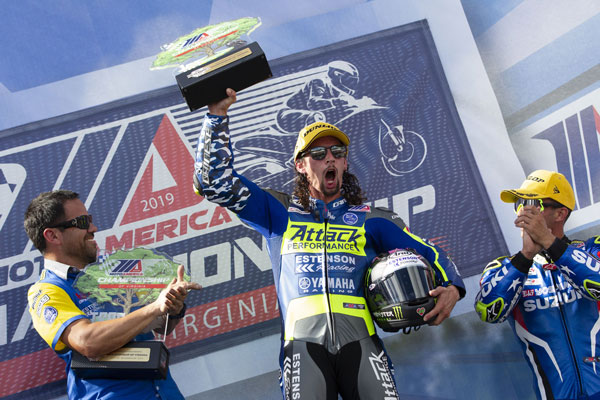 (Above) JD Beach (center). Photo by Andrea Wilson, courtesy of Estenson Racing.
"It's amazing. The dirt track win was something that I dreamed of when I was a kid. Since I was 16, this is something [the Superbike win] that I've worked hard for. I've set my sights on this. To get this first win on a Superbike is absolutely amazing. I can't thank Estenson Racing and Attack Performance enough for getting behind me. They had no reason to. Tim [Estenson] had his whole dirt track program figured out, and he wanted to do this because he likes me, which is just amazing. Richard [Stanboli] at Attack, they were okay with not going racing this year. So for them to put the belief in me that many of these teams here wouldn't, it just feels amazing. I know we're still going to have our ups and downs this year, but it feels good to get this first win. I'm going to keep working hard and try to get that next one."
More, from a press release issued by Yamaha:
Monster Energy Yamalube Yamaha Factory Racing Team Gets a Win And Another Podium in Virginia
The Monster Energy Yamalube Yamaha Factory Racing Team got off to a great start at round three of the MotoAmerica Superbike Championship with Cameron Beaubier firing the first shot and taking a dominant victory in race one at VIRginia International Raceway. His teammate Garrett Gerloff joined him on the podium with a third-place finish and backed it up with one better in today's race two. Unfortunately, Beaubier's race ended early in the tough track conditions.
The weekend was met with a lot of challenges with the shortened two-day format and mixed weather, but both Beaubier and polesitter Gerloff got off to a great start in Saturday's race in the top three. The pair tried to pass the leader on the first turn of lap two, but had to patiently wait for another opportunity. That opportunity came a lap later when the race leader made an error. Gerloff made the most of the opportunity and took the lead, but his teammate was right on his heels. The three-time MotoAmerica Superbike champ didn't waste time in taking that front spot from his teammate and went on to finish the race unchallenged, crossing the line with a 3.509-second lead to take his second win of the season.
Gerloff on the other hand had his hands full. The Texan was passed before the halfway point by one of his championship rivals. Gerloff did not give up the fight for second, sitting right on the heels of his championship rival, but unfortunately was struggling with front grip in the much hotter track conditions. He had a big moment, though, on lap 16, losing a bit of ground and ultimately settling into third to bring home his second podium finish of the season.
It was a whole new bag of challenges in race two with a downpour leading up to the Superbike race. When it was time to grid up, the sun was shining, making tire choice critical for the 18-lap race. Both Beaubier and Gerloff opted for slicks, the right decision as the track dried up in the end, but in the early going, the race was not easy.
Gerloff, hungry for the win, got off to a great start from pole position on his Monster Energy Yamalube Yamaha Factory Racing YZF-R1. Beaubier did not fare as well on the start and got shuffled back in the pack. The Californian was able to work his way back to fifth, but knowing that Gerloff and fellow Yamaha rider JD Beach had checked out, he focused on riding safe to score valuable championship points. Unfortunately he still got caught out in the mixed conditions, losing the rear in the wet and was unable to recover it.
Meanwhile two-time MotoAmerica Supersport Champion Gerloff was battling with his former Supersport rival. He made a valiant effort to keep on his heels, but a few mistakes in the wet had Gerloff using discretion to bring home another podium finish for the team.
Up next on the schedule for the Monster Energy Yamalube Yamaha Factory Racing team is round four of MotoAmerica at Road America, May 31-June 2.
Tom Halverson
Monster Energy Yamalube Yamaha Factory Racing Team Manager
"Overall it was really a great weekend. I'm happy because we have a team that's working really well together, and two riders that were up front. Cameron had a fantastic victory yesterday. Unfortunately today his race ended early in tricky conditions, but it won't be the first time he's fought back to regain the championship. From here he's got to focus on winning races and we'll see what happens.
"For Garrett, again I was really happy to see him run up front. It was definitely disappointing and emotional to be that close and not get his first win, but we all know that he's overdue. Any one of these races, I think he's going to be right there and we all can't wait until he gets that first win. Also, I would like to congratulate JD Beach on his first Superbike win and putting a Yamaha on top of the box."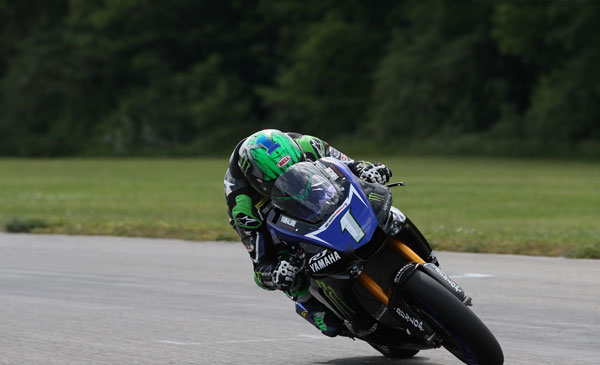 Cameron Beaubier
Monster Energy Yamalube Yamaha Factory Racing
"It was a mixed weekend for us. Today was just one of those mixed-conditions races where anything can happen. It can go really great, but it's also kind of a shot in the dark. I got shuffled back pretty good off the start. After that, I struggled to make any passes even though I felt faster than the guys I was with. There was only so much of a dry line going into some of the corners, so it was single-file for a little bit. I started gaining a little bit more confidence, but I was also just trying to be smart and get some points. It's just frustrating when you're trying to be smart and you still crash. It's a bummer to lose that many points, but I'm really happy for JD. That was really cool, and to have Garrett up on the box for Yamaha also, that's great too.
"All in all, I'm really happy with how I rode yesterday. I was able to put a little gap on those guys. That gave me a little bit of confidence going into the rest of the season. It's going to be a tough season. We've got some catch-up to do, but it's still a long season. We're going to some really good tracks for us, and I'm looking forward to it.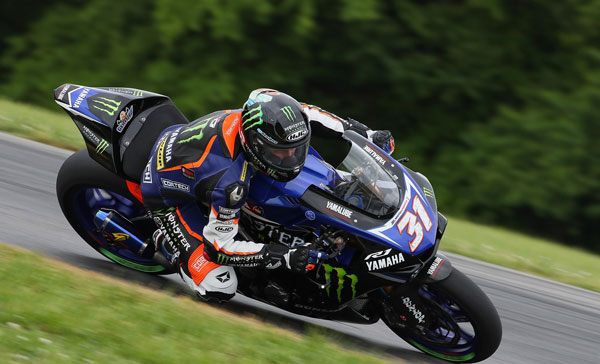 Garrett Gerloff
Monster Energy Yamalube Yamaha Factory Racing
"I see a lot of positives, but I just don't feel it. Two podiums and a pole position doesn't sound like a bad way to have a weekend, but I just felt really strong and wanted that first win. My race pace in practice was really, really strong. I felt good yesterday, but when it came time for the race, the track temp was up quite a bit so the track just felt so different. My front tire felt so much greasier than it had in practice and I just didn't have the confidence because I was moving around a lot. I know everybody was in the same situation, but honestly, I just had trouble riding around it.
"Then today for sure gnarly conditions. It was wild how fast the track dried out, but I knew from past experience that it would probably happen. Most of the guys started on slicks, but me and JD [Beach] got really good starts and just went. I made a pass for the lead and then he made a pass right back. He started going and I for sure felt like I could go too, but those first couple laps after he passed me back I just hit some wet spots, got out of the seat a couple times, made some mistakes. The gap just started opening up and I just couldn't close it. At the end of the day, I'm happy to be on the podium again, but I just want to win so bad. I know I can do it. I know it's coming."

2019 MotoAmerica Superbike VIR Race One Results
1. Cameron Beaubier
2. Toni Elias
3. Garrett Gerloff
4. JD Beach
5. Jake Lewis
6. Jake Gagne
7. David Anthony
8. Cameron Petersen
9. Kyle Wyman
10. Max Flinders

2019 MotoAmerica Superbike VIR Race Two Results
1. JD Beach
2. Garrett Gerloff
3. Toni Elias
4. Mathew Scholtz
5. Jake Lewis
6. Cameron Petersen
7. Josh Herrin
8. Max Flinders
9. David Anthony
10. Kyle Wyman
DNF. Cameron Beaubier

2019 MotoAmerica Superbike Standings
1. Toni Elias 126
2. Cameron Beaubier 102
3. JD Beach 78
4. Garrett Gerloff 72
5. Jake Lewis 19 62
6. Josh Herrin 58
7. Mathew Scholtz 58
8. David Anthony 52
9. Cameron Petersen 48
10. Kyle Wyman 38
More, from a press release issued by Westby Racing:
Westby Racing Flips The Script On Sunday At VIRginia International Raceway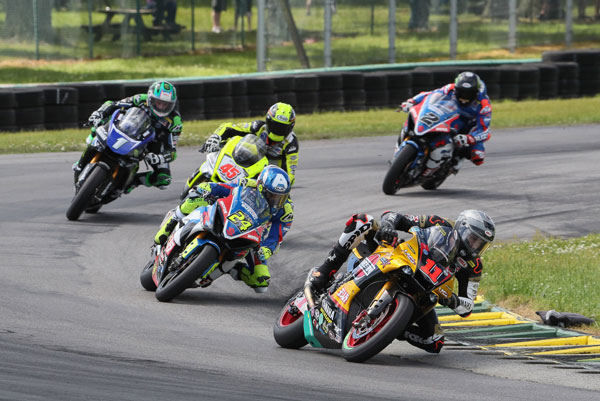 (Above) Mathew Scholtz (11) leading Toni Elias (24), Cameron Petersen (45), Cameron Beaubier (1), and Josh Herrin (2) during Superbike Race Two at VIR. Photo by Brian J. Nelson.
Alton, VA – May 6, 2019 – On the final day of the MotoAmerica Championship of Virginia, the fortunes of Westby Racing's two riders did a complete 180 compared with how things went on Saturday.
Mathew Scholtz, rider of the #11 Westby Racing Yamaha YZF-R1 Superbike, finished fourth in Sunday's race two after crashing out of Saturday's race one. "Samurai Sam" Lochoff, who finished fourth in Saturday's Junior Cup race one aboard the #57 Westby Racing Yamaha YZF-R3, crashed out of Sunday's race two. The net result for the team was two race finishes just off the podium and two results categorized with the dreaded acronym "DNF," which unfortunately stands for "Did Not Finish."
Mathew, who tweaked his right shoulder in his crash on Saturday, literally shrugged off the injury and battled among the frontrunners in Sunday's race. Towards the end of the rain-shortened, 18-lap event, Mathew made a breathtaking pass on Toni Elias for third and a spot on the podium. Unfortunately, however, Elias turned the tables on Mathew, passed him right back, and maintained his advantage all the way to the checkered flag.
Sam, who fought for a podium result in Saturday's Junior Cup race, got caught up in the attrition caused by the wet track conditions in Sunday's race. A rider ahead of him went down, and Sam got caught up in the incident. In an attempt to avoid the downed bike, Sam was forced onto the wet and very slippery grass, which caused him to tip over and his race was done.
"I think, in general, the weekend was a little bit bittersweet, but we learned a lot," commented Chuck Giacchetto, team manager for Westby Racing. "Sam showed that he has the speed. He rode really smart in Saturday's race, brought home points, and he was the first Yamaha rider across the stripe. Unfortunately, on Sunday, he didn't fare as well, but the crash wasn't his fault. Mathew's weekend was really good. We were super-happy with the start he got in Saturday's race, and I know he was disappointed that he fell down, but the team wasn't because he had the pace. On Sunday, he was fighting at the front and among the factory riders, so that was great to see. Overall, we had our ups and downs at VIR, and we know what we need to do leading into Elkhart Lake. We'll fix a couple of bikes that are dinged up, get everyone healthy again, and be ready for Road America."
As Chuck mentioned, next up for Mathew, Sam, and the team is round four of the 2019 MotoAmerica Championship, which takes place at Road America in Elkhart Lake, Wisconsin, on May 31 to June 2.
MotoAmerica Superbike Standings
1. Toni Elias – Suzuki – 126
2. Cameron Beaubier – Yamaha – 102
3. JD Beach – Yamaha – 78
7. Mathew Scholtz – Yamaha – 58
MotoAmerica Junior Cup Standings
1. Rocco Landers – Kawasaki – 80
2. Dallas Daniels – Kawasaki – 73
3. Jackson Blackmon – Yamaha – 46
8. Sam Lochoff – Yamaha – 29
For more updates about Westby Racing, including news, photos, and videos, visit http://www.WestbyRacing.com
Also, follow "Westby Racing" on your favorite social media sites.
More, from a press release issued by Yoshimura Suzuki:
Two Podiums at VIR Expand's Toni Elias' MotoAmerica Superbike Lead
24-Point Lead for Elias After Three of Ten Rounds
Yoshimura Suzuki's Toni Elias (#24) salutes fans with his third-place finish.
Brea, CA (May 6, 2019) – Yoshimura Suzuki Racing's Toni Elias survived a challenging race weekend at VIRginia International Raceway. The 2017 MotoAmerica Superbike Champion ran strategically all event, earning a pair of rostrum finishes, a second on Saturday and third on Sunday. It paid off handsomely. Elias' results, combined with rival Cameron Beaubier's crash in Sunday's race, means that Elias, who came into VIR with a 13-point lead in the championship, leaves Virginia with a 24-point lead.
In a show of speed and consistency, Elias and his Yoshimura Suzuki GSX-R1000 have been on the podium in all six races so far in 2019.

(Above) Josh Herrin (2) leading Jake Lewis (85) on the drying track during Superbike Race Two at VIR. Photo by Brian J. Nelson.
For Elias' first-year teammate Josh Herrin it was a difficult outing. He suffered a DNF in Saturday's race after an issue with his machine, but then recovered somewhat on Sunday, finishing seventh on a difficult wet-to-drying track.
The Yoshimura Suzuki squad worked frantically Saturday preparing Toni's backup superbike after intermittent electrical gremlins sidelined him during Superpole. The team wrapped up the preparations with less than an hour to spare before Saturday's race. In spite of having no laps on the newly-prepared Suzuki, Elias was able to run a solid pace and finish runner up.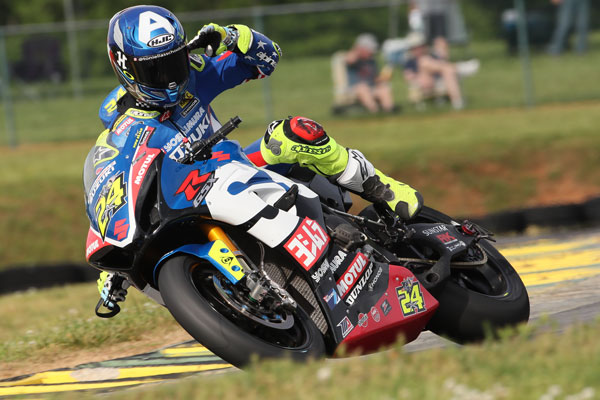 (Above) Toni Elias (24) ran mid-pack early in the race but earned a podium finish. Photo by Brian J. Nelson.
In Sunday's race a downpour hit the track before the start of the Superbike race. As riders took to the grid the sun broke through, presenting them with a tough decision on tire selection and bike setup. Elias decided to go with a dry set up with slicks and as a result, ran mid-pack in the early going. But as the track developed a dry line, he began moving up through the field. After running as far back as eighth in the early laps, Elias quickly charged his way up to third by mid-race. In the closing stages he was challenged by Mathew Scholtz, but Elias repassed the South African rider and held on to earn the final podium spot.
"Even though we didn't get a win, it turned out to be a good weekend in terms of the championship," Elias explained. "The entire team did a great job solving some difficulties we faced this weekend and these two podiums were definitely a team effort. Now we've built up a lead in the series, but we are still early and we will have to continue to work hard to accomplish our goal of winning back the championship this season."
In spite of his challenging weekend, Herrin is still ranked sixth in the standings.
"Toni ran smart races this weekend," said Yoshimura Suzuki Factory Racing's Don Sakakura. "In Sunday's race he gathered a lot of points instead of trying too hard to win in difficult conditions. These are the kinds of decisions that can win championships.
"For Josh it was tough, starting with a mechanical in Saturday's race. What happened was very unusual, so we felt bad for Josh, but we'll analyze the data, along with the factory, and see what we can do to keep from having the same issue in the future."
The Yoshimura Suzuki crew now readies for a test later this week in Utah. The series has a four-week break before swinging back into action at the scenic Road America in Elkhart Lake, Wisconsin, on May 31 – June 2, for round four of the ten event MotoAmerica Championship. The series is televised nationally on Fox Sports 2.
More, from a press release issued by Kyle Wyman Racing:
Wyman claims top-10 results in Virginia after leading laps on his Inde Motorsports Ranch/Ducati Panigale V4 R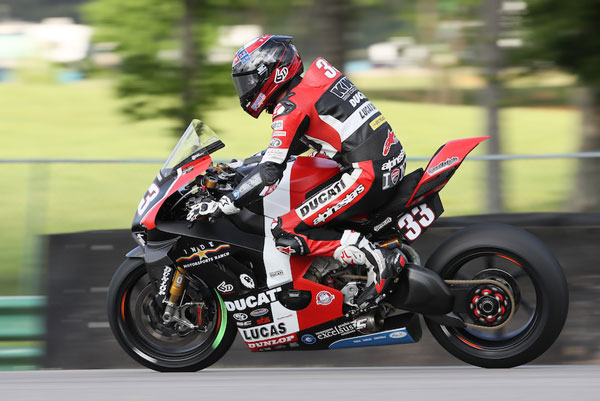 DANVILLE, Va. (May 6) — The Inde Motorsports Ranch/KWR Ducati team put together another pair of top-10 results this past weekend at Virginia International Raceway. Wyman finished 9th in race one, and 10th in race two after leading early in mixed conditions.
The KWR team experienced some mechanical issues to start Saturday morning, in what was a shortened two-day format event. Wyman completed only three total laps in the first of two 45-minute qualifying sessions to start the morning. After battling through gremlins on the bike, he was able to put in a fast time of 1:25.931 to secure a spot in Superpole to remain perfect on the season.
The Ducati rider battled through another set of small issues on the bike to qualify in 8th for the two races, one of which that would happen Saturday afternoon after Superpole. With so little laps completed during the morning, the team decided to start race one on the familiar setup from the morning.
"I was really looking forward to the two-day format, until we came out of the gate with issues on the bike," Wyman said. "It was really tough knowing that we had so little time and we were sidelined that whole first session. It took everything I had to try to find a rhythm in the second session. I was pleasantly surprised to put the bike in the 25's range of lap time for the way it felt."
"Unfortunately we didn't get a whole lot of data during that morning since we were so under the gun, so we just gridded up for race one on our qualifying setup. For some reason I couldn't really match my practice times during the race, and it was a lonely ride in 9th. I took the time during that race to experiment with some different gears, settings on the bike so I could try to take something meaningful away from the race."
Sunday's race two was started in wet-but-drying conditions, where most riders started their sighting laps on rain tires. A downpour in the early afternoon had soaked the track, but the sun had come out during the pre-grid time. While the race was declared wet, most teams elected to start on slick tires for the dry and play the long game. Wyman and the Inde Motorsports Ranch-sponsored KWR team decided to gamble with rain tires, and try to get out front and pull a big enough gap to get a result.
Wyman grabbed the lead out of turn one and put his head down, building to a 12-second lead over the entire field. As the sun beamed down on the track and the dry line started to form, the Panigale V4 R began to roast the tires on the dry pavement. A 12-second lead quickly vanished and on lap three Wyman lost the lead to eventual race winner JD Beach, who had gone with fully dry setup and tires. Wyman was able to salvage a top-10 in what was a race of survival on rain tires.
"To be honest, I knew that it wasn't going to work," said Wyman, regarding his rain tire strategy. "Of course there is always hope that it will stay wet longer, or another rain shower will come in, but I knew it was a long shot. We kind of ran out of time to change to slicks, so I was committed and I had to try. By the time my gap started coming down I knew I was screwed. The boys came by me pretty quick and at that point I just tried to make sure I could make it to the end and salvage some points, keep the bike rubber side down. Sometimes you just have to take a risk and today seemed like the right time for that."
Wyman retains 10th overall in the championship points standings after three rounds, six races total. So what's next for the KWR team? Some testing, finally.
"In two weeks we head to Pittsburgh to go test our new Ducati for the first time," Wyman said. "These first three rounds have been super difficult on us, having to basically test while we race and learn what we can while we're on the road. I look forward to finally having some time to ride and learn the bike without all the pressure of the race weekend around us. This is a building year, but it's a long season and I believe we can find the pace to be at the front before 2019 is over."
The MotoAmerica Superbike championship resumes at Road America in Elkhart Lake, Wisconsin June 1-3, 2019
The next round of MotoAmerica is at Virginia International Raceway, May 4-5, 2019
LIVE coverage of MotoAmerica is available for only $69.95 per year at www.motoamericaliveplus.com
Visit www.kylewymanracing.com for more news and updates.