Gagne Clinches MotoAmerica Superbike Championship at NJMP Tripleheader
Fresh N' Lean Attack Performance Yamaha Racing's Jake Gagne continues to raise the bar in the MotoAmerica Superbike Championship, securing his first title in the premier class at the penultimate round at New Jersey Motorsports Park. After sealing the deal earlier today in Race 2 of the tripleheader, the newly crowned champ pulled off an encore performance in the afternoon race to extend his impressive win streak to 16. Josh Herrin returned to the podium with a pair of third-place finishes. Toni Elias rebounded from his crash in Race 2 to finish sixth in the final race of the weekend.
Gagne got another great start from pole position in Race 2 and made the pass for the lead in Turn 2. He then worked on expanding his lead up front, picking up the pace and breaking the track record with a 1:20.076 on Lap 3. Gagne put in consistently fast times to cross the line comfortably with a 9.5-second margin of victory. His 15th-straight win of the season gave him the two points he needed to claim the crown four races early.
A few hours after the championship ceremony on the podium, Gagne was back to business as usual. He countered the holeshot with another pass in turn two and never looked back. The Colorado rider executed his trademark disappearing act with a blistering pace to take his third win of the weekend by another healthy margin. Gagne's sweep of the weekend not only extended his record-breaking win streak to 16, but it also put him in a tie for ninth on the AMA Superbike overall win list with multi-time World Champion and MotoAmerica President Wayne Rainey.
Herrin was hungry for a podium finish after finishing just shy of a top-five finish yesterday in his first race back in action. He got another good start in fifth and quickly passed his teammate to move into fourth. It was a heated multi-rider battle on those opening laps, and Herrin took advantage of the war of attrition and advanced to third. From there, the Californian ran his own race and held off the competition to score his sixth podium of the season.
In the final race of the weekend, Herrin repeated his previous starts in fifth. It was another three-rider fight for that final podium spot, and he patiently waited for his opportunity, making the pass for fourth on Lap 7. A couple of laps after the halfway mark, he battled for third and ultimately grabbed the upper hand with four laps to go, scoring his second podium of the weekend.
Elias had a tough second day of racing in Millville, New Jersey. He didn't get the start he was hoping for and then, unfortunately, crashed out of the race in Turn 1 while battling for third. In Race 2, the Spaniard found himself eighth after the start but quickly made his way to sixth. He tried to chase down the group ahead, but they were out of reach. Elias was shuffled to seventh at the halfway point, but he closed the gap, and then on the final lap, he reclaimed sixth.
The Fresh N' Lean Attack Performance Yamaha Racing Team heads to Barber Motorsports Park next weekend for another MotoAmerica Superbike tripleheader at the series finale in Leeds, Alabama, on September 17-19.
Richard Stanboli – Fresh N' Lean Attack Performance Yamaha Racing Team Manager
"Today was a great day for our team. Our Yamaha R1s ran flawlessly, giving Jake the opportunity to wrap up the championship early and continue to set new track records. The team is super happy with Jake and what he has been able to accomplish. He has truly raised the bar this season, and to wrap up the championship four races from the end says it all.
"Josh bringing home a couple of thirds today was a good comeback ride after missing the last two rounds; it was quite an accomplishment. He had a very tight race with the (Loris) Baz, and it was fun to watch.
"Overall, the weekend has been exceptional. Mat Scholtz of Westby Racing also finished all three races in second, making it an Attack Performance-Yamaha podium sweep in all three races. We are looking forward to a fight to the finish at Barber next week. It should be fun!"
Jake Gagne – Fresh N' Lean Attack Performance Yamaha Racing
"What a weekend! It's amazing to be able to wrap up this championship for the team, and to do it with three more wins is fantastic. I have to give a big thanks to this team for such an incredible effort all year long! We have a short break, and then we'll be right back at it. I'm looking to keep our momentum going into the finale at Barber."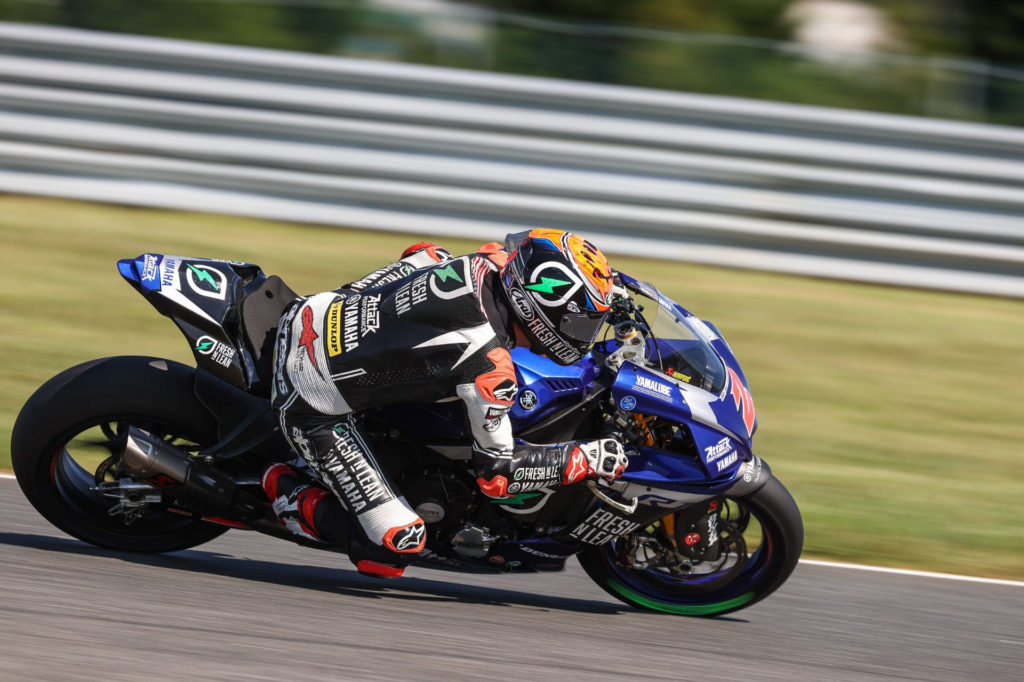 Josh Herrin – Fresh N' Lean Attack Performance Yamaha Racing
"It feels so great to get back on the podium, especially after being away for so long. My coach Josh Hayes told me, 'let's get rid of the plus (sign) on your board, and just focus on what's in front of you,' and that made a huge difference today. I just want to give a huge shout-out to my whole team. They have been working hard all year for me. It's been a struggle this season, especially since we thought we'd be getting better results, but we're going to keep working hard. I just really appreciate those guys putting in all of their efforts for me.
"I also want to say thanks to Rachel and baby Griffin back home. I know they're watching. It's awesome knowing that he was able to be around for these last two rounds and be able to watch. It's a huge motivation for me and gave me a whole new feeling about racing after he was born. This weekend I've been trying to have a whole different approach to things; to just have fun and get back to what it used to be like for me."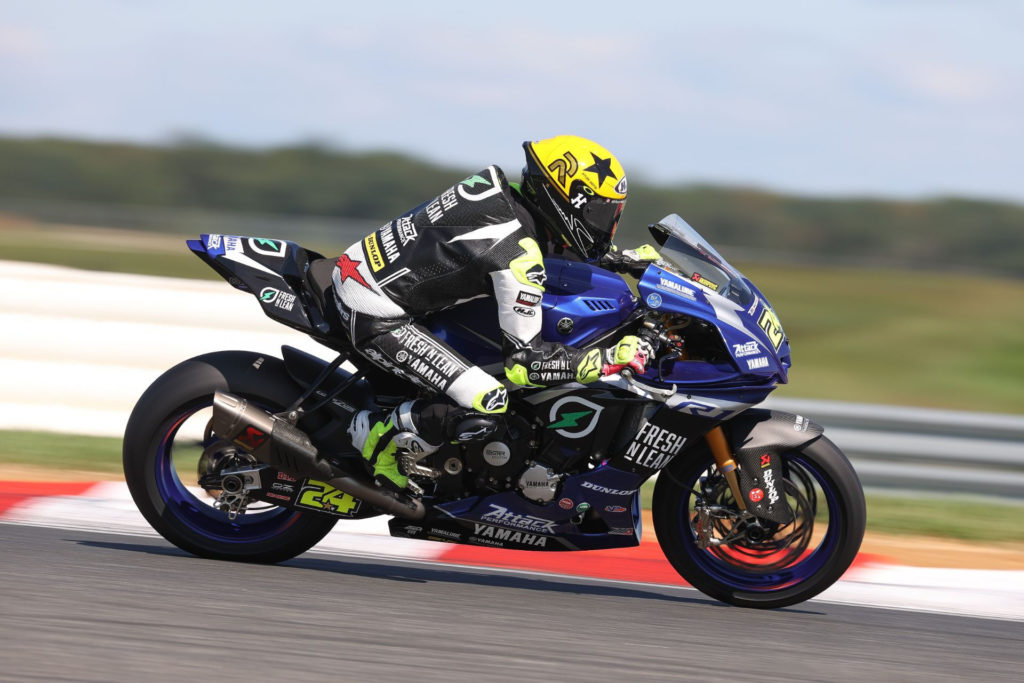 Toni Elias – Fresh N' Lean Attack Performance Yamaha Racing
"It was a very difficult day for me. I felt really good in Race 2 this morning but made some mistakes on the first lap, which put me back in sixth. I was coming back super strong, but I went too deep going into Turn 1 making a double pass on Josh Herrin and Cameron Petersen. Then in the second race, I was having an issue, and I couldn't push. It was not my best day, but I'm really grateful for this opportunity. A big thanks to the Fresh N' Lean Attack Yamaha team. It's been a pleasure to work with this group and ride this bike that brought me back to the podium twice. I'm very happy to be back again; It's been amazing."
More, from a press release issued by Westby Racing:
Westby Racing's Mathew Scholtz Clinches Second Place In 2021 MotoAmerica Superbike Championship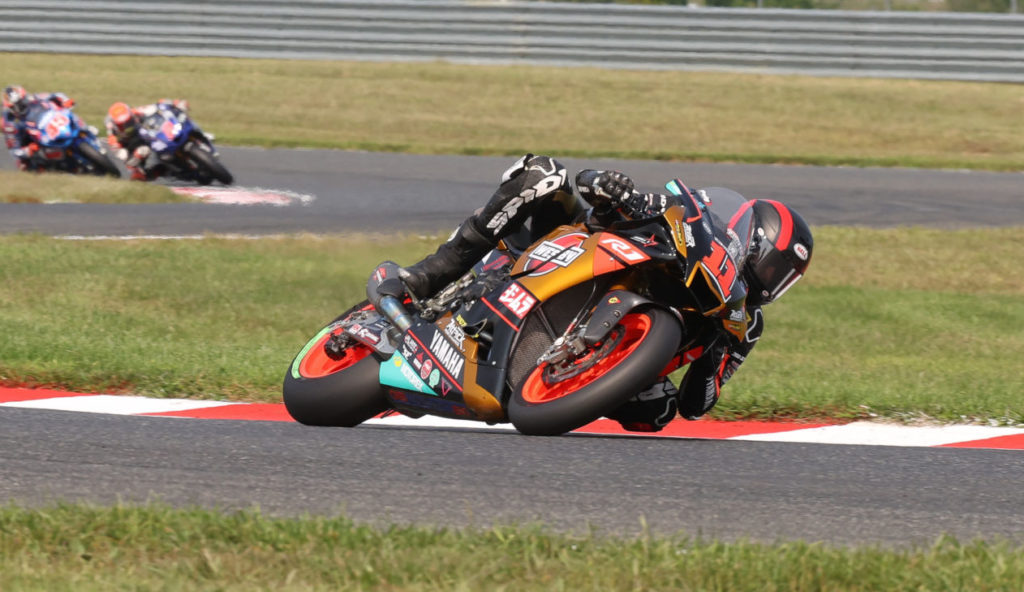 Millville, NJ – On the strength of their runner-up finishes in Sunday's two Superbike races at New Jersey Motorsports Park (NJMP), Mathew Scholtz and the Westby Racing team have clinched second place in the 2021 MotoAmerica Superbike Championship.
It was the sixth and seventh races this season in which Mathew has finished second, his third and fourth consecutive races in which he has taken the checkered flag second, and the 12th and 13th times that he has finished on the podium in the past 17 races.
While Mathew finished second in both of Sunday's races, his good friend and fellow Yamaha rider Jake Gagne won both of the 20-lap events, clinching the 2021 Superbike Championship in the morning's race two.
Both of Sunday's races were similar, but the work that Mathew and the team put into dialing in the bike paid off in the final race of the weekend. Mathew not only briefly led the race, but the gap between Mathew and Jake at the checkered flag was at its smallest in race three.
Following the morning's race two, Mathew said, "I did what I wanted to do for the first four laps when I could kind of be with Jake, and I just faded from there, really. I'm happy to just bring it home in second place. We need to try to figure out how to be more consistent once the tire drops off. I did a couple of 20's early on, and then, I dropped to high 21's. Josh (Herrin) was catching me slightly. So, I'm going to go back to the briefing room now and try to figure out a couple things for the second race. I'm happy for Jake. We've been friends since we were kids racing in the Red Bull MotoGP Rookies Cup. We also lived in Spain and raced in their Moto2 championship. So, it's always good to see a close friend winning something. If there's somebody in this paddock that I don't mind beating me, it is Jake. He's an awesome guy. Well-done to Josh, too. One more Yamaha sweep. We've just got to keep on going and try to figure out some way to actually beat Jake. Hopefully, I can beat him one more time, because I won the first race when his bike broke. I'm not saying that I want his bike to break, but (laughs)."
Then, after the afternoon's race three, Mathew commented, "Jake is the class of the field now, and it seems like I'm the next-best guy. I've just got to keep chipping away and try to catch him. We know what we have to do as far as the lap times. We went quicker this afternoon than we did in the race this morning. So, we're always getting faster, but we just need to find something more, really.
"Barber (Motorsports Park) is next, and it's probably the best track for me. I always do well there. So, I'm really looking forward to it and hopefully ending the season strong there. Then, I'm looking forward to '22. I know that I will be back here."
Ed Sullivan, Westby Racing Crew Chief said, "First of all, I would like to congratulate Jake, his crew chief Jon Cornwell, and the entire Attack Performance team on an amazing year. They really set the bar high. We showed again this weekend that we are closing the gap and pushing them hard. We had to make the most out of every session and every race lap to use the data and feedback to push the setup forward. In race two this morning, we went faster than our qualifying time, so I think that shows our progression over the weekend. We go to Barber with a lot of confidence and look forward to a strong finish to the year."
Chuck Giacchetto, Westby Racing Team Manager, added, "At the moment, I'm smiling like we got a 'hat trick' this weekend. Our team busted their asses, and it showed beautifully. This event was extra-special for me. I'm not sure exactly why, but again, it's the rhythm, I think. Mathew did a fantastic job in every aspect this weekend, as well. Not only did he satisfy the team as a whole, but he was at one with his fan base, and I honestly think they played a part in his success. As for the rest of the team, lights out, thank you so very much.
"On a separate note, I would like to extend my congratulations to the Fresh N' Lean Attack Performance Yamaha Racing team on their incredible run in winning back-to-back Superbike Championships. For Jake, what a season, my friend. Enjoy all the glory. It's so very much deserved. Congrats!
"On behalf of our team at Westby Racing, I would also like to congratulate Yamaha Racing on their continued dominance of the MotoAmerica Superbike Championship.
"See you in a few days!"
Next up for Westby Racing is the final round of the 2021 MotoAmerica Championship, which will take place at Barber Motorsports Park in Birmingham, Alabama, this coming weekend.
MotoAmerica Superbike Standings
1. Jake Gagne – Yamaha – 400
2. Mathew Scholtz – Yamaha – 292
3. Cameron Petersen – Suzuki – 215
For more updates about Westby Racing, including news, photos, and videos, visit http://www.WestbyRacing.com
Also, follow "Westby Racing" on your favorite social media sites.
More, from a press release issued by Robem Engineering:
Marcon recovers from crash Saturday to win Twins Cup race Sunday at MotoAmerica Superbikes at New Jersey
Robem Engineering Aprilia rider first non-American to win Twins Cup race, joined on podium by teammate Toth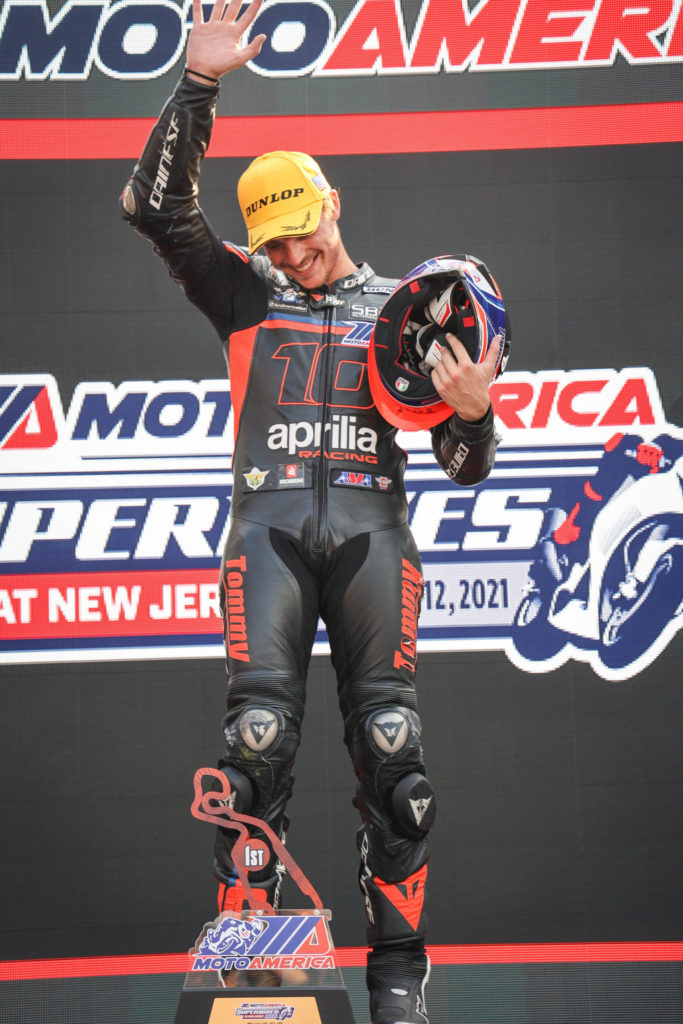 MILLVILLE, N.J. — There has been much fanfare about Aprilia test rider Tomasso Marcon making his MotoAmerica debut at this weekend's MotoAmerica Superbikes at New Jersey round, and the Italian didn't disappoint the fans gathered at New Jersey Motorsports Park on Sunday. After suffering a crash in Saturday's Twins Cup race, Marcon rode his Robem Engineering Aprilia RS 660 to a thrilling, hard-fought win in Sunday's Twins Cup contest.
Marcon is the first non-American rider to win a MotoAmerica Twins Cup race, and he sealed the victory with a last-lap, last-corner draft that allowed him to claim the win by 0.049 seconds. Marcon was joined on the podium by his teammate Max Toth – who scored his second third-place finish of the weekend.
The team's third rider, Kaleb De Keyrel — who clinched the 2021 Twins Cup title Saturday — was running in the leading pack of five Aprilia RS 660s until his motorcycle suffered a technical problem on Lap 11 of the 14-lap race.
After his motorcycle experienced some technical problems during the morning warm-up session, Marcon got a good start in Sunday's race and led the 23-bike field through the first corner. De Keyrel finished the first lap in fifth place before dropping to sixth on Lap 2. As Marcon was battling with two other riders to maintain the race lead, De Keyrel and Toth gradually began working their way up the running order. Toth advanced one position or more per lap on Laps 3-5, and Toth and De Keyrel were both running in the top five at the end of Lap 5.
All three riders were part of a group of five Aprilia riders who gradually broke away from the rest of the field. The group was reduced to four riders when De Keyrel dropped out of the race, and Marcon lost and regained the lead several times in the race's closing laps. Marcon was running in second place heading into the last corner of the last lap and got a great drive and draft to edge out another rider for the win.
Next up on the Robem Engineering team's schedule is final round of the 2021 MotoAmerica season, which is slated to take place Sept. 17-19 at Barber Motorsports Park in Birmingham, Ala.
Tomasso Marcon / No. 70
"In the warm-up, we had quite a big problem. The team did a really good job with fixing it, but we started the race with a lot of unknowns. We weren't sure if the bike was good after the crash yesterday and the issue we had this morning. But, in the end, the bike was good to go. The guys are very fast here, and I'm loving my time in the United States and in MotoAmerica. Now, we need to stay focused for Barber. I've never raced there, just like I'd never raced here. Our target there is to win, and we will do everything we can to accomplish that."
Max Toth / No. 58
"Today has been going really, really well since morning warm-up. We made a few changes that allowed me to dial in the third sector, which is where I'd been losing most of my time this weekend. The race didn't get off to a good start for me, as I was still shifting into gear when the lights went out. It took me an extra second to get going, and I had to push really hard for the first part of the race. I started picking riders off one-by-one and was trying to go for the win. I'm so happy with the result today and even happier that we got two podiums this weekend. I've never been to Barber, but I've seen video of it and it looks like a tough and a simple track at the same time. There's no pressure going into these rounds though, and I think that really helps."
Kaleb De Keyrel / No. 51
"I had a great race going and was in the lead group battling at the front. I was saving my tires to make a push for the win at the end when the bike just shut off on me. We're not entirely sure what happened. But we'll figure it out, and I'm looking forward to Barber. I set the lap record there last year and will be ready to win again there."
Marco D'Acunzo / CMO, Piaggio Group Americas
"This year has been amazing. Winning the MotoAmerica Twins Cup in our first year is impressive. We started the season aiming to get a win this year — we realized we had a new bike with a new team — and Matt and the entire Robem Engineering team did a fantastic job. I want to thank Matt Spicer, Carl Price and the rest of the team for their hard work, and the riders did an amazing job this year. We are so satisfied to see so many Aprilias out on track and doing well, and we want to keep pushing. This has been a great achievement for everybody, and we will have more good news coming in the future."
Matt Spicer / Robem Engineering Founder
"Our first year working with Aprilia and the Piaggio Group Americas has proven to be a resounding success, and I and Carl can't thank them enough for their unwavering support this year. We're delighted with seeing Kaleb win the championship this weekend aboard the RS 660 in the first year it's eligible to compete in Twins Cup, and we couldn't have done it with the wholehearted support from Aprilia and our many other technical partners."
Robem Engineering's technical partners for 2021 include Aprilia Racing, Piaggio Group Americas, The Center for Plastic Surgery, Velocity Calibrations, Bitubo Suspension, Dunlop, Woodcraft Technologies, Dymag, Vesrah, DNA Filters, Magura USA, Sara Chappell Photos, NGK/NTK, Blud Lubricants, Millennium Technologies, Suter Racing and SC-Project.
More, from a press release issued by Aprilia:
APRILIA RS 660 DOMINATES THE TWINS CUP CLASS IN MOTOAMERICA
KALEB DE KEYREL IS 2021 CHAMPION THANKS TO HIS SECOND PLACE IN NEW JERSEY
TOMMASO MARCON WINS ON HIS DÉBUT WITH APRILIA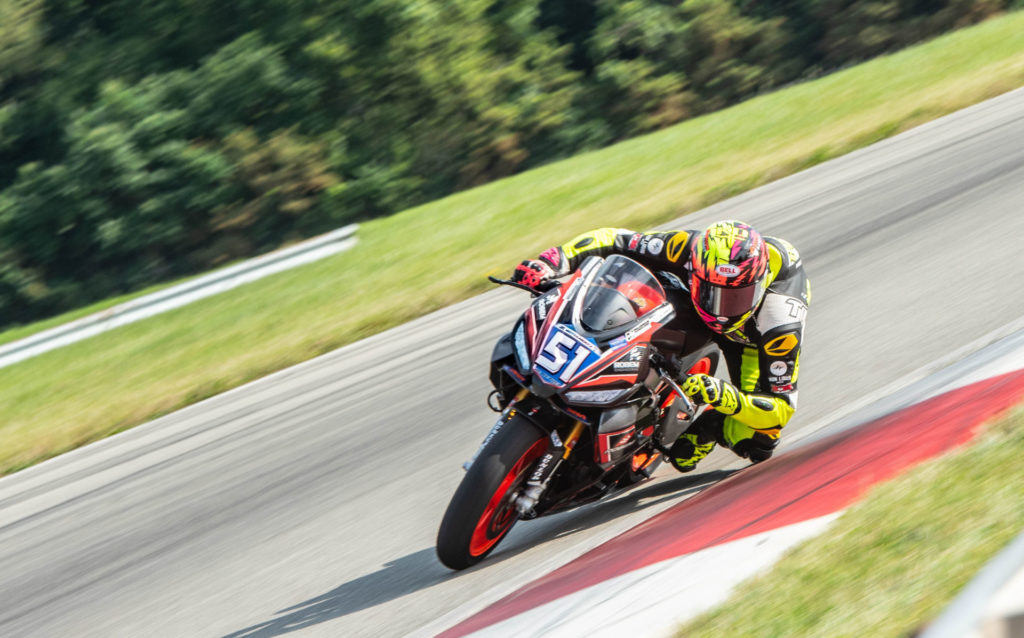 It's fair to refer to Aprilia's adventure in the MotoAmerica Twins Cup class as domination. In fact, in its début year, the RS 660 literally changed the face of the category, turning up in the paddock with almost no preparation, but immediately taking on a highly prominent role.
It is no coincidence that the title was clinched with a Race 1 podium in New Jersey that was monopolized by the Italian twin-cylinder and where second place finisher Kaleb De Keyrel earned the points he needed to be crowned the 2021 champion. This is a triumph that will take him to Italy for a wild-card spot in the last round of the Aprilia RS 660 Trophy in Vallelunga.
Credit goes to De Keyrel and Team Robem Engineering, who skillfully exploited the technical potential of the RS 660, which proved to be in its element right away on the demanding American tracks. This is a testament to its DNA which, although intended for the best possible street use, in no way betrays its competitive nature. The ideal compromise between light weight, power, and the proverbial chassis structure from Noale.
The perfect weekend was topped off by Race 2, with no fewer than four RS 660 bikes in the top four spots. Winning the race was Italian Tommaso Marcon, riding in a special wild-card spot and tester for the 660 project, ahead of Anthony Mazziotto and fifteen-year-old surprise Maxwell Toth, on the podium twice in his Twins Cup "first".
More, from a press release issued by Pure Attitude Racing:
Positive weekend for all three riders Pure Attitude Racing riders in New Jersey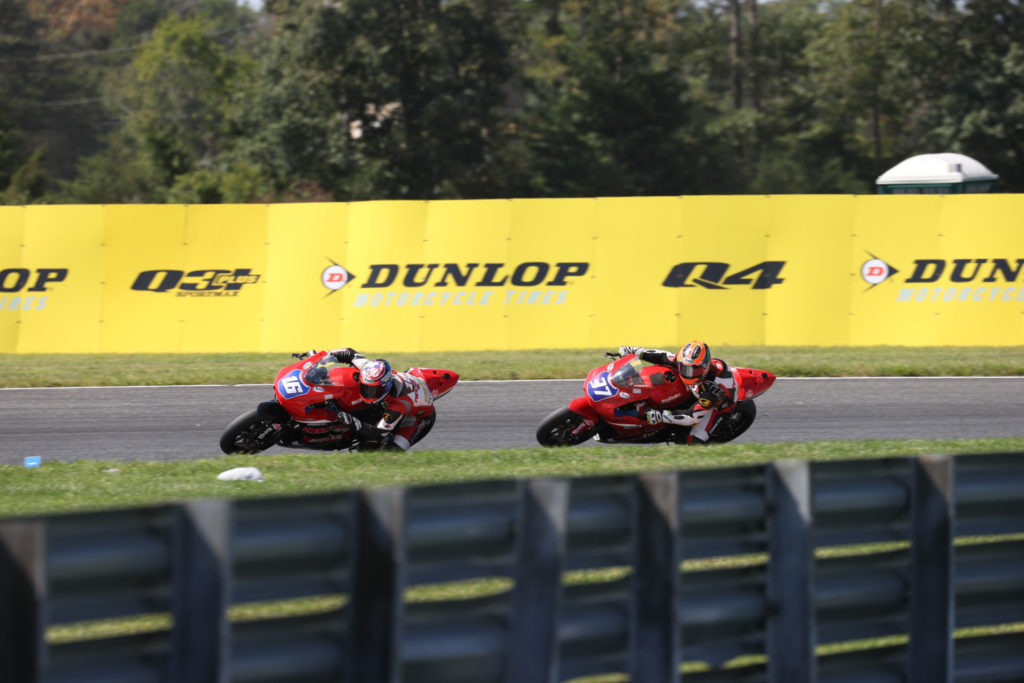 Pure Attitude Racing bounced back from a couple of crashes on the opening day of the penultimate round of the 2021 MotoAmerica Championship at the New Jersey Motorsport Park to record a double top eight finish once again in the Twins Cup category and a double point score in Supersport.
Trevor Standish, who led the overall points classification earlier in the season continues to build strength and confidence after breaking his scaphoid arm round three. The #16 finishing eighth in both Twins Cup races. His Suzuki team mate Liam MacDonald sadly failed to finish either Twins Cup race.
After running close to the top six on both occasions, the Kiwi, who is in his first season of MotoAmerica competition, nevertheless once again proved his speed and ability by qualifying on the third row of the grid and racing at the sharp end before sliding out of contention.
In Supersport the team was solely represented by Austin Miller. The #61 took a spill in FP1 before rebounding to improve his lap times in each of the remaining sessions, including both races. He ultimately finished fifteenth twice, adding another double point score to his impressive overall tally in his debut season of racing in the category.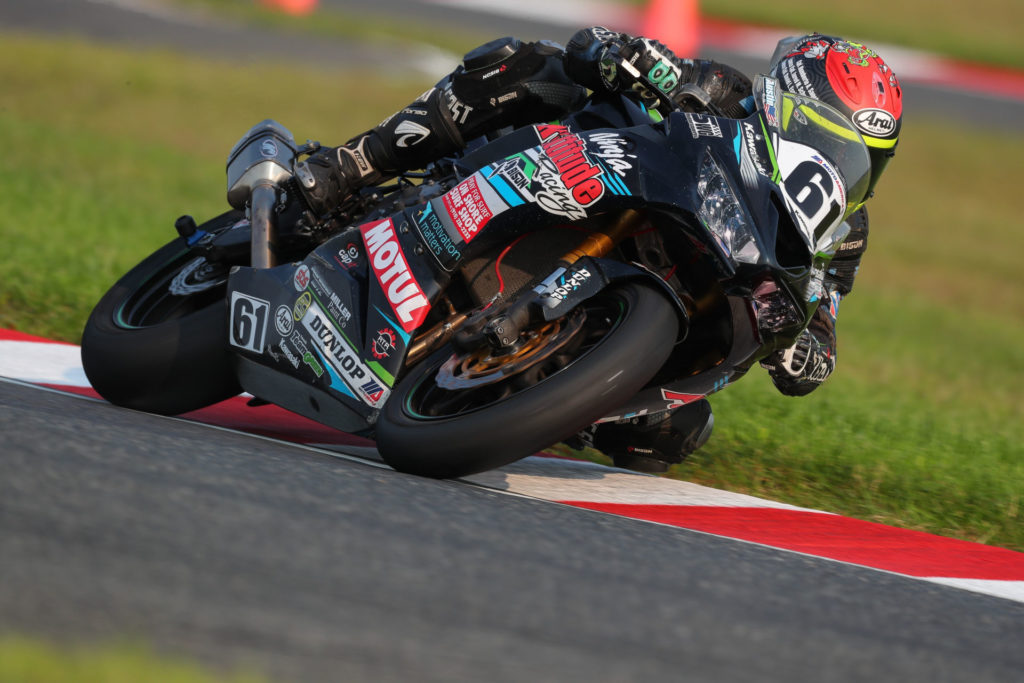 Austin Miller: "Race 1 went pretty good. I was in a nice battle in the early laps. I pushed hard but was struggling a bit after yesterday's crash. We finished P15 so we are moving in the right direction. I was faster than in qualifying and closer to the front in terms of my overall lap time. Race 2 I was able to make a good start, but I lost a couple of positions at Turn 1. I was still able to hold P14 though for most of the race. It was a lonely race, but I had an issue with my arm pumping up and I couldn't push as hard as I wanted at the end of the race. I am happy though as New Jersey was another new track and we achieved another double points finish. I am looking forward to Barber (Motorsports Park) this coming weekend and I am determined to get my first top ten in the season finale."
Trevor Standish: "I made a decent start in the opening race, but I made a mistake on lap four I think it was. I ran faster than I ever had at New Jersey, and this is the positive. I need to keep focusing on myself and remember that I have missed two thirds of the year after breaking my wrist, which is still not 100%. I struggled at the start of Race 2 and made a couple of mistakes. I lost the group a little but was able to run a decent pace. I suffered a few issues changing gear but took another eighth at the flag. We go to Barber Motorsport Park next week, which is a track I enjoy, and I am looking forward to ending the year on a high"
Liam MacDonald: "I am gutted. The weekend had been going so well. The team is working so hard, and we are showing that every time on track we are making huge steps. I made a mistake and paid a big price as we could have easily been in the top six or seven, but that's racing. I don't know what to say about Race 2. I was running strong, but I just lost the front and went down again, my third crash of the weekend. I am taking the positives though. We showed again that I can run with the front guys on a track that is new for me, and I know that I have the team around me that believes in me so we will head to the final race of the year with the intention of showing our true potential."
More, from a press release issued by Rodio Racing:
Double Deuces for Rodio at New Jersey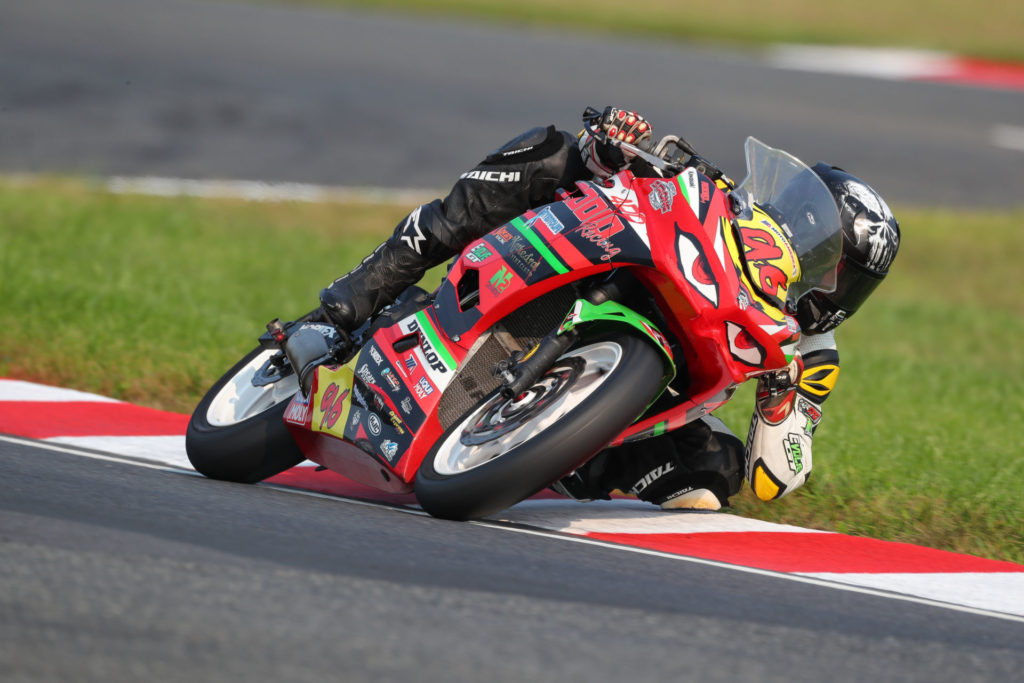 Gus Rodio secured two second place finishes at his home round of the MotoAmerica Sportbike Track Gear Junior Cup in New Jersey this weekend.
The weekend wasn't without it's troubles however.  A broken shifter part saw him miss some crucial time in one practice session early on.  Race 1 was a barn burner with Gus securing second place by just .024.
The real drama came from race two however when Gus jumped the start.
"I was excited, and I knew I couldn't let the leader get away" Gus said.  "I didn't see anything about the penalty, so I thought maybe I got away with it" he joked.  Once he was made aware, all he could do was put his head down.   "I knew I had the pace, so I just tried to stretch out the gap a bit so it didn't matter."   Rodio finished the race with an eight second gap to third to secure the double podium finish.
"It's so cool to be at my home race, and put it on the box in front of all my friends, family, and the whole New Jersey MiniGP crew that came out to support me.  That's where it started, so this is pretty special."
The Rodio Racing crew heads to Barber Motorsports Park for the final round on 9/17 in 3rd place overall with a 21 point lead on fourth for the championship.
"Gus' first podium and ultimately a top three finish in the championship were our goals this season" team owner Kevin Rodio said after the races.  "We've been building steam and obviously nailed one of those goals, so we're really looking forward to Barber to finish the season strong."
Rodio Racing can't compete without the help of the following sponsors:
HJC Helmets, Triple Strong Racing, Moto-Liberty Dallas, Spears Racing, Orient Express Racing, K-Tech USA Suspension, MAR Contractors, Spellcaster Pro, Liqui Moly USA, Trackside Parts Club, REB Graphics, Dunlop Motorcycle Tires, Evolve Gt Track Days, N2 Track days, Chicken Hawk Warmers, Adams Polishes. Innovative Motorsports