Wyman rebounds for solid points at New Jersey Motorsports Park
Sunnyvale, Calif. – Kyle Wyman and the OneCure/KWR Ducati Team rebounded from a difficult round five to take a solid points haul in both races as MotoAmerica Superbike hit New Jersey Motorsports Park for round six of the 2020 championship.
Wyman used a new factory-spec motor and swingarm in his Ducati Panigale V4 R direct from Ducati Corse in Italy to power to fourth place in race one, breaking the challenge of round two winner, Suzuki's Bobby Fong, and showing the Arizona man was back and fighting in the top five of America's best superbike racers.
Race two didn't quite go to plan, as Wyman admits he missed the optimal set-up for the Panigale V4 R, coming home an unchallenged sixth behind double race winner, Yamaha's Cameron Beaubier.
Regardless, it was a solid return to form for the OneCure/KWR Ducati Team as they regroup for the seventh round in less than a weeks' time at Barber Motorsports Park in Birmingham, Alabama.
2020 MotoAmerica Superbike Standing – Top 5
P1 – C. Beaubier (Yamaha) 275
P2 – J. Gagne (Yamaha) 191
P3 – M. Scholtz (Yamaha) 185
P4 – B. Fong (Suzuki) 138
P5 – T. Elias (Suzuki) 116
P6 – K. Wyman (OneCure/KWR Ducati Team) 112
Kyle Wyman (OneCure/KWR Ducati Team – Ducati #33)
"We missed the mark a little with the set-up and went backwards today," Wyman said following his sixth-place finish in race two. "We were struggling to get the bike to roll through the corners, and I didn't have the pace of yesterday. Overall the bike was good, but we need to improve it. Race one on Saturday was great, but we want to be on the podium. We're making changes and trying to get closer to the top three, but we've got a bit of a theme going where we seem to go great on Saturday but take a step backwards on Sunday. We need to find out what's going on there." Wyman continued to say, "Coming off a couple of rough weekends, we're in a hurry to get up to speed. We're taking some aggressive steps to find something big in terms of set-up, and sometimes you go the wrong way. Little changes can work out to be big changes, and not always in the direction you want. However, we had no tip-overs this weekend, the bike's running great, and the engine and electronics package we have I feel is one of the best out there."
More, from a press release issued by Jason Aguilar Racing:
Solid New Jersey points, Jason focused on Barber Motorsports return to form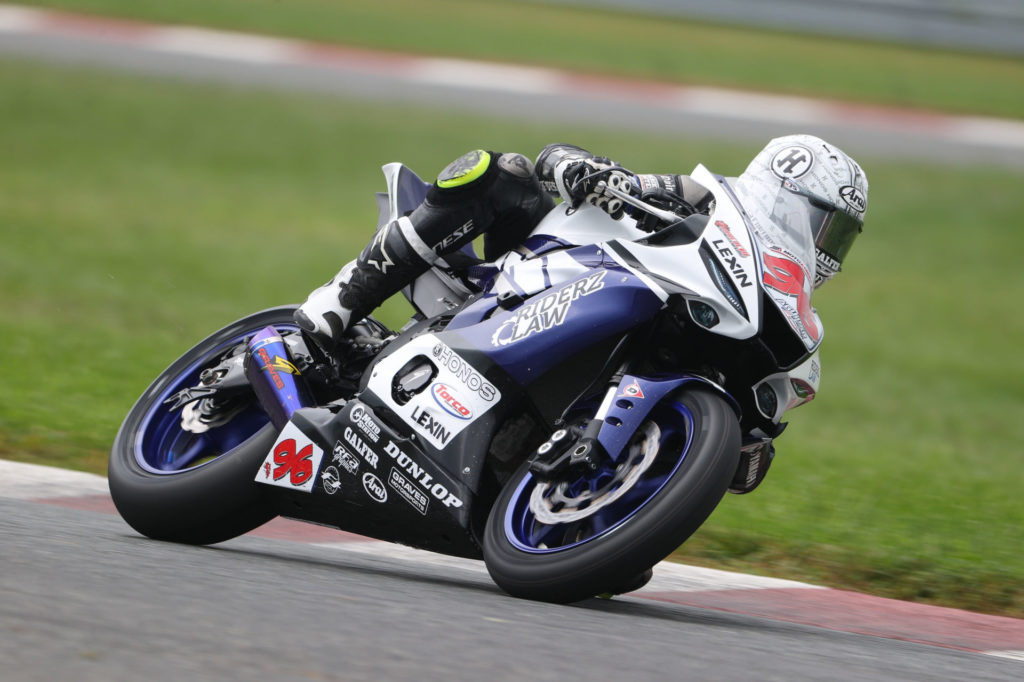 Jason Aguilar leaves New Jersey with a ninth and eighth place finish in the latest round of the MotoAmerica Supersport Championship.
A spill in Qualifying 2 put the #96 on the back foot but in true Aguilar fashion, Jason dug deep and together with his team worked hard to rebuild the bike for the weekend's two races.
Sunday was a much better day than Saturday, Jason able to rebuild confidence and whilst he was unable to run the pace of the top six, he was able to secure another solid result, ensuring that he heads to Barber Motorsports Park this coming weekend confident of being back at the sharp end!
He remains fourth overall in the 2020 MotoAmerica Supersport standings with three rounds (six races) left to go.
Jason Aguilar: "I didn't go out on Friday in FP1 because the track was wet and with it looking like it was going to be dry for the rest of the weekend, I didn't want to risk anything. The second session I didn't really push, I was just trying to get a feel for track conditions ahead of Saturday's on track sessions and the opening race. Saturday in Q2 I was really wanting to lay down a good time, the track was dry, but on my first flying lap I went into Turn 1 with no brakes. Luckily, I was able to pump the lever and the brakes came back but by that time it was too late, and I went down. There's no runoff, so I laid it down which was annoying. The team did a great job to rebuild the bike but with only ten minutes of dry track time all weekend, it was always going to be tough. Race 1 was a case of getting as much data as possible to be ready for Sunday. Ninth was ok but frustrating. Sunday wasn't the best of races for us. I got off to a decent start but right from the get-go I lost touch with the leading group. I was consistent with my lap times, my fastest lap was lap nineteen which showed I was getting faster, we just lost too much time earlier in the weekend. I was pushing hard but I ran off track because of the lappers on the last lap or I think maybe we could have been a place higher. I was feeling sore this morning after the crash, but we did what we had to do, I didn't crash again, and we took a double points finish. We move on to Alabama for the next round and we will try to be back in the lead fight there!"
More, from a press release issued by Suzuki Motor of America, Inc.
SUZUKI RECORDS MULTIPLE VICTORIES IN NEW JERSEY
Suzuki Riders lead the championship in Stock 1000 and Twins Cup Classes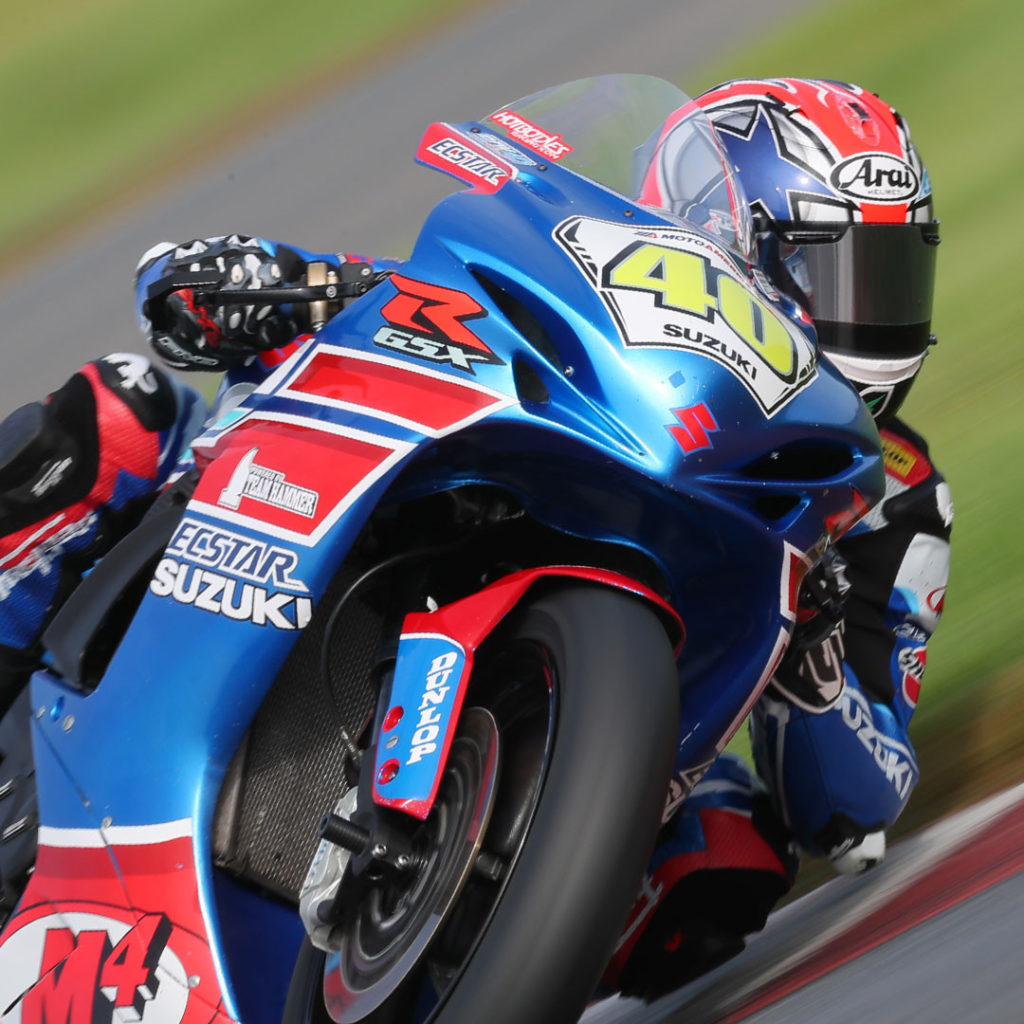 Brea, CA (September 14, 2020) – Suzuki Motor of America, Inc. and Team Hammer continued their winning ways with another successful MotoAmerica AMA/FIM North American Road Racing weekend at New Jersey Motorsports Park. Once again, it was M4 ECSTAR Suzuki's Sean Dylan Kelly who provided the exclamation point with a thrilling race win in Sunday's MotoAmerica Supersport contest from the pole position.After salvaging third place on Saturday despite being hindered by a technical issue, 'SDK' was motivated to demonstrate his full potential in Sunday's rematch. The Floridian did exactly that, showcasing a full complement of eye-opening overtaking maneuvers and defensive tactics on his nimble GSX-R600, winning out in a three-rider dogfight for the victory by a scant 0.011 seconds at the checkered flag.
Sunday's triumph marked Kelly's 11th consecutive podium — all but Saturday's third being either a win or runner-up result.
He said, "First of all, I have to give it up to my whole M4 ECSTAR Suzuki team. We had a little bit of an issue with the bike yesterday so we weren't able to fight the way we wanted to. But we did our homework, and my guys really made it happen. We made a big step and the bike was amazing today. It just shows that even after a tough Saturday, we can come back strong on Sunday.
"It was a proper race today. I think we put on a really good show for the fans. I'm really happy about the great battle and super happy to get the 25 points."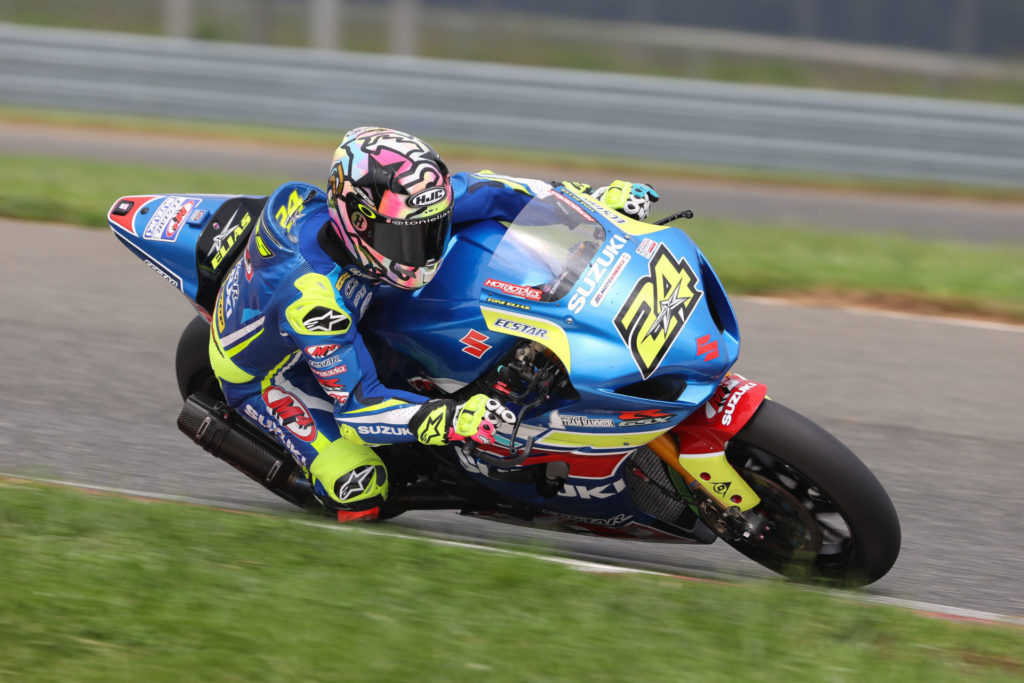 It was also an important weekend for 2017 MotoAmerica Superbike champion Toni Elias in premier-class duty. Elias finally broke through to secure his first podium of the '20 season as he and his M4 ECSTAR Suzuki crew at last reaped the rewards for their tireless efforts to improve the connection between the talented Spaniard and his fire-breathing GSX-R1000.
"It feels great to get back on the podium," Elias said. "We still have a lot of work to do, but this is the first step. Thanks to my team for all the support. Let's continue like this and, sooner or later, we will arrive back on the top step of the podium."
Elias and teammate Bobby Fong scored double top-five finishes on the weekend; Fong ran fifth on Saturday and fourth on Sunday while Elias completed his weekend with a ride to fifth.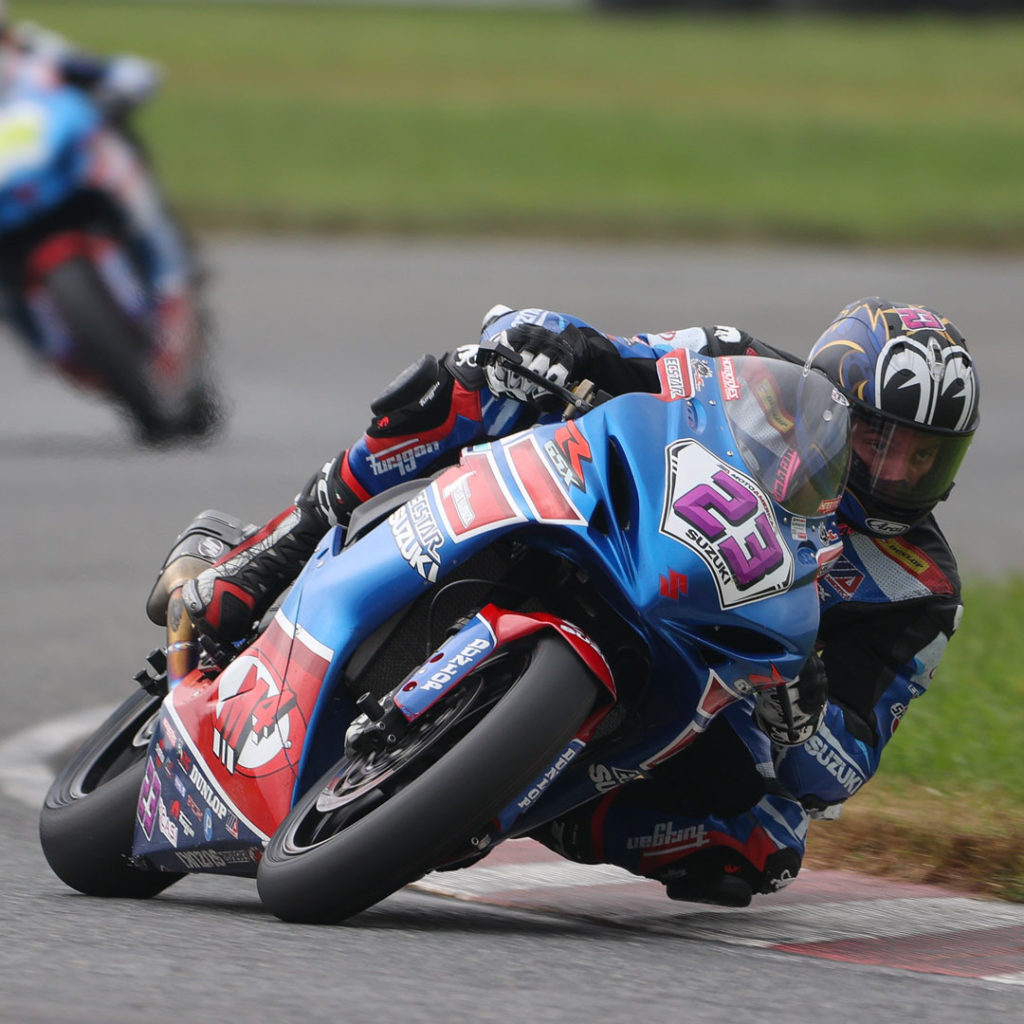 Also, M4 ECSTAR Suzuki's Lucas Silva put together another consistent weekend, which has proven to be his trademark in 2020. After picking up his first-career podium last time out at the Ridge Motorsports Park, the fast teenager Silva notched up a pair of seventh-place finishes in New Jersey, keeping his perfect season record of top tens intact.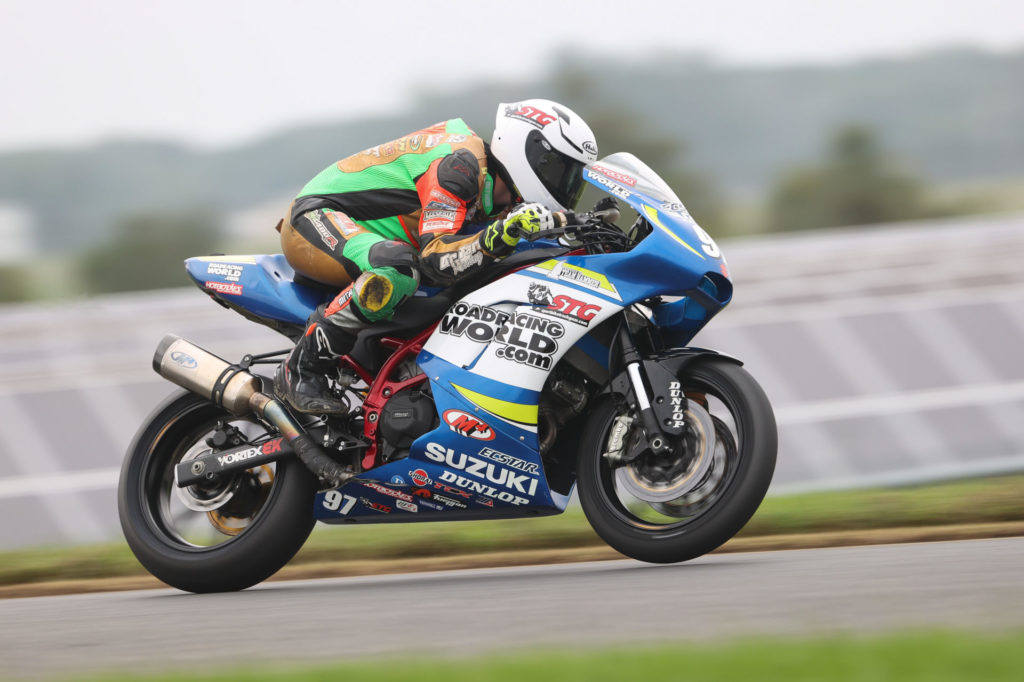 Meanwhile, SportbikeTrackGear.com RoadracingWorld.com Suzuki's Rocco Landers and Altus Motorsports Suzuki's Cam Petersen took significant steps forward to claiming their respective class championships with dominant outings.
Rising star Landers registered the double victory in Twins Cup action with a pair of breakaway wins. Saturday's masterclass earned him the title lead while Sunday's blowout provided some padding heading into the stretch run as he now boasts a 19-point advantage.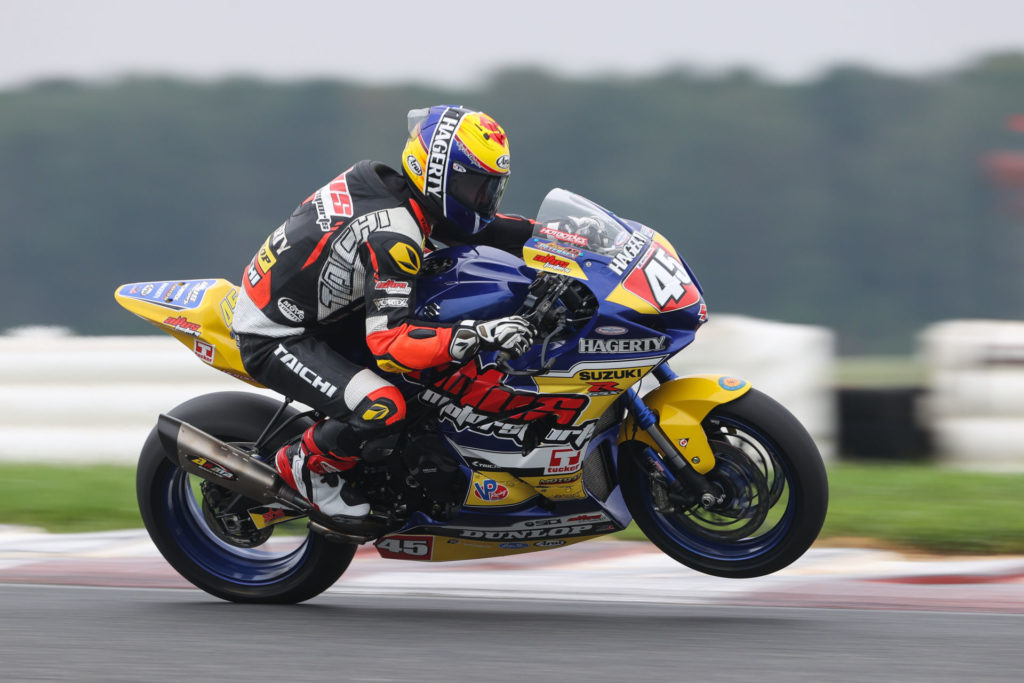 South African Petersen proved unstoppable in Stock 1000 action on his GSX-R1000, running away with the category's sole race on the weekend by more than six seconds. As a result, Petersen also leads his title fight enjoying a comfortable 17-point margin.
Team Hammer and the rest of the Suzuki-mounted riders will have only a moment to catch their breath as the 2020 MotoAmerica season resumes next weekend at Barber Motorsports Park in Birmingham, Alabama, on September 18-20.
More, from a press release issued by Altus Motorsports:
MotoAmerica: Round 6 Results from New Jersey Motorsports Park for the Altus Motorsports Tucker Hagerty Rangeline Team
(Millville, NJ)  Round 6 was the best weekend for the team thus far in the 2020 season.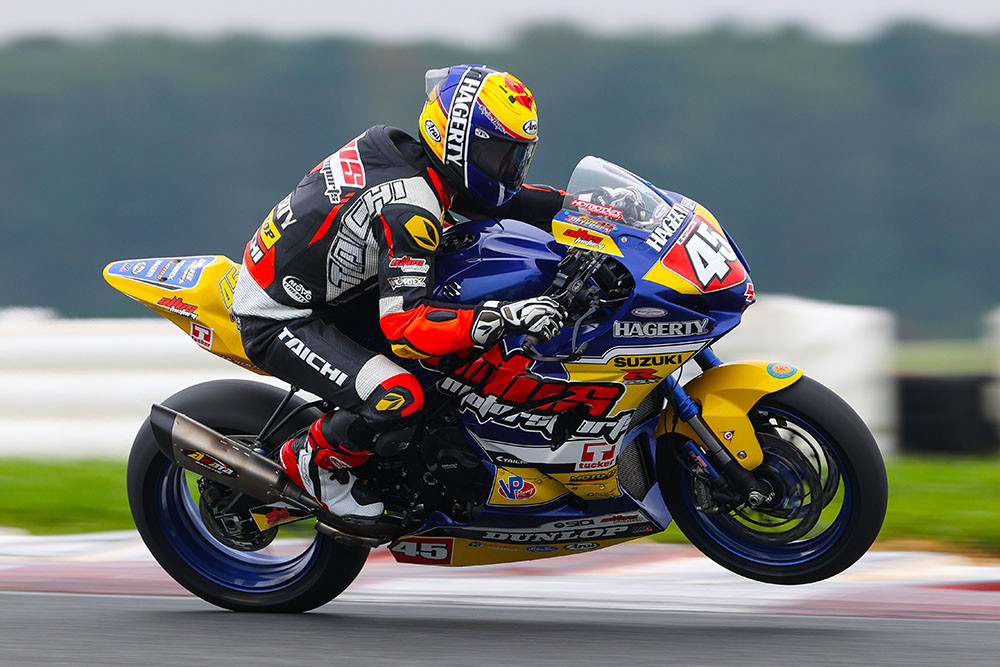 Honos Superbike & Stock 1000: Cam Petersen and the Altus team continued to build on the momentum from the round 5. The Altus Motorsports Stock 1000 Suzuki GSX-R 1000, the rider and the crew are getting stronger at each event.
Petersen again topped the charts in the Stock 1000 sessions and won the race by over 6 seconds. That makes five wins on the season and four in a row.
In the Superbike Class, Cam started both races from 11th position – the middle of the 4th row – not bad for gridding a Stock 1000 in the Superbike class. In the first Superbike Race, Pertersen moved up into 6th position but finished in 7th. In Race 2, he again got a good start and moved up to 7th place. He held that position to the finish and crossed the line as the top Stock 1000 competitor in the Superbike race.
"I am really having fun racing motorcycles again. It's not just the winning, it's the support and the team as well. This has been a great season so far," said Cameron Petersen "I am excited for Barber. I've had great results there in the past. It's one of my favorite tracks."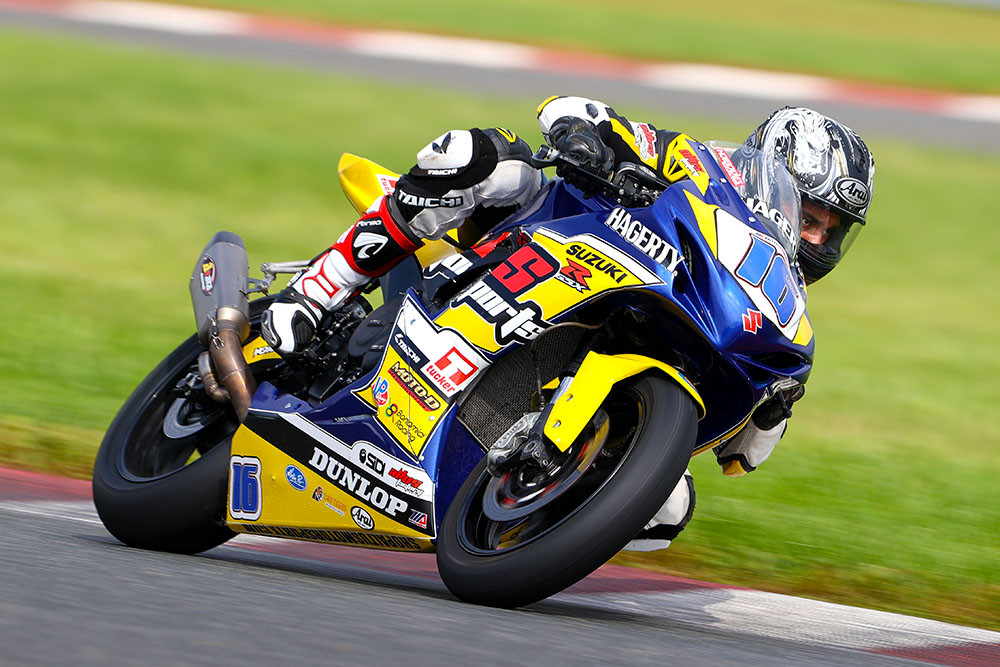 Supersport 600: Kevin Olmedo took another big step forward at Round 6. Weather on Friday severely limited the ability to find a dry set-up. The track was dry on Saturday for the second Qualifying session and Kevin managed to finish 5th fastest – one second off the pole position time. From the start of Race 1, Olmedo jumped up to 4th but didn't have the pace to stay with the top three. He spent the entire race in a fight for 5th place. A battle he won by only four hundredths of a second. An amazing start in Race 2 put Kevin in second place for the first few laps. He stayed in the battle for the podium for almost the entire race. A mistake on lap 8 allowed the top 3 to pull a gap but Olmedo put his head down and reeled them back in. Unfortunately, on the last few laps, his GSX-R600 began to run out of fuel and he had to settle for 5th place.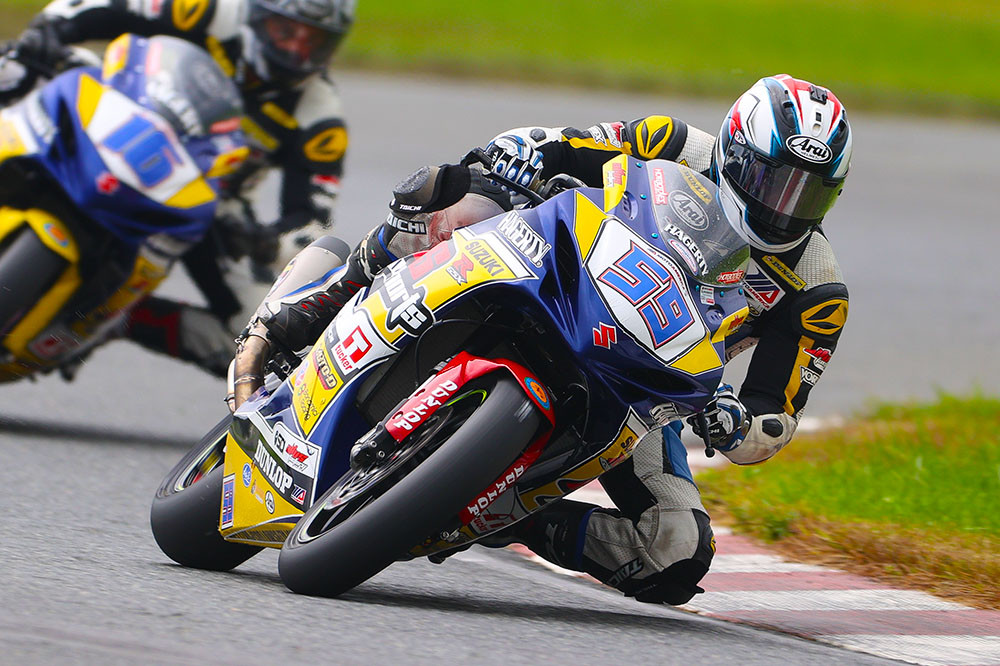 After Round 5, the team made major changes to  the setup of Jaret Nassaney's Suzuki GSX-R600. Round 6 confirmed that the team is moving in the right direction. Jaret qualified 9th fastest and finished Race 1 in a solid 10th. In Race 2, Nassaney jumped up to 8th place in the first few laps but then engaged in a fight for 9th. The hard-fought battle had position changes almost every lap. In the end, Jaret held onto 9th at the finish line by only .003 seconds over his competitor.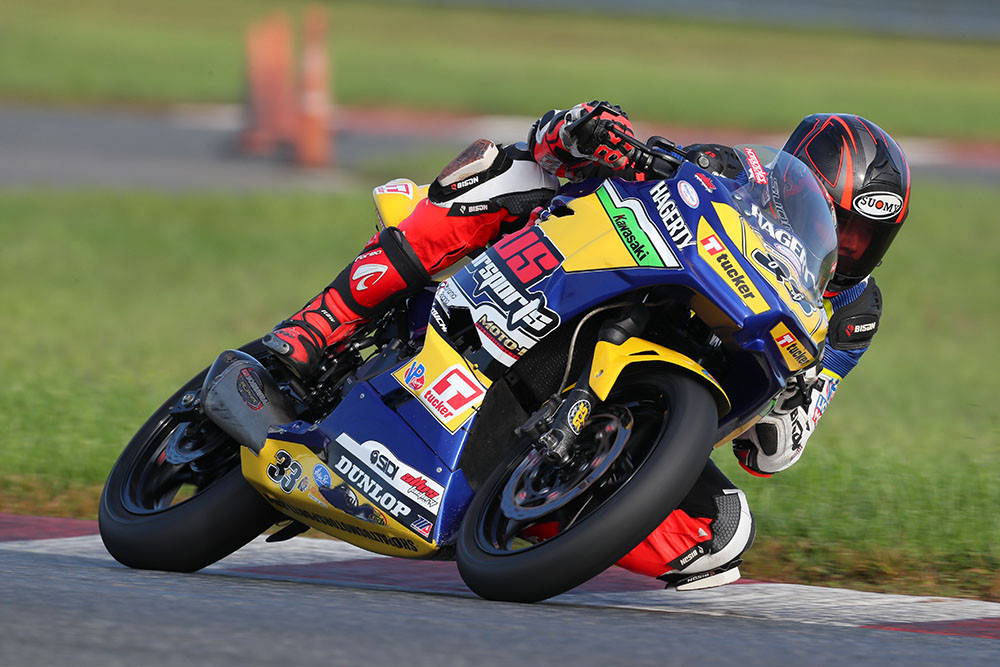 Liqui Moly Junior Cup: New Jersey Motorsports Park is yet another completely new track for Altus Motorsports Ninja 400 rider, Daniel Kinard. Wet weather on Friday made learning the track and finding a setup challenging. Kinard started both races from 14th on the grid. In the first of the two Junior Cup races of the weekend, he crossed the finish line in 13th. On Sunday, in the second race, he improved his lap time by almost a second and finished in 12th.
"During the weekend we think we may have found some setup changes that may help me going forward. I'm eager to get to Alabama. I know and like that track and feel that I will be able to put up some good results there," said Daniel Kinard.
"This was the best weekend of the season so far. I am extremely proud of everyone on our team and incredibly grateful to all of our sponsors for their support," said team-owner George Nassaney.
The Altus Motorsports team is supported by our great family of sponsors: Altus Motorsports, Tucker Powersports, Hagerty, Suzuki, The Rangeline Group, VP Lubricants, RS Taichi, Arai, Moto D, Bonamici, Hotbodies Racing, SBS Brakes, Vortex, Motion Pro, Law Tigers Oklahoma, Arata Exhaust, Dunlop, Team Hammer, and Altus Factory Racing