M4 ECSTAR SUZUKI'S BOBBY FONG WINS INDY SUPERBIKE AND ALTUS MOTORSPORTS' CAM PETERSEN CLINCHES STOCK 1000 CHAMPIONSHIP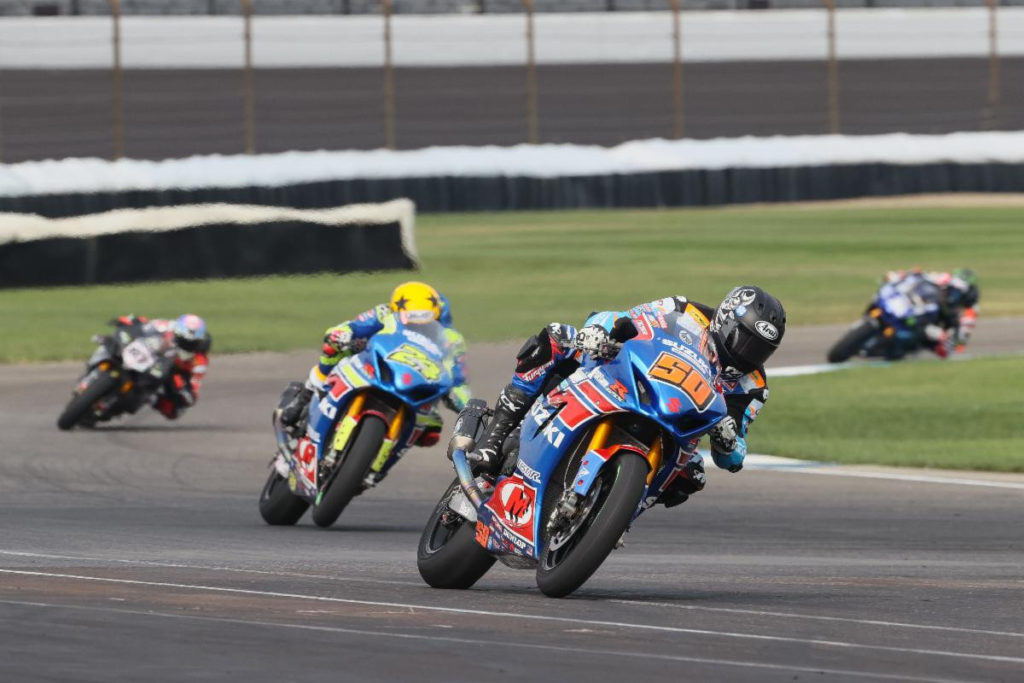 Team Hammer added to its long history on Saturday at Indianapolis Motor Speedway, winning another MotoAmerica Superbike race as well as a second-consecutive MotoAmerica Twins Cup Championship.
M4 ECSTAR Suzuki's Bobby Fong earned his second premier-class victory following a wild, twice red-flagged and restarted main event.
Starting from the outside of Row 1 with teammate Toni Elias holding pole position, Fong stormed into the lead at the start. After being displaced to second, Fong was all over the race leader when the first red flag flew while working the race's third lap.
Elias took the holeshot the second time around, and the two M4 ECSTAR Suzuki pilots ran 1-2 in the early going. On lap 2, Fong dove past Elias to take the lead and was pulling clear at the front when the race's second red flag was shown.
Following the second restart, Fong quickly worked his way up into second and pressured the early leader, who then crashed. Fong led until six laps remained in the 15-lap race before again being dropped back to second, but he immediately counter-attacked and forced the new leader into a critical mistake.
From there, Fong fended off a third challenger and won the drag race to the checkered flag by 0.228-second. Elias came home in fourth.
"It was hairy at the end with all the heat cycles on the tires," Fong said. "With all the warm-up laps and everything, it felt like we did like 30 laps on those tires. But we managed and the bike ran great. I have a rock solid crew behind me. We'll continue the hard work tomorrow and look to finish the weekend strong."
Meanwhile, in Twins Cup competition, 15-year-old ace Rocco Landers officially took the torch from 2019 class champion and current Team Hammer Stock 1000 star Alex Dumas. After getting his season off to a bit of an uncertain start, Landers found his form on the SportbikeTrackGear.com Suzuki SV650 and promptly earned a series of blowout victories en route to locking up the championship a round early.
Saturday's contest was more of the same. Landers pulled away from pole and powered to a nearly six-second margin of victory. The latest commanding victory was his seventh Twins Cup win in a row.
After the race, the newly crowned 2020 MotoAmerica Twins Cup Champion said, "SportbikeTrackGear.com and Team Hammer have put this amazing program behind me all year. After Road America and Atlanta, I didn't think I was going to be up here. The results early in the year messed with my head a little bit, but I'm feeling so good now. I've been feeling so good most of the year. It's been so awesome working with this whole team. They've worked so hard for me and given me such an amazing bike."
French Canadian Dumas returned to action after breaking his left arm just above the elbow a month and a half ago at Ridge Motorsports Park. The M4 ECSTAR Suzuki pilot showed little signs of rust, battling his way forward in the Stock 1000 race on his Suzuki GSX-R1000 from seventh to take control of third by lap 3.
There he would remain until the race's final several meters, as he was drafted on the long front straight and displaced to fourth at the checkered flag by a scant 0.043-second. Dumas later returned to the track at the end of the day to take eighth place in the MotoAmerica Superbike race on his Stock 1000 spec GSX-R1000.
Cam Petersen clinched the Stock 1000 title in that race, being credited with a close second in the process. Petersen, on his Altus Motorsports GSX-R1000 built by Team Hammer, stretched his points lead to 51 at The Brickyard. Petersen has won seven races and finished second three times in his magical season.
"It means so much to me. This is my life," said Petersen. "Just being able to hold this number one plate is pretty special. It's something I've dreamt of my whole life.
"It hasn't been an easy fight," he continued. "Every year I've been here (in America) I've been on a different team, different bike. It seems like every year kind of halfway through the season I start finding my feet. This year, I just decided to ride the Stock 1000 bike and see if I could find my feet again a little bit. I think I lost my way a little bit there a few years ago. This year has probably been the best thing for my career. I've had so much fun riding my bike every single weekend."
MotoAmerica Supersport star Sean Dylan Kelly saw a potential win evaporate when he crashed from the lead while attempting to pull clear of the pack on lap 3. The Floridian blasted to the holeshot from pole aboard his M4 ECSTAR Suzuki and put his head down in hopes of keeping his championship hopes alive. Desperate for a win, Kelly pushed to the maximum but unfortunately paid the price for his calculated risk.
With 'SDK' out of commission, it was up to M4 ECSTAR Suzuki teammate Lucas Silva to uphold the team's Supersport honors and he did. Silva charged up from an early seventh place and joined a heated battle for second position. Following an outside pass into third with three laps to go, Silva won a braking duel into Turn 1 on the race's penultimate lap to take control of second.
Unfortunately, he was pushed wide by a rival's aggressive last-lap passing attempt. That dropped Silva from second to fourth at the checkered flag, just 0.316-second short of a runner-up result. The result was Silva's second best of a season in which he's finished inside the top 10 in every race.
The MotoAmerica AMA/FIM North American Road Racing weekend at IMS will conclude on Sunday.
About Team Hammer
The 2020 season marks Team Hammer's 40th consecutive year of operating as a professional road racing team. Racebikes built and fielded by Team Hammer have won 103 AMA Pro and MotoAmerica National races, have finished on AMA Pro and MotoAmerica National podiums 281 times and have won nine AMA Pro and MotoAmerica National Championships, as well as two FIM South American Championships (in Superbike and Supersport.) The team has also won 137 endurance races overall (including seven 24-hour races) and 13 Overall WERA National Endurance Championships with Suzuki motorcycles, and holds the U.S. record for mileage covered in a 24-hour race. The team also competed in the televised 1990s Formula USA National Championship, famously running "Methanol Monster" GSX-R1100 Superbikes fueled by methanol, and won four F-USA Championships.
More, from a press release issued by Yamaha:
Gagne Takes Second Place in Dramatic Race One at The Brickyard in Indianapolis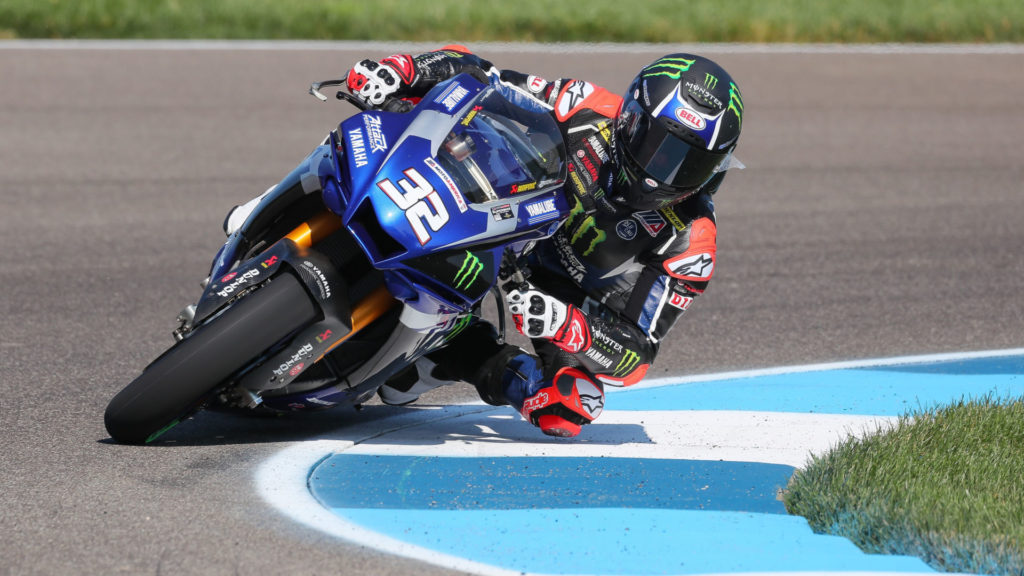 Jake Gagne took podium honors for the Monster Energy Attack Performance on Saturday in an incident-packed Race One at the Indianapolis Motor Speedway in Indiana, which saw two red flags and three restarts. Teammate and championship points leader Cameron Beaubier had an eventful race in which he led but ultimately crashed out.
After a tough qualifying which saw Beaubier line up fourth ahead of Gagne in sixth, the four-time Superbike Champion got a rapid start and moved up to second by the third corner. Gagne held steady in sixth, while Beaubier wasted no time in his charge and dived past into the lead before the end of the lap. However, before he could stretch his legs, the race was stopped on the second lap after a rider crashed coming out of the final turn. The red flags were brought out to clear debris, and the field went into the pits.
More drama followed just before the restart when Beaubier had an issue and narrowly missed the restart warm-up lap. He had to start at the back of the field, with Gagne starting from his sixth place. Undeterred, Beaubier charged through the pack immediately after the restart, his supreme pace taking him up to seventh by Turn 4 on the first lap. Gagne made a strong restart also, moving up to fifth by the second lap with Beaubier just behind after making the pass for sixth. By the third lap, the champion-elect was up to fourth and hounding the leaders, but the red flags came out again after he and Mathew Scholtz both went down after hitting oil on the track dropped by another rider's bike. Beaubier was able to return to the pits, and his mechanics worked hard to carry out quick repairs to enable him to return for the second restart.
As the lights went out, Beaubier was on fire again and took over the lead on the first lap. Gagne made progress of his own and was up to fourth, engaged in a tight battle with two riders for those final podium spots. Out front, Beaubier was controlling his pace and looked set to continue lead before an unfortunate crash out of the last corner damaged his bike and forced him to retire from the race.
Gagne meanwhile began to reel in the leaders and light up the timing screens. After the race leader went wide and off track, Gagne moved up a spot and pushed all the way to finish, just 0.228 behind in a hard-fought second place for twenty points with five races left in 2020.
The Monster Energy Attack Performance Yamaha team return to action for Sunday's doubleheader at The Brickyard, looking for a strong result for both riders.
Richard Stanboli – Monster Energy Attack Performance Yamaha Racing Team Manager
"It's been a very atypical weekend so far. Cameron started on the second row after crashing out of qualifying yesterday and then crashed in the race when another rider oiled the track, and then again while leading the race after the third restart. It was just a bizarre race. I think the fans will have to watch it to understand it fully.
"Jake, on the other hand, had a good ride after starting from the second row. He continues to improve his pace, and he came up just short of the win in a challenging race. Tomorrow we will regroup and work toward putting our Yamaha R1s at the top of the podium."
Jake Gagne – Monster Energy Attack Performance Yamaha Racing
"It was definitely a crazy day! Three restarts made for interesting racing, but finally, my third start was a bit better. The two riders up front got away quick, and it took me a bit to reel them in. In the end, I just wasn't quite close enough to make a run on Bobby (Fong) for the win, but I'm happy with my race overall and excited for the doubleheader tomorrow!"
Cameron Beaubier – Monster Energy Attack Performance Yamaha Racing
"The guys worked really hard to put together a strong package for today, but I could never really find my groove. The race was chaotic, and just when I started to find my flow after the restarts I made a small mistake while leading on the exit onto the straight and put the bike down. I'd like to thank the team and I am confident we can come back tomorrow with a strong pace for the win."