FONG AND TEAM HAMMER WIN MOTOAMERICA SUPERSPORT TITLE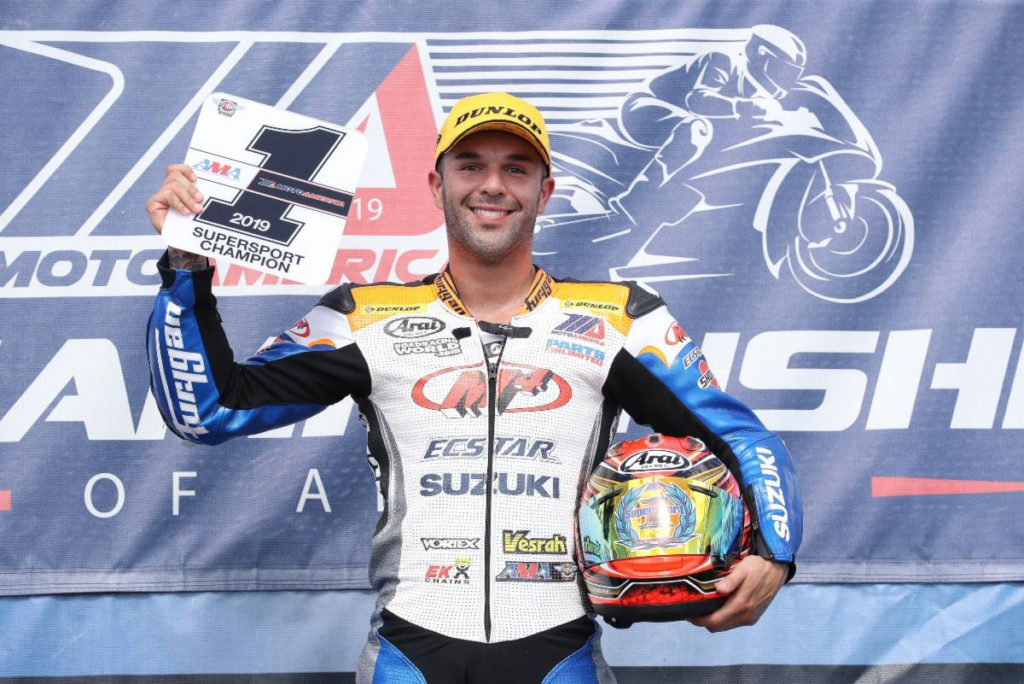 Team Hammer celebrated its sixth AMA Pro/MotoAmerica National Championship on Saturday at Barber Motorsports Park, as M4 ECSTAR Suzuki's Bobby Fong locked up the 2019 MotoAmerica AMA/FIM North American Supersport title in spectacular fashion.
The intense pressure of the 2019 season finale and a tight championship fight clearly brought out the best in the Californian. Fong powered into the lead aboard his GSX-R600 from the start after claiming pole position earlier in the day. And despite racing in a three-rider pack for the majority of the stressful affair, Fong skillfully controlled the race from the front.
He led across the start/finish stripe from the opening lap to the last, only giving a rival an opportunity to stick a wheel out in front of him on three brief occasions, before responding and regaining the lead each time.
Even when an unlucky run through heavy traffic on the race's final two laps brought his rivals right back to his rear wheel, Fong responded like a champion. He ripped off a lap just 0.005-second off the best of the race (a lap quicker than any other rider could manage even in qualifying) in his final run to the checkered flag, wrapping up both the race win and the title with sensational style.
As a result, Fong opened up an unassailable 26-point advantage and was crowned 2019 MotoAmerica Supersport Champion for the first time in his professional career, with Sunday's race still to run.
Even with that race remaining, Fong assembled his championship campaign on 13 top-two finishes in 16 attempts, including five victories.
The new Supersport Champion said, "Honestly, it's unreal. I've got to give it up to my team and my crew, who believed in me all year long, and to everyone else who has worked their butt off to help me make this happen, including my riding coach Josh Hayes.
"The nerves have been so high this weekend and I felt the pressure of people outside the team doubting me. There's been some sleepless nights. I'd never been in this position before… I've never felt so much pressure, but I knew I had the bike underneath me to do it.
"This morning in qualifying we knew we had the pace, and I just had to ride smart. Once the visor went down, I just tried to hit my marks and rode a good, smooth race.
"I was in disbelief when my guys told me I had locked up the championship. I busted out in tears. It's been such a long road to get here. I'm thankful for where I'm at today."
Fong's M4 ECSTAR Suzuki teammate Sean Dylan Kelly was in contention early on, running fourth during the opening laps and closing down on the leading three. However, after he nearly crashed in a violent slide on the newly repaved track, Kelly dropped back to sixth, and he spent the remainder of his race in recovery mode. Kelly finally made good on those efforts, retaking fifth position and defending it to the flag by 0.085-second.
Team Hammer is now in prime position to follow up its sixth AMA Pro/MotoAmerica National Championship with a seventh come Sunday. Twins Cup title leader Roadracing World Young Guns Suzuki's Alex Dumas posted the fastest lap during provisional qualifying (1:31.742) on Saturday and will open tomorrow's race aboard his Suzuki SV650 with a 21-point advantage working in his favor.
Meanwhile, Autovest Suzuki's Joseph Blasius will look to work his way up the order in Sunday's qualifying session after finishing provisional qualifying in 15th (1:34.689) despite riding just 3-1/2 weeks after undergoing surgery to repair a broken right wrist and a broken metacarpal in his left hand.
Saturday was a tough day for M4 ECSTAR Suzuki Superbike pilot Jake Lewis. The Kentuckian ran off track and crashed in the gravel on lap two of the day's premier class showdown. Lewis once again demonstrated his mettle, picking his machine back up and racing to an eventual 12th-place finish.
Team Hammer will try to win more hardware as the squad closes out the 2019 MotoAmerica AMA/FIM North American Road Racing season on Sunday at Barber Motorsports Park.
About Team Hammer
The 2019 season marks Team Hammer's 39th consecutive year of operating as a professional road racing team. Racebikes built and fielded by Team Hammer have won 82 AMA Pro and MotoAmerica National races, have finished on AMA Pro and MotoAmerica National podiums 232 times and have won six AMA Pro and MotoAmerica National Championships, as well as two FIM South American Championships. The team has also won 135 endurance races overall (including seven 24-hour races) and 13 Overall WERA National Endurance Championships with Suzuki motorcycles, and holds the U.S. record for mileage covered in a 24-hour race. The team also competed in the televised 1990s Formula USA National Championship, famously running "Methanol Monster" GSX-R1100 Superbikes fueled by methanol, and won four F-USA Championships.
More, from a press release issued by Westby Racing:
The Barber Motorsports Park Finish Line Eludes Mathew Scholtz And The Westby Racing Team In MotoAmerica Superbike Race One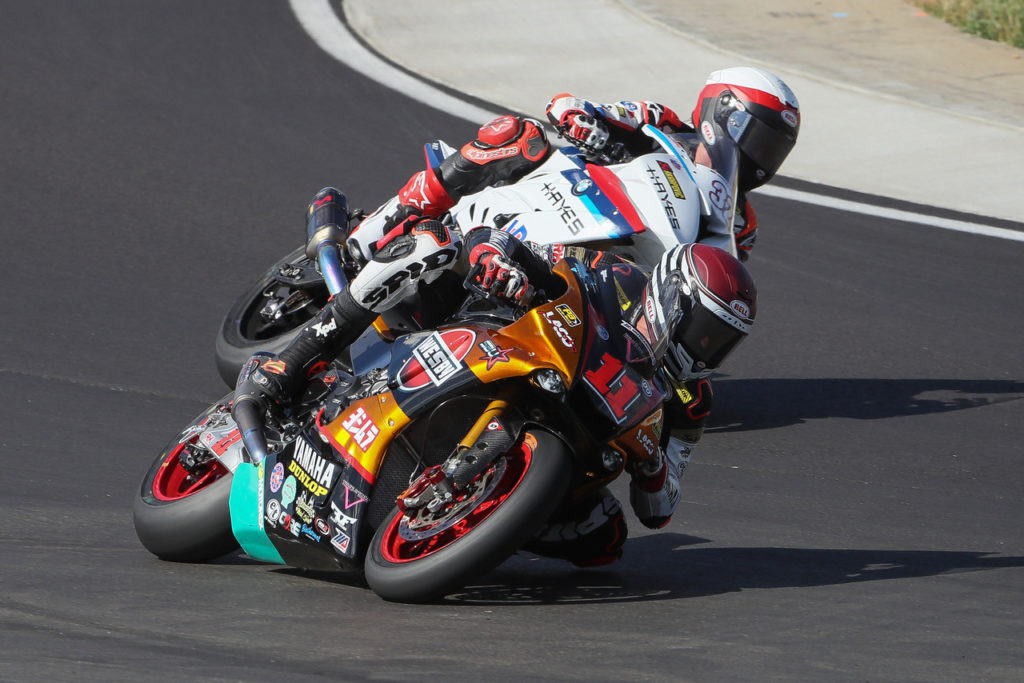 Birmingham, AL – September 22, 2019 – The dreaded letters "DNF" are an unfortunate part of motorcycle road racing, but for Mathew Scholtz and the Westby Racing team, "Did Not Finish" is rarely used to classify a race result for the gold-liveried #11 Yamaha YZF-R1 Superbike. Saturday's race one result, the penultimate race of the 2019 MotoAmerica Superbike Championship, however, went down in the books as a "DNF" for Mathew and the team.
Team manager Chuck Giacchetto described the day by saying, "It just wasn't our day, really. Things started out like gangbusters, and the crew did a great job overnight to get the bike ready for Superpole and the first race. Superpole started out excellent on the harder race tire, but when the fellas put in the softer compound, the tire fell off quickly. No fault of the tire or the crew since we are all working with some big unknowns from the newly repaved Barber surface. By the time Mathew realized the two laps were gone, there just wasn't enough time to come in for another tire option. But we got some valuable setup info that would pay dividends in Saturday's race.
"In the race, it seemed like the battle was coming back to us, and we felt pretty good about our position as the laps wound down. Unfortunately, though, bad luck showed its face and Mathew had to retire from the race. He made a wise decision to come in and avoid any severe damage to the number 11 bike. The crew went to work, busted their butts, and got the bike ready for race two on Sunday. We're ready to finish the season strong, in true Westby Racing form."
Summing up his Saturday, Mathew said, "In Superpole, we qualified further back than we'd liked to have been. I never really got the hang of the softer tire on the freshly paved race surface, to be honest. But, we were confident that our race pace would be good on the harder compound, and that we'd especially be strong in the last 10 laps of the race. After the start, I got in the group battling for the podium, with (Jake) Gagne, (JD) Beach, (Josh) Herrin, and Toni (Elias), and we were all running the same pace, but unfortunately, we suffered a mechanical issue with the bike, so that was disappointing. But, we'll put that one behind us. It always feels like we make a big step forward in the second race, and the bike is ready to go for Sunday, so I'm looking forward to ending the season on a high note and getting on the podium for the team and our fans."
Superbike race two, the final race of the 2019 season, goes green at Barber Motorsports Park on Sunday at 3 PM Eastern Time.
For more updates about Westby Racing, including news, photos, and videos, visit https://www.WestbyRacing.com
Also, follow "Westby Racing" on your favorite social media sites.