Gagne Sweeps Superbike at Barber
Fresh N Lean Progressive Yamaha Racing's Jake Gagne leaves Alabama with a pair of victories to expand his points lead in the MotoAmerica Superbike Championship
MARIETTA, Ga. – Fresh N Lean Progressive Yamaha Racing's Jake Gagne kept his win streak rolling with a masterclass performance in today's MotoAmerica Superbike Race 2 at Barber Motorsports Park in Birmingham, Alabama. His perfect score at the second round of the championship also strengthened his title defense, expanding his lead to 24 points. Unfortunately, his teammate Cameron Petersen had a tough race and was unable to finish.
Gagne executed another flying start for a second holeshot on the weekend and then raised the bar with a new track record on Lap 2. The Colorado rider further extended his lead with some consistently fast laps and crossed the line with a commanding victory to sweep the weekend. Gagne's third-consecutive win of the season gives him a 24-point lead over his rival heading into the third round of the championship.
Lined up on the grid in second, Petersen matched yesterday's start and slotted into the runner-up spot behind his teammate. Unfortunately, he would lose the rear a few corners later in Turn 5 and had to pull into the pits to repair damage to the bike. His crew worked hard to get him back on track, and he rejoined on Lap 7 but ultimately had to withdraw from the race.
The Fresh N Lean Progressive Yamaha Racing Team will do some testing before heading to Elkhart Lake, Wisconsin, for Round 3 of the MotoAmerica Superbike Championship at Road America on June 2-4.
Richard Stanboli – Fresh N Lean Progressive Yamaha Racing Team Manager
"Today was an up-and-down day for the team. Jake rode a great race for the win and showed the strength of the Yamaha R1 against the competition. Cam unfortunately made a small mistake on the first lap and tipped over. It was a crash that caused a lot of damage and took time to repair. He rejoined but eventually had to retire from the race. We are now off to a mid-week test and then off to Road America for Round 3. We look forward to seeing our cheesehead fans in Wisconsin."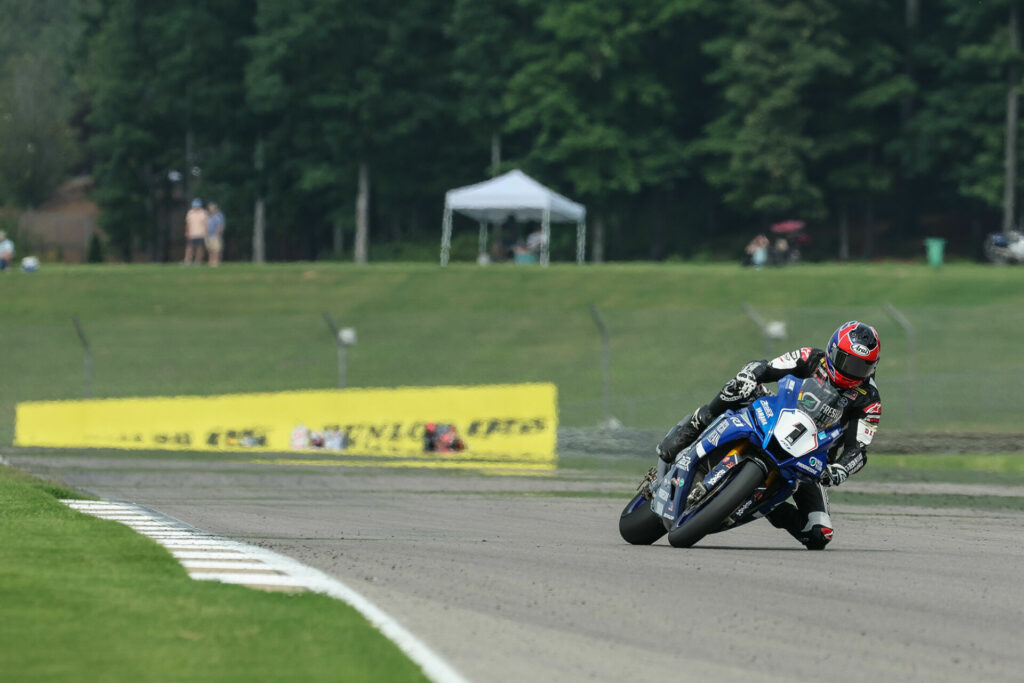 Jake Gagne – Fresh N Lean Progressive Yamaha Racing
"Coming into Barber, we knew this was a strong track for the Yamaha, so we wanted to take advantage of that as much as possible. It was a smooth weekend. We made some minor little tweaks, but straight off the truck the bike was working really well. We got another great start today, another holeshot, and even picked up the pace and got another track record. I was surprised by how fast we were able to go this afternoon. We had a little bit more of a comfortable gap up front and brought it home for another win. It was awesome for the team – a double win and a pole – and obviously good for the points. So great work from the team, as always. It's definitely a good weekend when we get to come away with two wins."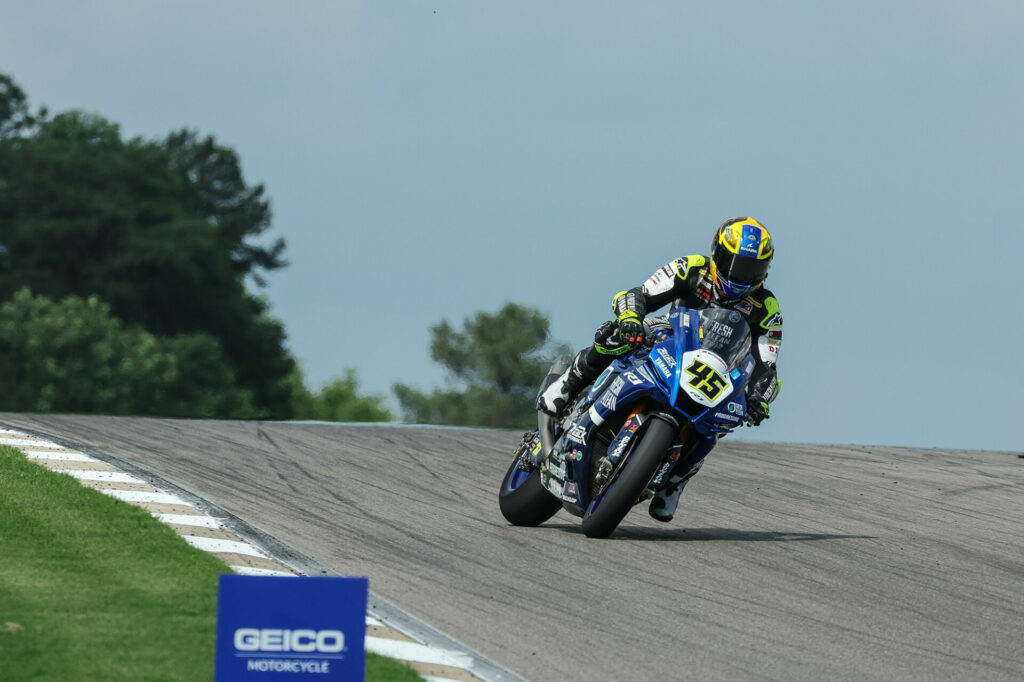 Cameron Petersen – Fresh N Lean Progressive Yamaha Racing
"It was not the way we wanted to end the weekend. It was going well, and I was happy to get second yesterday, but unfortunately I got sucked in a little bit going into Turn 5 and had just a little too much lean angle, and the rear came around. It's just unfortunate, but if you want to beat Jake, you have to take some risks at the beginning of the race in those first few laps. Honestly, more than anything, I hate letting down the team with all the hard work that they do. We had the potential to go 1-2 again today, so it's a bummer to end the weekend like that, but at least we don't have to wait too long to try and bounce back. We're going to put this one behind us and focus forward from here."
2022 MotoAmerica Superbike Barber Race 2 Results
About Yamaha Motor Corporation, USA
Yamaha Motor Corporation, USA (YMUS), is a recognized leader in the outdoor recreation industry. The company's ever-expanding product offerings include Motorcycles and Scooters, ATV and Side-by-Side vehicles, Snowmobiles, WaveRunner Personal Watercraft, Boats, Outboard Motors, Outdoor Power Equipment, Power Assist Bicycles, Golf Cars, Power Assist Wheelchair Systems, Surface Mount Technology (SMT) and Robotic Machines, Unmanned Helicopters, Accessories, Apparel, Yamalube products, and much more. YMUS products are sold through a nationwide network of distributors and dealers in the United States.
YMUS has a corporate office in California, two corporate offices in Georgia, facilities in Wisconsin and Alabama, and factory operations in Tennessee and Georgia. Additional U.S.-based subsidiaries include Yamaha Marine Systems Company (YMSC) with divisions Bennett Marine (Florida), Kracor Systems (Wisconsin) and Siren Marine, Inc. (Rhode Island), Skeeter Boats (Texas), with division G3 Boats (Missouri), and Yamaha Precision Propeller (Indiana).
More, from a press release issued by Suzuki Motor USA, LLC:
RICHIE ESCALANTE PUTS THE GSX-R1000R IN THE TOP FIVE IN RACE 2
Suzuki GSX-R1000R Shines in Alabama in Superbike & Stock 1000 Races
BREA, CA – May 22, 2023 – With the weekend's MotoAmerica Supersport action already concluded following Saturday's long race at Barber Motorsports Park, Suzuki Motor USA and Team Hammer focused solely on its Superbike effort on Sunday. The squad performed well on center stage, with rising star Richie Escalante, in particular, excelling under the spotlight.
Race Highlights:
 Vision Wheel M4 ECSTAR Suzuki

Superbike

Richie Escalante equaled the best result of his premier-class career after battling for the podium.
Toni Elias continued to gather data and rediscover his championship form in his return to competition.

Stock 1000

Team 4SR Disrupt Racing's Hayden Gillim dominated the class going two for two in the weekend's Stock 1000 races.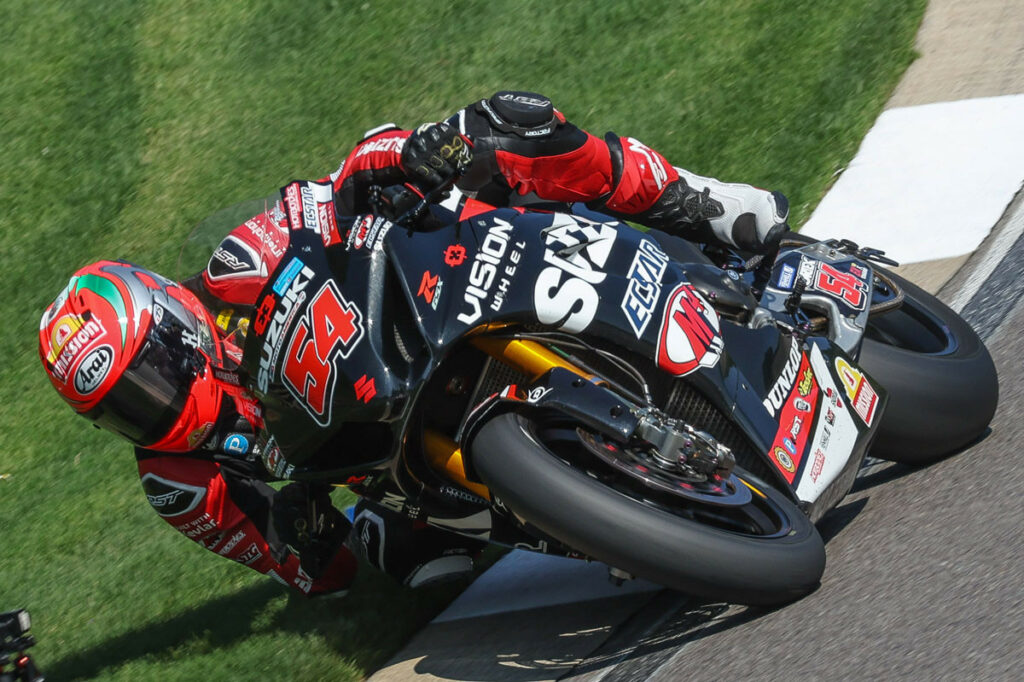 Vision Wheel M4 ECSTAR Suzuki's Richie Escalante demonstrated his mammoth potential on Sunday at Barber Motorsports Park, battling with some of the most decorated Superbike pilots on the planet en route to a fourth-place result. Escalante got away quickly from the second row aboard his factory-backed GSX-R1000R and found himself in fifth following an early incident and resulting back-and-forth action. Escalante scrapped for a podium position early with two former Superbike champions directly in his sights and a former World Superbike pilot right on his heels. Undaunted, he executed a slick switch-back maneuver to grab hold of fourth, a position he wouldn't relinquish.
After matching his best-ever MotoAmerica Superbike result, Escalante said, "It was an amazing weekend. I got a great start and saw what was going on around me. I knew I had to make a pass as quickly as possible. After that, I was just working on my pace. I'm super happy – my Vision Wheel M4 ECSTAR Suzuki GSX-R1000R was working so well. My crew is working so hard to give me the best bike possible. I'm getting closer and closer to the podium. Now it's time to keep working. I just want to say thank you to my friends and team and all the people who support me."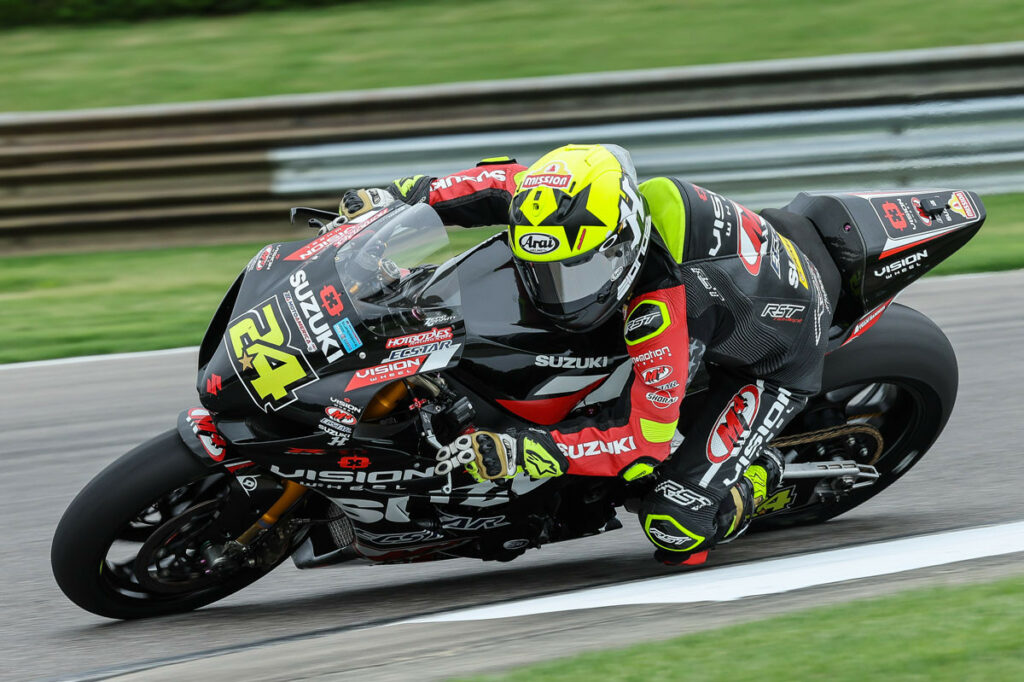 Former MotoAmerica Superbike champion Toni Elias improved upon his Saturday result, claiming his third top ten in four attempts as he rounds back into his trademark form. The Spaniard had a front-row seat for the four-rider fight for third that involved his Vision Wheel M4 ECSTAR Suzuki teammate in the opening stages of the contest before eventually fading to ninth.
"We definitely did better than yesterday. I improved one second with our fastest lap and with our pace in the race," said Elias. "Our changes this morning helped the traction. Now, I need more feeling and confidence in the front. I think the team has worked hard and I am thankful. We were faster but it wasn't where we want to be. We will keep fighting."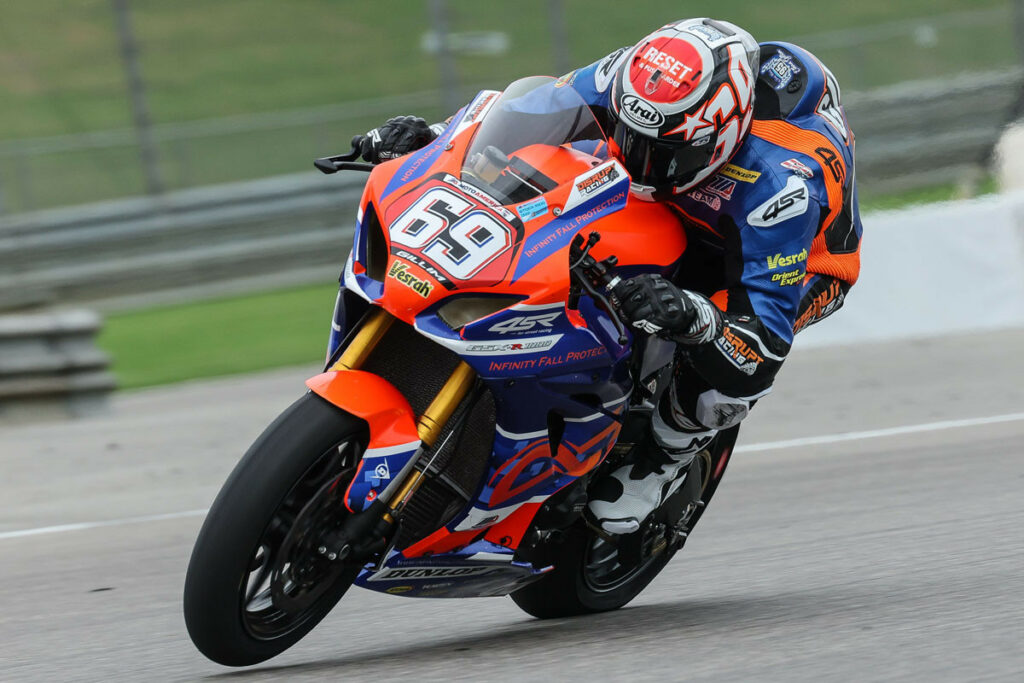 Meanwhile, the GSX-R1000R proved dominant in the Stock 1000 competition at Barber Motorsports Park, with weekend double-winner Hayden Gillim notching a pair of blowout victories aboard the 4SR Disrupt Racing Suzuki GSX-R1000R.
Suzuki Motor USA will look to capitalize on its surging moment as the series next travels to the ultra-fast Road America in Elkhart Lake, Wisconsin, on June 2-4.
For more racing news, results, and special team content please visit https://suzukicycles.com/racing/road-racing.
ABOUT SUZUKI
Suzuki Motor USA, LLC. (SMO) distributes Motorcycles, ATVs, Scooters, Automotive Parts, Accessories, and ECSTAR Oils & Chemicals via an extensive dealer network throughout 49 states. Suzuki Motor Corporation (SMC), based in Hamamatsu, Japan, is a diversified worldwide manufacturer of Motorcycles, ATVs, Scooters, Automobiles, Outboard Motors, and related products. Founded in 1909 and incorporated in 1920, SMC has business relations with 201 countries/regions. For more information, visit www.suzuki.com.
ABOUT TEAM HAMMER
The 2023 season marks Team Hammer's 43rd consecutive year of operating as a professional road racing team. Race bikes built and fielded by Team Hammer have won 129 AMA Pro and MotoAmerica National races, have finished on AMA Pro and MotoAmerica National podiums 346 times, and have won 11 AMA Pro and MotoAmerica National Championships, as well as two FIM South American Championships (in Superbike and Supersport.) The team has also won 137 endurance races overall (including seven 24-hour races) and 13 Overall WERA National Endurance Championships with Suzuki motorcycles, and holds the U.S. record for mileage covered in a 24-hour race. The team also competed in the televised 1990s Formula USA National Championship, famously running "Methanol Monster" GSX-R1100 Superbikes fueled by methanol, and won four F-USA Championships.
ABOUT VISION WHEEL
Founded in 1976, Vision Wheel is one of the nation's leading providers of custom wheels for cars and trucks, and one of the first manufacturers of custom wheels and tires for ATVs, UTVs, and golf carts. Vision Wheel looks beyond the current trends and to the future in developing, manufacturing, and distributing its wheels. Vision's lines of street, race, off-road, American Muscle, and Milanni wheels are distributed nationally and internationally through a trusted network of distributors. Vision Wheel also produces the Vision It AR app to allow users to see how their wheel of choice will look on their vehicle before purchase and installation. For more information on Vision Wheel, visit www.visionwheel.com.
More, from a press release issued by Aprilia USA:
ROCCO LANDERS PILOTS THE APRILIA RS 660 TO PAIR OF CONFIDENT VICTORIES IN MOTOAMERICA TWINS CUP RACES AT BARBER MOTORSPORTS PARK
LANDERS' RESULTS PUT TWO RODIO RACING – POWERED BY ROBEM ENGINEERING RIDERS NEAR TOP OF TWINS CUP POINTS STANDINGS
BIRMINGHAM, AL – 22 MAY 2023 – Three-time MotoAmerica class champion Rocco Landers hadn't raced an Aprilia RS 660 prior to the previous MotoAmerica round at Road Atlanta. The fill-in rider has found immediate success aboard the Rodio Racing – Powered by Robem Engineering package that he's piloted to three wins in four races – including a double victory at this past weekend's MotoAmerica round at Barber Motorsports Park.
Though Landers' teammate, Gus Rodio – who was leading the championship standings at the start of the round – endured a challenging weekend, both Landers and Rodio are right near the top of the Twins Cup standings. Rodio's points lead was large enough that — despite not scoring any points at Barber — he's just two points behind the current leader. Landers is just 10 points behind Rodio despite not racing or scoring points in the first three contests of the season.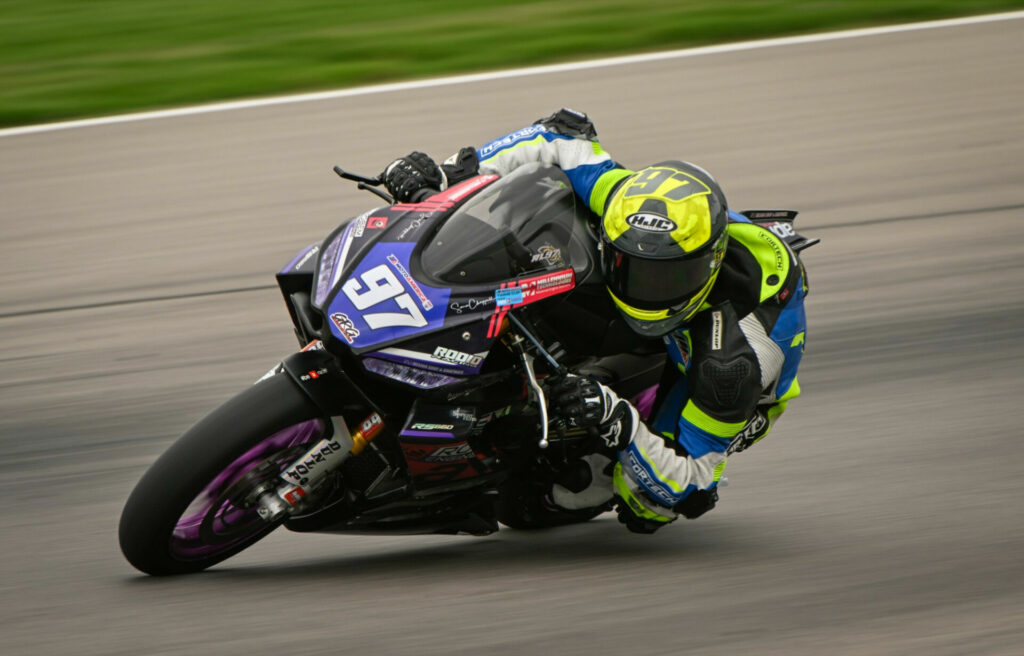 This was the second round Landers was filling in for Rodio Racing – Powered by Robem Engineering rider Ben Gloddy, who sustained an injury at the season-opening round at Daytona International Speedway. Another top Aprilia rider who did not take part in the Barber round was Jody Barry, who was injured in a pre-race crash at the previous round.
The round kicked off with two Aprilia riders on top in Friday morning practice. Rodio paced the field with a time of 1:31.763, while Landers's best lap was a mere 0.116 seconds off Rodio's pace. The third Aprilia rider who finished in the top 10 in Friday practice was Unreal Racing's Daniel Garver, who was the ninth-fastest rider.
Later Friday, Rodio and Landers were again at the top of the time sheets in Qualifying 1, but this time it was Landers at the point. He posted a best lap time of 1:29.946, and Rodio was less than half a second off Landers' pace. Righteous Racing's Ray Hofman finished Qualifying 1 in ninth place, giving Aprilia three riders in the top 10 for the session.
Qualifying concluded on Saturday morning with Landers having claimed his second pole position of the season. He improved his best lap time from Qualifying 1 by almost one second when he put in a 1:29.135. Rodio couldn't improve on his best time from Qualifying 1 and had to settle for third on the starting grid. He missed out on completing an Aprilia 1-2 in qualifying by 0.065 seconds.
In Saturday afternoon's Race 1, Landers and Rodio both got off the line well and were running first and third, respectively, as the field entered Turn 1. Rodio quickly moved up to second place in the first few corners, and briefly took the lead from Landers on Lap 2. Landers moved back into first place a few corners later and built a lead as large as about 1.5 seconds by Lap 4. When light rain began to fall on Laps 5 and 6, Landers backed off his pace, which promoted Rodio to the race lead. At the start of Lap 7, Rodio high-sided as he was going through Turn 2, and the raced was quickly red flagged. Though Rodio was able to get his Aprilia back to the pits, MotoAmerica Race Control ruled he was not allowed to take part in the restarted race.
When racing got back underway, Landers got a great start and had moved up from ninth to second by the end of the first lap. Landers then took the lead on Lap 3 of the restarted five-lap race and claimed the win by a margin of 1.148 seconds. Hofman was the other Aprilia rider to finish in the top 10. He crossed the finish line in ninth place.
Sunday's Race 2 mirrored Race 1 in the results. Landers and Rodio got good starts and were running 1-2 as the field entered Turn 1. The pair broke away from the field, though Landers methodically built a lead of more than a second over Rodio. On Lap 8, Rodio began losing pace, and a pack of three riders caught up to him on Lap 9. Unfortunately, another rider made contact with Rodio at Turn 11, and both riders crashed. Rodio was unable to rejoin the race. Landers managed his lead in the closing laps of the race to claim his second win of the weekend by 5.4 seconds. Hofman scored his second ninth-place finish, and Garver finished 10th to give Aprilia three riders in the top 10.
Of the 41 riders entered in Twins Cup for the Barber round, 19 were registered to race Aprilia RS 660s.
The Twins Cup is not scheduled to participate in the next MotoAmerica round at Road America and will be back in action when the series heads to The Ridge Motorsports Park in Shelton, Wash., on June 23-25. The championship schedule, competitor information and class rules can be found at https://motoamerica.com/.
More, from a press release issued by Tytlers Cycle Racing:
Strong showing from all three riders and another Superbike podium at Barber
Round two of the 2023 MotoAmerica Superbike Championship saw Tytlers Cycle Racing at the sharp end once again, their three riders Cameron Beaubier, PJ Jacobsen and Corey Alexander all excelling at the undulating technical circuit that is Barber Motorsports Park.
Coming into the event as joint Championship leaders thanks to a win and second place at Road Atlanta all eyes were on former champion Cameron Beaubier. The 'baby faced assassin', as he was nicknamed by MotoAmerica during a social media feature earlier in the weekend, was once again part of the podium fight on both days, finishing fourth in Saturday's reduced sixteen lap encounter before going one better on Sunday in the twenty-lap race after making some changes overnight.
PJ Jacobsen, who has always gone well at the Alabama venue was also once again at the sharp end. Qualifying strongly on the second row, the #66 raced to a pair of fifths.
Corey Alexander was racing at Barber Motorsports Park for the first time as a full time Superbike rider and he too did a great job throughout the weekend. Ninth and seventh means that like Beaubier, Alexander too has scored points in all four races so far this season.
Heading to round three at Road America in a couple of weeks Tytlers Cycle Racing continue to be in the title fight with the BMW M1000 RR. Cameron Beaubier sits second on points with PJ Jacobsen and Corey Alexander both well inside the top nine.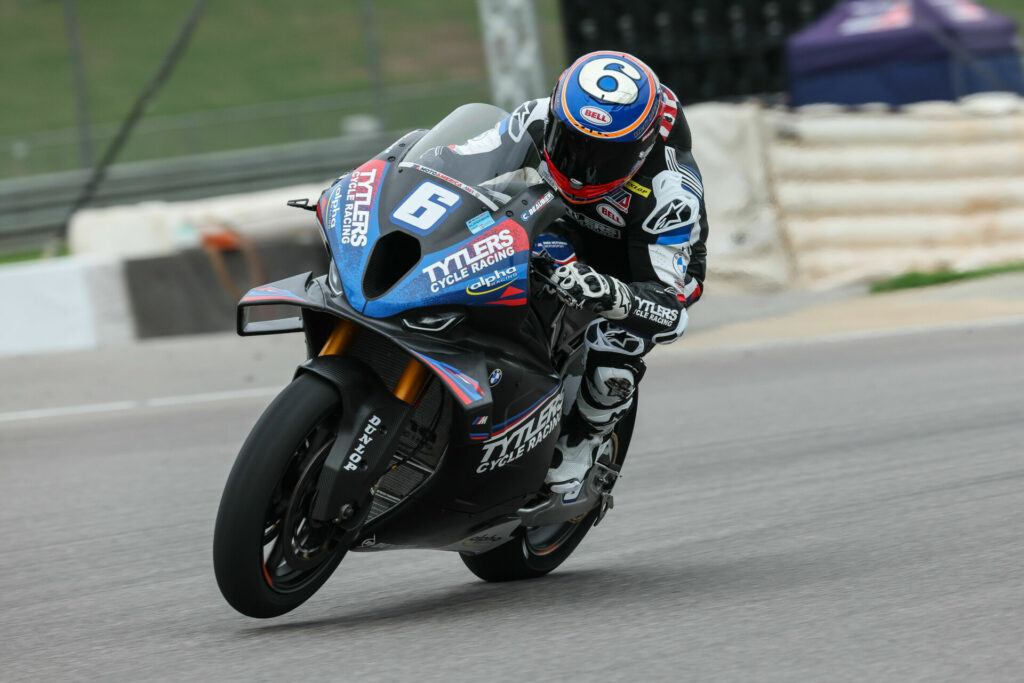 Cameron Beaubier: "Today could have been better but I am taking the positives. We were pretty set on running the hard rear, but the track temperature had come up a lot right before the race making the soft probably a better choice. We cannot be too hard on ourselves as it is only our second round together and we are learning all the time. We made a step with the bike and myself in warm-up on Sunday morning and I rode good in the race but did not have a great start or first few laps. Nevertheless, I am happy to come home with a podium and taking the positives as I said to round three at Road America where I am confident, we can also be in the fight."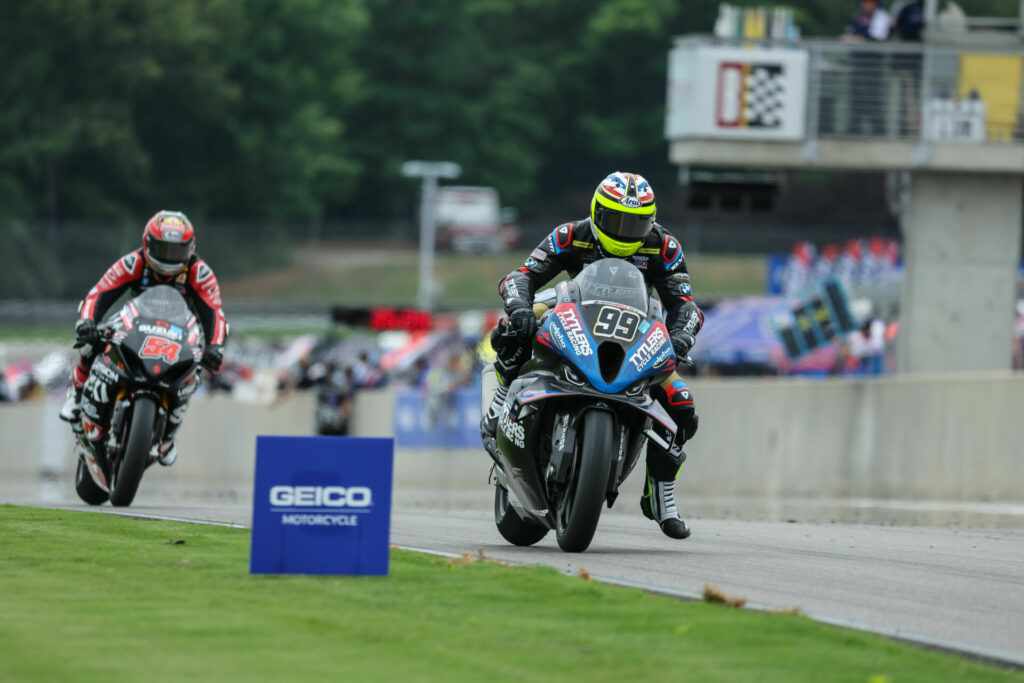 PJ Jacobsen: "Race one was pretty good. I didn't make the best start but was able to start moving forward after the first few laps. I felt good, but I was hoping to be closer to the front. We made some changes overnight and I thought race two was going to be better for me, but it wasn't. The race was put back to the original twenty laps and it was quite difficult, but I gave it my all but couldn't get to the pace I wanted. We leave Barber with two fifth place finishes which was all I could do and so we head to Road America where will look to move forward."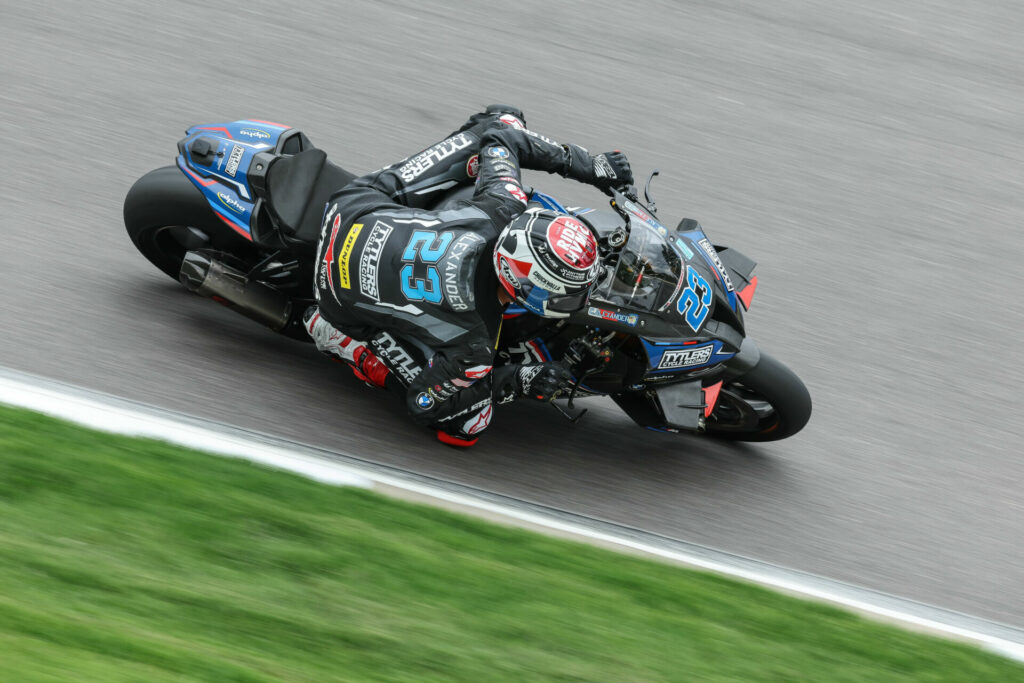 Corey Alexander: "Saturday's race was another learning curve. We made some big changes for the race which were definitely a step in the right direction, but we made the wrong call on tyres. Overall, I was happy with the consistent race pace, but we need to improve a bit in the early stages. Race two was another small step in the right direction but I struggled with grip early on. Once again, we showed consistent pace and happy to come away with a top seven. I am excited to get to some other tracks on the calendar where I know I will be stronger at, and I am eager to keep progressing. Thanks to the team and everyone supporting me. See you at the next one!"