Editorial Note: Scroll all the way down to hear the audio of the entire interview with Herrin.
Interview: Josh Herrin
"I'm Riding Better Than I Have Ever Rode Right Now…"
By Michael Gougis
Former AMA Superbike and MotoAmerica Superstock 1000 Champion and Daytona 200 winner Josh Herrin says he's at the peak of his game, and will be in the MotoAmerica Superbike class in 2021 to prove it.
"I'm riding better than I ever have rode right now. I just need the right package to show that," said Herrin at Buttonwillow Raceway Park on Monday, where he was attempting to set a Guinness World Records mark for the fastest recorded elbow drag in history.
"I have a good opportunity coming up for 2021. Fresh n' Lean is also supporting what we're going to do next year. They've got a lot into the program. Fresh n' Lean's stepping up big-time and trying to help me secure a spot. There are teams that need funding.
"I'll be racing Superbike in MotoAmerica. I can't say for what team or manufacturer. But there's a couple of teams to talk to, and it'll be a team I can be more competitive on than I was this year. And I'll get back to having fun racing."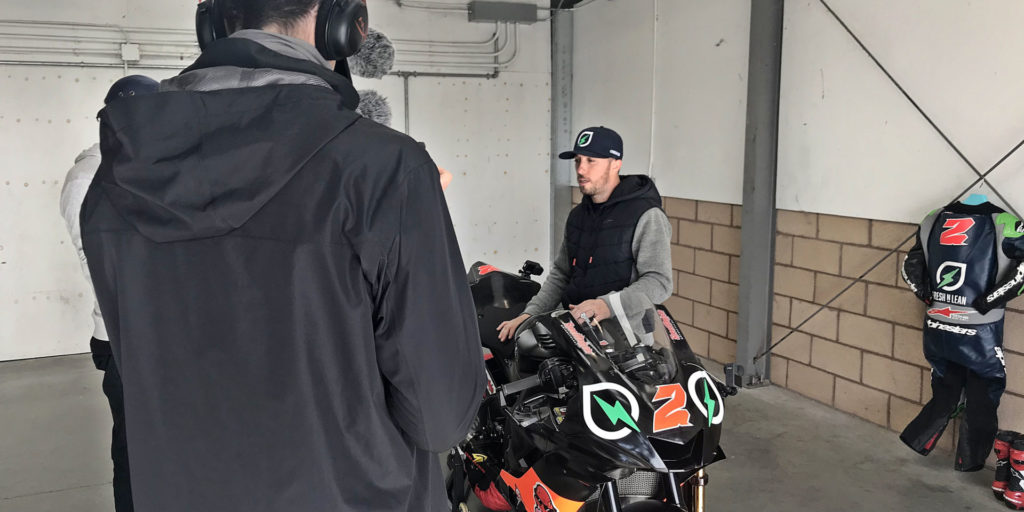 Herrin is an ambassador for Fresh n' Lean, the nation's largest organic meal delivery service in the U.S. The company sponsored the attempt to set the elbow-dragging record, which turned out to be a lot of hard work. After nearly an hour of burning through Riverside Corner at Buttonwillow, Herrin's crew said they had met the requirement that he keep his elbow on the ground for 30 meters while exceeding 161.1 kph (100.1 mph). Herrin's run was timed at 163.4 kph (101.5 mph), and the data and camera recordings have been turned over to Guinness for confirmation.
"When I touched my elbow down, it had to stay on the ground the whole way, which is weird, because normally like when we're racing, right, you like go through there at a faster speed than that and just barely touch it," Herrin said.
"This is really the only turn in the whole country that I could think of that we could do that on. I asked Chris Ulrich, I asked Josh Hayes, I asked a lot of people, and this was really the only one we could do."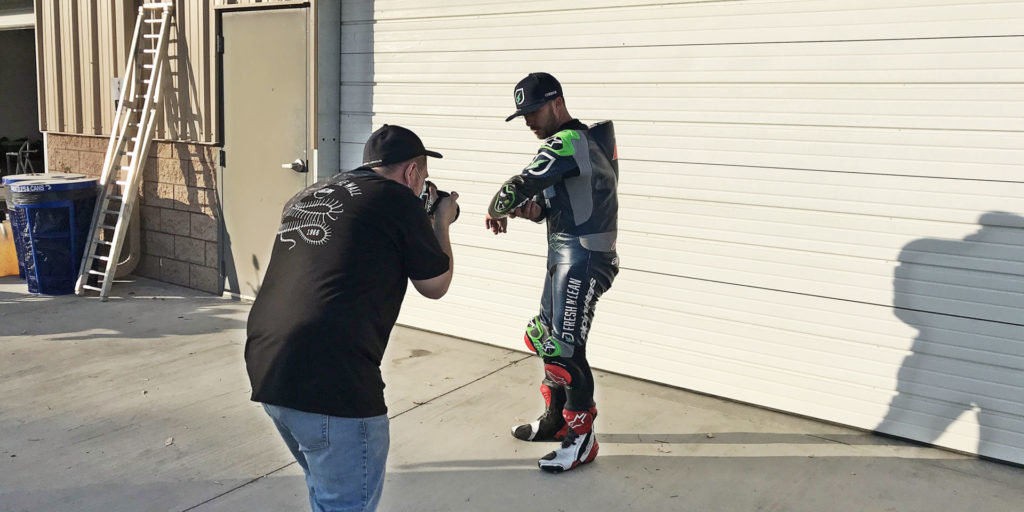 Lots of racers touch their elbows on the ground at the apex of a corner. Keeping his elbow on the ground for 30 meters at a track in the U.S. was a different beast entirely, Herrin said. Every ripple on the pavement sent an input into the handlebars through Herrin's inside arm, and those sorts of inputs are rather unwelcome at triple-digit speeds and 60 degrees of lean.
"I had to make sure that I put enough pressure that when I hit a bump my elbow didn't bounce off the ground. So when I put that much pressure on my elbow it was really lightening the front of the bike – lightening the whole bike, I think, so it got a little squirrely," Herrin said.
The effort required for the attempt was entirely different that what happens on Sunday afternoon at a MotoGP or Superbike race, Herrin said. He used the same set of elbow sliders for the entire 2020 MotoAmerica Superbike season. He went through three sliders in 17 laps at Buttonwillow.
"They're on GP bikes, GP tires, smooth tracks, and they're touching the elbow down, they're not holding it down the whole time. We're on bumpy tracks here, it's different stuff, we're on sportbikes. It was very hard and very scary. It was nerve-wracking for me. He (Thomas Asseo, co-CEO of Fresh n' Lean and a WERA West racer) has got a whole crew here. He's got witnesses. He's got five guys from Fresh n' Lean here. He's got a lot of money into something that's supposed to be for fun. I didn't want to crash."
Herrin said he was satisfied with what he was able to do with the Scheibe Racing BMW S1000RR during the 2020 season.
"(Jake) Gagne was the best rider I knew who rode that bike. Pretty much every track that I went to, I was right on his times or a little better. My goal was to always try and go faster than him," Herrin said.
"They don't have any full-time guys. (Steve) Scheibe drives the truck to and from every race. With what we had, I think we did great. He put in a little more effort than he should have at a couple rounds, and we got the Öhlins guys to come over … it was a huge help for us. We had two rounds where they were there with us all weekend. Indy was the best one, and we were running up front the entire time. We got BMW's first-ever (Modern-era) Superbike podium in America. For a model 2015 bike … for us to be that close to the front, even if it's for one race, it shows the potential."
Herrin's potential has rarely been in question, although the results haven't always shown it. Perhaps the worst period of his career was a disastrous foray into Moto2 in 2014, with a best of 16th in 10 races. With five-time MotoAmerica Superbike Champion Cameron Beaubier headed for Moto2 next season, Herrin had praise and advice for his Superbike colleague.
"I'm pumped for Cameron. I think it's an awesome opportunity," Herrin said. "I think it's going to be tough. If I had any advice for him, it would be go there, stay there, don't worry about coming home, because your family's going to be there when you come back. Don't keep trying to get on the first flight back to America.
"I wish I would have just gotten an apartment there, stayed there, and really focused on hanging out with people from there and not worry about bringing friends over there, bringing family there, bringing girlfriends over there. Just focus on living that lifestyle over there. He's good enough to win World Championships. That would be the biggest thing for him."