The 2023 MotoAmerica AMA/FIM North America Road Racing Series finale will be held September 22-24 on the 2.25-mile, 12-turn Thunderbolt Raceway at New Jersey Motorsports Park (NJMP), in Millville, New Jersey. And while some of the Championship battles have already been decided, some others will still on the line at one of MotoAmerica's most convenient venues.
NJMP has been hosting America's premier motorcycle road racing series since 2009, shortly after it was opened at the end of 2008. It is located on 500 acres immediately adjacent to Millville Airport, which started out as Millville Army Airfield in 1941, at the onset of World War II (WWII). Here, U.S. Army pilots were trained to fly P-47 fighter planes, which were nicknamed Thunderbolts, hence the naming of NJMP's primary course. NJMP also has a 1.9-mile track named Lightning Raceway, after the P-38 Lightning fighter plane from WWII, and the Liberator karting/mini-bike course, named after the B-24 Liberator bomber from WWII.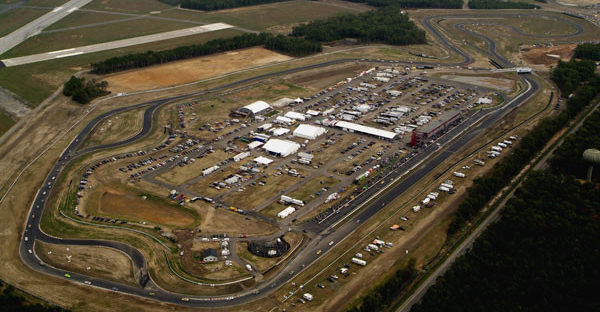 Millville is a relatively small town located less than an hour from Philadelphia, Pennsylvania; 45 minutes from Atlantic City, New Jersey; 120 miles from New York City, New York; and about 140 miles from the Washington, D.C. area, making the track easily accessible for the many people who come to spectate — or operate their own vehicles during track days — at the venue each and every year.
Lodging choices for those traveling to NJMP abound, including overnight rentals in the Villas of Breighton and VIP Suites located right on NJMP property with trackside views, and hotels rooms to suit all tastes and budgets are just minutes away in Millville and its neighboring communities. Trackside RV camping and tent camping are also available for the MotoAmerica weekend.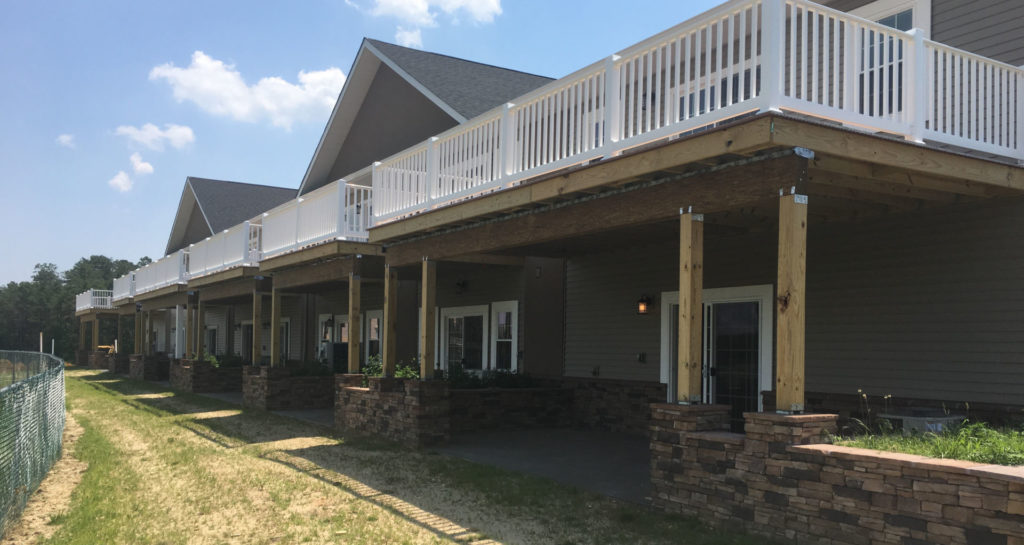 Access to all the action starts with tickets to the MotoAmerica event, which range from General Admission (single-day to three-day), VIP Hospitality, Harley-Davidson 120th Anniversary VIP, to the Dunlop ECSTAR Suzuki Two-Seat Superbike Experience ticket package, which includes a thrilling ride around the racetrack on the back of a Superbike piloted by retired Pro racer Chris Ulrich. Fans can also ride their own motorcycles around the track during the Harley-Davidson Parade Laps and the Cardo Parade Lap. U.S. military veterans are eligible for discounted prices on tickets, and kids 12 and under get into the event free with a paying adult. Restrictions apply.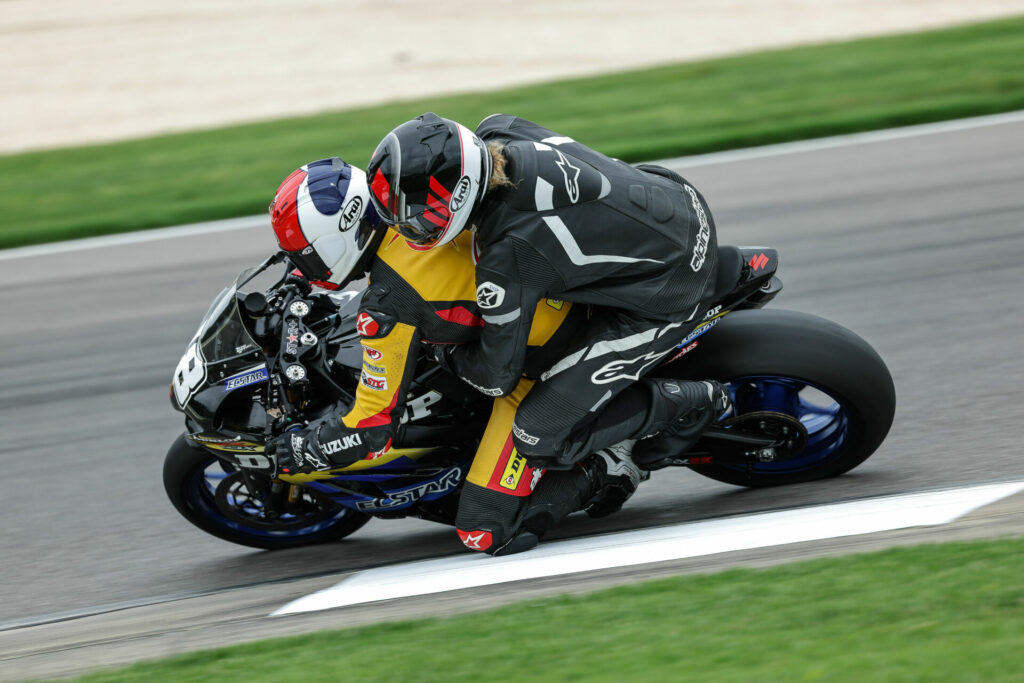 One of the best things for fans attending races at NJMP is that all of the activities at the event are within a short walk of everything else and all within view of the racetrack. The race paddock, team garages, Victory Circle, vendors, demo rides, stunt shows, bike shows, concession stands, and Kids Zone featuring free carnival rides and games are all located within the perimeter of the track. And every MotoAmerica event includes the free Dunlop Hot Pit Walk and Autograph Session with all of the riders at one time on Sunday.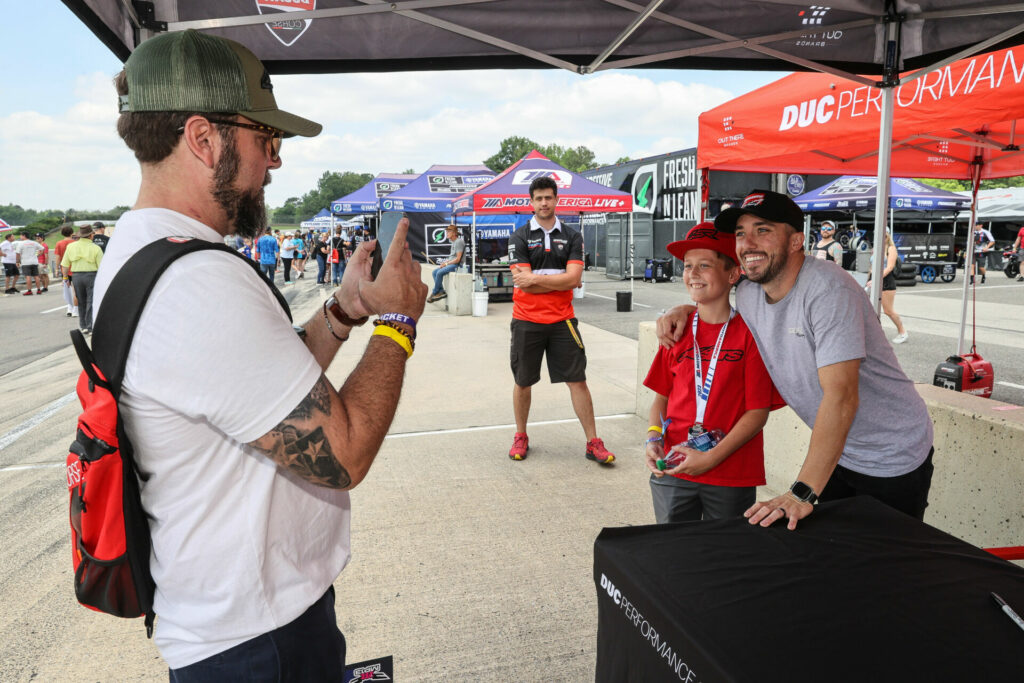 On the track, the Medallia Superbike, Supersport, Mission King Of The Baggers, Junior Cup, and REV'IT! Twins Cup classes will each have their final two races of 2023. The titles have been decided in Superbike (Jake Gagne), Supersport (Xavi Fores), and Junior Cup (Avery Dreher), but the hotly contested Championships in King Of The Baggers and Twins Cup will be decided at NJMP.
In King Of The Baggers, Vance & Hines/Mission Foods Harley-Davidson's Hayden Gillim holds a slim two-point lead over his teammate James Rispoli and an 11-point lead over Screamin' Eagle Harley-Davidson's 2021 Champion Kyle Wyman putting the title within reach of all three men. And while they are out of title contention, defending Champion Tyler O'Hara, his Progressive Insurance/Mission Foods Indian teammate Jeremy McWilliams, and Sac Mile/SDI Racing/Roland Sands Design Indian's Bobby Fong will be looking to steal some of the Harley-Davidson riders' glory at the finale.
In REV'IT! Twins Cup, Rodio Racing Powered by Robem Engineering Aprilia's Gus Rodio, who lives just up the road in Hammonton, New Jersey, leads the standings by only eight points over N2 Racing/BobbleHeadMoto Yamaha's Blake Davis and by 14 points over his own teammate Rocco Landers with 50 points still available to earn in New Jersey. But the class, which features young talent hoping to showcase themselves and move up the racing hierarchy, will also include Jackson Blackmon, Ben Gloddy, Hayden Schultz, the class debut of Avery Dreher, and the return of American Flat Track (AFT) star Dallas Daniels at this round.
In addition, the MotoAmerica Mission Mini Cup by Motul series will wrap up its 2023 season with a doubleheader event on the Liberator track this coming weekend.
The MotoAmerica action starts with practice and qualifying on Friday, followed by final qualifying sessions on Saturday morning and the first races on Saturday afternoon, and the final MotoAmerica races of 2023 take place on Sunday afternoon. Get tickets and more information HERE.
More, from a press release issued by MotoAmerica:
MotoAmerica's Season Finale At New Jersey Motorsports Park Has It All
The Final Round Of The MotoAmerica Championship In New Jersey Is Brimming With Fan Activity, September 22-24
 
IRVINE, CA (September 18, 2023) – MotoAmerica, North America's premier motorcycle road racing series, will throw out its "Welcome" mat to fans one last time in 2023 with the series visiting New Jersey Motorsports Park in Millville, New Jersey, for its finale, September 22-24.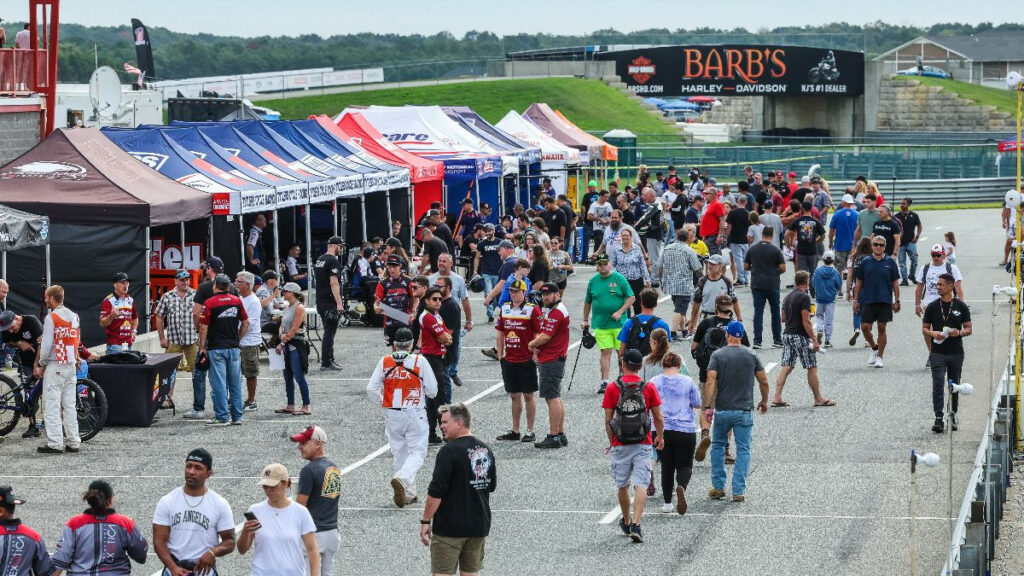 Inarguably the most fan-friendly motorsport championship in the country, MotoAmerica spectators are given the opportunity to roam freely between the paddock area (which is home to the teams that make up the series), and the abundance of spectator areas that the popular 2.25-mile Thunderbolt Raceway provides.
The open paddock is a fan's delight as it allows spectators to roam freely from team to team where they can watch crews doing everything from complete rebuilds to fine tuning the motorcycles that compete in all five of the MotoAmerica classes racing at NJMP – Medallia Superbike, REV'IT! Twins Cup, Mission King Of The Baggers, Junior Cup and Supersport.
It's also in the paddock where spectators get the chance to mingle with their favorite riders as they are out and about throughout the weekend and happy to catch up with their fans. If you miss them on Friday and Saturday, you can most definitely find them for a photo and/or an autographed poster during the popular Dunlop Hot Pit Walk and Autograph session that's held on Sunday from 11 a.m. to 11:45 a.m.
Although you won't find closer on-track racing than in the MotoAmerica Championship, including a Mission King Of The Baggers title chase that will likely not be decided until the last lap of the final race of the year on Sunday afternoon, there's also plenty of rapid-fire entertainment off the track, and the activities at NJMP are the most plentiful of the season.
Here's a rundown of the off-track activities at NJMP for the season finale:
Off-track action promises to be every bit as exciting with everything from DJ Vader spinning vinyl all three days from 9 a.m. to 5 p.m., which coincides with the Clutch Control Moto Show that will also be open from 9 a.m. to 5 p.m. on all three days.
Friday will kick off three days of the 1 Wheel Revolution Stunt Show with three shows scheduled for Friday (12 p.m., 2 p.m. and 4 p.m.), Saturday (11:30 a.m., 1:30 p.m. and 3:30 p.m.) and Sunday (10 a.m., 1 p.m. and 3 p.m.).
Beginning on Saturday, MotoAmerica's youngest fans can check out the free carnival that opens at 10 a.m. and runs until 4 p.m. on both Saturday and Sunday.
Demo rides from Yamaha and CF Moto will also take place on both Saturday and Sunday from 10 a.m. to 4 p.m. for licensed motorcyclists wanting to do more than just kick tires.
For those riding their own motorcycles to the track, the Harley-Davidson parade laps are scheduled for 11:45 a.m. on Saturday and 10:30 a.m. on Sunday with Cardo guests joining in on the Sunday ride. Staging for the rides will be at the turn-one end of the paddock near the medical center 45 minutes before the scheduled ride on Saturday (11 a.m.) and 30 minutes prior on Sunday (10:30 a.m.) at the same location.
The ShowoutBoyz Stunt Show gets rolling on Saturday with two shows scheduled for noon, 2 p.m. and 4 p.m. On Sunday, the shows are slated for 10:30 a.m., noon and 2 p.m.
More kids' stuff: the AllKidsBike Strider Zone will be open all three days, beginning on Friday from noon to 4 p.m. On Saturday and Sunday, youngsters can ride the bikes again from Noon to 4 p.m.
Those wanting to check out the bikes in the V-Twin Visionary Show can do so throughout the weekend with judging taking place at 2:30 p.m. on Saturday with awards to be handed out an hour later at 3:30 p.m.
VIP Ticket Holders will get the chance to go out to the starting grid for the first of two Mission King Of The Baggers races on Saturday at 3:50 p.m. prior to the start of the race.
The mega Clutch Control Pool Party will take place at the Finish Line Pub from 6 p.m. to 10 p.m. on Saturday night and will feature music by DJ Vader. The party is open to the public and is hosted by the one and only Allen Lane.
The final day of racing on Sunday at NJMP will feature the Dunlop Hot Pit Walk and Autograph Session from 11 to 11:45 a.m.
VIP Ticket Holders will get another shot at a grid walk and this one will be held prior to Medallia Superbike race two at 2:50 p.m.
The weekend at New Jersey Motorsports Park will conclude on Sunday afternoon with the series finale of the Mission King Of The Baggers Championship, and the race is scheduled to start at 4:05 p.m.
In addition to the five classes of MotoAmerica racing taking place on the big track, make sure you head over to the karting facility to watch the youngest of the MotoAmerica racers competing in the Mission Mini Cup By Motul races on Friday and Saturday afternoon. See if you can spot the next Superstar. Practice and qualifying takes place throughout the day with the youngsters starting their racing program at 3 p.m. on Friday and 2:20 p.m. on Saturday.
For the complete MotoAmerica fan-activity schedule, click HERE
For the complete MotoAmerica race schedule, click HERE
About MotoAmerica
MotoAmerica is North America's premier motorcycle road racing series. Established in 2014, MotoAmerica is home to the AMA Superbike Championship as well as additional classes including Supersport, Stock 1000, Twins Cup, Junior Cup, and King Of The Baggers. MotoAmerica is an affiliate of KRAVE Group LLC, a partnership including three-time 500cc World Champion, two-time AMA Superbike Champion, and AMA Hall of Famer Wayne Rainey; ex-racer and former manager of Team Roberts Chuck Aksland; motorsports marketing executive Terry Karges; and businessman Richard Varner. For more information, please visit www.MotoAmerica.com and follow MotoAmerica on Facebook, Instagram, TikTok, Twitter, and YouTube.