VISION WHEEL M4 ECSTAR SUZUKI FOCUSES ON POSITIVES FROM MIXED WEEKEND
Supersport Pole Position and Race Victory followed by Disappointing Finale
BREA, Calif. — After a stellar start to the weekend, Suzuki Motor USA and Team Hammer experienced mixed conditions and mixed results as the Road America round of the 2022 MotoAmerica AMA/FIM North American Road Racing season concluded on Sunday in Elkhart Lake, Wisconsin.
One day after securing a maiden MotoAmerica Supersport victory in remarkable fashion, Vision Wheel M4 ECSTAR Suzuki's Tyler Scott was once again a force at the front of the class despite dealing with inclement weather.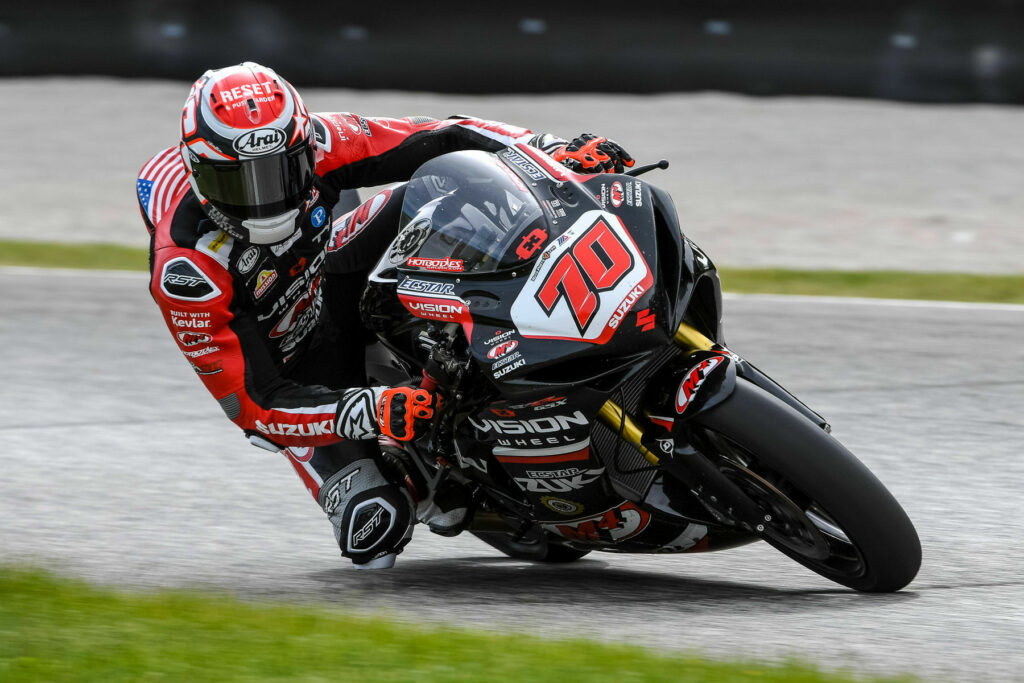 The 16-year-old earned the holeshot from pole and then settled into a battle for the podium in the treacherous wet conditions aboard his GSX-R750. That fight went deep into the contest with Scott mounting a charge with three laps remaining, diving up into third position in Turn 5 with less than three laps remaining.
However, he was nearly pushed off track by another rider in an errant encounter a few corners later. Off line in the slick conditions, the youngster suffered a fall in the very next corner.
"The race started pretty well," Scott said. "Then I got shuffled back a few spots and I was trying to concentrate on the riders I am battling with in the championship. The guys at the front had an outstanding pace going for the conditions and the race was going very well for me as I was trying to keep up with the group."
"Another rider put an aggressive move on me, and I got off my line. The rear came around on me in the next corner and that was it. I had a great weekend, got a win, and once again I learned a lot."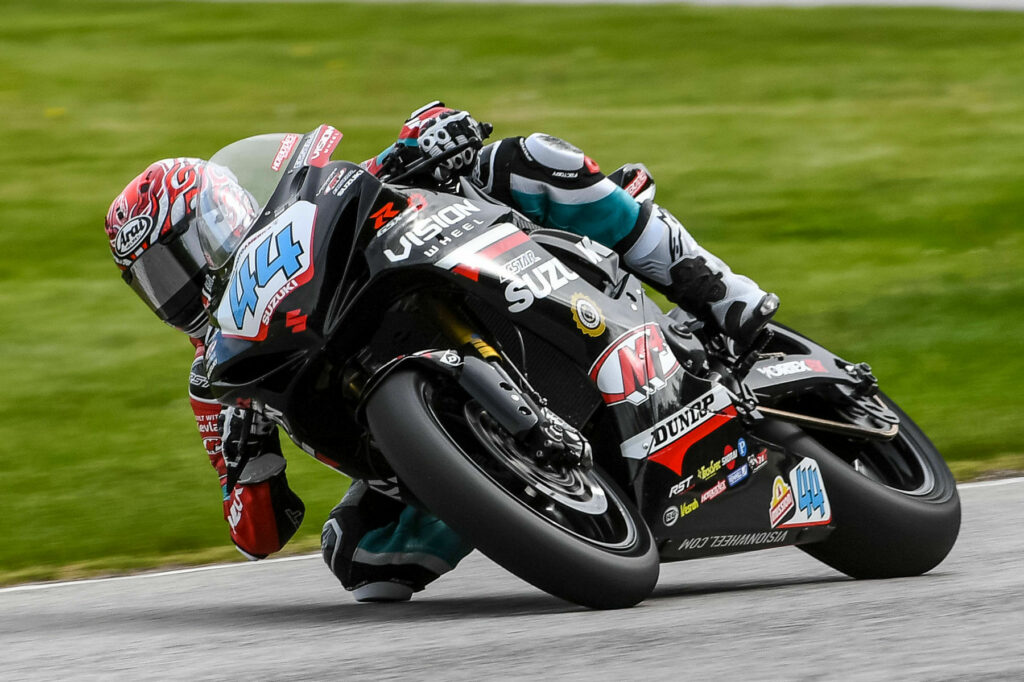 Scott's Vision Wheel M4 ECSTAR Suzuki teammate, Sam Lochoff, had a difficult day as well; his race ended before it ever started due to an ECU problem that appeared on the warm-up lap.
However, Suzuki still made its presence felt on the Supersport podium as 3D Motorsports LLC Suzuki's Luke Power expertly guided his all-new next-generation GSX-R750 to second position.  The young Australian's Suzuki benefiting from an electronic throttle assembly and other components developed by Team Hammer and Suzuki for the new class structure.
Coming off his second MotoAmerica Supersport top ten finish of the year on Saturday, young racer Liam Grant managed to battle at tricky and wet Road America on Sunday, earning the checkered flag and 16th place for his efforts. Grant has already shown steady progress in his first season with Team Hammer as he continues to advance his skills.
The MotoAmerica Superbike race was then contested in arguably even more tricky conditions as the track proved too wet for slicks initially but steadily dried throughout the contest.
Vision Wheel M4 ECSTAR Suzuki's Jake Lewis positioned himself as high as fourth early before ultimately keeping his GSX-R1000R upright and bringing it home in seventh position. "It was a tough race because the conditions were mixed," said Lewis. "I usually like that but the track dried so fast, three laps in I thought my tire was gone. The result isn't what I or the team wanted but we played it safe and got some points. I'm looking forward to us working hard these next few weeks, so we improve going into the Ridge."
Superbike class rookie teammate Richie Escalante, meanwhile, was sixth in the first corner before claiming 15th at the checkered flag.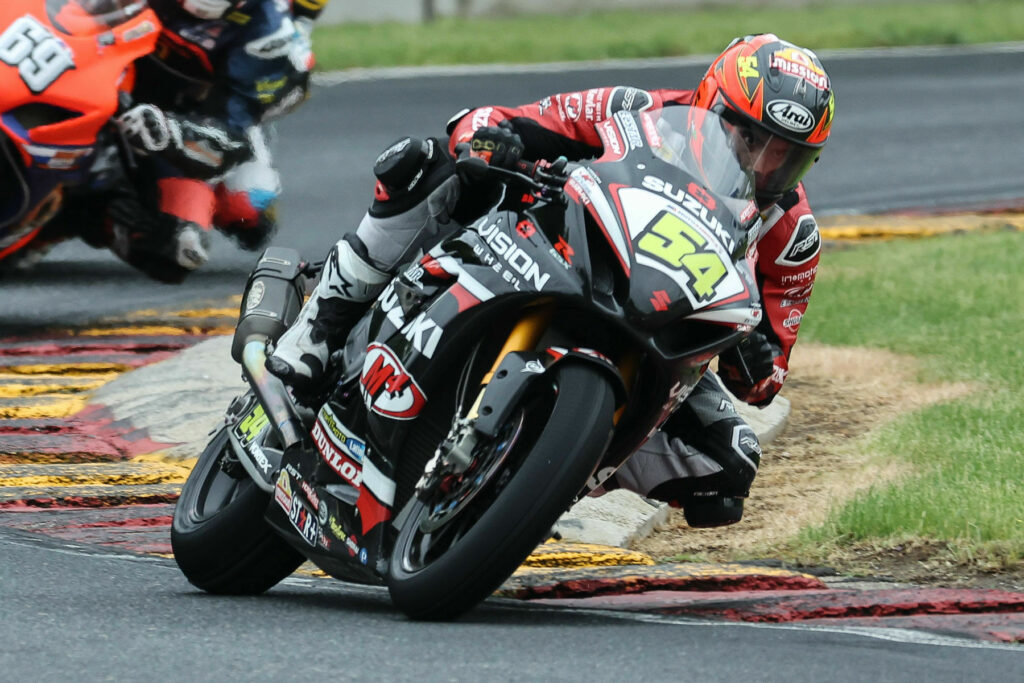 Escalante said, "Overall the weekend was difficult for me. After our test in Pittsburgh, I came into the weekend looking to take the next step. I was happy to finish these races, but I had never ridden a Superbike in wet conditions before and that was difficult today."
"The team is working very hard to help me, especially with the changes to the bike," the Superbike rookie continued. "Even a small change makes a big difference. I am very happy with the team and the bike but feel I need more experience to keep improving. I will keep training and pushing to go faster. I am really looking forward to the next race."
Team Hammer will be back in action later this month as the MotoAmerica season resumes at Ridge Motorsports Park in Shelton, Washington, on June 24-26.
ABOUT TEAM HAMMER 
The 2022 season marks Team Hammer's 42nd consecutive year of operating as a professional road racing team. Racebikes built and fielded by Team Hammer have won 128 AMA Pro and MotoAmerica National races, have finished on AMA Pro and MotoAmerica National podiums 332 times, and have won 11 AMA Pro and MotoAmerica National Championships, as well as two FIM South American Championships (in Superbike and Supersport.) The team has also won 137 endurance races overall (including seven 24-hour races) and 13 Overall WERA National Endurance Championships with Suzuki motorcycles and holds the U.S. record for mileage covered in a 24-hour race. The team also competed in the televised 1990s Formula USA National Championship, famously running "Methanol Monster" GSX-R1100 Superbikes fueled by methanol, and won four F-USA Championships.
ABOUT VISION WHEEL
Founded in 1976, Vision Wheel is one of the nation's leading providers of custom wheels for cars and trucks, and one of the first manufacturers of custom wheels and tires for ATVs, UTVs, and golf carts. Vision Wheel looks beyond the current trends and to the future in developing, manufacturing, and distributing its wheels. Vision's lines of street, race, off-road, American Muscle, and Milanni wheels are distributed nationally and internationally through a trusted network of distributors. Vision Wheel also produces the Vision It AR app to allow users to see how their wheel of choice will look on their vehicle before purchase and installation. For more information on Vision Wheel, visit www.visionwheel.com.
ABOUT SUZUKI
Suzuki Motor USA, LLC. (SMO) distributes Motorcycles, ATVs, Scooters, Automotive Parts, Accessories, and ECSTAR Oils & Chemicals via an extensive dealer network throughout 49 states. Suzuki Motor Corporation (SMC), based in Hamamatsu, Japan, is a diversified worldwide manufacturer of Motorcycles, ATVs, Scooters, Automobiles, Outboard Motors, and related products. Founded in 1909 and incorporated in 1920, SMC has business relations with 201 countries/regions. For more information, visit www.suzuki.com.
More, from a press release issued by Rodio Warhorse HSBK Racing:
Double Deuce and a Nickel at Road America
Rodio Warhorse HSBK Racing Twins Cup rider Anthony Mazziotto and Junior Cup rider Gus Rodio missed race wins by 0.423 and 0.006 seconds respectively in Saturday's thrilling races, both ultimately finishing in 2nd place. In Sunday's wet Junior Cup race, shortened to four laps due to delays, Gus managed to bring it home safely in 5th.
Never underestimating his opponents Mazziotto advanced through the field from a 7th place grid position to 2nd place on lap one, and then swapped position with the lead group throughout the race until finally taking an extremely close 2nd at the checkered flag.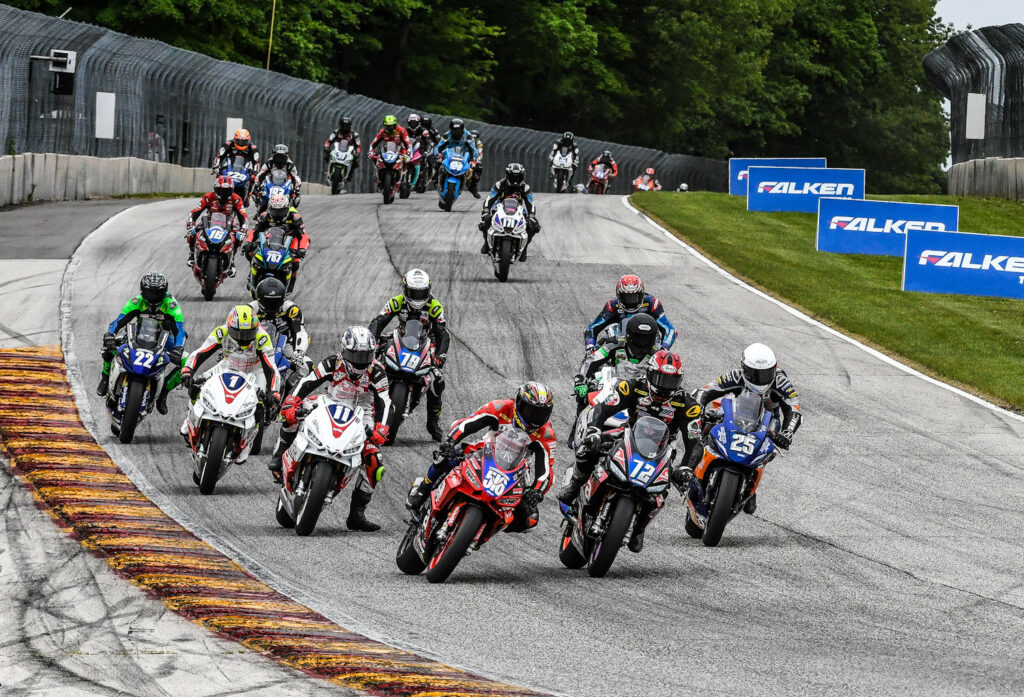 Anthony Mazziotto: "Had to dig super deep for this one, fell pretty far back from a podium position in the last few laps but we never give up. Can't thank the team enough for believing in me. Next up is one of my favorite tracks, let's see what we can do!"
Expecting the unexpected Rodio started Saturday's race from 3rd on the grid, fighting with the leaders for six of the eight laps. Dropping to 6th place on lap seven as the pack shuffled for podium spots Rodio made his move on the final lap to take the lead only to be nipped at the finish line.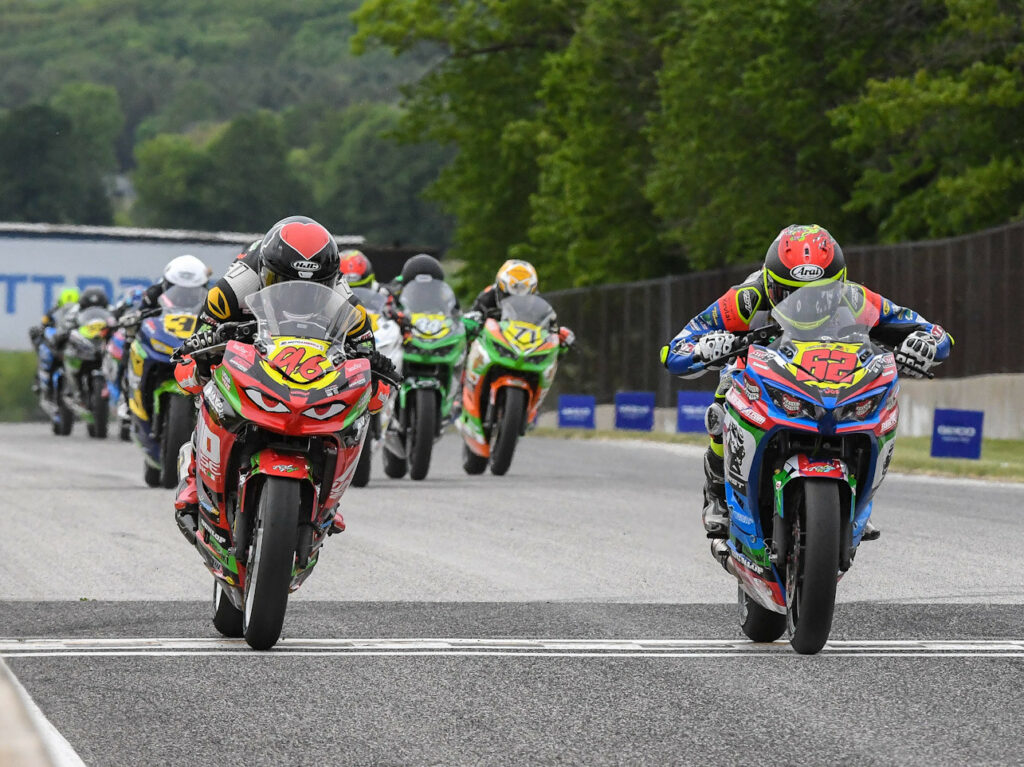 In Sunday's wet and shortened race the mission was to finish the race and collect championship points. After a red flag and restart a 5th place finish was the result.
Gus Rodio: "Coming to Road America I had a lot of confidence with my results from last year. I wanted to bring home another victory two years in a row, but we just came up an inch too short. I'm really looking forward to getting to the West Coast and pushing my Rodio Warhorse HSBK Racing Ninja 400 to the front."
Mazziotto's performance advanced him to 2rd place in the Twins Cup championship standings and likewise Rodio's results advanced him to 2nd place in the Junior Cup championship. Both riders look forward to more action at Ridge Motorsports Park in Shelton, Washington in three weeks.
More, from a press release issued by Geoff May Racing:
Team Vision Wheel/Discount Tire/Amsoil/KWS/Honda
Road America , Round 4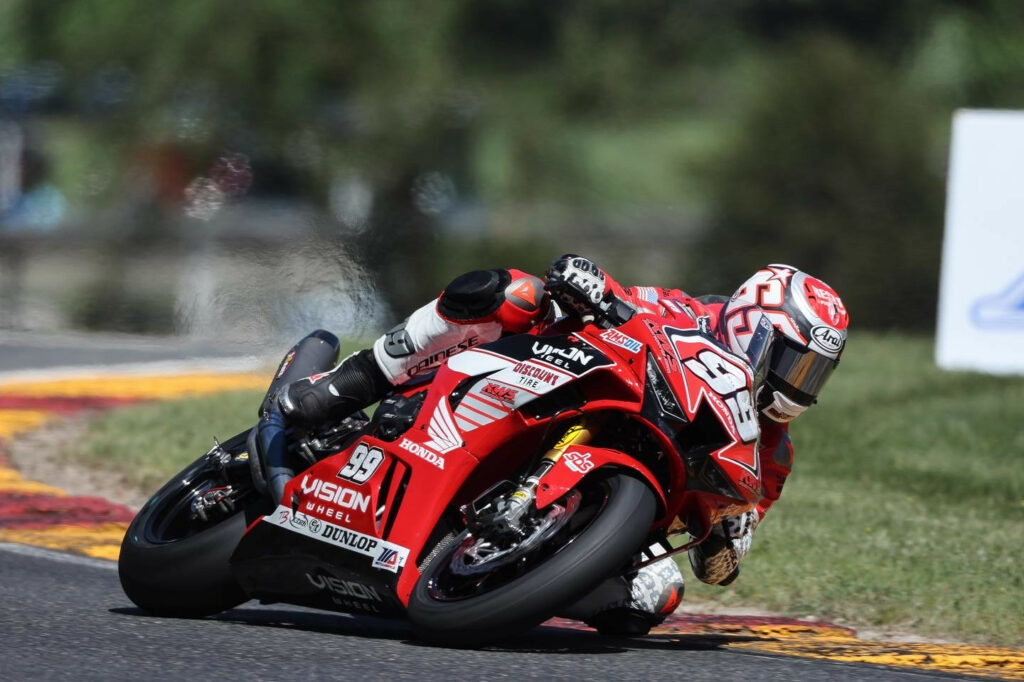 Road America has always been a favorite track for riders and fan's alike. This is no
exception for Team Vision Wheel/ Discount Tire/KWS/Amsoil/Honda. The weekend
started off with tricky conditions for the riders with high winds. Geoff was able to get
up to pace quickly, as expected with his experience at Road America. Q1 Geoff
struggled to find the pace from the previous year, with posting a lap time only good
enough for 5th place. Something seemed off with the bike. Mike Godin and Geoff
compared all the notes from 2021 to the current settings of the CBR1000RRR. There
was a discrepancy that was found. Saturday proved to be a completely different day.
Geoff was able to knock over 2 seconds off his time from Friday to earn a front row
start. With renewed pace and confidence he was able to get the hole shot into turn
one. Cory Alexander was able to make the pass in turn 3. Geoff then set out after
chasing Cory, but he didn't have enough speed to keep his pace. Travis Wyman was
able to draft by, relegating Geoff to 3rd where he stayed for the remainder of the
race. The retirement of Hayden Gilliam earlier in the race, gave the team the
opportunity to make up some valuable points that were lost after Road Atlanta.
Hayden is the current points leader, followed by Travis Wyman six points back and
Geoff seven points back. The championship is tight now and there is some exciting races to come! The next race will be at The Ridge in Washington state. It will be a double header round.
"I am really happy with our performance and a 3rd place finish. I rode my best with
zero mistakes and that's all you can do. I had obviously hoped for a win at one of my
favorite tracks, but it wasn't in the cards this weekend. The CBR is progressing every
weekend and I can't wait for the next Round. It was also amazing to see so many
spectators back in the stands. I cannot thank everyone involved in this program
enough for this opportunity." Geoff commented.
Geoff May Racing would also like to thank all our supporting and technical sponsors for their contributions and long-standing relationships as well. The Team is currently sponsored by SBS Brakes, Arata Exhaust, Evol Technologies, Ktech Suspension, Orient Express, Thermosman, Arai Helmets, Dainese, BikeSports Oldsmar, Flex Racing, T13, and Rob Pippins Design.
We are always looking for supporting and technical sponsors to partner with. Please send sponsorship inquiries to [email protected]
More, from a press release issued by N2 Racing:
N2 Racing Scores Top Five at Road America.
Media, PA – June 2022 – N2 Racing scores a top five finish with Blake Davis and two top ten finishes with Kevin Olmedo. Blake Davis scored a hard fought fourth place in the only Twins Cup Race at Road America. Kevin Olmedo scored a sixth-place finish in Supersport race one and an eighth-place finish in a very wet Supersport race two after almost not making the event at all.
This was almost a race that didn't happen for Kevin Olmedo. Kevin flew into Miami from his home in El Salvador on and due to lost passport, didn't make it to Wisconsin until after 1am on Thursday night. After a very short night sleep, Kevin had a fantastic qualifying day starting on the outside of row two. In Supersport race one Kevin got a great start and was fighting in the lead group, ultimately finishing sixth. Supersport race two was only Kevin's third time racing in the rain and it was a challenge with only a couple of laps of preparation due to shortened warm up session. Again, Kevin got a great start, but took time to get comfortable with the track and the Dunlop rain tires. Kevin turned his fastest laps at the end of the race to finish eighth and get some valuable points. Kevin is currently sixth in the Championship.
Twins Cup only had one race on Saturday at Road America and it was a good one. Blake was struggling with a lack of track time in qualifying and ended up starting ninth. The race was held in perfect conditions and Blake was able to latch on to the lead group straight away. After race long battle for the podium, Blake brough the N2 Racing Yamaha YZF-R7 home in fourth place. Blake is fourth in the Championship standings.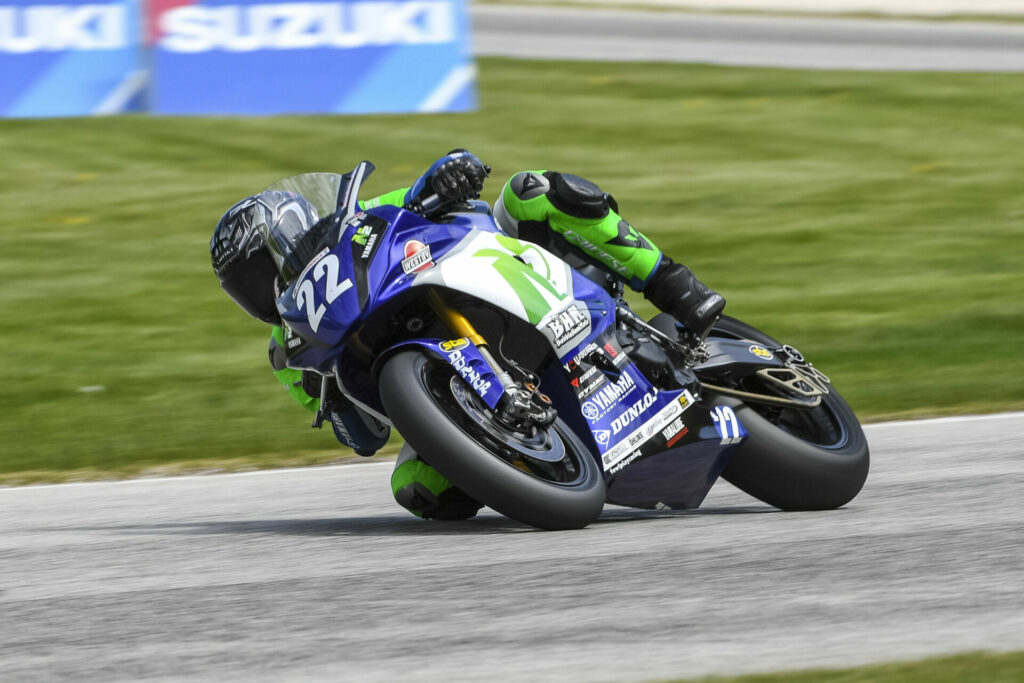 Blake Davis – "It was kind of a slow start to the weekend, but I was able to find some competitive pace by the race. The Yamaha YZF-R7 is a new platform for me and I was very happy with how the team set the bike up for Road America. I am very much looking forward to The Ridge as it is one of my favorite tracks. My main goal is to get up to speed quickly to fight with the lead guys."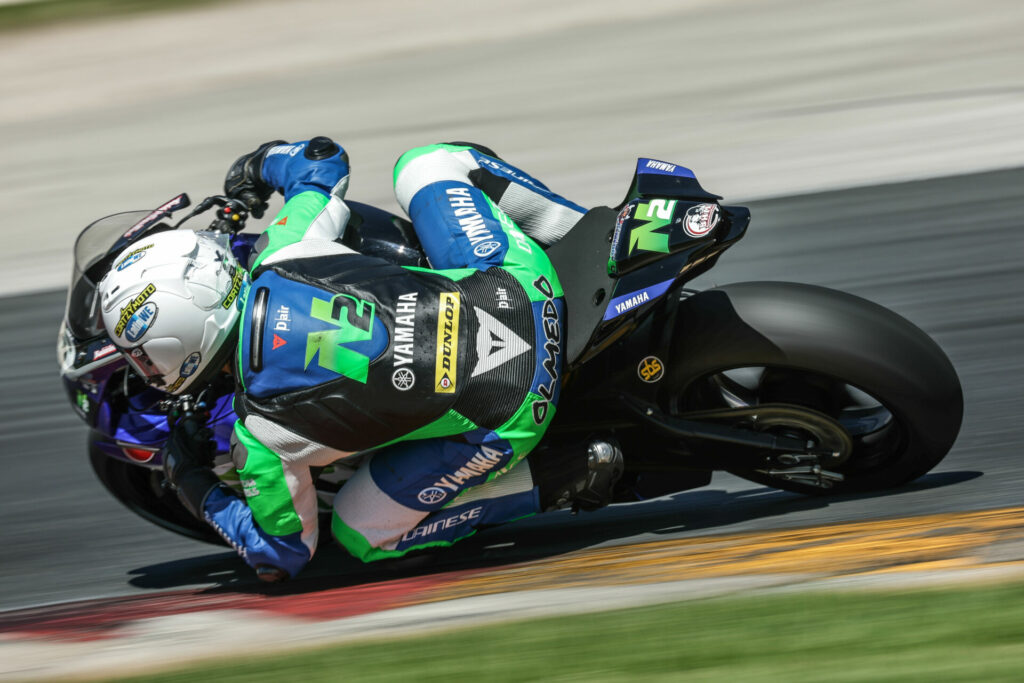 Kevin Olmedo – "It was a good weekend with solid results. The team is working great and the bike is getting better for me every event. We are getting closer and closer to the podium and with a few small tweaks we will be there. I love The Ridge, so hopefully that will be good event for us."
Shiloh Salopek (Crew Chief) – "I am happy with our results from Road America given the tricky weather conditions.  I know both Kevin and Blake are looking forward to the Ridge as they both like that track.  We will take the points we collected at this round and keep pushing forward onto The Ridge Motorsports Park."
About N2: N2 – Ride, Race, Learn.
Founded in 2014, N2's mission is to build a sustainable motorcycle community through safe, structured motorcycle track days, advanced rider training programs based on Yamaha Champions Riding School teaching methods, with a strong affinity for motorcycle road racing. N2 successfully resurrected Motorcycle Endurance Racing in America partnering with WERA Roadracing and creating the N2/WERA National Endurance Series by Dunlop. N2 is a premier participant in the MotoAmerica Pro Racing Series with a multi-rider team competing in several classes. N2 is also a major contributor to the Roadracing World Action Fund through fundraising efforts and support from its large member base.
N2 Racing is proudly sponsored by: Dunlop Motorcycle Tire, Yamaha Motor Corporation USA, Dainese, BobbleHeadMoto, Karnes Performance, Trading Paint, GB Racing, Westby Racing, Attack Performance, Robem Engineering, Puig, Eazi Grip, ProBolt, and Yamaha Champions Riding School.
More, from a press release issued by Pure Attitude Racing:
Road America brings best result of season for Pure Attitude Racing as they field their first Academy rider in MotoAmerica too
Pure Attitude Racing leave Road America, the venue for the latest round of the 2022 MotoAmerica Championship with all three riders Chase Black, Liam MacDonald and Trevor Standish claiming points in every race for the first time this season.
In Twins Cup it was Trevor Standish who produced the best result of the weekend, the #16 crossing the line in eleventh after a race long fight with several other riders, to achieve his and the team's best result of the year. The result could have been even better had it not been for a shift linkage issue. Liam MacDonald once again proved he's a fighter when the lights go out. The Kiwi battling hard from the sixth row of the grid to P14 at the flag, ensuring he has now scored points in all races since Daytona – an impressive achievement.
The Junior Cup championship is always a frenetic affair but as we saw in VIR, teenager Chase Black is developing his on-track skills nicely. Qualifying on row three he finished ninth on Saturday before riding a sensible race on Sunday as the rain began to fall around the four-mile Road America circuit.
The team was also more than pleased with the progress of their Academy rider Brycen Stein, who in only his second MotoAmerica appearance qualified mid-pack before bringing it home in a more than respectable twenty-seventh after a small mistake on the opening lap prevented what could have easily been a top twenty finish.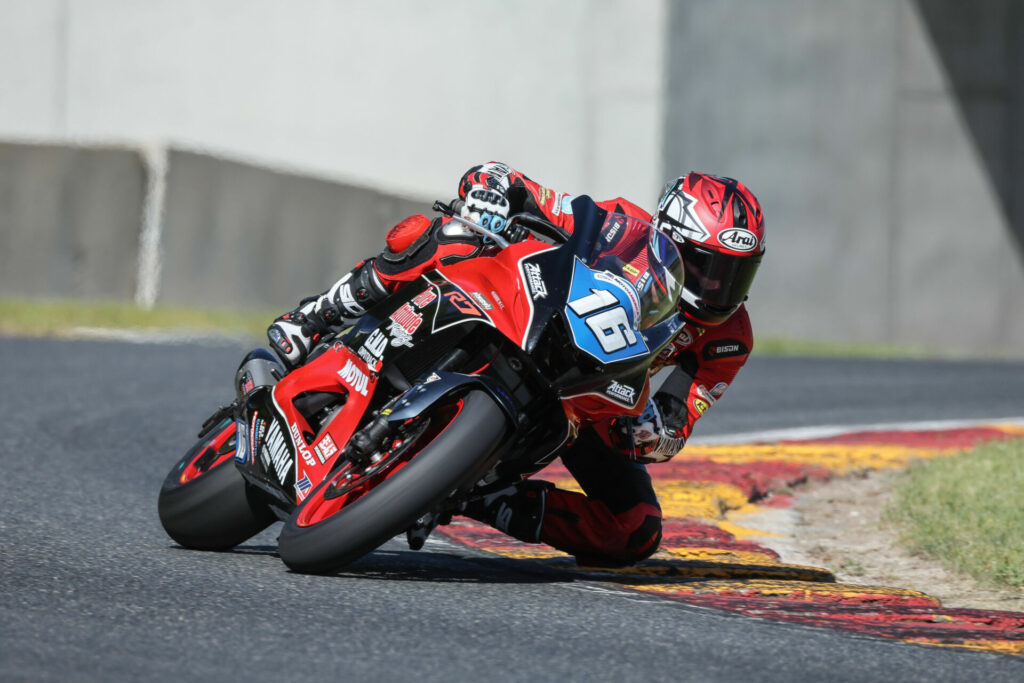 Trevor Standish: "I was pretty frustrated after the race even after getting mine and the team's best result of the year in Twins Cup, I honestly felt we could and should have been in the top ten. I wasn't able to change gear properly right from the start and I am sure with the pace we had we could have been ninth. It's all part of the learning curve and we know the issue. The team is working so hard to make us more competitive and we have a game plan to make life easier for both Liam and me. On the bright side we had more pace this weekend and we are getting closer every race. The bike handles like a dream and once we get those few extra horse powers, we can show our true potential on the Yamaha."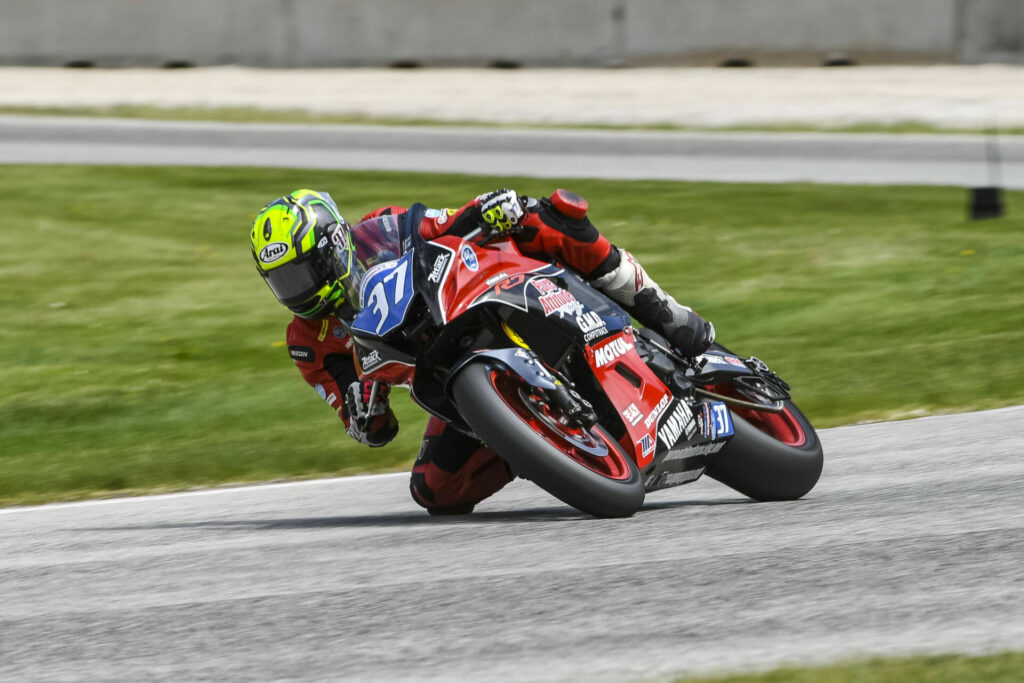 Liam MacDonald: "I am happy with the weekend. It's the first time I think I have ever raced that hard in any championship. I was three wide with the people I was battling with and can leave Road America happy that I was riding well in the corners, we are just losing a bit on top speed which we knew before the weekend even began. The good news is that the team are working hard, and we were certainly more competitive here than we were at the start of the year, so I want to say a big thanks to them for continuing to push to find those extra ponies. I am quite excited for The Ridge as the bike will hopefully be even better and we wont need as much top speed there but I'm a racer and I always want to be at the front."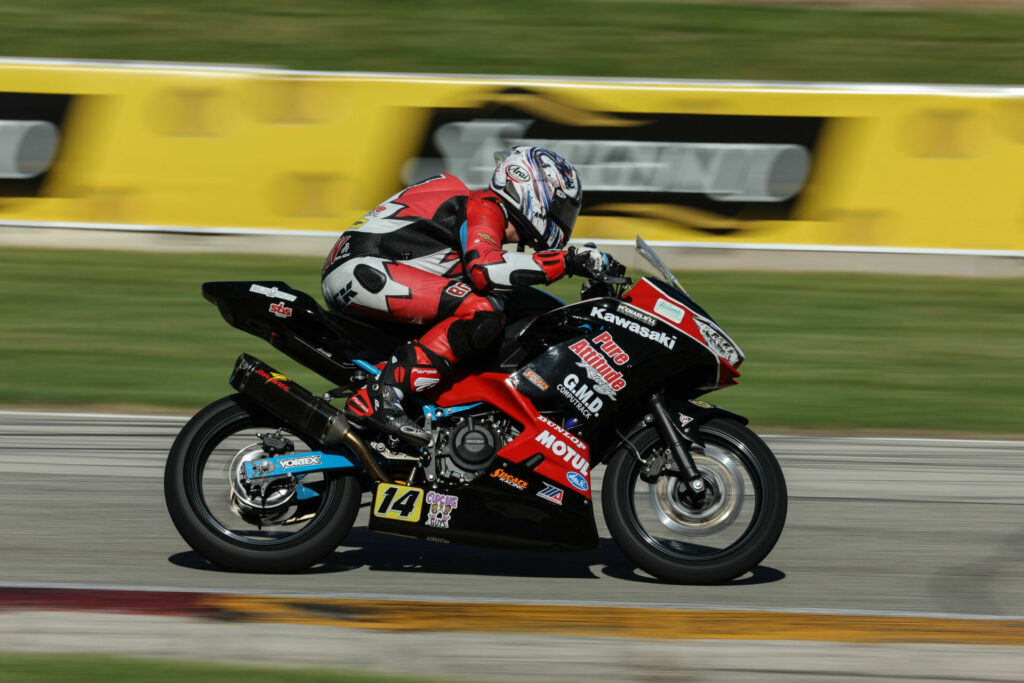 Chase Black: "Overall the first race didn't go to plan. I was honestly hoping and expecting more. I made a mistake at Turn 1 on the opening lap and lost the group immediately. I gave it everything and so in the end had to settle for ninth. It was raining for Race 2 which was a good race and much better than I expected especially as I don't have that much wet weather experience. I was in the fight for P4 but hit the white line and almost went down but I had so much fun and am looking forward to the next race in Washington."
Brycen Stein: "I felt good all race long. I could have the pace to run with the group ahead, but I made a mistake on the opening lap which left me in a battle with a couple of riders whose bikes were faster. It was a bit frustrating as I was much quicker in the corners. The bike felt good, and we finally got it to turn. It was a great experience being able to work with Pure Attitude, I am super happy to be part of their Academy program. They're a great bunch of people and they definitely helped me this weekend. On one hand I am a little disappointed, but you can only do what you can do with the tools you have, and this is only my second ever race at this level, so I have to look at the positives, of which there are many. I hope to be back on the MotoAmerica grid before the end of the year and look forward to making more progress."
More, from a press release issued by 3D Motorsports LLC:
3D Motorsports rider Power claims maiden MotoAmerica Supersport podium Sunday in first race aboard Suzuki GSX-R750
Mariniello scores come-from-behind fourth place in Sunday Junior Cup race at Road America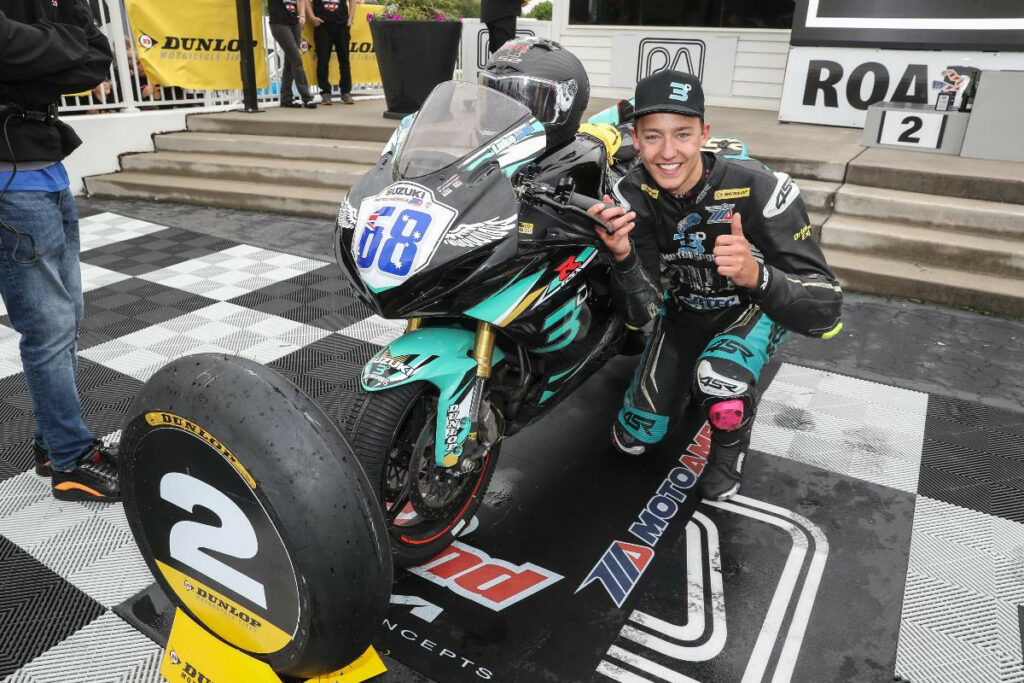 ELKHART LAKE, Wis. – Luke Power didn't think of himself as a top-notch wet weather rider heading into Sunday's damp conditions for the second MotoAmerica Supersport race of the weekend. And despite it being his first time racing at Road America – and his first weekend piloting a 3D Motorsports LLC GSX-R750 – the Australian scored a fourth place and a runner-up finish at the June 3-5 event.
Power's 3D Motorsports teammate – fellow Australian Joe Mariniello – put in a strong performance in Sunday's wet MotoAmerica Junior Cup race. He came up one position short of claiming his first MotoAmerica podium after a race stoppage erased his first charge up the running order. The team's third rider for the weekend, Steven Shakespeare, put in a gritty performance in the round's lone Stock 1000 race.
Power's excellent results at Road America helped him to move up from eighth to fifth in the Supersport points standings.
The weekend started well for all three 3D Motorsports LLC riders. Power's first session of the weekend aboard the newly-homologated-for-2022 GSX-R750 saw him finish 11th-fastest in Friday practice. He ended Friday's Qualifying 1 session in seventh place and wrapped up qualifying Saturday morning in ninth.
Mariniello was down on pace at the start of his first weekend racing at Road America. He was 16th in Friday practice, 14th in Qualifying 1 and ended up qualifying 14th for the round's two Junior Cup races. Shakespeare finished Friday's Stock 1000 practice session 30th out of 42 riders and was 31st in Friday's Qualifying 1. When Stock 1000 qualifying concluded on Saturday, Shakespeare had improved his qualifying position to 29th for Saturday's noontime Stock 1000 contest.
Power had a great start to Saturday's Supersport race. Starting from ninth, he moved up two positions in the first few corners when a couple front runners crashed out. Power then advanced another three positions up the running order by the end of Lap 1. He spent the remainder of the 11-lap race in a multi-rider battle for the last step on the podium, running as high as third before having to settle for a fourth-place finish by a margin of 0.243 seconds.
Mariniello finished the Saturday Supersport race one position lower than he started it but was promoted to 14th after the race due to a penalty being assessed to another rider. Shakespeare put in a valiant effort to overcome an early race mishap, as he fell to the back of the field during Lap 2. Undeterred, Shakespeare made up one position per lap for the following five laps and finished the race in 27th.
Power's podium finish in Sunday's wet Supersport race was in part thanks to his superb start. He got a great launch off the line and was running in third by the time the field reached the first corner. Though he ran in fourth place for the first few laps, Power gradually reeled in two of the front runners. He made his moves up to third and second on Lap 4 and clinched a lonely runner-up finish.
Marinello's fourth place in Sunday's Junior Cup race is impressive because he made up nine or more positions in two laps – twice. He got a good jump at the initial start of the shortened four-lap race and steadily worked his way up the running order on the opening lap. He finished Lap 1 in sixth and was running in fifth on Lap 2 when the race was stopped due to an on-track incident. Mariniello had to take the restart from his original grid position of 14th with two laps to go, yet he had moved up to fifth place by the end of Lap 1. Though he wasn't able to catch up to the front runners before they broke away from the rest of the field, Mariniello battled for the best finish he could and crossed the line in fourth by a margin of 0.052 seconds.
The 3D Motorsports LLC team will be back in action in three weeks for the next MotoAmerica round, which is slated for June 24-26 at Ridge Motorsports Park in Shelton, Wash.
Luke Power / No. 68
"I am super happy and so stoked to have made it onto the podium in Race 2. It was an awesome race, and the track was in good shape despite the rain. The 3D Motorsports team did an excellent job all weekend, as did K-Tech Suspension. We had a great setup this weekend. I was disappointed to not get on the box Saturday, but I'm glad I was able to get the job done Sunday. I can't wait to carry this momentum into the Ridge and see all the fans there too. I am loving life in MotoAmerica and want to thank everyone who has helped me get here."
Joe Mariniello / No. 88
"Overall, it was a really strong weekend for the team. We struggled a little bit at the start of the weekend, as this was a new track for me. Starting from 14th wasn't ideal, but I knew I could get past some other riders during the race. We got some valuable championship points with our fourth-place finish, and hopefully we get to transfer what we learned Sunday to our dry race setup and get up on the podium. I can't thank 3D Motorsports enough for how well they set the bike up for me, especially the wet setup on Sunday. I'm looking forward to the next round at the Ridge."
3D Motorsports' sponsors for the 2022 MotoAmerica season include Orient Express, K-Tech, BTEC Turbines, 4SR USA, Blud Lubricants, CG Law, Evol Technologies, AF1 Racing, Southern Adrenaline, M4 Exhaust, Valor Farms, LS2, Raceworx, Motorcycle Dealer Services and DrippinWet.
More, from a press release issued by Royal Enfield North America:
ROYAL ENFIELD BTR LEAVING ROAD AMERICA WITH MIXED EMOTIONS
BUILD. TRAIN. RACE Road Race round two sees complicated results after last-lap drama unfolds at Road America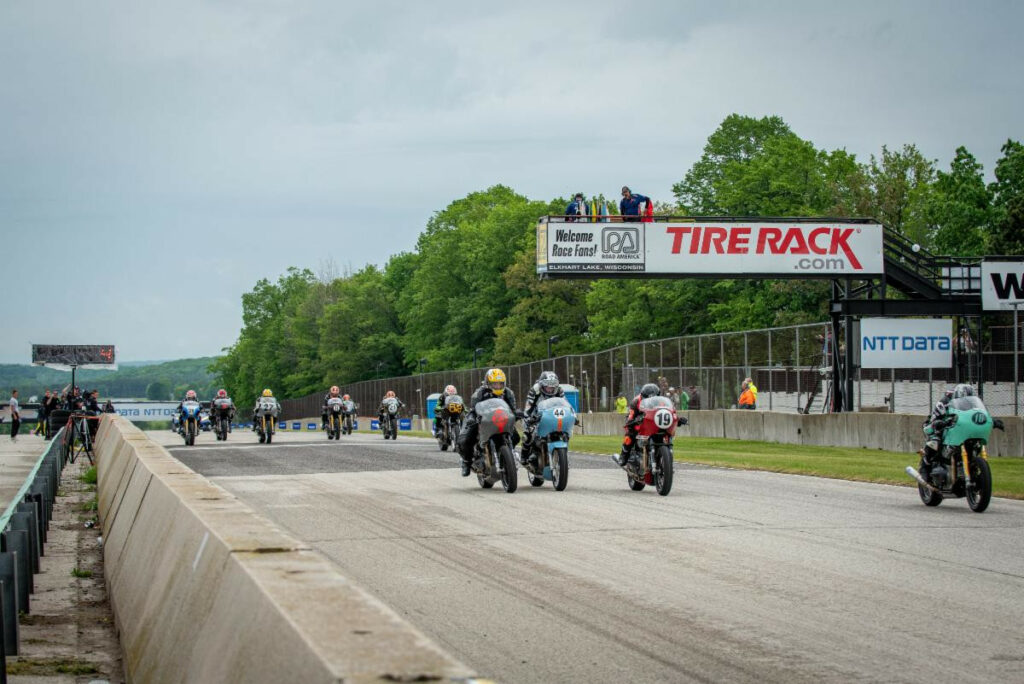 Milwaukee, WI – Changing conditions, a shuffled program and last-lap drama made for a complicated weekend at Road America for Royal Enfield's Build. Train. Race. (BTR) Road Racing program. At the second round of the 2022 season, the overall results appeared similar to the opening round at VIR, with Kayleigh Buyck leading the way, but after the action was settled, it was Jenny Chancellor who was awarded the winner's points and the championship lead.
The Road America round of MotoAmerica started on a challenging note for BTR racers due to changing weather at the Elkhart Lake, Wisconsin facility. Inclement weather on Sunday morning, following the schedule changes due to Saturday's delayed program, left the BTR women gridding up on Sunday afternoon. The shifting weather made it difficult to predict conditions for the main race, and the BTR Continental GT 650 motorcycles headed out on a drying track on rain tires.
After qualifying on the pole, Kayleigh Buyck jumped out to an early lead in the four-lap race with Chloe Peterson and Crystal Martinez giving chance. The lead trio broke away, where the battle heated up when Martinez got around Peterson for second, closing on Buyck. The three-rider contest for the lead turned into a two-way battle when Peterson dropped away in a low-side crash, and moments later Martinez overtook Buyck for the lead.
The sprint to the finish was on between Buyck and Martinez, until a crash involving Kayla Theisler and Jessica Martin (running fourth and fifth at the time), prompted a red flag, ending the race midway through the final lap. Despite the red flags, Buyck and Martinez continued to hammer away for the lead in a side-by-side battle in the final stretches, seemingly unaware that the race had been halted.
With results reverted to the previous lap, per MotoAmerica rules, Buyck and Martinez recorded first and second place, respectively. But due to their failure to observe the red flags, both riders were sanctioned by MotoAmerica and denied any championship points.
Third-place finisher Jenny Chancellor was awarded the championship points for the win, with Theisler and Martin collecting second- and third-place points, respectively. Both riders were okay after their final-lap incident.
"This was a complicated weekend for us," said Breeann Poland, Marketing and Communications Lead – Royal Enfield Americas. "We pride ourselves on being able to showcase the Build. Train. Race. program in a premier championship, and we do understand that this is a process for riders who are new to the competition aspect of road racing. We like to avoid errors but unfortunately, they do happen in racing. This further highlights the importance of Build and Train along with the Race aspect of the program, and BTR accepts the responsibility of ensuring all racers understand the rules of racing that every MotoAmerica athlete is expected to follow.
"While we're leaving Road America with mixed emotions, we also will not let this discourage our program or its goals. I am proud of our BTR racers who rode phenomenally in what were very tricky conditions. Our goal is to grow the sport through providing opportunity and encouragement to those who have the confidence to get out there. It's not always an easy road, but growth comes through embracing the entire experience, the mistakes and the successes—that's what racing is about."
Royal Enfield Build. Train. Race. Road Racing is looking forward to the full grid of 15 racers returning to action for round three at Brainerd International Raceway on July 29-30.
THE RIDERS
Find bios on all 15 BTR Road Race women at the Build. Train. Race. website.
2022 BTR Road Racing Roster
#52 – Kayla Theisler, 26, Milwaukee, Wisconsin
#27 – Michaela Trumbull, 29, Sheridan, Wyoming
#30 – Alyssa Bridges, 31, Orange County, California
#44 – Trisha Dahl, 31, Minneapolis, Minnesota
#21 – Bridgette LeBer, 29, Port Angeles, Washington
#31 – Ash Truxal, 31, Oakland, California
#55 – Chloe Peterson, 31, Steger, Illinois
#95 – Cora Tennyson, 36, Brandenburg, Kentucky
#25 – Crystal Martinez, 34, Thousand Oaks, California
#62 – Hannah Stockton, 23, Kansas City, Missouri
#19 – Jenny Chancellor, 46, Tumwater, Washington
#23 – Jessica Martin, 38, Savannah, Georgia
#16 – Kayleigh Buyck, 30, Sodus, New York
#11 – Nicole Pareso, 34, Carrolton, Ohio
#79 – Patty Paul, 57, Berrien Springs, Michigan
THE SCHEDULE
 
2022 Royal Enfield BTR Road Racing Schedule
Jul 29-31  (Rnd 3) Brainerd Int'l Raceway, Brainerd, MN
Aug 19-21 (Rnd 4) Pittsburgh Int'l Race Complex, Wampum, PA
Sep 9-11  (Rnd 5) New Jersey Motorsports Park, Millville, NJ
Sep 23-25 (Rnd 6) Barber Motorsports Park, Birmingham, AL
More information 2022 MotoAmerica
BTR SPONSORS
The 2022 Royal Enfield Build. Train. Race. programs (Road Race and Flat Track) are made possible by the participation of these generous sponsors. Our continued thanks to all our supporting companies behind BTR.
2022 Build. Train. Race. Sponsors
Parts Unlimited
Harris Performance
S&S Cycle
Dunlop
Maxima Racing Oils
BOXO USA
Öhlins USA Suspension
Arai Helmets
More, from a press release issued by Altus Motorsports:
MotoAmerica: Results from Road America for the Altus Motorsports WPS FLY Racing Team
(Elkhart Lake, WI) Mixed weather conditions made for an interesting weekend at Road America. Friday and Saturday were sunny and perfect but Sunday brought intermittent rain showers making track conditions and tire choices tricky.
"Road America is one of my personal favorite tracks. The weather didn't cooperate this weekend, but our riders made the best of it," said team owner, George Nassaney "and, big thanks to BrakeTech coming on board as a sponsor with rotors for the entire team."
Superbike Cup & Stock 1000
Brandon Paasch is still adapting to the liter bike after moving up from a few years on a 600. Unfortunately, some mechanical issues hampered his progress in Wisconsin. The MotoAmerica round at Road America has only a single running of the Stock 1000 race making race condition feedback more limited. Paasch started from 22nd but unfortunately, a mechanical issue forced him to retire from the race. Meanwhile, with only 120 minutes before the Superbike race, the team worked quickly to rectify the problem but missed the race start by just 10 minutes. Drying pavement with rain tires made the Sunday Superbike race challenging for all the competitors. Brandon was able to bring the Altus GSX-R1000 home in 11th overall and as the 5th Superbike Cup racer.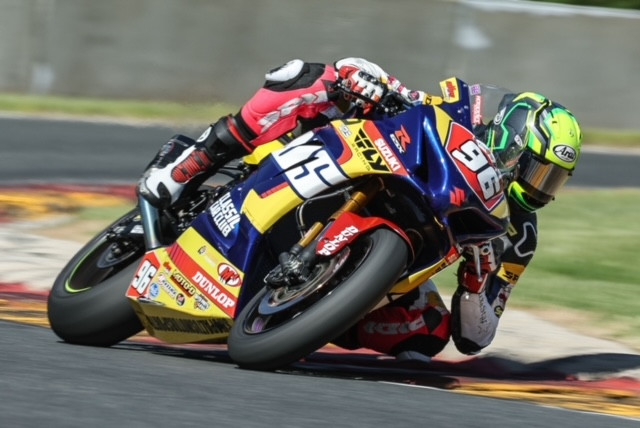 "The weekend was a bit frustrating. I struggled in the first practice with setup. Up until now, we haven't been making big changes on the bike. I've just been trying to understand the 1000. This weekend we started to try some new things. We made changes for Q1 and the bike got better and I dropped a chunk of time. We made changes for Q2 but we took a step backward. I went faster but not by much. For the Stock 1000 race, we had an unfortunate mechanical issue and I had to pull off. The team worked their butts off to get us out for the Superbike race but we didn't quite make the start,"  said Brandon Paasch "the Sunday race was actually really good. Like everyone else, we were on rain tires in drying conditions. The bike was moving all over the place. It really boosted my confidence to understand how the bike feels when it gets loose. I was able to race with and pass a lot of my competition. It was fun. I think those laps really helped me confidence-wise. Looking forward to the Ridge in a few weeks"
Supersport 
Jaret Nassaney came to Wisconsin planning to build on his success at VIR. A small tip over at the beginning of the first qualifying session left him with work to do in Q2. He put in some good laps and was able to qualify 8th. After a poor start in the Saturday race, Jaret spent most of the laps climbing back through the pack. He fought back to 8th but then was drafted to the finish line and ended up in 9th. Nassaney missed the morning warmup on Sunday due to some electrical issues. As a result, he had to figure out the level of traction on the damp surface during the second race. He got a better start and was able to get faster each lap as he acclimated to the conditions. He ran his fastest time on the last lap and crossed the line in 7th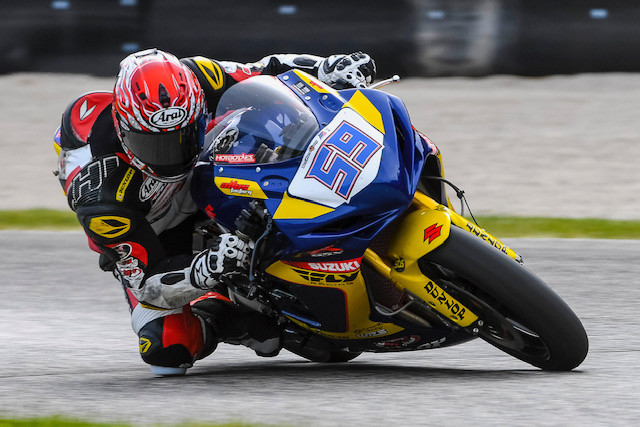 "I felt really good throughout the race and continued to go faster every lap. I ended up finishing 7th which I am happy with. I think we could have been even further up if we had run the morning session. We scored some good points and I am happy with how my riding is progressing," said Jaret Nassaney
Justin Jones is still getting accustomed to the Altus Motorsports Suzuki GSX-R. This was compounded by the fact that he'd never been to Road America before. He qualified in 17th for both races. On Saturday, he took the checkered flag in 14th place, and on Sunday, in the damp conditions, he got his first top 10 finish.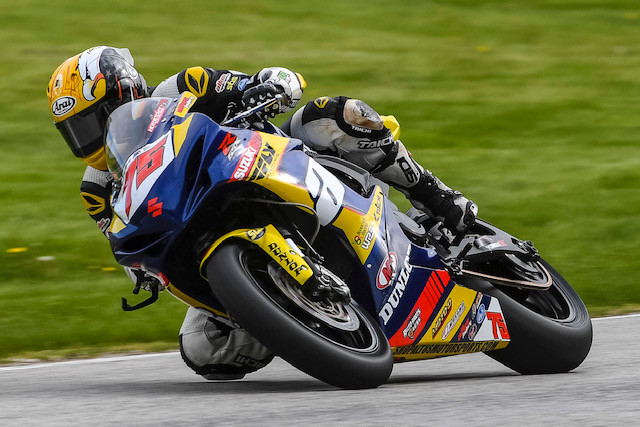 "This was my first time at Road America so I was focused on getting as many laps as I could to try to learn the track. Every session I managed to drop a bunch of time. By Q2, I was able to get down to a very competitive pace and knew I had more time to drop in the race. We made a change for the first race but it was the wrong direction so I struggled a bit and went slower. The Sunday race, in spite of the crappy weather, was actually a lot of fun. I was able to enjoy myself and worked my way up into 10th place. All-in-all, a very positive weekend," said Justin Jones.
Junior Cup
Kayla Yaakov continues to impress. It is impossible to tell based on her results but this was her first visit to Road America. Kayla qualified 7th and managed to take 3rd in both races. On Saturday her tenacity kept her in the front group consistently putting pressure on the leaders. A big crash in Sunday warm-up left both the rider and the bike a bit worse for the wear. The team pulled together to get the Altus Ninja400 back together with minutes to spare and, in spite of being a bit banged up, Kalya through her leg over in time to grid up. The Sunday race was shortened by race direction for time, weather, and then for a red flag. Eventually, it ended up as a short sprint race. Knowing there was no time to waste, Kayla took the lead early and tried to pull a gap. Unfortunately, the long run to the line allowed her competitors an opportunity to draft past her. She took third by a margin of thousandths of a second.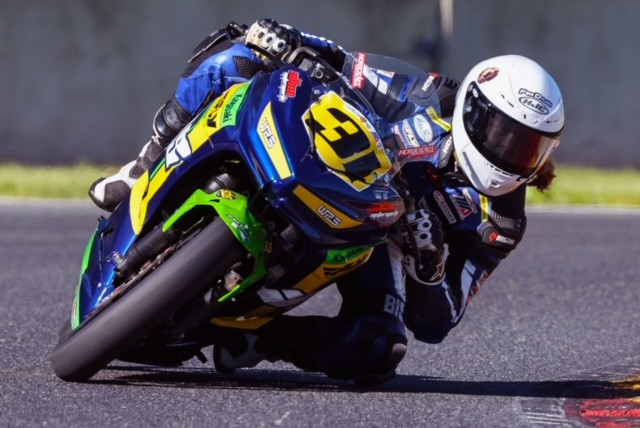 "Overall, this past weekend at Road America was fantastic! This track was a new one for me, and to be on the podium in both races was absolutely amazing. After a few minor setbacks in qualifying and warm up, my whole Altus Motorsports crew was able to give me a great bike that was capable of two great results. I'm very happy with the pace that I was able to run in both races, and coming out of the weekend with the most laps led is a great feeling. I'm hoping to carry this momentum and confidence into the next round at Ridge Motorsports Park!," said Kayla Yaakov
"What a nail-biting weekend.  Kayla's battles for two 3rd place finishes, Jaret two top ten finishes, Justin finishing 10th in race two, and Brandon even with a mechanical kept his head up and fought to an impressive 11th in Superbike two race. The riders are such professionals and our Crew Chief and mechanics are top-notch. Team Work is paying off!" said team owner George Nassaney.
The Altus Motorsports team is supported by our great family of sponsors: Altus Motorsports, FLY Racing WPS, Suzuki Motor Corporation, Moto-D Racing, Bonamici, Hot Bodies Racing, M4 Exhausts, Vortex EK, Motion Pro, Barnett, Maxima Racing Oils, SBS Brakes, BrakeTech USA, Inc., Ohlins, K-Tech, RS Taichi, Arai, Law Tigers Oklahoma, and Altus Factory Racing.