Gerloff Scores Another Win, Beaubier a Pair of Podiums in Pittsburgh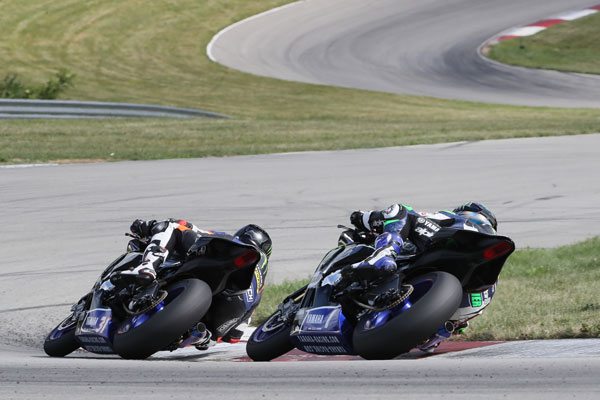 (Above) Garrett Gerloff (31) leads teammate Cameron Beaubier (1) during a Superbike race in Pittsburgh. Photo by Brian J. Nelson.

It was a positive weekend for the Monster Energy Yamalube Yamaha Factory Racing Team, with Garrett Gerloff taking a thrilling victory in race one, and Cameron Beaubier scoring a pair of podiums at the Pittsburgh International Race Complex, on August 24-25.
The team got off to a flying start at round eight of the MotoAmerica Superbike Championship. Gerloff topped the timesheets in qualifying and Beaubier earned pole position in Saturday's Superpole. When it came time to race, the intensity level was at a fever pitch as the season begins to wind down. In race one, Gerloff got out front early and was able to build a healthy gap while his teammate battled for second. On lap three, the 24-year-old ran off the track and found himself in third and locked in a three-way battle, undoing all of his hard work. Beaubier then moved into the lead, with Gerloff into second. From there on out, it was a fight to the finish between the Monster Energy Yamalube Yamaha Factory Racing Team YZF-R1 riders.
Around the halfway mark, Beaubier made an error in the chicane, allowing his younger teammate through. They exchanged the lead a few more times with Gerloff coming out on top and crossing the line .326 of a second ahead of the reigning Superbike champ.
On Sunday, it looked to be more of the same for the Texan who has been on a hot streak in the latter half of his Sophomore Superbike season, taking three wins in four races. He got off to another flying start taking the holeshot and leading the first lap. Unfortunately, a technical issue ended his race early in turn three.
Meanwhile Beaubier was shuffled back and got caught up in an early-race battle. The three-time Superbike champ was able to take the lead by lap five and worked on building a gap on the competition. After the halfway mark, his championship rival caught him and they battled for the lead. As the race neared the end, an error in the chicane had the reigning Superbike Champion going off track and seeing his competitor stretch off in the distance. Fired up and not wanting to give up the win, or the five championship points, Beaubier put his head down and put in some flying laps. He closed the gap on the leader for another thrilling finish. The Californian took one last shot at the lead in the final corners of the race, but he came up short of the win by a little over three-tenths of a second.
Up next on the schedule for the Monster Energy Yamalube Yamaha Factory Racing team is the penultimate round of the 2019 MotoAmerica Superbike Championship at New Jersey Motorsports Park, September 23-25. Beaubier sits second in the standings, 35 points adrift of the leader while Gerloff is in third and trails by 56 points.
Tom Halverson
Monster Energy Yamalube Yamaha Factory Racing Team Manager
"It was a good weekend for us as whole. From the beginning, Garrett was quickest in every session until Cam (Beaubier) got the Superpole. It was another stellar day on Saturday, a fantastic race with Garrett taking another win and Cameron getting second. Everything was looking really good into Sunday. Unfortunately, we had a problem on Garrett's bike that sidelined him, which was really too bad. It looked like he was out front, and he would have had the pace to win. On the other side, Cameron did an excellent job battling for the lead. He made a small mistake in the chicane running into the grass, but came back and put in some incredible lap times at the end of the race to finish a real close second to Toni (Elias). He scored some important championship points. Both guys are riding really, really well and the team is doing a fantastic job. We're still in the hunt for the title and looking forward to New Jersey."
Cameron Beaubier
Monster Energy Yamalube Yamaha Factory Racing
"Two second places at Pitt. I had everything I needed to win race two today, but I made a mistake with a few laps to go. I went into the little chicane, and I think I just knifed the brakes pretty hard and the rear end, I don't know if it slipped or what, but I was in just way too deep. I didn't want to cut the track because I knew I would have had to give up a position. But I made it worse. I jumped a curb, went through the grass, ended up going a second back or whatever I was. I was just so mad. Just put my head down and rode as hard as I possibly could to try to do something. But it was too late.
"Coming up short twice stings when you're trying to claw back up in the points, but that's racing. We got two rounds left. I really enjoy the last two tracks, New Jersey and Barber. I'm just gonna keep pushing forward!"
Garrett Gerloff
Monster Energy Yamalube Yamaha Factory Racing
"The weekend started off well. We pulled the bike out of the truck and everything was working perfect right from the start. We did makes some big changes to the bike setup, but in the end both setups worked really well and we knew we had something strong for the races. In the first race, man, it kind of sucked because I blew a two-second lead on the third lap by running off the track. I came back on in third place and I had to fight and give it all I had to race with Toni and Cameron and still take home the win. But luckily the Yamaha R1 was awesome and I was able to get the win at the end of the day.
"Today everything felt good in warmup. I felt like I had a really good bike. We made a few changes that I felt helped. Then during the race, I actually got a really good start. I was leading into the first corner, led the first lap and felt really good. Going into the third corner, the bike just kind of gave out on me. That's racing sometimes. I'll be back. I'll be stronger for the next one. I'm super motivated for the rest of the season and to finish off the year the best that I can."
2019 MotoAmerica Superbike Pittsburgh Race One Results
1. Garrett Gerloff
2. Cameron Beaubier
3. Toni Elias
4. Jake Gagne
5. Mathew Scholtz
6. JD Beach
7. Josh Herrin
8. Cameron Petersen
9. Max Flinders
10. Sam Verderico
2019 MotoAmerica Superbike Pittsburgh Race Two Results
1. Toni Elias
2. Cameron Beaubier
3. Josh Herrin
4. Jake Lewis
5. Mathew Scholtz
6. JD Beach
7. Jake Gagne
8. Kyle Wyman
9. David Anthony
10. Cameron Petersen
DNF. Garrett Gerloff
2019 MotoAmerica Superbike Standings
1. Toni Elias 307
2. Cameron Beaubier 272
3. Garrett Gerloff 251
4. JD Beach 179
5. Josh Herrin 173
6. Mathew Scholtz 161
7. Jake Lewis 139
8. Jake Gagne 105
9. Cameron Petersen 104
10. David Anthony 91
More, from a press release issued by Yoshimura Suzuki:
Yoshimura Suzuki's Toni Elias Scores Come-From-Behind Victory at PittRace
Josh Herrin joins teammate on race two podium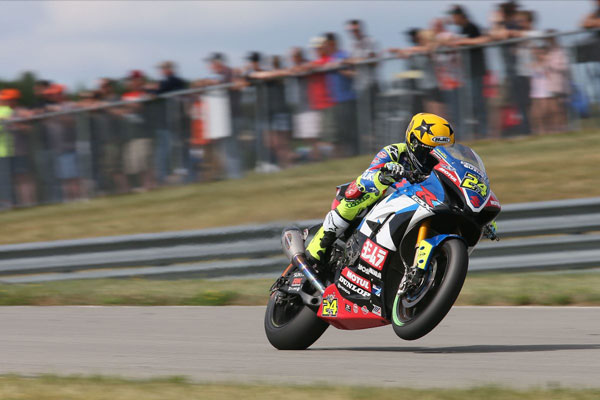 (Above) Toni Elias (24). Photo by Brian J. Nelson.
Wampum, PA — It was a great day Sunday for Yoshimura Suzuki Factory Racing at Pittsburgh Motorsports Race Complex as Toni Elias scored a come-from-behind victory aboard the Yoshimura Suzuki GSX-R1000. His teammate Josh Herrin also had a strong race, moving up to finish third, putting both Yoshimura Suzukis on the podium.
The win for Elias, his seventh of the season, means that the 2017 MotoAmerica Superbike Champion now enjoys a 35-point lead with just two race weekends and four Superbike races remaining on the 2019 calendar.
Elias also rewrote the record books, moving into a tie for fourth with Miguel Duhamel on the all-time MotoAmerica/AMA Superbike wins list. He now has 32-career wins.
Both Elias and Herrin rallied on Sunday after having less success in Saturday's race. Elias finished third Saturday, seeing his series point lead temporarily drop to 30, before turning in his winning ride on Sunday. Herrin actually crashed on the first lap in Saturday's race, but then picked up his bike and charged back to a seventh-place finish, in spite of bent controls.
Elias was excited about his double podium weekend.
"This is one of the most difficult tracks for our bike," Elias said. "But in the end I was there to fight. Today we made some changes that worked well in the warmup, but not so well in the race. In the beginning I was not comfortable and riders were passing me, but I kept calm and things started working better as the race went on and I started passing some riders. In the end I was fighting with my biggest rival, he made a mistake and I won.
"So this is perfect – we leave a difficult track for us with a 35-point advantage. There is still a lot of racing left in this championship and everybody is strong, but every weekend we are getting closer to the end, so we will keep fighting."
For Herrin, Sunday was his fourth rostrum result of the year. He said the key was actually de-tuning his GSX-R1000.
"The guys did a lot of work to get the bike ready for today's race," Herrin explained. "And Sunday we backed off the power a bit, because the bike was just too powerful for this track. With the power tamed down it worked really well. I'm happy Toni won and we were both able to be on the podium. I'm looking forward to New Jersey coming up. I'd like to win some more races and maybe be in a position to help Toni win the championship."
Yoshimura Suzuki and MotoAmerica will next be in action in two weeks for the penultimate round, Sept. 7-8, at New Jersey Motorsports Park in Millville, New Jersey. The races are televised nationally on Fox Sports 2.
More, from a press release issued by Scheibe Racing:
Continuing the Climb at Pittsburgh International Race Complex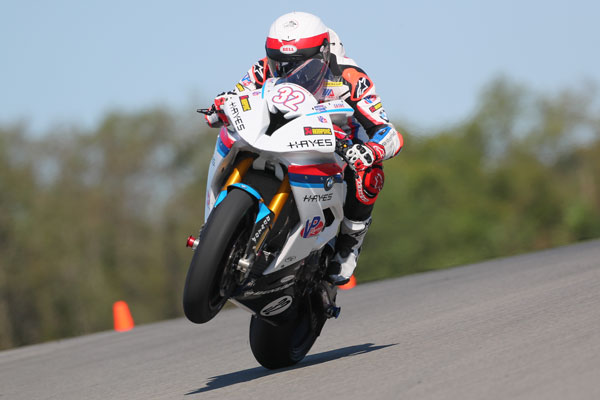 (Above) Jake Gagne (32). Photo by Brian J. Nelson.
Just two weeks after the best weekend so far at Sonoma Raceway for Scheibe Racing, the team managed another best finish at Pittsburgh International Race Complex. Undulating though the scenic, rolling green hills of Beaver County 45 minutes North of Pittsburgh, the 2.8 mile, 19 turn Pitt Race is a favorite with both riders and fans. Jake Gagne piloted the #32 Hayes Brakes BMW S 1000 RR to a fourth place finish in MotoAmerica Superbike race one, and crossed the line for race two in seventh.
Friday's Qualifying Practices started out on a high note with strong lap times, securing a spot in Saturday's Superpole session to duke it out for grid position. "We started off right way on practice everything was going pretty smooth" stated Gagne. "Steve made some really good calls, we had our tire decisions figured out right away and so for practice we just change a couple little electronic things and got the bike a little easier to ride. For Superpole we qualified eighth, I didn't get the best heater in but I just wanted to worry about the race." Team founder Steve Scheibe was also positive. "Last year we crashed, so it's nice to come back here and see what our bike does. No issues anywhere now, we're fully up to speed and we're getting competitive."
Jake lost a position at the start of race one, shuffling back to ninth in the melee going into turn one. He moved up to seventh in the first lap, assisted by a collision between two riders in the lead pack. "Didn't get off to a great start but made some passes and a couple guys went down on the first lap so that mixed some things up, but I started feeling good and made some passes with JD and Matt rolling around with those guys." After passing Matthew Scholtz, and then JD Beach, he caught Kyle Wyman, who had been running strong all weekend on his Ducati. "It took me a while to chase down Kyle because he was also going really good. Then I made the pass and I knew Kyle was on me for a couple laps, keeping the pressure on because I could hear his bike in every corner until he had that mistake. Then Matt started putting the pressure on again, but I ended up fourth which is the best result of the year so I'm pretty happy with that, and happy with the progress." Fourth is the highest a BMW S 1000 RR has placed in an AMA/MotoAmerica Superbike race since Larry Pegram did the same at Daytona in 2012.
Sunday's race started out better, and by lap two Gagne was in sixth until a hard charging Scholtz passed both Jake and Beach. Jake settled in behind Beach, losing ground to Scholtz, fighting for an opportunity to pass which unfortunately didn't happen before the checkered flag flew. "Sunday we made a couple forward steps with the bike and had a little bit better start for sure. I was behind JD and riding around with him after Matt passed me early on. I was a little frustrated because I really wanted to make a pass on JD since I felt like we had a little more pace but he was really tough to pass out there. We were back and forth a little and it was a really fun race riding with JD. Last couple races at Sonoma were pretty boring with nobody to ride with, so the time flies by when it's full of action."
Despite the mid-pack finish, lap times showed Jake finishing the race 10 seconds closer to the leaders than the day before, meaning there is still a progression forward towards the stacked field of the series' top riders and factory teams. "We're closer to the front, we made progress from yesterday even though we were back in seventh. We're happy and it was a great weekend full of learning. The part is that we're getting closer to the front and we're getting closer to the battle with those guys and getting more action and we're learning a lot more about the bike and each other. Results will come."
Scheibe was also encouraged by the result. "I was very pleased on Sunday that we finished within 18 seconds of the leader. JD is a very good rider, and he was fast in our passing zones so we couldn't get around him, but there was more there for us. Our speed was pretty even with other bikes, so more power didn't help us here. The bike has to work and turn, which it did. The chassis is working well."
Jake's pre-season ankle injury is finally at a point where he's not thinking about it during the races anymore, improving even more since the previous round in Sonoma. "Sonoma was a big step, and then here it was even better. It's the first time all year that I didn't really feel it while I was riding. It's not always fun nursing an injury and toning it back here and there. I'm feeling more like myself again."
The two solid past weekends have moved Jake into 8th place in the championship, 34 points behind Jake Lewis. With only two race weekends left in the season, the team is anxious to see if they can improve on finishing position yet again before the season ends at Barber in September. Jake is looking forward to it. "The team's been working really hard, and it's fun working with these guys and it's a good atmosphere, so I'm really happy. I'm looking forward to Jersey. It's an interesting track, the weather's always a little iffy, but I've had some good results in the past there."
Next race for the MotoAmerica AMA/FIM North American Road Racing Series is September 7-8th at New Jersey Motorsports Park in Millville, NJ, home state of BMW Motorrad North America.
Scheibe Racing, founded by Steve Scheibe in 2001, is a Wisconsin based MotoAmerica Superbike team on a BMW S 1000 RR sponsored by: Hayes Brakes, VP Racing Lubricants, Akrapovic, Renthal Chainwheels, Regina Chains, and Alpha Racing.
More, from a press release issued by Kyle Wyman Racing:
Wyman battles through adversity for a top-10 in Pittsburgh for Genuine Broaster Chicken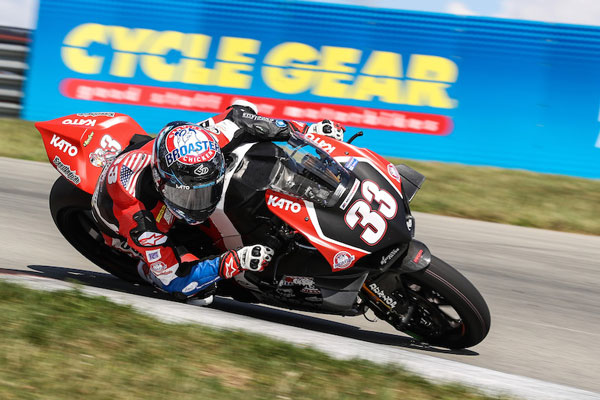 (Above) Kyle Wyman (33). Photo by Brian J. Nelson.

WAMPUM, Pa. — Kyle Wyman and the Genuine Broaster Chicken/KWR Ducati team completed round eight of the MotoAmerica Superbike series this past weekend at Pittsburgh International Race Complex in Wampum, Pa.. Wyman finished up with a DNF and 8th place in races one and two respectively after running in the top-4 early on in race one.
Wyman came out of the gate solid on day one, finishing up Friday qualifying 7th fastest overall. Saturday morning showed even more promise when the Ducati rider ended Superpole 6th fastest, a season-best on the new Panigale V4 R. It would be Wyman's first time starting on the front two rows with the Panigale V4 R.
"With high expectations heading into the weekend, I was very happy with our pace after Friday," Wyman said. "Superpole was better yet, and we were able to put the Ducati on the second row for the first time ever. This was a really positive step for us. It was for sure the best the bike has felt since we uncrated the new Ducati in March."
In race one Wyman got off to an excellent start, and passed JD Beach for 4th place on track. After building a gap early on following the leaders, Wyman found himself in a battle with Jake Gagne over 4th. On lap 11 of 18, a low-side crash took the Genuine Broaster Chicken Ducati out of contention in what would have been a season-best result.
"I got good start in race one and just put my head down," Wyman added. "It took me a couple laps to get by JD and by then I had kind of lost the three leaders. I was still happy and comfortable with the bike, pulled a bit of a gap back to 5th behind me and was settling in. Gagne caught me a few laps later, got by me into turn three and I was content to sit there. I knew he had the softer tire, and I had the medium, so I wanted to just follow him and see how the race unfolded. One lap he got into turn one a little deep, and I followed him in hot. He slowed way up mid-corner, and I had to squeeze on the brakes just a little more. Unfortunately it was too much and I ended up hitting the ground."
"I'm really disappointed with myself, but these things happen," Wyman added. "It's a shame that I couldn't bring home a top-5 at the very least, even though I believe I could have finished up 4th. My team and the Broaster Chicken guys deserved that result and I'm so bummed that I made that mistake. On the contrary, it shows the potential of the Panigale V4 R and is a testament to our hard work this year that we were able to run up front and put down some good lap times."
For Sunday, the KWR team made chassis adjustments to the motorcycle to help find some front-end feel for Wyman. Race two started off similarly with Wyman running in the front group, but the chassis changes proved to be the wrong direction on the bike and he could not hold the pace that he had done in Saturday's race one. 8th place would be the result, but a much needed flag-to-flag finish was finally recorded after a few rounds of DNF and DNS marks.
"Sunday the goal was just to put together a whole race from beginning to end," Wyman said. "I was really struggling with the front end of the bike and didn't have the same feel that I had on Saturday. I tried to hold the pace and keep with the battle for the top-5, but it just wasn't possible. We have a lot of positives to take away from the weekend though and I'm really looking forward to our next race weekend in New Jersey."
The last dry race held at New Jersey Motorsports Park was Wyman's maiden MotoAmerica Superbike podium finish, when he placed 2nd to current points leader Toni Elias in 2017.
Visit www.kylewymanracing.com for more news and updates.
More, from a press release issued by Suzuki Motor of America, Inc.:
Kelly and Dumas Earn Exciting Wins in Pittsburgh for Team Hammer
GSX-R600 and SV650 Propel Team Hammer Racers to Back-to-Back Victories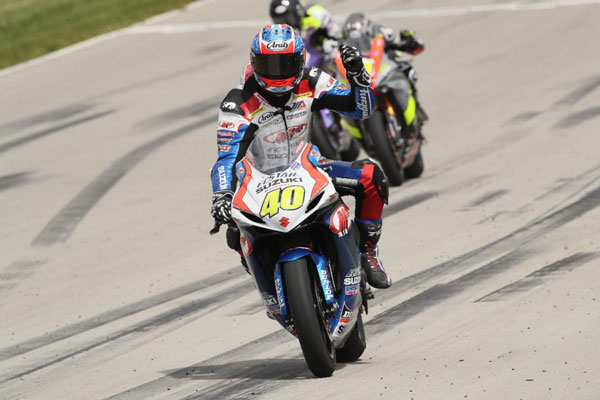 (Above) Sean Dylan Kelly (40) won both Supersport races in Pittsburgh. Photo by Brian J. Nelson.
Brea, CA — In conjunction with Yoshimura Suzuki's Toni Elias' race two victory, Team Hammer celebrated monumental back-to-back victories from M4 ECSTAR Suzuki's Sean Dylan Kelly and Roadracing World Young Guns Suzuki's Alex Dumas during the 2019 MotoAmerica Roadrace at Pittsburgh International Race Complex this past weekend.
M4 ECSTAR Suzuki rookie Sean Dylan Kelly kicked-off Saturday's MotoAmerica Supersport race one with his eyes focused on the finish line. Sprinting into second right off the grid on his GSX-R600, Kelly ran in tight formation over the opening four laps with Supersport points leader and teammate Bobby Fong until a crash brought out the red flag. On the restart Kelly picked up where Fong left off and fought hard to keep a four-rider pack behind him so he could hold his lead. Kelly prevailed, cementing his first-ever MotoAmerica Supersport win.
Kelly's adrenaline continued into Sunday's Supersport race two as he went head-to-head with Fong as the two teammates executed a series of breathtaking passes on one another. Kelly gained control of the race on the final lap, securing a back-to-back victory weekend. Despite Saturday's highside, Fong not only competed in race two, he finished in second place. Fong's persistence and Kelly's achievement's allowed Fong to remain the Supersport championship leader.
Roadracing World Young Guns Suzuki's Alex Dumas took control of the Twins Cup race one on his SV650, pushing forward through the pack while building a lead of more than five seconds that he would hold to victory at the checkered flag. For race two, Dumas proved again to be unstoppable, claiming his fourth win in five races by a wide margin. The Canadian again pushed hard early to establish his lead and then used his superior pace to break free of the pack. The win was Team Hammer's 80th in AMA and MotoAmerica competition, and its 227th podium finish in the national series. Dumas now leads the Twins Cup championship by nine points.
M4 ECSTAR Suzuki's Jake Lewis entered Saturday's Superbike main event ready for success after consistently placing inside the top three throughout practice, qualifying and Superpole heading into the race.
Starting on the front row aboard his Superbike-spec GSX-R1000R, Lewis moved into third in the race's first corner but was hit by another rider and the resulting crash spoiled Lewis' best opportunity of the year.
On Sunday, Lewis kicked-off race two in second place and moved his GSX-R into lead on the second lap. He held the lead for several laps before ultimately settling into fourth, less than a second behind third and just over four seconds behind the winner. As the first non-factory superbike, Lewis' result was the best of his six top-five premier-class finishes in 2019.
Team Hammer will next head to New Jersey Motorsports Park on September 7-8 for the penultimate round of the 2019 MotoAmerica season.
More, from a press release issued by The Draik 77 Racing:
Podium Double-Down For Draik Beauchamp At Pitt Race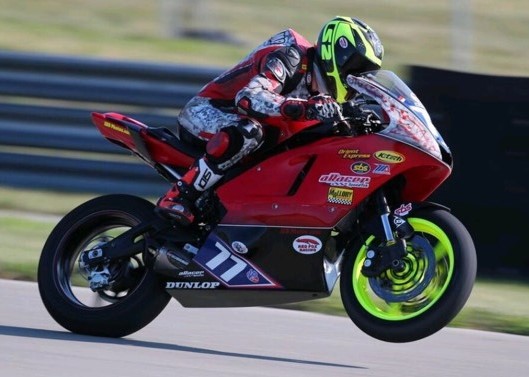 (Above) Draik Beauchamp (77). Photo by Brian J. Nelson.
Wampum, PA – Despite relinquishing his championship lead, Draik Beauchamp left round seven of the MotoAmerica Twins Cup championship with a pair of strong 2nd place race results. After electing to run his own racing program from the Pittsburgh round through the end of the 2019 season, Beauchamp and his crew arrived at Pittsburgh and hit the ground running.
After quickly dialing in his Yamaha FZ-07 and getting to grips with the undulating 2.78 mile Pitt Race layout, the focus was turned to getting around the circuit as quick as possible. In the second (and final) qualifying session, Beauchamp laid down a 1:50.930, which was almost two seconds quicker than his best time from the first qualifying session. This time put Beauchamp in a season-best 2nd place starting position.
Time to go racing! In Saturday's 10-lap race 1, Beauchamp took advantage of his front row start, and rocketed into the first turn with the lead. Beauchamp held the lead until the fifth lap, when he was shuffled back to 3rd position. Three laps later, Beauchamp advanced to 2nd position, which was where he would go on to finish the race.
In Sunday's 10-lap race 2, Beauchamp wasn't able to replicate his race 1 start, but was still able to take over the lead just about halfway through the first lap. A few laps later, Beauchamp dropped back to 3rd position, and the race quickly escalated into a hard-fought affair. Beauchamp and his rivals engaged in several laps-worth of aggressive passing, counter-passing, gesticulating, and generally very entertaining racing! As the dust settled, and the final laps wound down, Beauchamp looked to be set for a 3rd position finish. However, on the final corner, Beauchamp made a last-minute pass to take 2nd position by just two-tenths of a second!
With two races to go in the 2019 season, Beauchamp heads to New Jersey sitting 2nd in the championship and looking to claw back from a nine point deficit. Game on!
Draik Beauchamp – MotoAmerica Twins Cup #77
"First off, I want to say a big "thank you" to those of you who have reached out and congratulated me and shown me support. It has been tough, so those kind words mean a ton! Double deuces for the MotoAmerica Pittsburgh weekend! I had a great time on and off the track, had my best qualifying of the season, getting to start second, and continue to develop my bike. We still have some dialing-in to do but we are getting faster every time out."
Draik would like to thank Billy Mallory at Brick Gentry Law, ARacer USA, Red Fox Racing, Orient Express Racing, SBS Brakes, 129photos.com, NJK Leathers, Jenspeed LLC, Pit Pass Radio, LS2 Helmets, Lenny Albin at K-Tech Suspension USA, Kurtiss & Alicia Beauchamp, and MotoShippers.
More, from a press release issued by Tuned Racing: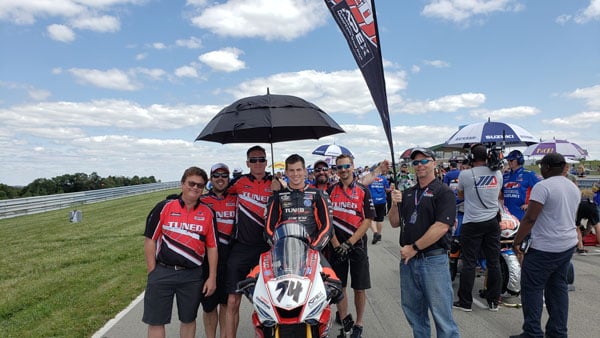 (Above) Bryce Prince on pole position in the Supersport grid at PittRace. Photo by Brian J. Nelson.
Tuned Racing had our best weekend of the year. The past weekend at Pittsburgh International Race Complex for round 8 of the MotoAmerica series Bryce Prince on the Tuned Racing Yamaha R6 came out swinging. Even though our finishes were not our best of the year our team worked work well together and Bryce rode the wheels off the bike all weekend. Setting fastest lap times and claiming pole position. We are proud of the advancements the team has made and look to finish the season off strong! Would like to thank Yamaha Champions school for the training that has made Bryce a better rider and Apex Assassins for the track time and support to apply those teachings. We are fortunate enough to be partnered with the best people and products in the business.
Mike Pond from Tuned Racing said, "This weekend was a great success! The other teams know how hungry we are and the focus Bryce Prince has to win. Unfortunately the win did not happen in the races this past weekend but it did in the pits and with our team. Tuned Racing grew to the next level this weekend and the overwhelming support of the paddock and fans is amazing. Thank you to all of our sponsors that are part of what make us great!"
"What a weekend… After a podium at Sonoma two weeks ago team Tuned Racing and Bryce Prince were very optimistic about heading to the East Coast as Bryce runs good out east!!! It was great being fastest out of the box, reminiscent of 2016 when Bryce won the Superstock 600 championship… We've all seen the results and seen the races. Bryce's run in race number one was heroic. Unfortunately In a crash on the last lap… Red flags seemed to be Bryce's demise at Pittsburgh, as his rear tire was never the same on the restart Bryce soldiered on to finish six…race number two!! Bryce's head never hung low as he was always positive and his positive outlook towards next weeks race in New Jersey will surely prove that he has the ability to win as we hope for a podium if not a win!" said Alex Eisner, Team Manager.
"What a weekend we had in Pittsburgh! First, I have to thank all of my family, friends, and new fans made this weekend! The weekend started off extremely well, leading every session and capturing pole position! We definitely had the pace to fight up front and win both races. In race one, I was in 2nd place and crashed out last lap last corner. I was trying really hard to get a good drive down the front straight and I lost the front unexpectedly. Thankfully my bike and I were in great shape. My crew worked hard to give me a great bike again on Sunday. Again on Sunday we had a difficult race. We were up to pace immediately and I had just gotten into 3rd place after the tire started to feel really good on lap 5. Unfortunately a rider fell which caused a red flag. We pitted and when we went back out the rear tire just wasn't the same. I had to work very hard to hold the pace of the leaders, ultimately causing me to make another mistake in the last corner and almost high side. Luckily I did not crash and was able to finish the last two laps to bring home a 6th place 2 seconds behind the lead group. I know the results don't reflect how we feel as a team, but I think we really proved what we could do this weekend. There are two weekends left (New Jersey and Barber) and both are tracks that I really like! It's safe to say that the entire Tuned Racing team is excited for the last rounds of the season!" said Bryce Prince.
More, from a press release issued by RiderzLaw/Aguilar Racing:
RiderzLaw/Aguilar Racing Has Rough Weekend at Pittsburgh International Raceway
Jason Aguilar had previously had good results and good pace and good results at Pittsburgh International Raceway. The 3-Day race format would allow Jason more time to work on bike setup, which was needed as the new team continues to learn and make progress this season. The first practice session ended with Jason in 11th place. Suspension changes were made for the first qualifying session, and Jason went 2 seconds faster than the first practice session. However, other riders were making similar progress and Jason was left in 12th place at the end. Fortunately, Jason would have a second qualifying session Saturday morning before Race 1.
Jason Aguilar (96) wheelies at Pittsburgh International Race Complex. Photo by Brian J Nelson.
In the second qualifying session, Jason moved up 3 positions to 9th place and improved almost a full second from the first qualifying session. Race 1 started with Jason dropping to 10th at the start, but the leader crashed out causing a race stoppage and red flag restart. The restart again did not go well, and Jason fell back to 10th place. Jason worked his way up to 6th place with 2 laps to go and was battling in a 5-rider group. With one of the leaders crashing on the last lap, Jason was in position to finish in 5th place, but got pushed out wide before the chicane and dropped 4 positions to a disappointing 9th place.
Race 2 began with Jason losing several positions at the start, and then several more after still another red flag restart. Battling from 14th place, Jason started pushing hard, but was only able to salvage a 10th place finish in the shortened race.
Jason Aguilar: "This was not our best weekend, but we learn every time out. I got roughed up and beat up all weekend, but by the last lap of the last race we finally saw some progress. In the second race today, I struggled getting into a good rhythm, but as the tire went off, I felt better and by the last lap, I was getting into good lap times again. I ran my personal best lap time on the last lap and had way more in me. We are trying as hard as we can and look forward to the next round in New Jersey"
Big Thanks to All of our Sponsors: RiderzLaw, Lexin, Honos, Torco, CL Auto Group, Moto Station, Graves Motorsports, Metric Method, TaylorMade Racing, Dunlop Tires, Yamaha Motor USA, FTECU, Superlite Sprockets, Motion Pro, Arai Helmets, Mithos USA, Alien Motion Batteries, SBS Brakes, EF Signs, SBK Paint, RFA Designs.
More, from a press release issued by Altus Motorsports:
MotoAmerica: Altus Motorsports Tucker TerpTastick.com VP Lubricants Race Report "a fantastic weekend" at Pittsburgh International Raceway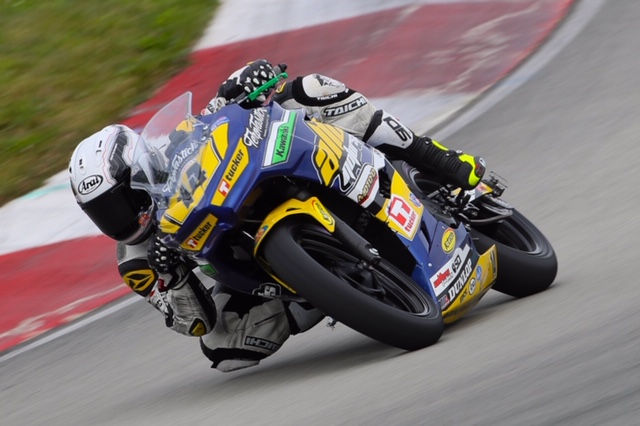 (Above) Kevin Olmedo (14) won a Junior Cup race in Pittsburgh. Photo by Brian J. Nelson.
(Pittsburgh, PA) Round 8 of the MotoAmerica Championship was truly a fantastic weekend for the entire Altus team at Pittsburgh International Raceway.
Liqui Moly Junior Cup: Coming into the weekend, Kevin Olmedo had stood on the podium seven out of ten races, but never on the top step. That changed on Saturday when Olmedo won the Liqui Moly Junior Cup race. Prior to that moment, everything had been playing out similarly to almost every other event; during each session Kevin had held first or second spot on the timing screens and improved his pace in almost every outing. In Race 2 on Sunday, Olmedo battled the first few laps and then managed to break away and settled into a solitary second place. Kevin currently holds third place in the 2019 Championship and the goal for the final two rounds is clear: Take second and try to close the gap for first. "We couldn't be happier for Kevin. He has worked hard all season and he deserves the win. And so does the crew that has developed our Altus Motorsports Ninja 400 package. We knew we had a race-winning rider/bike combination and this weekend it happened," said George Nassaney.
Stock 1000: The Altus team left Sonoma cautiously optimistic that they had resolved the issues that plagued Miles Thornton's GSX-R 1000 since the beginning of the season. And, based on the results, the problems are solved. Miles has known all year that he's had the skills to run toward the front but the inconsistency of his equipment has held him back. He was top five in the first two practice sessions and qualified in 8th. With every session this past weekend he gained confidence in the bike. After a racelong battle, Thornton crossed the finish line in 4th place. "I'm so glad the throttle issues are resolved. Now we can work on geometry and setup. We are headed for some of my favorite tracks. We should have a strong finish to the season," he said.
Supersport 600: Lucas Silva just keeps getting better. After strong practice sessions, he qualified in 7th. During the first race he found himself in an epic five bike battle for 5th place that lasted from flag to flag. He crossed the line in 8th but less than half a second from 5th. He duplicated his results by crossing the line in 8th again on Sunday.
Danny Eslick stepped in to fill the seat vacated by the injured Jaret Nassaney and he did not disappoint. "It was great having a former champion in our pits," said team-owner George Nassaney. "Danny was a blast and there were fans coming over to get pictures." With no time to test before the round, Eslick had to jump on the bike and quickly get up-to-speed. Which he did. He qualified in 10th and finished in 11th on Saturday, and 9th on Sunday.
"This was, by far, the best round of the season: Kevin winning was surreal; Miles showing what he can really do and finishing top 5; top 10 finishes both days from Lucas; and having a legend like Eslick in the pits. It doesn't get much better. The whole team is fired up for the next few rounds," said George Nassaney.
The Altus Motorsports team is supported by our great family of sponsors: Altus Motorsports, Tucker Powersports ,TerpTastick.com, Conquest CBD, VP Lubricants, RS Taichi, Arai, Moto D, Bonamici, Hotbodies Racing, SBS Brakes, Vortex, Motion Pro, STACYC, Law Tigers Oklahoma, BrakeTech Rotors, M4 Exhaust , Braking Rotors, Yoshimura R & D, Dunlop, Team Hammer, and Altus Factory Racing
More, from a press release issued by RideHVMC:
Alexander Secures Second Consecutive Podium Finish In Pittsburgh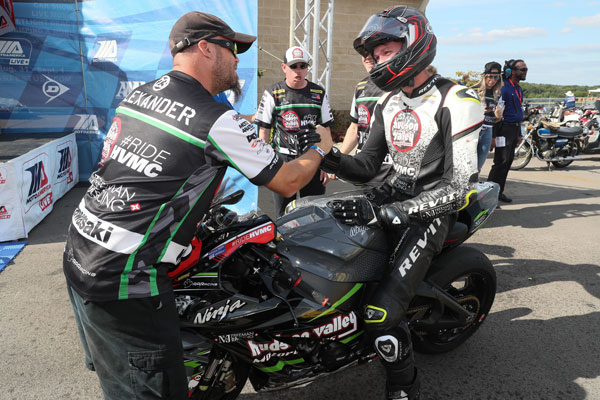 (Above) Corey Alexander is greet in victory circle by his crew. Photo by Brian J. Nelson.
Ossining, NY ( August 27th, 2019 ) – Corey Alexander secures his second consecutive podium finish in just three race starts.
The RideHVMC Freeman Kawasaki racing team with support from RARacing and JJD Corp are happy to walk away from a learning-filled Pittsburgh round of the MotoAmerica Superstock 1000cc Championship with yet another third place finish.
In just his second round returning to MotoAmerica competition after a two year hiatus Corey has been able to secure two podium finishes in three starts. Each and every outing provides a steep learning curve for both rider and crew as no testing has taken place other than the data gathered at each of the two rounds. Thanks to Gemini Technologies the team has been able to put together a competitive package to build upon heading into home territory September, 7-8th at New Jersey Motorsports Park where another great result is anticipated.
Corey comments: "Jumping back into racing after such a long while off is always a tough thing to do. Fortunately Pete and Mark at Gemini really helped get us off to a great start with a strong bike to work with. Road America has always been a great track for me and I think I lucked into that podium a little bit so I knew Pittsburgh would be truly indicative of just how competitive we could be. After this weekend's podium I'm more than excited to head home to New Jersey where I feel we will be really strong if we can build on what we just learned about the bike. Thanks to Uncle Richie and DJ for all the hardwork as well as all of our friends, family, and personal sponsors that are really allowing this to be a possibility."
The RideHVMC Freeman Racing team is actively seeking partners to compete in a full 2020 season of MotoAmerica. To learn more about partnership opportunities please contact us via [email protected] You can stay up to date with Corey on social media via: @corey23alexander and @ridehvmc.
RideHVMC Freeman Racing thanks its current partners: Hudson Valley Motorcycles, RAR Racing, JJD Corp, Kawasaki USA, Akrapovic Exhaust Systems, Maxima Racing Oils, Defy All Odds Apparel, Motion Pro, Superlite Sprockets, Woodcraft Technologies, Armour Bodies, JP43 Training, MotoAnatomy, Arai Helmets, Rev IT!, KC74 Tracking, FTA Embroidery, Prestige Services Group, Team Four3 Performance Lab, Limited Decal, Flex Racing, Gemini Technologies, Beta Tools, Flash Tune, Ohlins USA, Saddlemen Seats, and Galfer Brakes.
About Hudson Valley Motorcycles: Hudson Valley Motorcycles is a family owned and operated motorcycle dealership that has been serving New York's Hudson Valley and Westchester County as well as Connecticut, Massachusetts, New Jersey, and New England with Kawasaki, Ducati, Scrambler Ducati, Suzuki, Energica and ATV, motorcycle or UTV Sales, Parts, and Service for over 50 years. For more info visit hudsonvalleymotorcycles.com, call (914)-762-2722 or follow @hvmotorcycles on social media.
About RideHVMC: RideHVMC is a northeast based premier track experience provider offering high quality motorcycle track-days with limited spots and a safe, confidence inspiring riding environment. New for 2019, RideHVMC now offers personal riding instruction in association with JP43 Training. Visit ridehvmc.com to signup or to inquire about personal instruction at a track near you or follow @ridehvmc on social media.
More, from a press release issued by Quarterley Racing On Track Development:
Barnes Podiums Twice, Stroud Fourth in Second USA Race
Weekend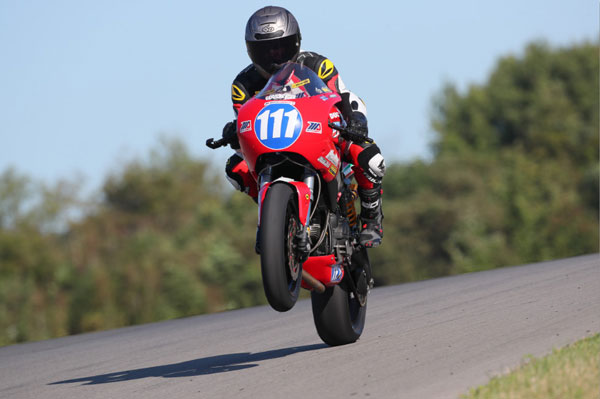 (Above) Michael Barnes (111). Photo by Brian J. Nelson.
Quarterley Racing On Track Development had a successful
weekend in the MotoAmerica races at the Pittsburgh International Race Complex
August 23-25. Michael Barnes podiumed twice in the Twins class, while New
Zealander Jacob Stroud got fourth place in the LIQUI MOLY Junior Cup on
Saturday in just his second race weekend in the USA. Jamie Astudillo scored a
top-ten finish in the same race, her second-best result of the year, while her
Junior Cup teammates Ben Gloddy and Teagg Hobbs battled with each other for the
entire race, Ben getting Teagg at the line by just thousandths of a second.
Michael Barnes:
"I got pole, but I wasn't confident because of the tire
situation. I knew my main competitor was running medium rear tire and doing
good lap times.
"The problem was that I couldn't get the medium rear tire to
work. I tried it, but I couldn't get enough confidence in it in the beginning
to be sure about using it in the race. This could be due to setup, I'm not
sure. I ran the soft rear both days and
it went off midrace both times. I knew I had to charge hard at the beginning of
the race because top end is where the other top riders are getting me,
especially the points leader, and the only way I was going to be able to do
that would be with the soft.
"In the first race, another rider had a moment right in
front of me. He was slower mid-corner than me and I was right behind him. It
made me check up and get off line. The rear stepped out, I got launched in the
air, and when I came down I smashed my right leg right on the footpeg. I got
this huge hematoma right on the muscle where I had a transplant from an
accident a few years ago. My foot swelled up so much I had to borrow a boot
from Jake Gagne.
"I had an issue with the rear tire halfway through race two,
but I had a really good front tire, so I was full-on sliding it every lap in
every corner. I should have salvaged second place in the race, but I mismanaged
the pace on the last lap and it bit me. I looked back on the second last lap
and then again on the last lap. I saw the gap between me and third place was
coming down, but I felt I had the pace to hold onto second. I made the mistake
in the esses, where I backed it down just a tiny bit. I take full
responsibility for not getting on the second step of the podium.
"I was just two points down from the points lead coming into
this race, but I lost nine points each race to the leader. With just two races
left I'll have to beat him by more than just first to second each race. I'll be
going for the win at both rounds, that's all I can do. Eraldo Ferracci is going
to see if he can find me some power in my Ducati, but he's got only 10 days.
"Big thanks to Dale Quarterley and Bob Robbins. I'm having a
blast racing out of the Quarterley truck."
Jacob Stroud:
"We were pretty
stoked with how Saturday went. I qualified tenth, which I felt was a good pace
at the time. We were able to post some good times in the race. We had some pace
we pulled out of the bag somehow. Fourth place was good for building
confidence. It's good to know that where we were yesterday was where we know we
can be.
"In the second race it was like the bike didn't have any
grip. It was a bit of a shame because we didn't change anything from yesterday
except the gearing. The only reason we changed that was because we were running
out of gears going down the straight. I was battling for eighth and could see
the front group getting away, but I couldn't do anything about it. I came out
of turn one slower than normal and only went up to fifth gear on the straight
where I usually go up to sixth. So when I downshifted for the next turn I went
down one too many gears and the back end came around.
"Pittsburgh is a really nice track. It's go a lot of grip,
and it's a good track just to enjoy. Most of my experience is on three tracks
on the north island of New Zealand. With all the elevation changes, Pittsburgh
and Sonoma are not like anything I've ever been on. Tracks like these are
improving my riding as a whole. Going to different tracks makes you a better
rider; you don't get good at just one track.
"Having Damian Jigalov associated with the team is great.
He's a good guy to bounce ideas off of.
"I'd really like to thank the Quarterley On Track Racing
Development team and all their sponsors for giving me this opportunity. I'd
also like to thank my New Zealand sponsors, Eurobike New Zealand, Stylmartin,
The Macho Ache, Kevin from Kiwi Classic Moto, Motorcycling New Zealand Inc. and
Hamilton Motorcycle Club Inc. NZ. I'd also like to say a special thanks to
Spidi for keeping me intact today."
Jamie Astudillo:
"Saturday was a good race. Even though I qualified
fifteenth, I got a decent start, got by the other people in my row and ended up
just behind the battle between my teammates Ben and Teagg. I was struggling in
the chicane, though; I didn't have the speed Ben and Teagg had. Because the
chicane is right before the two longest straights on the track, I had to keep
trying to catch up to them. Top ten is huge for me right now. It's my best
finish this year since the first event at Road Atlanta, where I finished ninth
in race two.
"The second race would have been great, too, but I ran off
in turn one on lap three. I was in about twelfth at the time and hit a false
neutral going down to fourth gear. It was my fault; I just didn't click it hard
enough. It sucked that the second race ended the way it did.
"I definitely made a lot of progress at Pittsburgh. I can
finally run with the mid-pack group. We plateaued, though, because there's only
so much you can learn in a few days. But every session we focused on something
to improve me as a rider.
"I'm really looking forward to New Jersey. I've raced there
the past two years and finished sixth in both races last year. It's only an
hour and 40 minutes from my house and it's like my home track. Most of my
family will be there and I hope that will give me a boost in confidence.
"The bike that the Quarterley team has given me has been
great all year. We're working on fixing me as a rider first before we make a
lot of suspension changes and things like that. I feel like I'm making a lot of
progress now and I can't thank Dale and the team enough."
Ben Gloddy:
"This was my first time at Pittsburgh. I qualified eleventh
and turned my best lap time of the weekend, a 1:57. I got an OK start in the
first race. I kept the leaders in sight for a while, but then I lost them. My
teammate Teagg Hobbs and I ended up battling the whole race, never giving each
other an inch. I ended up drafting him at the line and getting eighth place by
just 7/1000ths of a second.
"Race two was definitely a better race. I got my lap times
down and was able to break away from group behind me. I ended up riding my own
race. I feel I could have done better if I learned the track faster.
"Dale helped everyone this weekend. He focused a lot on body
position, and that helped a lot.
"I've only been to New Jersey once before, and that was in a
track day in the pouring rain. I don't know how it will be in the dry, but I'm
looking forward to another top ten finish.
"I'd like to thank the entire Quarterley On Track
Development Racing crew for all their help and guidance, and a special thanks
to Eric Wood of the Penguin Racing School for making the trip to help out."
Teagg Hobbs:
"I didn't have the greatest practice and qualifying because
I was just learning the track. I qualified fourteenth and got a decent start in
the first race. It turned out to be a lot of fun. I battled with my teammate
Ben Gloddy the whole race and he ended up getting me at the line for eighth by
inches.
"I got off to a bad start in the second race on Sunday. From
there, I tried to have a clean race and move up as many places as possible. At
the end of the first lap I was all the way back in seventeenth, but by the end
of the race I was eleventh.
"I learned a lot this weekend, which will be a good push
going to the final two rounds at New Jersey and Barber. I felt very comfortable
in the first and third sectors of the track, and I worked a lot on sector two,
the one with the esses. That sector has a lot of switchbacks and I progressed
the most there throughout the event. By the end of the weekend I put down some
decent lap times compared to where I started. All of us on the team are trying
to improve ourselves as riders, and I have to thank Dale and the entire team
for all their help."
Quarterley Racing On Track Development sponsors for 2019
include Inter-Tech Supplies, Fast By Ferracci, Inc, Yoshimura Research &
Development of America, Inc., Wiseco Powersports, Motul USA., Regina Chain,
BrakeTech USA, Inc., Ferodo Racing, Matt & Jesse, Scott Powersports, Inc.,
Defiance Lifestyle, Woodcraft Technologies, Dynojet Research Inc., Beta Tools
of Italy – USA, RoadracingWorld.com, Drippinwet.com, MOTO-D Racing, Fast Bike
Industries, Nitron Racing Systems Ltd., VAN DYK Recycling Solutions, Earl's
Racing Team and Kiwi Classic Moto. In addition, Michael Barnes is also
sponsored by Moto Corse Performance and Ducati North America.