Buyck Tops Close Racing At Brainerd BUILD. TRAIN. RACE.
Royal Enfield BTR Road Racing action returns at Brainerd MotoAmerica round in Minnesota.
Milwaukee, WI (Tuesday, August 2, 2022) – Round three of Royal Enfield's Build. Train. Race. Road Racing program brought the 2022 series to its halfway point. The BTR women were eager to take on the famous Brainerd International Raceway after an eight-week break in the championship. While the action in the class is drawing closer as the BTR ladies train and coach each other to quicker lap times, the end result was a familiar one, with lightning-quick Kayleigh Buyck besting the field for the third time in as many races. Chloe Peterson and Jenny Chancellor joined Buyck on the overall podium.
The Brainerd track proved to be a tough learning track for many of the BTR women—particularly turn 12 and the chicane. But the Royal Enfield ladies put in the work during limited practice time to learn the track and tune their Continental GT 650 motorcycles for race day.
A total of 12 women lined up for the Royal Enfield Build. Train. Race. main event. Patty Paul is still nursing a collarbone injury suffered at VIR, Bridgette LeBer hurt her hand in a recent dirt bike crash, and Kayla Theisler was out sick. But the Brainerd round did see the return of Cora Tennyson, who had a spectacular highside at VIR and consequently sat out Road America with a knee injury.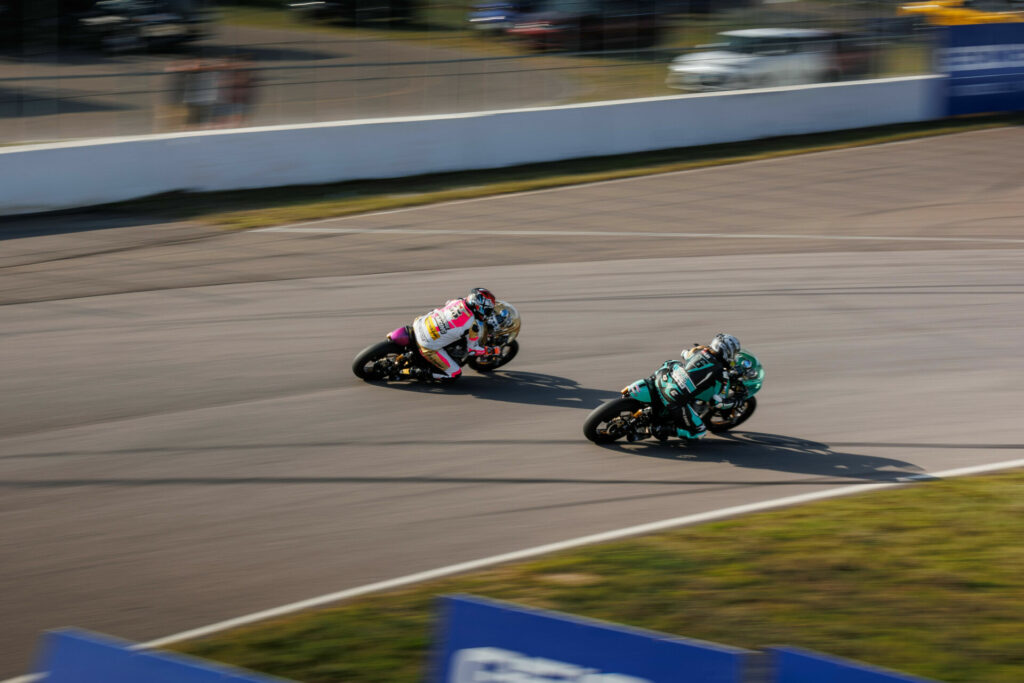 Racing action was once again spectacular, and not without some drama. Kayleigh Buyck managed to lead all eight laps, but not without some steady pressure from Chloe Peterson. The number-55 kept the gap small, and waited for a mistake from Buyck that would never come. Meanwhile, the battle for third heated up with Crystal Martinez duking it out with Jenny Chancellor, but Martinez received a penalty flag for jump-starting. Martinez thought she had to pull off, and slowed down during the race, losing any chance at a podium finish.
"What a weekend!" exclaimed Chloe Peterson. "It's great racing with the other women on the same Continental GT 650. When I see them going faster and braking harder than I do, I know I can do that, too. Battling with Kayleigh has pushed me beyond what I thought was capable on a motorcycle. I pushed hard on the brakes to try and get past Keyleigh but she was definitely not making it easy. I had a pucker moment in turn three on the last lap trying to take an outside line to try to get around her but I saved it. In the end, I put it on the box one step higher than the last time. I'm happy with the result, but hungry for more."
"The battle with Chole Peterson was intense and pushed me to better myself," said Kayleigh Buyck. "She is a phenomenal rider and I love having her to battle with. The remainder of the season will be amazing. All of the girls rode great this past weekend; the vibe in our put was the best yet. Everyone coming together to help one another really showed what this program is about."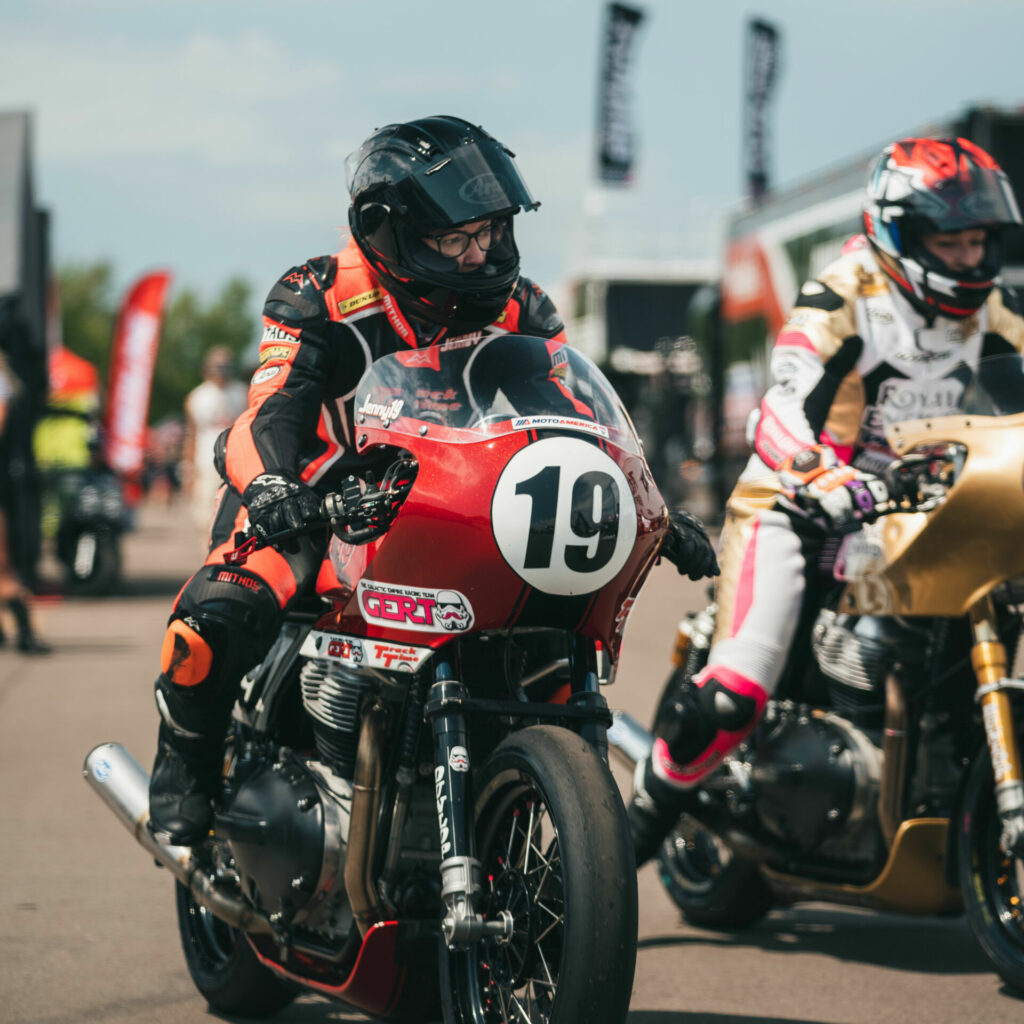 "This weekend at Brainerd had a number of setbacks along the way," commented Jenny Chancellor. "But the amount of confidence the BTR program has given me honestly makes me feel like I have a superpower to keep pushing forward. This weekend our whole team pushed forward through adversity and had a successful race. Every person on our team is getting better; I am excited to see the racing get closer and closer."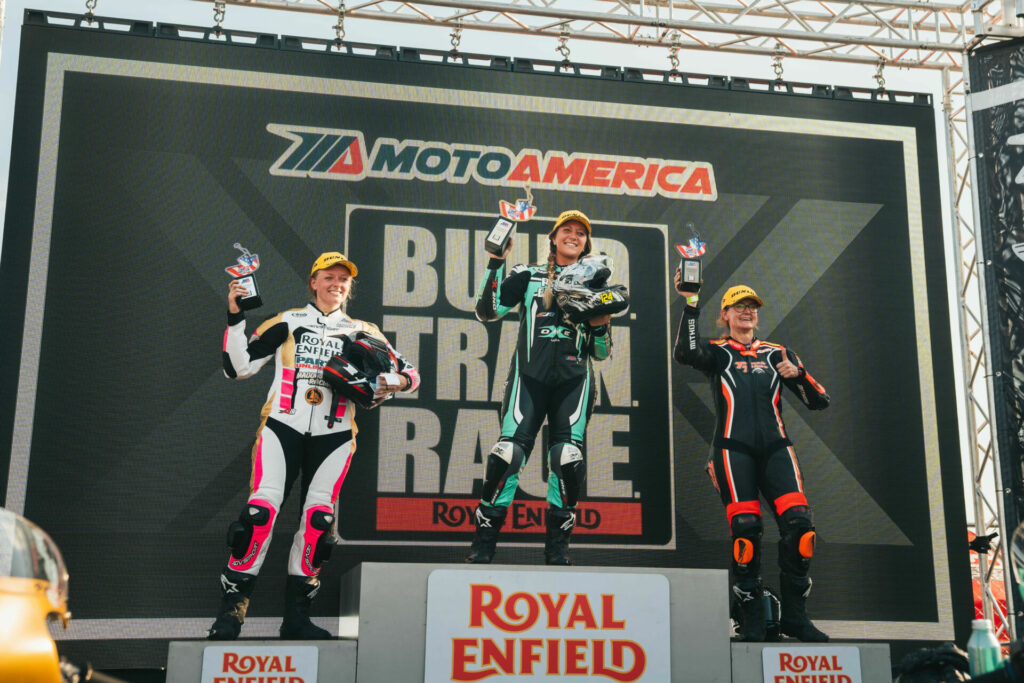 Royal Enfield and the Build. Train. Race. community send sincere condolences to the friends and family of Scott Briody. "Bittersweet is the only way to describe this past weekend," said Kayleigh Buyck. "Scott Briody was such an amazing friend to have and left such a great impact on so many riders. Being able to put it on top of the box for him was exactly what I needed. He will be forever missed. Godspeed, Scott; until we ride again."
Royal Enfield BUILD. TRAIN. RACE. Road Race
Brainerd Results
1. Kayleigh Buyck (#16)
2. Chloe Peterson (#55)
3. Jenny Chancellor (#19)
4. Crystal Martinez (#25)
5. Jessica Martin (#23)
6. Cora Tennyson (#95)
7. Ashley Truxal (#31)
8. Michaela Trumbull (#27)
9. Trisha Dahl (#44)
10. Alyssa Bridges (#30)
11. Nicole Pareso (#11)
12. Hannah Stockton (#62)
About Royal Enfield
The oldest motorcycle company in continuous production in the world, Royal Enfield made its first motorcycle in 1901. A division of Eicher Motors Limited, Royal Enfield has created the midsize motorcycle segment in India with its unique and distinctive modern classic motorcycles. With its manufacturing base in Chennai, India, Royal Enfield has been able to grow its production rapidly against a surge in demand for its motorcycles. Royal Enfield is a leading player in the global middleweight motorcycle market.
Royal Enfield North America (RENA) is headquartered in Milwaukee, Wisconsin, and is developing a growing network of more than 150 dealers in North America, including the contiguous U.S., Canada and Puerto Rico. RENA currently offers the all-new Classic 350, Meteor 350, Himalayan and the 650 Twins (INT650 and Continental GT 650) motorcycles, along with a range of Genuine Motorcycle Accessories and apparel.
More, from a press release issued by SportbikeTrackGear.com:
Max Van Back to Form at Brainerd, Limandri on the Podium Again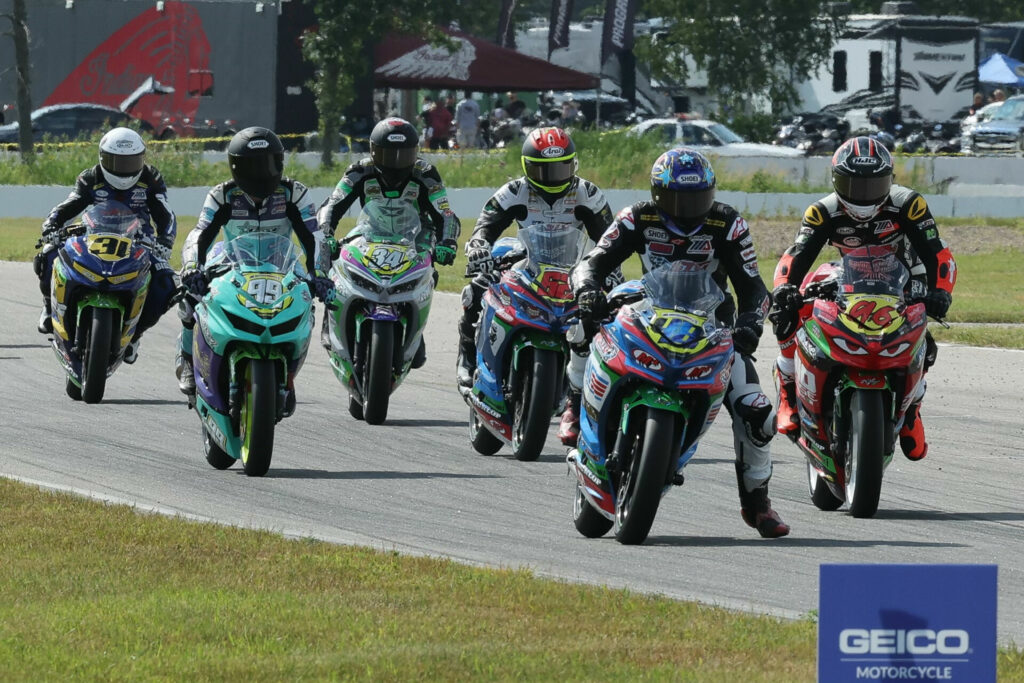 Breaking an eight race dry spell, Max Van put his SportbikeTrackGear.com Ninja 400 on the top step of the podium in race two at Brainerd.
Race One also saw teammate Joseph LiMandri Jr. back on the box with a solid P2.
Despite the success, in racing the results only tell part of the story.  While both riders had to overcome struggles this weekend, nothing compared to the loss of friend and mentor Scott Briody, who succumbed to injuries sustained on track Friday during qualifying.
"The way Scott lived life, the man never had a bad day. His attitude always made me never want to skip a beat. The man passed doing what he loved. Living life to the fullest was his attitude," Max said in a post-race interview.  Having Race One end prematurely as another rider crashed into him, Van had to dig deep for Race 2.
But even Race Two wasn't without drama as a red-flag incident caused the race to be shuffled to the end of the day.  Using info from the first part for the restart, "I was able to regroup and figure out why I got shuffled back to fourth position. As I was riding I asked myself, 'why waste my opportunities?' and I answered that out on track.  This was a win for Scott."
"Scott was one-of-a-kind. He was selfless and made sure others were taken care of before himself. He was taken too soon and he will be missed. My condolences go out to the Briody family," Joe added.  "The season isn't over and it's time to fight, for him."
The SportbikeTrackGear.com Junior Cup championship has proven anything can and will happen in racing.   The championship chase continues for the final six races, with Joe sitting second and Max fifth in the points.
Catch the team live as the MotoAmerica series returns East with the next round at Pittsburgh International Race Complex on August 19th.
As always thanks to: All the SportbikeTrackGear.com customers, Helmet House, Bauce Racing, Cybersafe Solutions, Racing for a Reason, Vortex Racing, M4 Exhaust, REB Graphics, Armour Bodies, Woodcraft Technologies, Motul, Alpinestars, Shoei Helmets, RST, Arai Helmets, SportbikeTrackTime, Evolve GT Track Days, N2 Track Days, Gazebo Contracting, UTR/Torres Racing, Brake Tech USA, Ferodo Racing, Scott Powersports, Spiegler USA, Hanshaw Racing Engines, Precision Auto Works and Driven Racing.
More, from a press release issued by N2 Racing:
N2 Racing Scores Three Podiums at Brainerd International Raceway.
Media, PA – N2 Racing scored podium finishes in every race entered at Brainerd International Raceway, but the weekend was still somber after the death of fellow competitor Scott Briody. Blake Davis finished second in the only Twins Cup race of the weekend on his Yamaha YZF-R7. Fill-in rider Josh Hayes finished third in both Supersport Race One and Race Two on his Yamaha YZF-R6. Hayes and Davis battled up front in all three races showing the level of the team in the second half of the season with five podiums in the last two rounds.
Four-time AMA Pro Superbike Champion Josh Hayes was gracious enough to fill in for full-time Supersport rider Kevin Olmedo, who suddenly became ill after the team's victory at Roebling Road Raceway in the N2/WERA National Endurance by Dunlop race. Kevin Olmedo is recovering from Guillain-Barre Syndrome at home in El Salvador. Kevin is hopeful to make a quick recovery but was unable to compete at Brainerd International Raceway. Josh stepped up on short notice and did a fantastic job.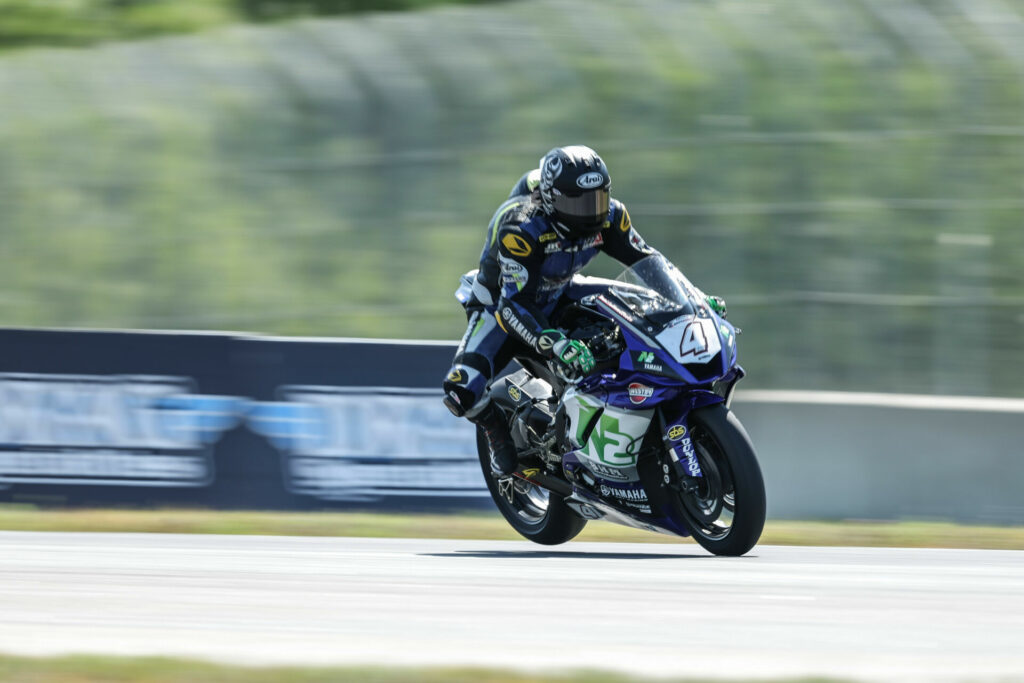 Josh and the team decided not to make wholesale changes to the N2 Racing YZF-R6, but to optimize the Olmedo setup to suit Josh. Hayes was able to qualify in second position, but the team was struggling with rear grip on corner entry. In Supersport Race One, Josh got a great start and tried to latch on to eventual winner Rocco Landers, but Landers's pace was dominate. Josh battled with Josh Herrin for second, but rear grip was still an issue at the end of the race, and Hayes finished in the third position.
Supersport Race Two was hectic from the start with six riders fighting for second place after Race One winner Rocco Landers disappeared at the front. Hayes was in the middle of the fight throughout the race. On lap eleven, Josh made a mistake, drifting back to sixth and had to fight his way back to third with a last-lap pass on protégé Cory Ventura.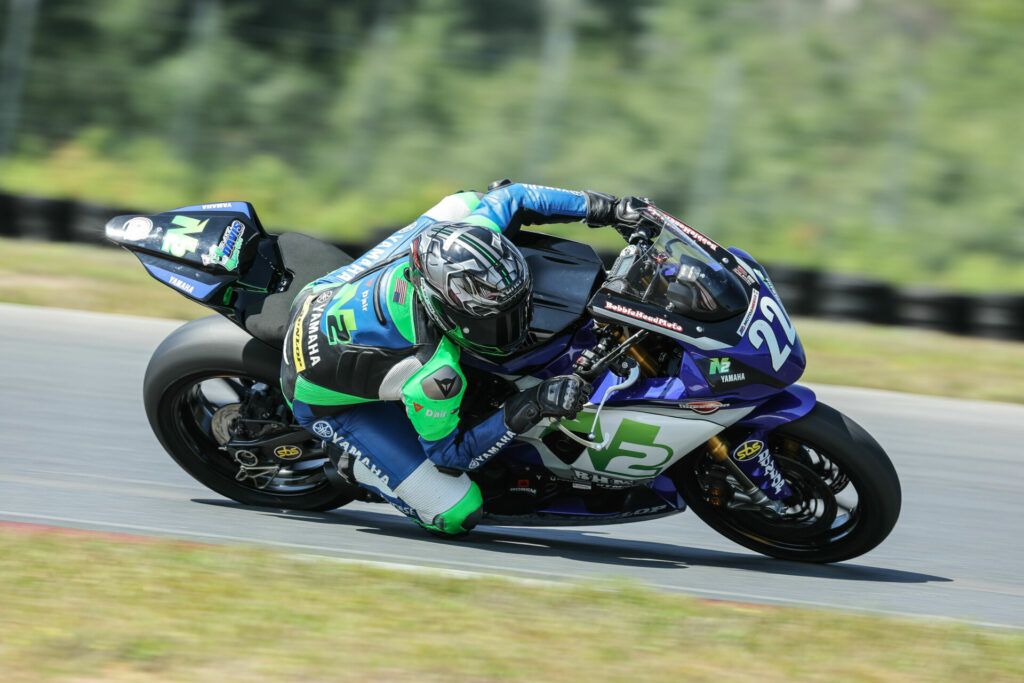 This was the team's first visit to Brainerd International Raceway with the Yamaha YZF-R7 and the loss of Friday afternoon qualifying made set up difficult. The team made progress and Blake was able to match his best qualifying result of the year with a fourth-place starting position.
The Twins Cup Race on Saturday afternoon was a barnburner with Davis leading for most of the race with Cory Ventura, Anthony Mazziotto, and Hayden Schultz all fighting for the lead. Blake was very fast in the ultra-quick turn one/two section of the racetrack, but struggled with running wide in the tighter sections. The nail-biting last lap saw the leaders cross the finish line only .3 of a second apart with Blake finishing second to score his third podium of the year. Blake is currently third in the championship only 28 points back.
Blake Davis – "The weekend had highs and lows. Right off the bat, I missed Kevin not being there, then the loss of Scott Briody; it was all sad. Friday afternoon and evening were low key, Saturday the paddock got together and we prayed for Scott's family. Then, the day's racing got started. The highs were qualifying my best ever and then getting second place in my race."
Josh Hayes – "I really enjoyed the weekend working with N2 Racing team. This is only the second time working with Shiloh and the crew after the endurance win and we really worked well together.  The races were exciting, and I tried to do the motorcycle justice like Kevin would do. It was fun to put on a good show with some last-lap passes, and it was awesome to get on the podium twice. I enjoyed the opportunity, and I was very glad I could help."
Shiloh Salopek (Crew Chief) – "We really appreciate Josh standing in for Kevin as well as putting our Yamaha YZF-R6 on the podium twice.  We're also very happy with the progress that we're making on the YZF-R7 and to have Blake on the podium again.  We all missed Kevin and we hope he's back with us soon."
About N2: N2 – Ride, Race, Learn.
Founded in 2014, N2's mission is to build a sustainable motorcycle community through safe, structured motorcycle track days, advanced rider training programs based on Yamaha Champions Riding School teaching methods, with a strong affinity for motorcycle road racing. N2 successfully resurrected Motorcycle Endurance Racing in America partnering with WERA Roadracing and creating the N2/WERA National Endurance Series by Dunlop. N2 is a premier participant in the MotoAmerica Pro Racing Series with a multi-rider team competing in several classes. N2 is also a major contributor to the Roadracing World Action Fund through fundraising efforts and support from its large member base.
N2 Racing is proudly sponsored by: Dunlop Motorcycle Tire, Yamaha Motor Corporation USA, Dainese, BobbleHeadMoto, Karnes Performance, Trading Paint, GB Racing, Westby Racing, Attack Performance, Robem Engineering, Puig, Eazi Grip, ProBolt, SBS Brakes and Yamaha Champions Riding School.
More, from a press release issued by Altus Motorsports:
MotoAmerica: Results from Brainerd for the Altus Motorsports WPS FLY Racing Team
 
(Brainerd, MN) – The MotoAmerica event at Brainerd International Raceway had a grievous start on Friday when a racer, Scott Briody, lost his life. The track was shut down and the afternoon schedule was canceled.
"We know this sport is dangerous – the risk of serious injury and death is always possible – but knowing that doesn't make it any easier. This was a truly horrible loss that was felt in our pit, throughout the paddock, and across our sport," said team owner George Nassaney
Superbike Cup & Stock 1000
It has been a tough year thus far for Brandon Paasch. After successful seasons on middleweight bikes, he has been struggling on the 1000. To make matters worse, the tragedy on Friday hit very close to home. The rider who lost his life was the father of Brandon's girlfriend.
Through his grief, he managed to prove his mettle this weekend with his best results of 2022. In Stock 1000, he qualified 4th and spent the race in the battle at the front. Ultimately, he crossed the line in 2nd place. Paasch took the podium with mixed emotions. "I want to enjoy the moment – It's my first podium. It's been a hard season. And an even harder and very upsetting weekend," said Brandon Paasch. "I really want to thank everyone for their support. Also, thanks to Shakey Byrne for his feedback at Laguna. He gave me some input that's really helping me get better on the big bike. I'm really hoping we can build on this weekend for the rest of the season."
In the Superbike Races, Brandon started Race 1 from 14th and finished 13th. He was the 2nd place Superbike Cup competitor. He started the second Superbike race in 12th and finished 9th but he was the top Superbike Cup racer. He currently sits third in the Superbike Cup, just 21 points out of first.
Supersport 
Jaret Nassaney arrived in Brainerd hoping to continue his progress toward the front of the Supersport races. Unfortunately, lack of track time due to some mechanical issues made for a challenging weekend. He started both Supersport races from 12th. He finished Saturday in 8th and Sunday in 9th.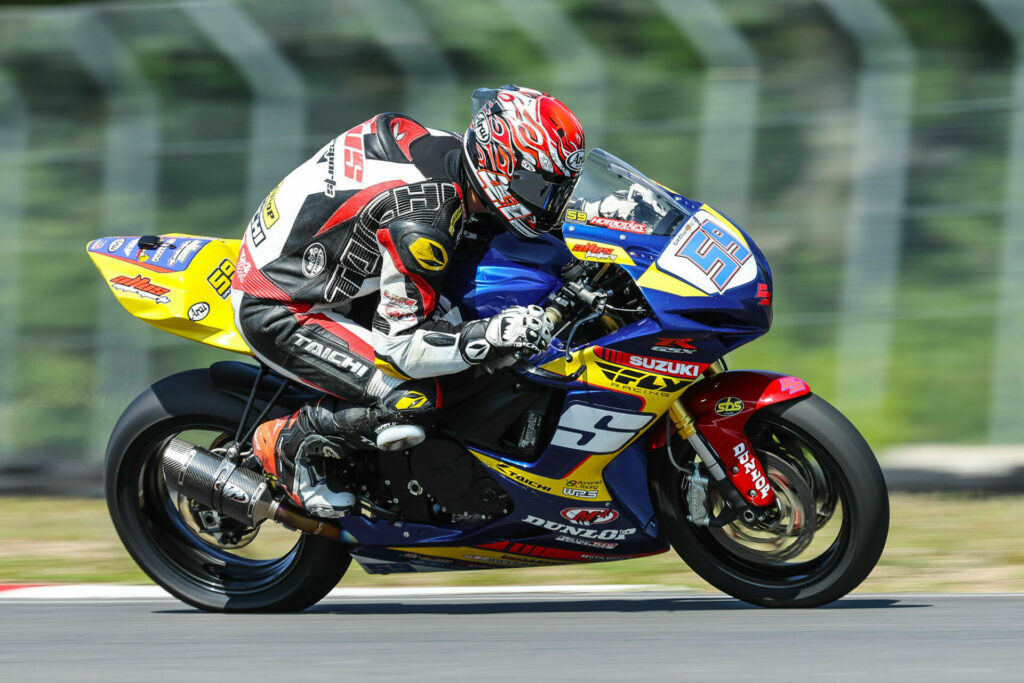 "We had a difficult weekend at Brainerd. I came into the weekend ready to fight for some more Top 5 finishes but we fell behind when we missed the first practice due to some mechanical issues. We struggled to find a good setup in qualifying but we were able to salvage an 8th and a 9th in the races! Big thanks to my team and my mechanics for all the hard work! Hoping for better results in Pittsburgh," said Jaret Nassaney.
Junior Cup
After a brutally disappointing round at Laguna Seca, Kayla Yaakov arrived in Minnesota ready for a "reset", getting back to leading the pack and standing on the podium. Which she did. She was the fastest in the first practice. The first qualifying was canceled but Yaakov managed to be 2nd fastest in the sole qualifying session and started the races from the middle of the first row. On Saturday, in Race 1, Kayla collected her second win of the season. Race 2 ended up being rescheduled to a 5 lap sprint at the end of the day on Sunday. Yaakov crossed the line in second. Her success at Brainerd moved her into 3rd in the overall JR Cup standings, just 31 points out of first and 9 points from second.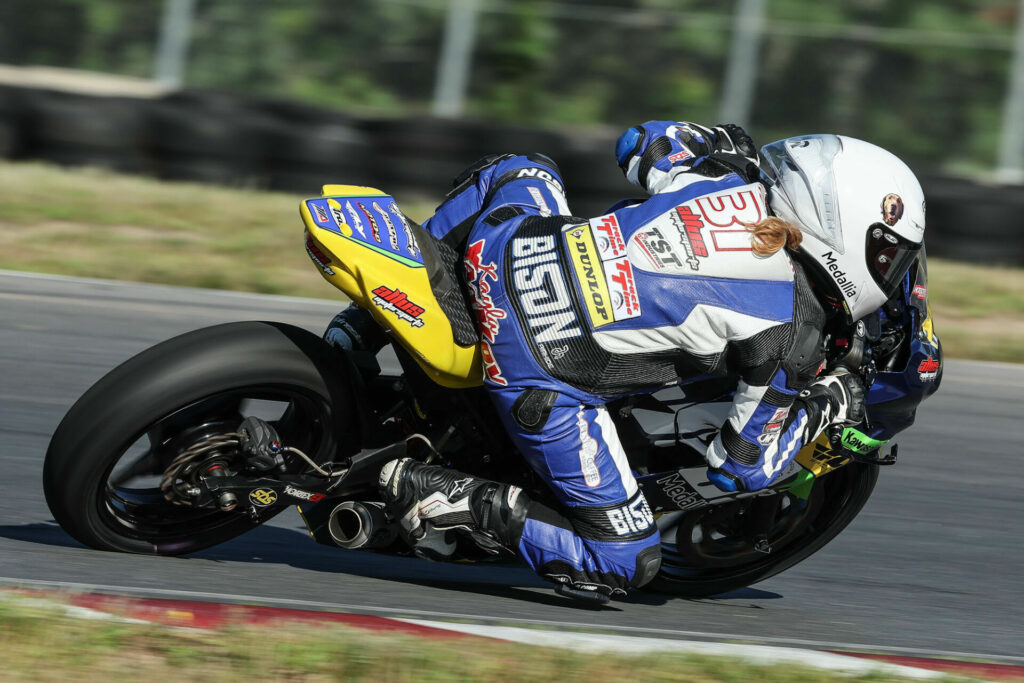 "A great and very emotional weekend at Brainerd International Raceway. I was able to secure my second win of the season, as well as a second place in Race 2. It was great to come home with these points after a difficult weekend at Laguna. I now sit 3rd in the championship points standings, and I'm looking forward to the next round at Pittsburgh International Raceway (my home race). I'd also like to send my condolences to the family and friends of Scott Briody. I'd like to dedicate this weekend to them," said Kayla Yaakov.
"This weekend was an emotional roller coaster. The team came together to support each other and everyone rode in Scott Briody's memory. Brandon wanted to be on the box for Scott and when he succeeded, it was a very emotional moment, from the Nassaney's and the entire Altus Motorsports Team we offer our deepest condolences to the Briody family," said George Nassaney.
The Altus Motorsports team is supported by our great family of sponsors: Altus Motorsports, FLY Racing WPS, Suzuki Motor Corporation, Moto-D Racing, Bonamici, Hot Bodies Racing, M4 Exhausts, Vortex EK, Motion Pro, Barnett, Maxima Racing Oils, SBS Brakes, BrakeTech USA, Inc., Ohlins, K-Tech, RS Taichi, Arai, Law Tigers Oklahoma, and Altus Factory Racing.