Landers Can Wrap It Up This Weekend At Barber Motorsports Park
The Liqui Moly Junior Cup Title On The Table For Rocco Landers
IRVINE, CA (September 17, 2020) – There's a very good possibility that 15-year-old Rocco Landers will wrap up his second consecutive MotoAmerica Liqui Moly Junior Cup Series title this weekend at Barber Motorsports Park, September 18-20, which would make him the first champion of the 2020 season.
With his nine victories in a row, Landers holds a commanding 90-point lead over Celtic HSBK Racing's Samuel Lochoff and a 91-point lead over Bartcon Racing's Dominic Doyle. With 100 points available in the final two rounds after Barber at Indianapolis Motor Speedway and WeatherTech Raceway Laguna Seca, Landers would be crowned champion if his lead is 100 points or more. Two wins for Landers combined with two second-place finishes for either Lochoff or Doyle would give him a 100-point lead on Lochoff and a 101-point lead on Doyle. The most those two could hope for would be a tie, but the tiebreaker would go to Landers in any situation based on his amount of race wins.
Landers Racing's Landers is coming off two dominant Liqui Moly Junior Cup wins in New Jersey last weekend, besting Lochoff by 11.5 seconds on Saturday before beating Joe LiMandri Jr. by 8.7 seconds on Sunday.
The Liqui Moly Junior Cup isn't the only class in which Landers is leading. With four wins in a row and five wins total thus far in 2020, Landers is also now the championship leader in the MotoAmerica Twins Cup Championship on his SportbikeTrackGear.com Roadracingworld.com Suzuki. Landers leads that title chase by 19 points over Kaleb De Keyrel with that battle likely going to the final round at WeatherTech Raceway Laguna Seca.
De Keyrel is coming off his worst weekend of the year at NJMP with sixth- and fourth-place finishes on his 1-833-CJKNOWS Accident & Injury Law-backed Yamaha. Third in the Twins Cup title chase heading to Barber this weekend is Hayden Schultz Racing's Hayden Schultz with the Fayetteville, Arkansas, resident coming off two podium finishes at NJMP. Schultz, however, is 79 points behind Landers as this is most definitely a two-horse race.
The Supersport class is still the most riveting in the 2020 series with hotly contested battles between HONOS Kawasaki's Richie Escalante, M4 ECSTAR Suzuki's Sean Dylan Kelly and Celtic HSBK Racing's Brandon Paasch a given at each and every race. Their battle at NJMP last weekend was one for the ages with the three of them going back and forth every lap until Kelly emerged with the win over Paasch, who executed a last-lap pass on Escalante.
Escalante, though, is still the series points leader and that lead is 30 points over Kelly and 89 over Paasch. Kelly's win at NJMP was his third of the series with Escalante recording nine wins thus far. It's almost guaranteed that those three will go at it again at Barber Motorsports Park this weekend in another no-holds-barred battle.
There is also a tight battle for the Stock 1000 Championship on-going, though Altus Motorsports' Cameron Petersen seems hellbent on that not being the case. With four wins in a row and five total, the South African is on a tear that has put him 17 points clear of Ride HVMC Racing's Corey Alexander with the New Yorker sitting on two wins on the year. Those two and the injured PJ Jacobsen are the only three riders to taste victory this season in the class.
Only three points separate Michael Gilbert Racing's Michael Gilbert from Travis Wyman Racing's Travis Wyman for third in the championship.
Barber Motorsports Park Notes…
Andrew Lee, who is making his 2020 debut in the Superbike class at Barber this weekend, won both Stock 1000 races last year at Barber Motorsports Park. Lee topped Michael Gilbert in both races last year with Stefano Mesa finishing third in both.
Last year's Supersport races were drama filled with Bobby Fong winning both and taking the Superport title in the process with Barber being the series finale in 2019. Fong beat Bryce Prince and Richie Escalante in race one and Escalante and PJ Jacobsen in race two.
The lone Twins Cup race a year ago at Barber was won by Chris Parrish over Michael Barnes and Alex Dumas.
Rocco Landers won both of the Liqui Moly Junior Cup races last year, beating Dominic Doyle in both – by .277 of a second in race one and by 3.16 seconds in race two.
There's a big turnout of rider entries for the Barber round with 123 entries spread over the five MotoAmerica classes. Superbike will feature 27 entries, with 20 entries for Supersport, 20 for Liqui Moly Junior Cup and 25 for Stock 1000. The biggest class for the Barber round will be Twins Cup with 31 entries.
More, from a press release issued by Kyle Wyman Racing:
KATO Fastening/KWR team heads to Barber after bounce-back weekend at New Jersey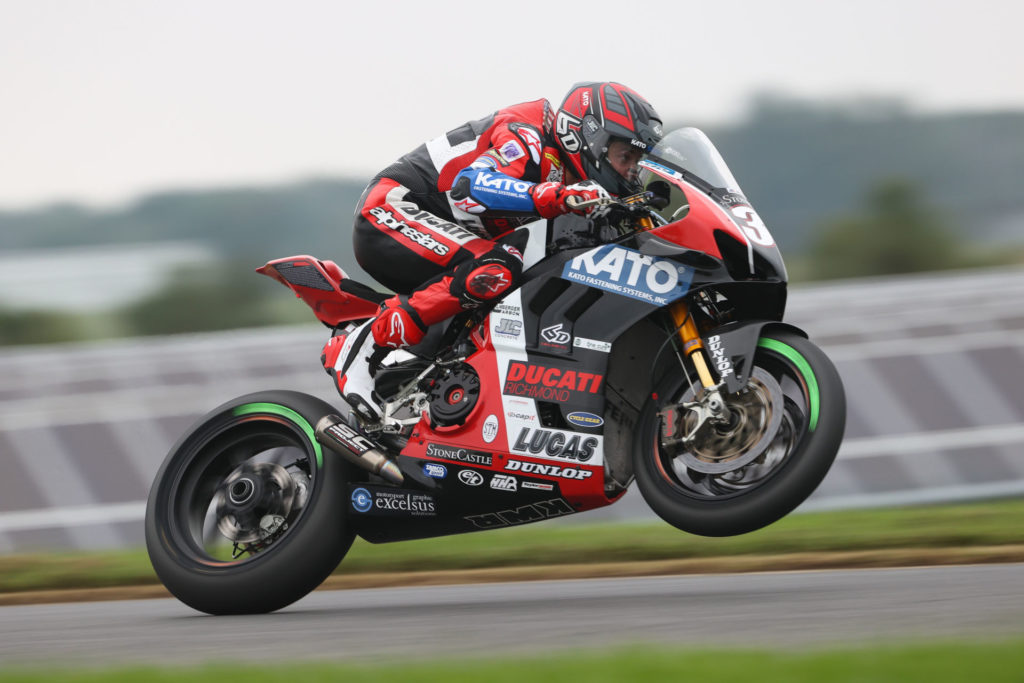 TUCSON, Ariz. (Sept. 17) — The KWR Ducati Team heads to Barber Motorsports Park this weekend after a bounce-back event in New Jersey where Kyle Wyman scored 4th and 6th place finished aboard his KATO Fastening/StoneCastle/KWR Ducati Panigale V4 R. The series heads straight to Alabama this weekend for the 7th round of the MotoAmerica Superbike Championship.
Wyman moved up from 7th to 6th in series standings after the New Jersey event, off the heels of a zero-points scoring weekend in Washington at Round five. The Barber track has been a successful venue for the KWR team where Wyman finished in the top-5 in 2019, and hopes are high for a strong run for podium places.
"We started this season strong, and have had our challenges mid year, but I'm happy to have put a good weekend together in Jersey to get us back rolling again," Wyman said. "Now we head straight down to Barber where we had our best finish of the 2019 season on the Panigale, and I think there is a great opportunity for us to score some points and start a strong run to end the 2020 season on a high note."
The weather looks sunny and warm for the weekend and the KATO Fastening-sponsored team will have dry track to continue development of the Ducati platform. With focus on front-end feeling in the Friday sessions, Wyman and crew will be searching for comfort and confidence to bring the Panigale V4 R close to the front.
"I've had some great feelings with the bike this year compared to last, but we've taken some small steps backward at some rounds," Wyman said. "There have been weekends where we are fast in race one, but cannot make improvements for Sunday. If we are going to continue working forward we need to keep progress all the way to the final lap of race two."
How to keep up with the KATO Fastening/KWR Ducati Team:
Friday practice starts at 11:20am CST, with LIVE coverage on MotoAmerica Live+ streaming. Both race one and race two on Saturday and Sunday will be LIVE on Fox Sports 1 (FS1) at 4:00pm EST on Saturday and Sunday.
Visit www.kylewyman.com for more news and updates.
More, from a press release issued by Westby Racing:
Westby Racing's Scholtz And Wyman Are Back In Action Again This Weekend, This Time At Barber Motorsports Park
Tulsa, OK – September 17, 2020 – Fresh off round six of the 2020 MotoAmerica AMA/FIM North American Road Racing Championship this past weekend in New Jersey, round seven starts tomorrow at Barber Motorsports Park (NJMP) in Birmingham, Alabama. Mathew Scholtz and Cody Wyman, along with the entire Westby Racing team, are excited to be racing on back-to-back weekends.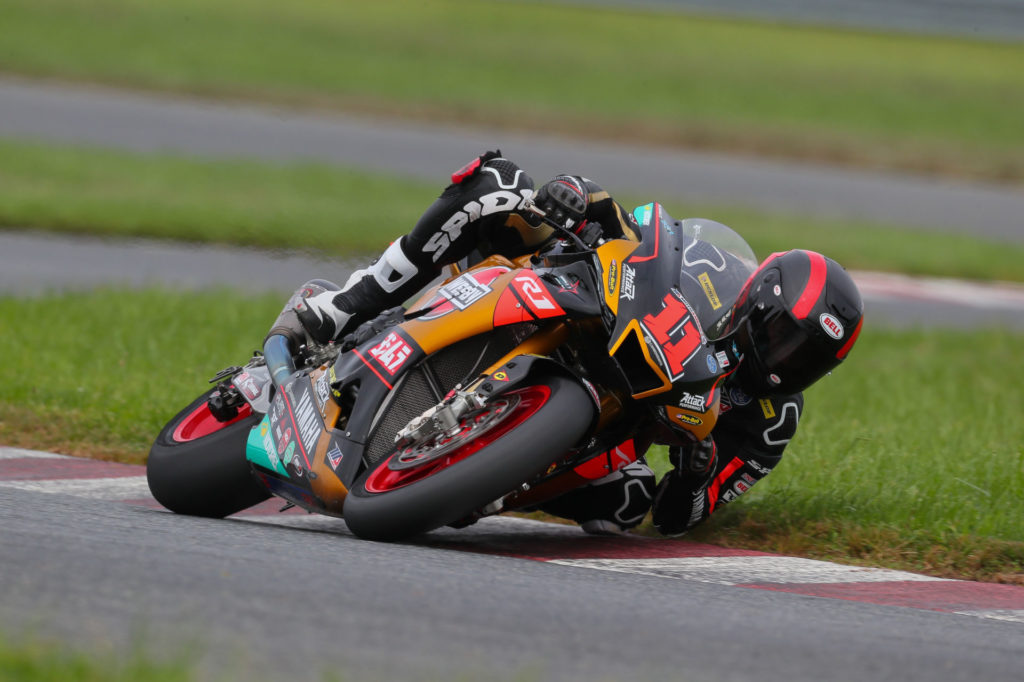 Mathew notched two strong podium finishes last weekend in New Jersey, and he is very much looking forward to continuing his momentum aboard the #11 Westby Racing Yamaha YZF-R1 Superbike this weekend. Barber's 2.38-mile, 17-turn road course is one of Mathew's favorite tracks, and he currently sits just six points behind Jake Gagne for second place in the 2020 Superbike Championship standings, so he knows that now is the time to strike.
"Jersey was a very positive weekend for the team and me, so we are really looking forward to Barber. It's always been one of the best tracks for me, maybe because it reminds me of the tracks back home in South Africa. The layout just really seems to suit me and how I ride the bike.
"Last weekend, we wanted to try to get to the next step—to catch up to Beaubier—but with the conditions, we weren't able to. So, we're going to be busy tomorrow trying a couple of things because, even though I think we did take a step forward at New Jersey, the boys have been working really hard, and I'm really proud of everyone and how we've come on this season.
"I've got a couple neighbors who will be coming to Barber to spend the whole weekend there, so it's going to be really cool to have some close friends there. Last year was our first time riding on the new pavement, and the track conditions were a little bit weird. I wasn't able to ride here at the preseason test because I had broken my collarbone two days prior to it. So, I know we're going to be starting off a little on the back foot. But I've been to Barber a couple of times, and it's one of the tracks where we always do a track day. So, I think I've done more laps there than a lot of the other riders, and I don't think missing the preseason test is going to mean too much. I'm just going to feel out the track and take it from there.
"I'm really thinking, at these next couple of races, we can challenge Beaubier up front and try to get in front of Jake (Gagne) in the Championship."
Superbike Superpole is on Saturday at 11:15 a.m. Central. Superbike race one starts on Saturday at 3 p.m. Central, and race two is on Sunday, also at 3 p.m. Central. Both races will be broadcast LIVE on FOX Sports 1 (FS1) and Eurosport, as well as streamed on MotoAmerica Live+.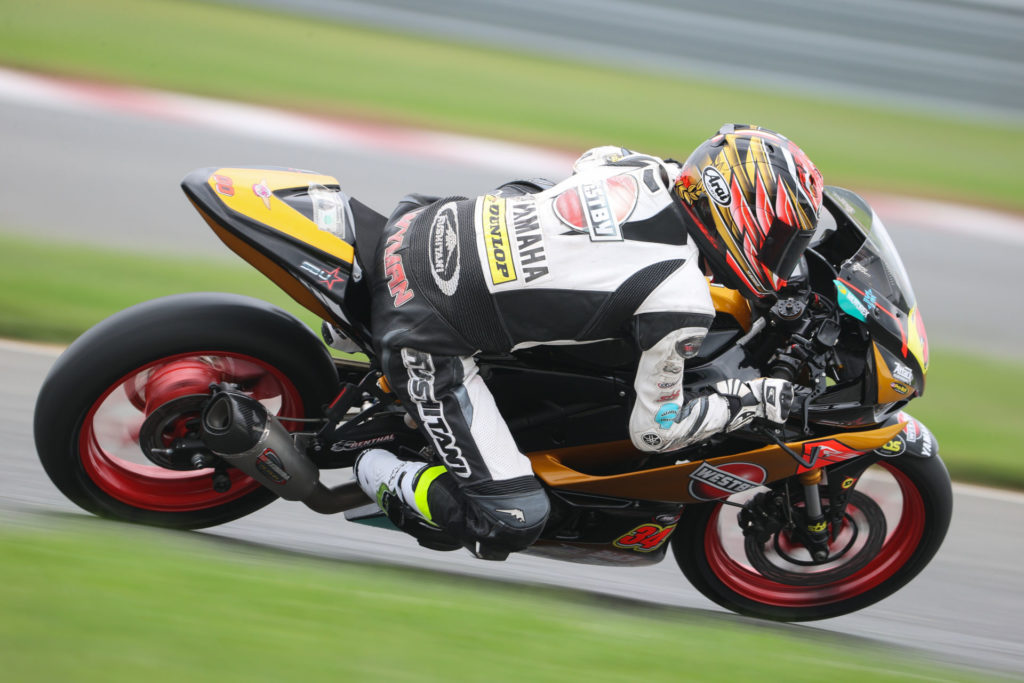 Westby Racing's MotoAmerica Junior Cup rider Cody had a solid weekend in New Jersey, but he is hungry for more seat time, and racing this weekend at Barber is just the thing that he needs to keep dialing in his #34 Yamaha YZF-R3 and get it closer to the front of the pack.
"Barber is a track that I think every rider and team looks forward to," Cody said. "I struggled there last year, and I had a crash early in qualifying going into the museum corner, which really put us a step behind all weekend. I can't wait to get down there and get to work. Barber usually has a solid turnout of entries and lots of cheering, passionate fans, so it's great that we have an opportunity to put on a show for them. Thanks to my team for working hard on these back-to-back race weekends. It means a lot to have their support. We'll try hard to put together a good setup for the two races at Barber, and hopefully, we'll leave Alabama with some hardware!"
Junior Cup race one starts on Saturday at 4:10 p.m. Central, and race two is on Sunday at 2:15 p.m. Central. Both Junior Cup races will be streamed on MotoAmerica Live+, and they will also be broadcast via tape-delay on FOX Sports 2 (FS2) on September 22 starting at 9 p.m. Eastern.
Watch Great Racing While Maintaining Your Social Distance
MotoAmerica and Barber Motorsports Park will have safety measures in place this weekend to help protect you, the riders and teams, MotoAmerica staff, and track personnel. There is plenty of room for you, your family, and/or your entire crew to enjoy professional motorcycle road racing at one of the country's best racetracks.
Pick Up FREE Westby Racing Posters And A T-Shirt
Westby Racing posters of Mathew and Cody, as well as T-shirts, will be available next to the team garage throughout the weekend, so swing by and pick some up while maintaining proper social distancing.
Check Out The Westby Racing Sponsor Showcase
SBS, Superbike Unlimited, Suter, and Yoshimura will be the featured team sponsors on display at the Westby Racing garage, so be sure to stop by, say hello, and find out more about some of the companies that support the team.
For more updates about Westby Racing, including news, photos, and videos, visit https://www.WestbyRacing.com
Also, follow "Westby Racing" on your favorite social media sites.

09-17-2020 18:26:48

MotoAmerica: