Travis Wyman scores top 10 finish at season-ending MotoAmerica Championship of Alabama
Weir Everywhere Racing BMW team concludes two-round Superbike development program
BIRMINGHAM, Ala. — The Weir Everywhere Racing BMW team closed out its 2019 MotoAmerica season by scoring a top 10 finish and completing a two-round Superbike Class development project.
Rider Travis Wyman piloted the team's 2017 BMW S 1000 RR, which the team has used for the last two seasons and is being retired from MotoAmerica competition, to 10th- and 11th-place finishes in the MotoAmerica Championship of Alabama's Superbike races on Saturday and Sunday.
The 2018 MotoAmerica Stock 1000 runner-up team and rider elected to compete in the Superbike Class for the last two rounds of 2019 as part of a test and development project. Superbike's less stringent regulations on motorcycle modifications allowed the team to learn more about how to best set up a motorcycle's suspension and geometry for Wyman. Evidence of the team's progress can be found on the timing sheets. Wyman lowered his best lap time around the 2.38-mile, 16-turn circuit by more than two seconds aboard the team's lightly modified Stock 1000 package.
With the 2019 season coming to an end, the team extends its thanks to its family of sponsors and development partners for their support this past season. The team's plans for the 2020 MotoAmerica season will be announced as soon as possible.
Travis Wyman / #240
"It was a good end to the 2019 season for the team, as we accomplished what we set out to when we decided to compete in Superbike the last two rounds. My crew chief and mechanic, Steve Weir and Alex Torres, have worked incredibly hard to find the best set-up for me, and to finish in the top 10 against some of the best motorcycle road racers in the United States on our Stock 1000-trimmed BMW S 1000 RR is incredible. I went 2.5-seconds faster on the Barber track than I ever had before on a two-season old engine. We learned a lot that will help us if we return to the MotoAmerica competition in 2020. I want to thank all the individuals and businesses who have supported the team over the last two years, especially BMW North America and the California Superbike School. Hopefully, we will be able to continue serving our sponsors marketing and product development needs for years to come."
More, from a press release issued by Quarterley Racing/On Track Development:
Gloddy Gets First Podium
Quarterley Racing On Track Development rider Ben Gloddy got his first MotoAmerica podium ever in race two of the LIQUI MOLY Junior Cup at Barber Motorsports Park on September 22. It was an amazing result for the rider who did not start racing with the team until round five of the 2019 series at the Utah Motorsports Campus on June 15-16 because he was not the minimum age to compete of 14 until the Friday before the event.
At the other end of the experience spectrum, veteran racer Michael Barnes got second place for the team in the Twins Cup race. Battling from a second row start, Barnes crossed the line in third but was promoted to second after a rider in front of him was penalized.
Ben's Junior Cup teammates Teagg Hobbs and Jacob Stroud each scored a top ten finish over the weekend, with Teagg finishing the season eighth overall in the points. Jamie Astudillo continued her progress in the class, scoring just outside the points in both races.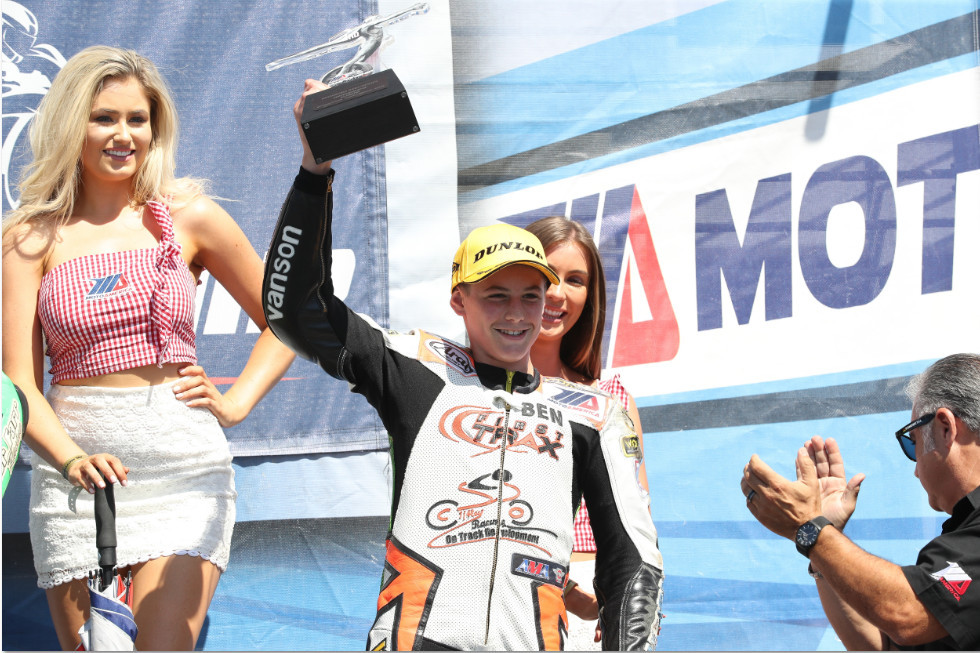 Ben Gloddy:
"It was my first time at Barber and I was impressed with how nice everything is. It looks like someone took a golf course and put a track in the middle of it.
"The first thing that impressed me about the track itself is how many blind turns there are. You're looking at the corners and you're thinking they're kind of slow but they're ridiculously fast.
"I watched a bunch of videos of both racing and onboard shots before coming to the track. The experience of actually riding it is really cool. You have to learn your marks and reference points. For instance, you can't see into turn one; you just have to tip it in and hope for the best.
"I started chipping away at my lap times right from the start of practice, and by the end of practice I was doing 1:40's. I noticed that everyone in my class was really even around the track. No one had a particularly weak or strong spot. I could see that, in the race, it was just going to be whoever was going to take the draft or dive underneath someone.
"I was pretty confident going into the first race and had been able to get my laps times down into the 1:36's. I knew I had the pace in qualifying and I just had to go out and do the same thing in the race.
"I got a pretty bad start but made up for it in the second corner. I only lost one spot and got by the one guy that got by me and started picking people off as the race went by and ended up just off the podium in fourth by just four tenths of a second. The guy in third place had just a little too much of a gap on me and I couldn't get a draft off him at the line. It was really encouraging because I knew then that a podium in race two was definitely possible.
"Race two used the same grid as race one. I got a better start and was able to get up next to a few people who had broken away. I hung back to see what they were doing and started picking people off after the first couple of laps. There were six of us in the pack fighting for third. At one point I was sixth but I wasn't too worried because I knew I had the pace to get back up to the front.
"On the final lap I pulled a little bit of a gap. The guy just behind me closed it on the front straight but he wasn't able to draft me to the line. I just had my head down and was going for it.
"I was really excited after the race. I thought it was the coolest moment in my life so far. It was my first MotoAmerica podium and I hadn't even been racing the whole year. My team was waiting for me in the winner's circle and the first person to congratulate me after them was the class champion for this year.
"I'm ready for 2020. This podium has given me a boost of confidence that I can get on the podium and be competitive next year. I just want to thank Bob Robbins and Dale Quarterley and the whole Quarterley Racing On Track Development team for all their help, in addition to the Penguin Racing School, Eric Wood and John Grush. I really couldn't have accomplished all this without them."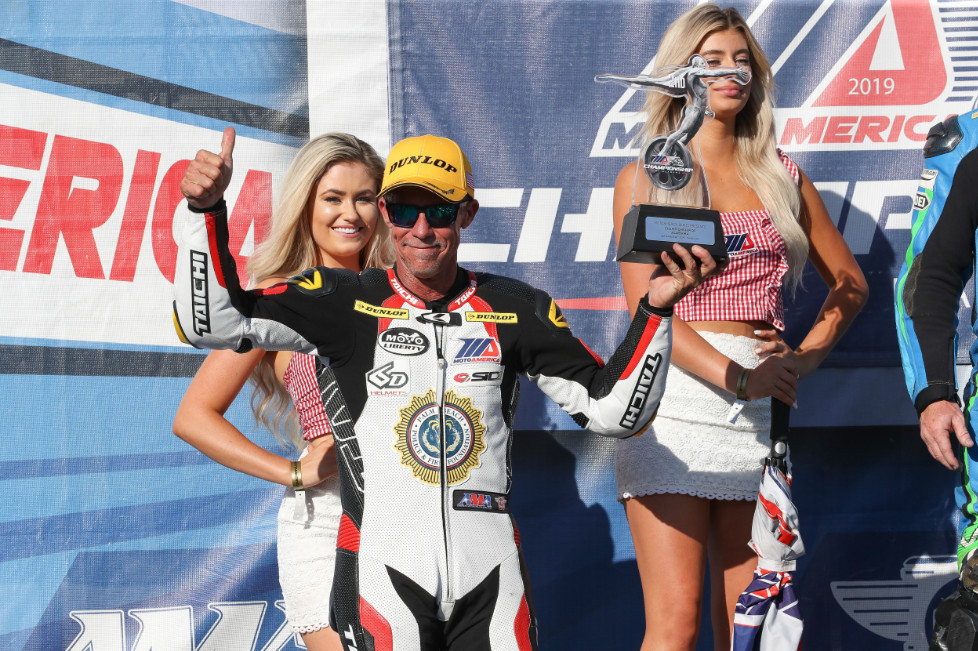 Michael Barnes:
"I've raced at Barber Motorsports Park every year since they opened in 2003 except for 2008 and 2014. This weekend started off with uncertainty while I was trying to get to know the new track surface. They did a phenomenal job of repaving it, but initially it seemed like there was no grip entering the corners and that the tires would slip unpredictably while, at the same time, there was lots of grip on the gas coming out of the turns. I was very cautious the first couple of sessions until it came to me. As the weekend went on, the surface got a lot better. I have no doubt that the surface will continue to get better and it should be nearly perfect next year. They definitely know what they're doing.
"On Saturday we had an engine failure, so we put another motor in for Sunday. It ran good, but there were a couple little problems with it not revving to redline. I'd turn the bike off and it would reset itself and that seemed to work.
"Qualifying went really well on Saturday and it looked like we would at least be on the front row for most of the session. When it was all over we ended up on the second row, and that was a little concerning because I haven't been getting great starts.
"On the first start I was in fourth, on the second start I was third. It was a lot of work getting around the rider just in front of me but I finally got free and was able to set sail after the leaders. I closed the gap quite a bit but in the end I just ran out of time. The Ducati was working really well and the fastest lap of the race was my last lap. One of the riders in front of me was penalized a full second so I moved up from third to second.
"I wanted to finish the season with a win, but it just wasn't in the cards this weekend. Kudos to my competitors for making me work so hard all season. It was really a lot of fun being around the family atmosphere of the Quarterley Racing On Track Development team. I got the racing bug again. Maybe we can work out something for next year if I can make a buck or two. I'd entertain an offer of possibly doing the Daytona 200 and the MotoAmerica Twins Cup again.
"I haven't hit the ground all year this year, and, for me, that's quite the feat. I didn't know at the beginning of the year that we were going to have a couple of DNFs that took us out of the championship. I'm just so proud of the work the team did every weekend all year long, and I can't thank Dale Quarterley and Bob Robbins enough for the opportunity they gave me."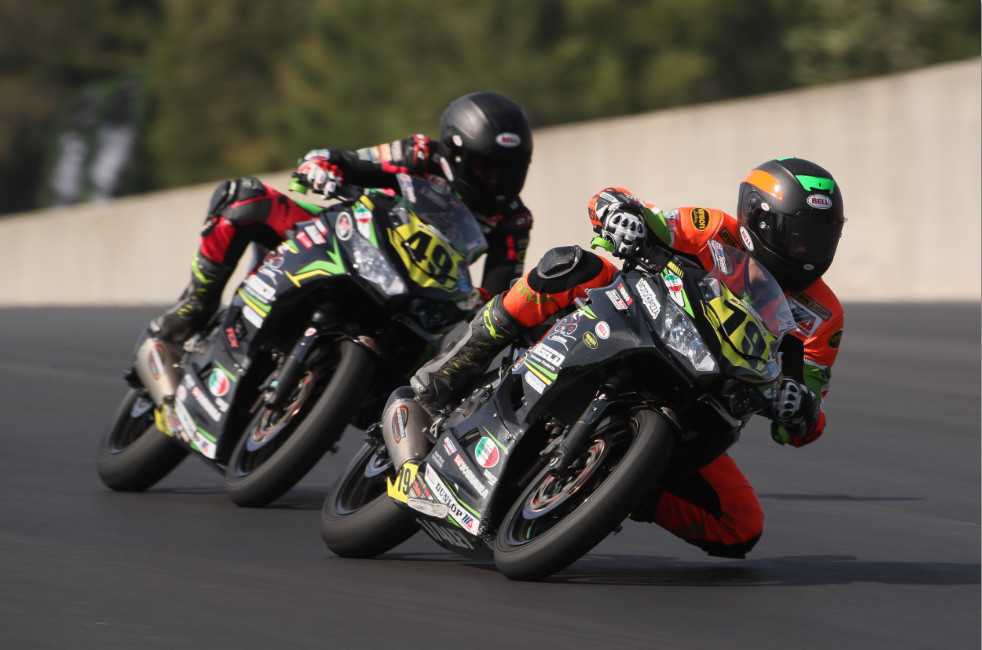 Teagg Hobbs:
"I raced at Barber last year on my own bike and got two DNFs, so I was looking for better results this year.
"I got ninth in first qualifying and was pretty happy with that. We made some changes for qualifying session two but I didn't like them. I couldn't work with the bike and went slower than Q1, so I got thirteenth on the grid. I was convinced there was room for improvement and I knew if I could bet some good starts anything was possible.
"In the first race I initially got a good start but then the bike wouldn't go into second heading down to the first turn. It didn't happen again but I got shuffled back a little bit. I knew if I could press hard for three laps I could catch back up to the group. There was a huge battle for eighth with six guys in a pack. I was leading the pack on the last lap but then in turn five my teammate Jacob Stroud went under me. I had nowhere to go and got driven out to the edge of track. I tried to keep my spot but two riders ended up going by both Jacob and me. I ended up twelfth, which wasn't too bad. It could have been a lot worse.
"I did Sunday morning warmup with old tires from New Jersey Motorsports Park and went quicker than the first race, so I was pretty confident going into the second two.
"I was in the group fighting for third in the second race. If I'm in a pack, instead of leading for 11 laps, I follow the other riders and see where they're stronger. In that way you can take advantage of your strengths and fix you weaknesses. You actually learn during the race, and it's really obvious on the small bikes.
"I kept the pack in sight for a long time but eventually they pulled a little gap on me. Another rider and I kept passing and repassing each other almost the entire race. I didn't want to lead on the last lap and carried a little more roll speed out of the last corner. I drafted by and got ninth at the line by a pretty small margin.
"This was my first full season in MotoAmerica and I learned a ton about racecraft and strategy. I've been closing the gap to the leaders every track we've gone to. I always want to keep growing and progressing.
"I don't want to ride a Junior Cup bike next year. I'd rather be on a 600cc or Stock 1000cc motorcycle. I feel like I ride bigger bikes a little better and that I have some potential on them. My only solid plan for 2020 is to do the Daytona 200 as a privateer. For now my plan is to just keep going with my training and act like I have a national in two weeks.
"I really can't thank Bob Robbins and Dale Quarterley and the whole team for all their help this year."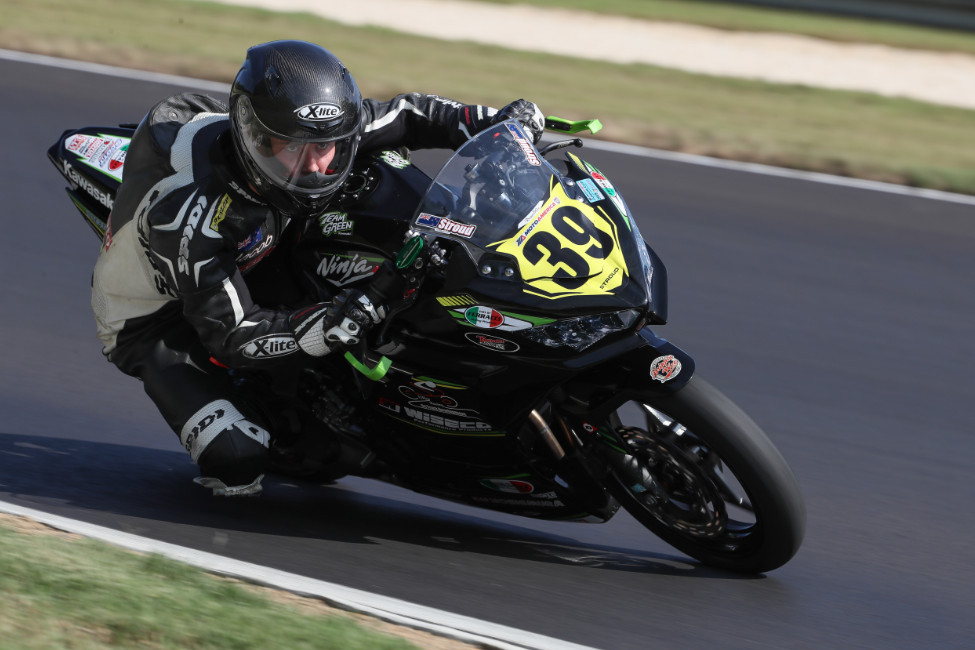 Jacob Stroud:
"It was an awesome last weekend of the season at Barber Motorsport Park. Even though the results did not go my way after starting down in fifteenth on the grid, a ninth place finish in race one at the front of the second group was for sure an improvement.
"Race two was going a lot better. Although I lost the front podium group from the start, I began fighting my way through the field and was just four seconds back by lap three. I spent the next ten laps chipping away at the lead group and, with two laps to go, I had closed the gap to just under a second and was pushing very, very hard to get into the group and fight for the podium. Turns out I was pushing a little too hard and folded the front dropping into turn nine.
"It was my own fault, and even though I was perfectly alright I was just a little bummed because the podium was so close, only a second away with two laps to go. Even though it ended in a crash, it was probably one of the best races I have ridden while in the States. Crashes happen so you just take it on the chin and move on.
"I'm super stoked for Ben Gloddy and his well-deserved podium. It just shows how some good coaching in the weeks off from Eric Wood and Dale Quarterley can really impact results on the track. My riding has improved dramatically while I've been here and I have acquired all these new skills I didn't even know were there.
"It has been such an awesome experience in America racing for Quarterley Racing On Track Development. It was encouraging to see my progress throughout each weekend on tracks I had never seen and that are so different and unfamiliar to what I have become accustomed to in the last seven years in New Zealand. To start each weekend six or so seconds down on the leaders and to end up a little more than one second down in the last race was super encouraging.
"Thank you to the team for putting up with me and fixing all the bikes I bent, offering advice and making changes to help me get closer to the front. And a special thanks to our two outstanding team coaches, Dale Quarterley and Eric Wood, who took a man from his first qualifying in 22nd to fighting for the podium in three races. A special thanks to Kevin Grant of Kiwi Classic Moto and Bob and Missy Robbins."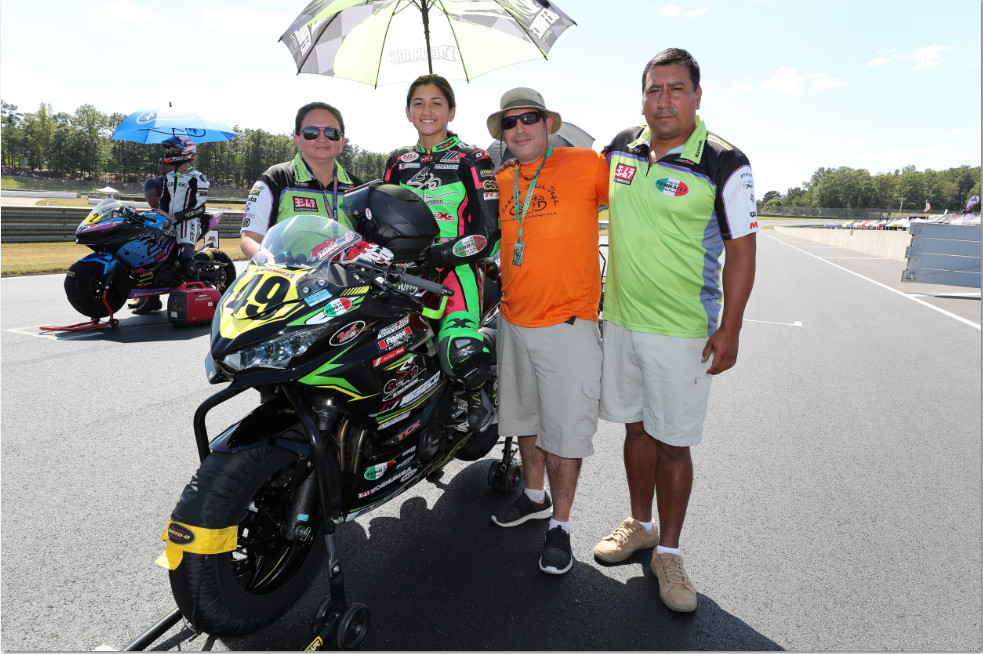 Jamie Astudillo:
"The new track was great. I thought it was a lot better than it was last year. Some other riders said they were losing grip because of the track, but I think it was because the tires started to wear toward the end of our sessions.
"Practice went pretty well for the most part. I was in the top ten but I got taken out toward the end of it. The rider behind me crashed and took me out with him in turn 14. He was a faster rider and I thought he had seen me the corner before and I think he assumed I would stay on the outside line. I opened up wide for the corner and came down to the apex. He was leaned over and grabbed the front brake to try to keep from hitting me. He was fine and kept going, but my bike wasn't as fine as his. I had no control over the accident so it didn't spook me at all. Good thing it was a three day weekend because the team had more time to work on the bike.
"Qualifying didn't go as well as I hoped. I didn't get a tow from anyone but I made improvements every time I went out.
"In race one things didn't go very well. I was having a tough time the way it was, and going into the race I wasn't as focused as I should be. In the first few laps you have to be the most focused because you have to pass the most people you can in the first few corners. On the first lap I got pushed around a lot and a group of riders got a gap on me.
"I improved in race two. I didn't really think about the first race too much. I just focused on what I needed to do to improve to get back up to speed.
"I'm struggling with confidence right now. I don't have it yet. My issue is that I'm waiting too long to get back on the gas on the exits of corners. I was a little disappointed because I thought my confidence would be higher this weekend. I've improved a lot as far as keeping up with the main group, but my confidence hasn't improved this whole season and I have to figure out a way to get it back.
"I'm leaving this Friday for the Women's Motocross of European Nations in Poland. I have my confidence on the dirt bike for sure. I'm improving so much it's insane. I'm a whole different person on a motocross bike and it sucks that I can't bring that confidence over to road racing.
"My goal is to be back in the Junior Cup for at least one more year. It will be my fourth year in the class. I started at the age of 14 in first round or the 2017 MotoAmerica season and it's all I've ever done in roadracing. There's so much I have to learn before I can move up to the Twins or Supersport class.
"A big thank you to my entire crew, Paul, Mark, and Ron, and humongous thanks to Dale Quarterley, Bob Robbins and Eraldo Ferracci and all the sponsors. Without Bob in particular I wouldn't have been racing."
From Bob Robbins team Co-owner:
I am very proud of our team in all aspects from the hard work by all our riders and a tireless crew keeping bikes capable of running at the front. Dale Quarterley's passion to get these kids up front through coaching and set up is unmatched in dedication. As a team we were able to secure several podium finishes and had a good shot at the Junior Cup Championship until our star rider left the sport mid-season. As the saying goes "One door closes and another one opens". Ben Gloddy came on strong out of the gate on his fourteenth birthday and then made his 2019 goal of a podium with a brilliant last race of the year in an epic battle. He will no doubt be a true contender in the 2020 championship.
The Twins Cup Ducati project was somewhat of a separate plan within the team which started as an opportunity to offer an arrive and ride program with a shakedown by Michael Barnes and changed to a run at the championship after two convincing wins in Atlanta. We thank Michael for his ability to run up front and his persistence despite some problems in getting the bike competitive under MA rules and spec fuel. If nothing else, it seems to have jump started his desire to compete again so look out for him in the future!
Quarterley Racing On Track Development sponsors for 2019 include Inter-Tech Supplies, Fast By Ferracci, Inc, Yoshimura Research & Development of America, Inc., Wiseco Powersports, Motul USA., Regina Chain, BrakeTech USA, Inc., Ferodo Racing, Matt & Jesse, Scott Powersports, Inc., Defiance Lifestyle, Woodcraft Technologies Fast Bike Industries, Nitron Racing Systems Ltd., Dynojet Research Inc., Beta Tools of Italy – USA, N2 Track Days, RoadracingWorld.com, Drippinwet.com, MOTO-D Racing, VAN DYK Recycling Solutions, Earl's Racing Team and Kiwi Classic Moto.
Jamie Astudillo personal sponsors: Bell Helmets, One-X Suits, TCX, S.O.B. MX
Michael Barnes personal sponsors: Moto Corse Performance, 6D Helmets, Palm Beach Police Foundation and Ducati North America
Ben Gloddy personal sponsors: D'Andrea Foods, Penguin Racing School,Moto Pizza, First Trax Sports Shop, American Supercamp, Roche Realty Group, Inc, Highland Mountain Bike Park, Stump Racing Kids, Arai Helmets, TCX Boots, Vanson Leathers
Teagg Hobbs personal sponsors: Bell Helmets, Vanson Leathers, Penguin Roadracing School, TCX, First Trax Sports Shop,Heroic
Jacob Stroud personal sponsors: Spidi, Stylmartin, Nolangroup, Eurobike New Zealand, The Macho Ache, Motorcycling New Zealand Inc., Hamilton Motorcycle Club Inc. NZ and Lizard Racing NZ.
More, from a press release issued by Brandon Paasch's publicist:
BRANDON PAASCH MAINTAINS LEAD IN 2019 HEL PERFORMANCE BRITISH MOTOSTAR MOTO3 AT TT CIRCUIT ASSEN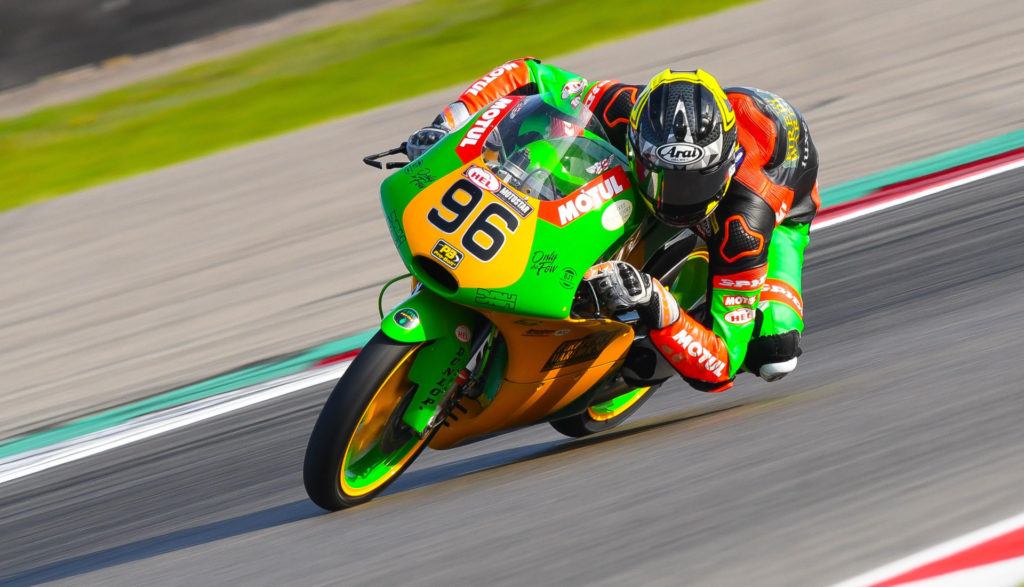 Brandon Paasch was looking forward to the race weekend at TT Circuit Assen after regaining the lead in the HEL Performance British Motostar Moto3 Championship at Oulton Park two weeks ago. A strong start to the weekend at Assen in both Free Practices saw Brandon atop the lap charts and ready to make a run for pole position in qualifying. Despite leading the majority of the qualifying session, he was pushed back just at the end of the session and started from P2, just under 0.2 seconds behind the pole sitter.
In Race 1, Brandon put his head down and started away with the lead group. After the group settled in, he maintained close contact with the leader and began to prepare an attack. On Lap 9, Brandon pushed to the front and worked hard to create a gap from the following riders. Unfortunately, a last-lap last-corner pass by a competitor caught Brandon by surprise, and he finished second for his 10th podium finish of the season.
A battle royale ensued in Race 2, with five riders pushing to win the race. Brandon had to work hard to stay at the front, and every lap saw the lead change in various corners. Each rider knew it would be a mad rush into the final corner on the last lap, and when it unfolded, a number of riders had touched fairings, resulting in some off-track excursions. Due to time penalty assessments, Brandon was set back to fifth place, his first finish off the podium all season. In spite of all this, he still leads the HEL Performance Moto3 Championship by 23 points.
"That was not at all the way I envisioned the weekend at Assen turning out. It's one of my favorite tracks in the whole world, and I was really psyched to come back here, especially after a great weekend at Oulton Park, where we took the lead back in the championship. I felt comfortable right away on the KTM Moto3 race bike, and I was setting some good laps and race pace testing during both Free Practices. I was bummed that I didn't get Pole Position in qualifying, so I was fired up to go out in Race 1 and put down the hammer. I thought I had a good gap once I pulled into the lead, but I left a small opening in the last corners where I got passed and pushed down to second. Not the result I wanted, but I was looking forward to racing again on Sunday to get back on top.
In warmup on Sunday, I really felt great. I had a nice rhythm going and thought I could push hard for the Race 2 win. It turned into a bit of a slugfest, with all the riders moving around and fighting for position. I tried to get out front to make a break, but it didn't happen. On the last lap, and most critically in the last corner, a bunch of us had to barge through some back markers, which set up some banging between me and a couple guys. The time penalty I got assessed meant it was the first time I finished off the box all season, but we still have the championship lead. Thanks to all the crew at FPW Racing, I wish I had been able to deliver a better result. I've got some work to do to finish out the season on top, but I'm looking forward to the last two rounds at Donington Park and Brands Hatch GP." (Brandon Paasch)
"The results didn't quite show what we could do, and Brandon says he was disappointed with the weekend. But the team continues to work hard and improve the KTM Moto3 race bike, and Brandon consistently fights for the win. They all should be proud of their efforts, and I'm proud of them. We are still leading the HEL Performance championship, with just a few more races to lock it up. We'll stay on top of our game and work hard to bring the championship home to FPW Racing." (Adrian Mason, Team Owner)
Fans and supporters can catch all the Moto3 practices, qualifying and race action through live timing and commentary at www.britishsuperbike.com or on the Bennetts British Superbike app, available in the Apple App Store and Google Play.
Subscribe and follow Brandon and FPW Racing on YouTube, Facebook, Instagram, and Twitter:
– YouTube: search for Brandon Paasch and subscribe to his channel
– Facebook: @BrandonPaasch facebook.com/BrandonPaasch/ www.facebook.com/FPWRacing/
– Instagram: instagram.com/brandon_paasch instagram.com/fpwracing/
– Twitter: @PaaschBrandon @fpwracing
– Hashtags: #SendItBP2019 #PaaschFPWRacing #HELPerformanceMoto3
Brandon Paasch is sponsored by Electronic Concepts, luxeStar VIP, Classic Car Club of Manhattan, NJMiniGP, Evolve GT, BJT Mechanical, Arai, and Spidi. Coaching and training provided by Birdhouse Training.
FPW Racing is an amalgamation of the Fireplace Warehouse and several like-minded bike enthusiasts to support one common goal – to establish young riders and to give them a leg up in their racing careers. FPW Racing is sponsored by The Fireplace Warehouse, Motul, Pro Bolt, Hel, Regina, Jennings Race Products. For more information, visit us at www.fpwracing.co.uk