Fermin Aldeguer won the Moto2 World Championship race Sunday at Sepang International Circuit, in Sepang, Malaysia. The Beta Tools SpeedUp rider won the 17-lap race by a large 7.128-second margin. It was the Spaniard's second straight win and his third victory in 2023.
Red Bull KTM Ajo's Pedro Acosta finished second in the race and that was enough for him to clinch the 2023 Moto2 World Championship with two rounds remaining.
Marcos Ramirez took third on his OnlyFans American Racing Kalex.
American Joe Roberts scored eighth on his Italtrans Racing Kalex, 18.482 seconds behind the winner, and his countryman Sean Dylan Kelly placed 19th on his Forward Racing machine.
More, from a press release issued by Dorna:
Aldeguer unbeatable as Acosta clinches the title at Sepang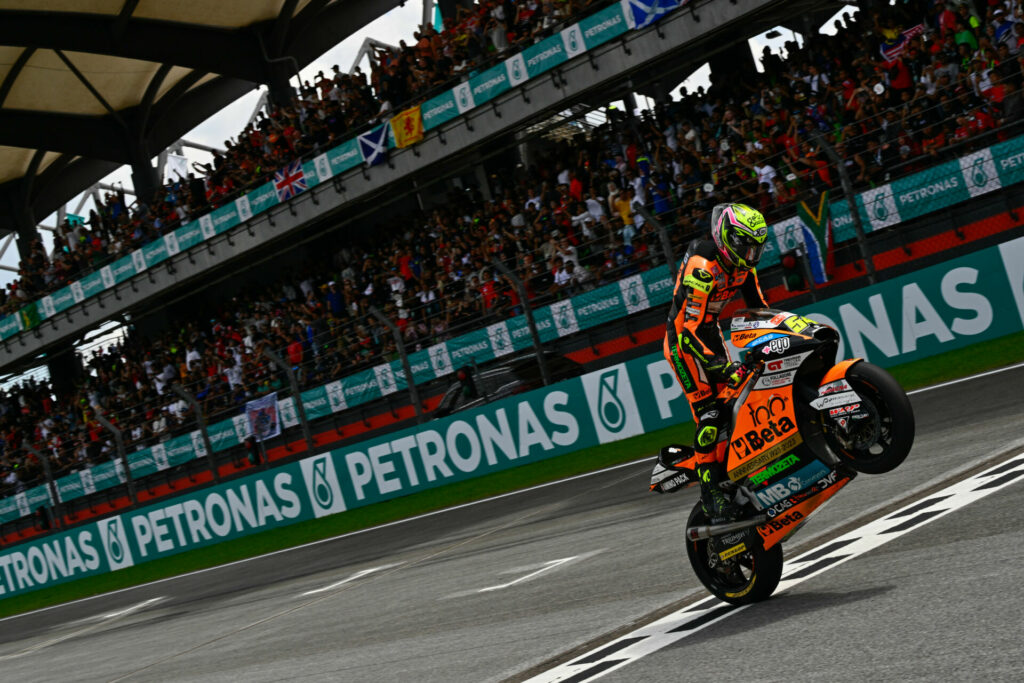 Pedro Acosta (Red Bull KTM Ajo) is the 2023 Moto2™ World Champion thanks to a P2 finish at the PETRONAS Grand Prix of Malaysia. The Spaniard becomes the youngest Moto2™ title winner – taking that accolade off Marc Marquez – as Fermin Aldeguer (Beta Tools Speed Up) strode to a commanding third win of the campaign. Marcos Ramirez (OnlyFans American Racing) kept his composure to secure a hard-earned debut Moto2™ rostrum in P3.
There was drama from the off as polesitter Aldeguer and Manuel Gonzalez (Correos Prepago Yamaha VR46 Team) made contact on the exit of Turn 1 which saw the latter crash out. Thankfully everyone managed to avoid the Spaniard but one rider who had to take evading action was Arbolino. The Italian lost ground and was down to P7, with Acosta capitalising on Gonzalez's misfortunes to climb up to P2.
On Lap 2, desperate to pick off the riders ahead of him, Arbolino's slim title hopes then all but vanished. The #14 made small contact with Ai Ogura's (Idemitsu Honda Team Asia) rear wheel at Turn 9, then made more contact with Aron Canet (Pons Wegow Los40), as Arbolino ran onto the grass. That dropped him outside the top 20.
Back at the front, Aldeguer was operating on another level. By Lap 4, the Spaniard was over two seconds clear of Acosta, who in turn was over a second up the road from third place Ramirez. Alonso Lopez (Beta Tools Speed Up) was P4 and had Ogura and Jake Dixon (Inde GASGAS Aspar Team) for company, with Sam Lowes (Elf Marc VDS Racing Team) and Somkiat Chantra (Idemitsu Honda Team Asia) just slightly adrift of the fight for P4.
Aldeguer's lead kept growing and with seven laps left, six seconds split him and Acosta. Ramirez was holding Lopez, Ogura and Dixon a second behind him, with Ogura beginning to climb all over the back of Lopez's rear wheel. With six to go, Ogura was through and then set about chasing Ramirez for the final spot on the podium.
With three to go, Ramirez was coming under increasing pressure. Ogura was taking two or three tenths a second a lap out of the Spaniard's advantage but up the road, there were no issues whatsoever for Aldeguer and the Champion elect Acosta.
Aldeguer took the chequered flag a sensational 7.1s clear of anyone to claim a dominant victory, but it was all eyes on the rider in P2 as Acosta crossed the line to become the 2023 Moto2™ World Champion and a two-time Grand Prix Champion after his 2021 Moto3™ success. Take a bow Pedro, what a season!
Just behind, Ramirez did manage to fend off Ogura to claim a first Moto2™ podium, with the latter coming from P13 on the grid to challenge for a podium, as Dixon rounded out the top five. Chantra and Lowes take home P6 and P7, with Joe Roberts (Italtrans Racing Team), Albert Arenas (Red Bull KTM Ajo) and the recovering Arbolino rounding out the top 10. A disappointing day for the #14 sees his title hopes disappear for 2023, but he'll be back stronger in 2024
Barry Baltus (Fieten Olie Racing GP), Jeremy Alcoba (QJMOTOR Gresini Moto2™), Alex Escrig (Forward Team), Filip Salac (QJMOTOR Gresini Moto2™) and Dennis Foggia (Italtrans Racing Team) were the final points scorers in Malaysia. With the title wrapped up, Acosta will head to Qatar with only one thing in mind: winning. So will the likes of Aldeguer as we get set for what could be a spell-binding end to the 2023 Moto2™ World Championship!
More, from a press release issued by Dorna:
#ELT1BURON: Pedro Acosta is the 2023 FIM Moto2™ World Champion!
Believe the hype: the Red Bull KTM Ajo rider wraps up the crown at Sepang after another stunning season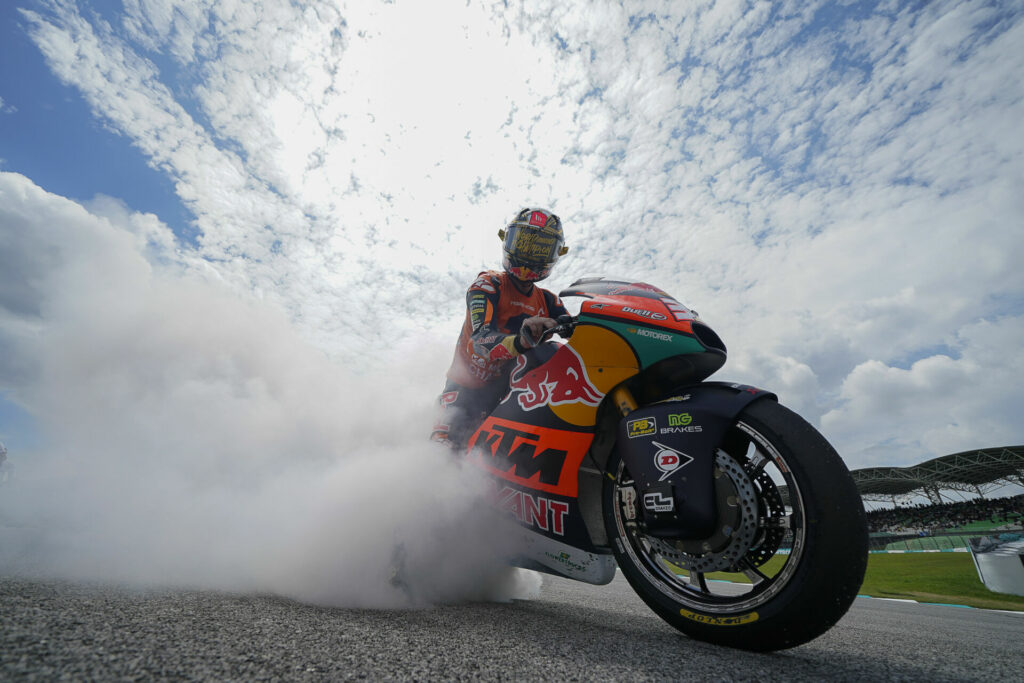 Sunday, 12 November 2023
Pedro Acosta is the 2023 FIM Moto2™ World Champion! The Red Bull KTM Ajo rider took his second Championship in style with a podium at the PETRONAS Grand Prix of Malaysia, becoming the youngest intermediate class Champion since Dani Pedrosa in 2004 and the youngest ever in Moto2™ – just ahead of Marc Marquez. Acosta has taken 14 podiums this year including seven wins, and wraps up the crown with two races to spare. Do you believe the hype?
Acosta got his first motorbike at five years old but took a little time to really fall in love. Once he did, his ascent started to gain traction and by 2017 he was wrapping up the pre-Moto3™ title in Spain with two races to spare. He then moved into the FIM Moto3™ Junior World Championship, now JuniorGP™, for 2018 and made a big step in that Championship the following season – alongside debuting in the Red Bull MotoGP Rookies Cup.
The Rookies was where he began to really create the hype that has since followed him through the ranks. After finishing his first season as runner up with three wins and five podiums, 2020 then saw Acosta win the first six races in the Rookies and take the title with plenty of time to spare.
Making his debut in the Moto3™ World Championship in 2021, then, came with even more hype, and that was proven entirely correct. On his Grand Prix debut he took second place and started his career on the podium, just 0.042s off the win, and second time out, Acosta won. From pitlane.
More than two years later, that victory remains worthy of goosebumps and the season overall does too – with history made nearly every weekend. Acosta became the first rider to take the title in his rookie season in the 125cc/Moto3™ class since Loris Capirossi in 1990.
He moved to Moto2™ for 2022, and if anyone had doubts about the hype surrounding the Spaniard, the time to surrender them had come. In a new year and a new class, Acosta was the same sensation as he smashed the lap record in testing at the Autodromo Internacional do Algarve. Still, it was a tougher start to the races than he'd expected and then came some injury struggles, before he won his first Moto2™ race at Mugello and rounded out the season with a second victory in Valencia. He looks back on his intermediate class debut having expected more, but for the rest it said more than enough, and then came 2023.
The favourite from the off, the first part of the season saw Tony Arbolino (Elf Marc VDS Racing Team) mount a challenge against Acosta but by summer break, the number 37 had taken back the lead and started to pull clear. From there, he only continued to hammer home his advantage, culminating in his second crown secured in style. Seven wins, 14 podiums and more history made – Pedro Acosta is the 2023 FIM Moto2™ World Champion! Next stop: MotoGP™!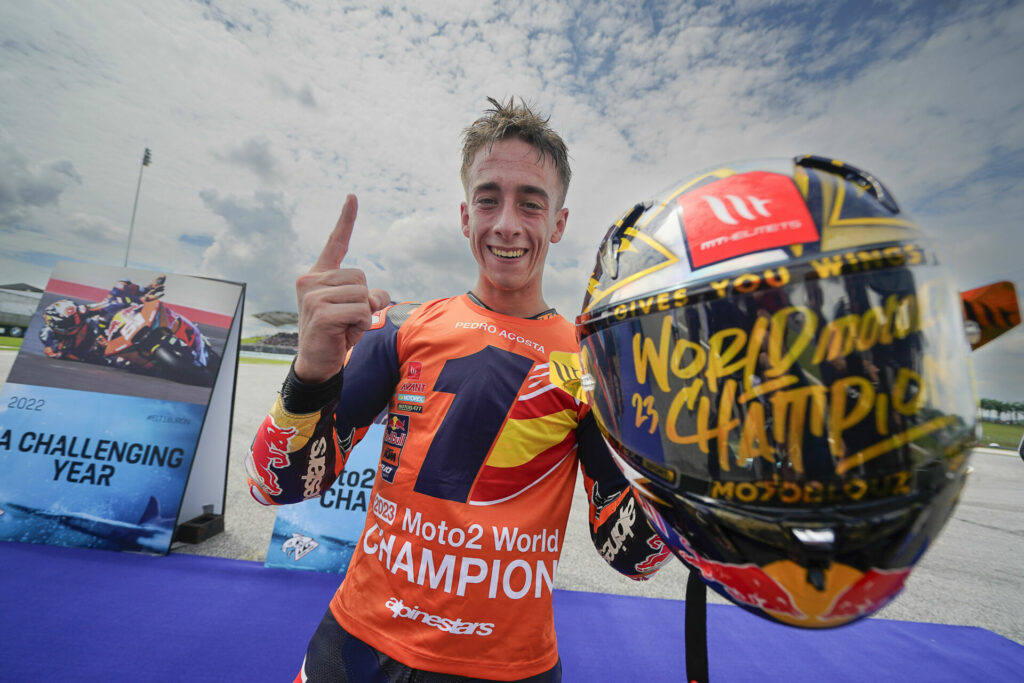 #ELT1BURON IN STATS
Aged 19 years and 171 days old, Acosta becomes the second-youngest intermediate class World Champion behind MotoGP™ Legend Dani Pedrosa (19 years and 18 days old) in 2004.
However, Acosta is the youngest Moto2™ World Champion ahead of Marc Marquez (19 years and 254 days old) in 2012.
He becomes the second rider to clinch the Moto2™ World Championship having previously clinched the Moto3™ title (2021), along with Alex Marquez (Moto3™/2014 and Moto2™/2019).
In addition, Acosta becomes the second former Red Bull MotoGP Rookies Cup winner to clinch the Moto2™ title along with Johann Zarco, the first ever Red Bull MotoGP Rookies Cup Winner in 2007 and two-time Moto2™ World Champion (2015 and 2016).
Aged 18 years and 4 days old at the 2022 Italian GP, Acosta is the youngest intermediate class winner ahead of Marc Marquez (18 years and 87 days old at the 2011 French GP).
With 10 wins in Moto2™ so far, Acosta is tied in fifth place on the list of riders with the most wins in the class with Pol Espargaro and Sam Lowes.
Acosta has stood on the podium 14 times so far this season (more than any other rider) and 19 times in Moto2™. He is now tied in 11th place on the list of riders with most podiums in the class with Andrea Iannone. If he gets two more in the two remaining races, he will surpass 2024 teammate Augusto Fernandez (20) and equal Franco Morbidelli and Miguel Oliveira, who both have 21.
QUOTES
Pedro Acosta: "I was struggling not to feel the pressure. In the end, we have to understand that we weren't in an easy situation but the window was open to achieve the championship and I said on Thursday if it wasn't going to be here, it was going to be in Qatar or in Valencia. In the end, I approached it like a normal weekend trying to be competitive in Sunday's race and like this we did it. It's true that in the last couple of races we've been riding more with the head because I think it's very important for the team to be able to achieve the championship and for us to be able to fight for the team title. I think the race was good in the end. We have seen that SpeedUp have something more in the last couple of races and we have to improve. Anyway, we have to be happy we are in our way and we have another podium in the bag with two more races in the championship where we can fight to win races, so we have to be happy about this race."
Proud of this season, it has been very different to 2021?
"Yeah, in the end like you say, it's not like it was in Moto3. In the end, I remembered that in Sachsenring maybe I had 83 points of gap to second place. It was quite crazy, also in Portimao I was quite nervous because it was a race after I lost a lot of points in the last part of the championship. Also I was a kid, when I arrived to this championship I was 16 and now I'm close to 20, so it's very different. Also, last year I made a lot of mistakes by Round 5 we had had close to 20 crashes, which is a lot.
"In the end, this is my third year with Aki (Ajo) working with him and this year we decided to start from zero and put all the mistakes in one box and say that nothing can get out from that box. It's true that we've made mistakes during the season, like in Le Mans and in Australia. Not everything is easy, but, and I don't know what to say in the end, the team have worked super well. It's true that last year we suffered a lot to try to find the right setting in the bike and also I was too small and too light to be able to ride in Moto2. We made a big step in the winter in the preseason and because of this I think we've improved in general and in the head. We know what not to do, more than we know what to do. We've taken a lot of experience from last year and played with this."
To beat Marc Marquez to youngest Moto2™ Champion, and become second youngest intermediate class Champion behind Dani Pedrosa… do you look to set those records, especially when you were called "the next Marc Marquez", or is it just nice to see your name join theirs?
"I try not to think about it in the end. I'm the new Pedro Acosta, not the new Marc Marquez. In the end, it's a different era, it's different bikes, so you can't compare this. It's true that it's so nice to be amongst these names, but it's not the moment to think about this. Now I just have to enjoy myself on the bike and in the paddock and have fun with the guys that are working here. It's not the moment to think about what I've done and what I want to do."