The original Moto2 race was started in the dry, but it began raining, causing several of the leaders, including American Cameron Beaubier, to crash. Several of those crashers, including Beaubier, were not able to make the restart, which was run in mixed wet/dry conditions. Results from both parts of the race are listed below. The results for Race Part Two are the official race results.
More, from a press release issued by Italtrans Racing:
Italtrans Racing Team back to the victory with Joe Roberts at Portuguese GP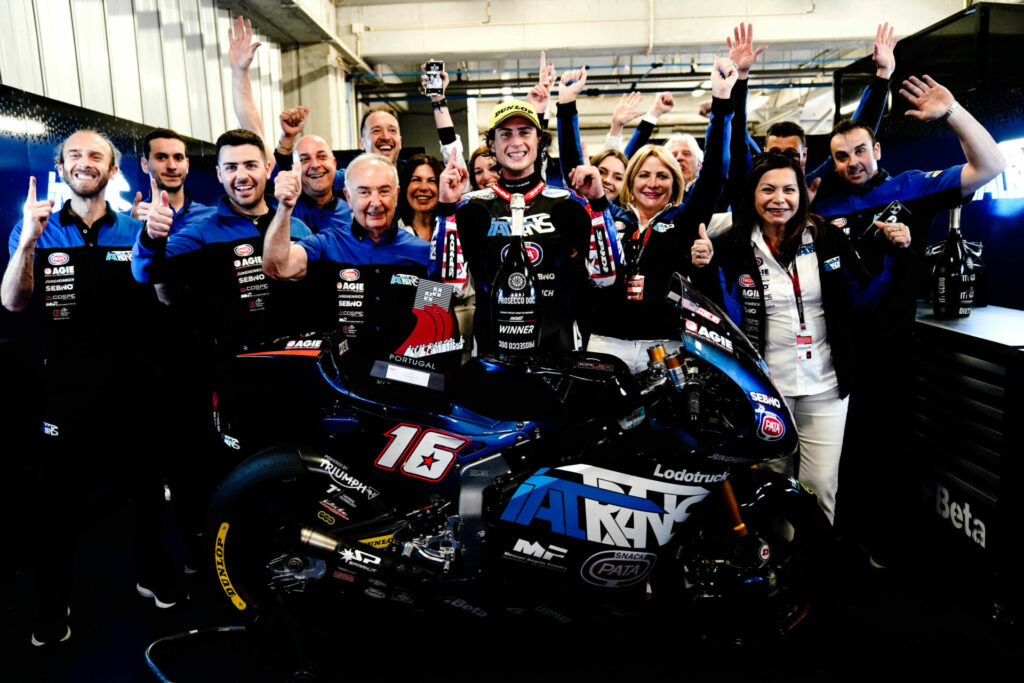 After 22 years an American rider is back to the first step of Moto2 podium (John Kocinski, Australia 1990; 11 years in MotoGP with the victory of Ben Spies, Assen 2011) in a masterpiece signed by Italtrans Racing Team together with Joe Roberts.
The victory of the cowboy from Los Angeles at Portuguese GP, fifth round of a season full of emotions, was so exciting.
Portimao is a magical track for Italtrans Racing Team, because right here, on 22nd November 2020, the team celebrated the Moto2 World Championship title with Enea Bastianini.
Taking off the third row of the grid, Joe maintained a steady pace in eighth position. On lap 8 the race was heavily affected by the appearance of rain and a multiple-rider crash at Turn 2, that forced a red flag. Second on grid 2, at the start the American rider immediately took the lead of the race, maintaining the first position for all seven laps until the chequered flag. With a perfect race 2, Joe won the Grand Prix of Portugal and taking the "The Star-Spangled Banner" to the top of the podium.
Joe is now fourth in the standings with 49 points.
Misfortune for Lorenzo Dalla Porta. 23rd at the end of the first race, unfortunately on the starting grid of race 2 his Kalex did not start despite numerous attempts by the team.
The next round is on May 1st at Jerez de la Frontera.
DNF Lorenzo Dalla Porta
"Today was a good opportunity to score some points. Even though I had problems with the clutch in the first part of the race, I was convinced I could be competitive in the second one. I'm so disappointed".
1st Joe Roberts
"It's a long road to victory. Winning means so much. It's been a long time since an American rider has been on the first step of the podium. I still can't believe it! In the race I knew I had a good gap, but I almost didn't believe it, I didn't know what to do: I simply tried not to make mistakes. It's a great day for the whole team! I thank all those who supported me during this period and I hope this is just the first success of a long series".
Franco Brugnara – Lorenzo Dalla Porta's Crew Chief
"Unfortunately, Lorenzo's bike had a technical problem with the clutch. It was a shame because it was an important race for us to get experience and points. Hopefully we can make up for it at Jerez. I'm happy for Joe: it's a victory for the whole team".
Giovanni Sandi – Joe Roberts' Crew Chief
"I knew we would be competitive. We made a good qualifying and in race he did his best. We did a lot of work and it paid off. It's a fantastic victory! Congratulations to the whole team!"
More, from a press release issued by American Racing Team:
A day of two halves: first points for Sean, Cam robbed of first podium
It was story of two-halves for the American Racing Team at Portimão as Cameron Beaubier was involved in a multi-rider crash through no fault of his own as he fought for the win, whilst teammate Sean Dylan Kelly claims his first Moto2 World Championship points.
After an incredible qualifying result, Cam lined up in second on the grid, putting him in prime position to fight for the podium. As the lights went out, the Californian got the holeshot, sending him into the lead before Aron Canet fought back to regain the place. The duo battled it out for the lead in the opening laps as rain began to fall across the Portuguese circuit with Honda Team Asia rider Ai Ogura coming to join the party.
A huge crash caused by the sudden increase in rainfall on lap nine involving Cam and multiple other riders brought out a red flag. Thankfully all riders were conscious and largely unharmed. Unfortunately, due to the damage sustained in the crash, Cam was unable to join the restart.
Sean was able to avoid the chaos and therefore able to take part in the restart where the Florida-native was a second faster off the line than the previous start. The shortened race distance proved costly for some in Sean's group with a fall for Niccolò Antonelli but Sean was able to avoid any mistakes, taking his first Moto2 points as he ended the race in 13th.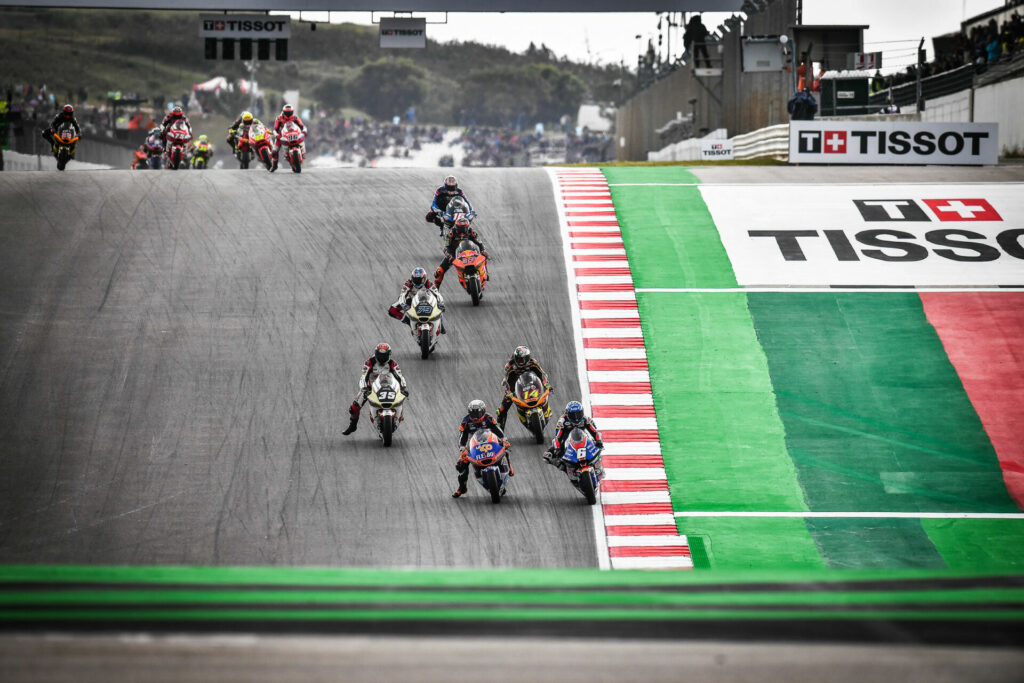 Cam Beaubier #6 – DNF
"That was my best chance yet at a win. It's a huge bummer. I was feeling so good on the bike, I had points where I felt stronger than [Aron] Canet and some where he was stronger than me, but I felt really good where I was. I definitely felt some sprinkles here and there, mainly the first couple of sectors, it was drizzling. I saw Canet's rear end step out big time right in front of me then next thing I knew, I was flying through the air. Obviously, it's a huge bummer but you've just got to focus on the fact everyone, for the most part, is alright, because that was some pretty scary stuff to see bikes flying past you in the gravel trap. Luckily, we're OK and now we move onto Jerez and take the positives from this weekend because we were fast throughout. I'm going to keep working with the team and the way we're going because I feel fast, I feel good. I had a decent result here last year, so I knew it was going to be a solid weekend for us but we're going to some other tracks now so let's try and keep it going."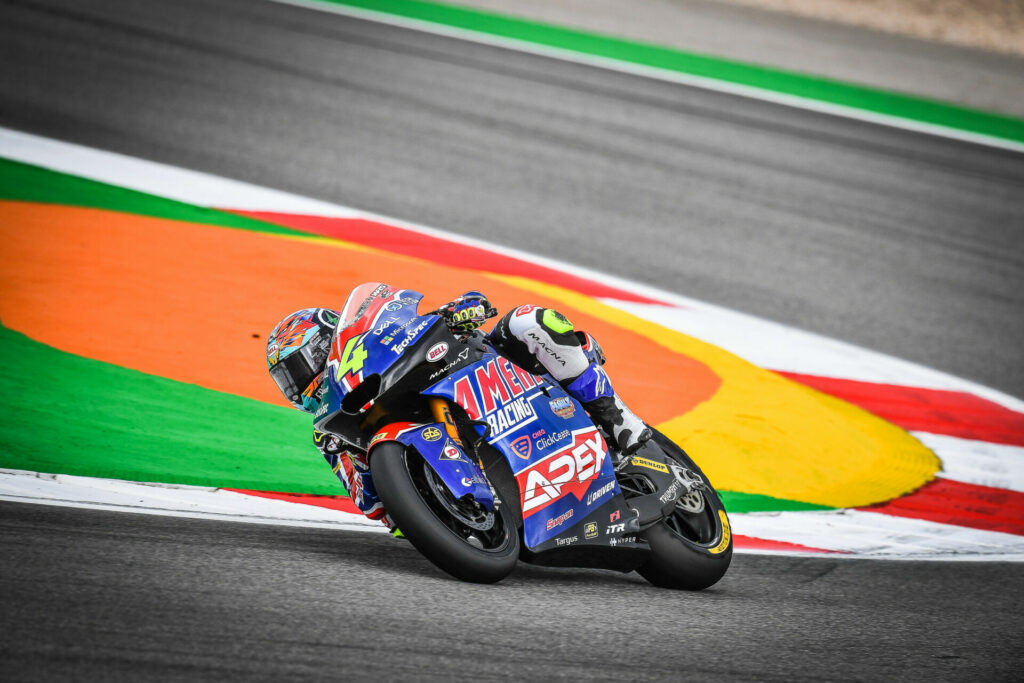 Sean Dylan Kelly #4 – 13th
"Obviously, we have to be happy [with the first points] but honestly, I'm just happy no one got hurt in that crash because there were so many people down and, when I went past, there were bikes on fire and still some people on the ground, so it was really scary to be honest. I'm glad everyone walked away from that and, at the end of the day, it's not the way I wanted to get my first points, but they say that 'first you must finish' and today I finished. Even in the restarted race, there was a fight right in front of me with one rider down and even though we had quite the crazy circumstances, we still had to get to the finish line. I am still happy for myself because I made a step in that restart, and I went the fastest I've done all weekend in the dry. We need to look at the big picture and we got our first points so, we're going to take that with us, but we also need to take the work we did this weekend; we kept it on two wheels, we progressed in the wet, we were strong in the wet and we kept on building in the dry. I'm looking forward to Jerez now."
John Hopkins – Racing Director
"It was a wild weekend all around. Being in Portimão, we assumed we were going to be in nice, sunny weather all weekend long, but nobody can control the weather. It was a pretty solid weekend all the way through. Cam was on fire in every session and every condition. He was strong like we expected him to be. He was riding really well, he felt really comfortable.
For Sean, we knew it was going to be another experience, yet we knew he'd done some laps here, but it was a track he'd struggled at in testing at the beginning of the year, so it was a matter of him just regaining the confidence and working his way forward which he did! In the rain sessions, he had solid pace throughout the weekend and was steadily working his way forward then unfortunately the only dry session of the weekend ended up being in qualifying, so it ended up being a bit difficult for him.
For Cam, we knew he was going to be strong, and he went out and put it on the front row, did the lap time entirely by himself so it was a good weekend up until that point. He was solid, we knew he was going to be strong; his confidence was on a high and everything was looking and feeling good. As for the race, unfortunately, it was one of 'those'. It's an incident that nobody can control. I've had it in MotoGP races when you have a wet part of the track, you can be on one part and it pours in another, it's always the leaders who find it out first and, unfortunately for Cam, that was what happened. It was just an extremely unlucky unfortunate incident but there was nothing he could have done differently to avoid it. I am 100% confident he would have won that race. He easily had the pace; he was doing the exact race plan we had set out to do. It's funny, I have every bit of belief that he would have won that.
On the other hand, it worked out in Sean's favour. It was awesome to see Sean get some points. He's finally up on the board for receiving his first Moto2 points and he was solid in the race. In the second part of the race, even though the conditions were not that good and there were still wet areas, he went a second faster than he did in the first start and that was the plan, that was what we told him to do in the beginning; work on your pace, this is your chance to really work on yourself and work on the riding. Now we're going to Jerez where he was really strong in testing at the start of the year, so we're excited about it.
It was a bummer, it was a knock, but we'll get back up again and I'm sure the riders and the team will be strong going into Jerez, we've got to turn it around and get the results they both deserve and reach their full potential."