GP5_FRA_21_Dalla_Porta_M2_19_Technical_Minimum_Weight

More, from a press release issued by Dorna:
Fernandez on fire in France for second Moto2™ win
A Red Bull KTM Ajo 1-2, Bezzecchi in third and a dramatic crash out for Lowes sees Le Mans mix up the standings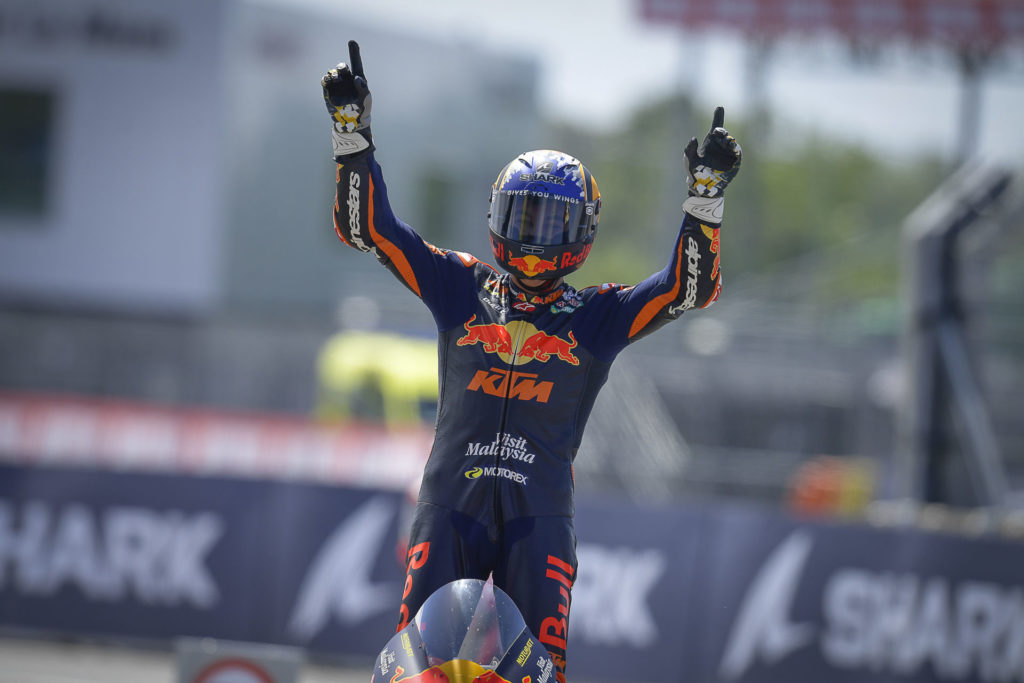 Raul Fernandez (Red Bull KTM Ajo) just continues to impress in the intermediate class, with the Spanish rookie taking a second Moto2™ win in by-now signature style at the front. Teammate Remy Gardner (Red Bull KTM Ajo) kept him honest in the latter stages for another consistent top finish, with Marco Bezzecchi (Sky Racing Team VR46) completing the podium to continue his rostrum run. Sam Lowes (Elf Marc VDS Racing Team) crashed out in an early DNF.
With no rain falling since Moto2™ Warm Up, the circuit had a clear dry line after the Moto3™ race. That meant everyone was starting on slicks, and it was Bezzecchi who pounced into the lead from the start as Raul Fernandez managed to cement P2, the field safely negotiating Turns 3 and 4 on Lap 1. There was contact between Gardner and Xavi Vierge (Petronas Sprinta Racing), but disaster was avoided. Not for Aron Canet (Inde Aspar Team) though, who was making early progress before the Spaniard went down hard at Turn 9 on the opening lap, rider ok.
Lap 2 saw Augusto Fernandez (Elf Marc VDS Racing Team) crash out of the top three as Raul Fernandez bridged the early gap that Bezzecchi had pulled on the field. World Championship leader Gardner and then-nearest challenger Lowes were P9 and P8 respectively, with the top three – Bezzecchi, Raul Fernandez and Joe Roberts (Italtrans Racing Team) – enjoying a second lead over the gaggle of riders from P4 to P11.
Lap 4 then witnessed three riders all go off the road at Turn 8 – including Lowes. Up the inside of Vierge, Lowes tucked the front as both went down, with Lorenzo Baldassarri (MV Agusta Forward Racing) running wide just ahead of the duo. Unable to get going again, Lowes' French GP was over. Then, running P2, Roberts was down at Turn 9 after running in too hot on the brakes and clipping Bezzecchi. meanwhile, Raul Fernandez picked up the baton and took over at the front after a dramatic opening handful of laps in the Moto2™ race.
Bo Bendsneyder (Pertamina Mandalika SAG Team) was occupying P3 with Gardner now up to 4th, but he had hard-charging rookie Tony Arbolino (Liqui Moly Intact GP) on his tail. More drama hit just behind too, as Hector Garzo (Flexbox HP40) crashed out from P6 at Turn 11 with a little helping hand from Fabio Di Giannantonio (Federal Oil Gresini Moto2), the Italian handed a Long Lap penalty. Which he took quickly but overcooked so had to do a second.
At the front though, Raul Fernandez was edging his lead up to a second over Bezzecchi, the latter slowly falling into the grasps of the Bendsneyder, Gardner and Arbolino squabble. The leading quintet were six seconds ahead of sixth place Marcel Schrötter (Liqui Moly Intact GP), the German entangled in a fight with rookies Cameron Beaubier (American Racing), Ai Ogura (Idemitsu Honda Team Asia) and his teammate Somkiat Chantra (Idemitsu Honda Team Asia), up from well down on the grid.
Raul Fernandez was keeping his advantage around the one second mark, with Bezzecchi pulling nearly a second clear of the trio behind him. On Lap 14, the race leader set a 1:36.993 to stretch his lead to 1.2s over Bezzecchi. However, a lap later it was back down to below a second as Fernandez's teammate Gardner poached third off Bendsneyder at Turn 11 – the Aussie then 2.2s behind the race leader. A lap later, Arbolino then slipped past Bendsneyder too.
Now in clean air, the Gardner charge was on. A fastest lap of the race came in from the Red Bull KTM Ajo rider but it was only narrowly quicker than Bezzecchi ahead of him, the gap separating the top three set at 1.7s with seven to go. Bezzecchi then made a mistake at Turn 8, running wide onto the green, allowing Gardner to stroll through into P2. With the bit between his teeth, Gardner started to reel in teammate Fernandez by four tenths on Lap 20 of 25, setting up a very intriguing final five laps between two title contenders.
Undeterred though, Raul Fernandez was holding his nerve. As he clocked another lap and headed onto Lap 23, the Spaniard set his fastest lap of the race and his lead was now 1.8s. And with one lap remaining in France, it went up another tenth. No mistakes were made from the rookie sensation on the final lap, and Fernandez crossed the line to win his second race of 2021. Gardner made it a Red Bull KTM Ajo 1-2 as a single point splits Gardner and Raul Fernandez in the overall standings, and Bezzecchi pockets his second podium in a row with a solid P3 ride.
Arbolino landed his best Moto2™ result with a fantastic P4 at Le Mans, just ahead of an impressive ride from Bendsneyder as the Dutch rider earns his best result of the season, the same can be said for sixth place Schrötter. Ogura cements another top 10 in P7 as three rookies finish inside the top 10, Di Giannantonio took P8 after his two Long Laps, a solid salvage job.
Veteran Simone Corsi (MV Agusta Forward Racing) produced his best ride of the season to finish P9, with Jorge Navarro (MB Conveyors Speed Up) completing the top 10. Somkiat Chantra, Nicolo Bulega (Federal Oil Gresini Moto2), Marcos Ramirez (American Racing), reigning Moto3™ World Champion Albert Arenas (Inde Aspar Team) and Hafizh Syahrin (NTW RW Racing GP) are the remaining point scorers.
Beaubier crashed out of sixth place at Turn 3 in the latter stages, Tom Lüthi (Pertamina Mandalika SAG Team) was another rider to crash out of the points.
And so it's another day that belongs to Red Bull KTM Ajo, as Gardner and Raul Fernandez now sit P1 and P2 in the World Championship. Lowes loses crucial ground as Bezzecchi keeps tabs on his title rivals, with the latter's home race at Mugello now next up. Tune in for more in a fortnight!
Moto2™ podium:
1 Raul Fernandez – Red Bull KTM Ajo – Kalex – 40:46.101
2 Remy Gardner- Red Bull KTM Ajo – Kalex – +1.490
3 Marco Bezzecchi – Sky Racing Team VR46 – Kalex – +4.599
Raul Fernandez: "It was a really difficult race, especially the second sector was wet, the front tyre was too cool at the start and I waited four or five laps behind Marco. When I thought the tyre was warmer I pushed a bit more, overtook Marco and pushed like in FP2, and it was really good. In the end I could do a good race and I'm really happy. It's amazing to win again and in difficult conditions. I like this track a lot I remember I got second in the Junior World Championship here in 2018. Incredible, I want to thank my team as they keep me calm in difficult moments and that's the most important."
More, from a press release issued by Italtrans Racing:
Best performance in Moto2 for Lorenzo Dalla Porta.
Joe Roberts crashes out fighting for the victory.
Fifth round of the season for the MotoGP World Championship, today on track at Le Mans on the Bugatti Circuit, well known throughout the world for the historic 24 Hours.
A tough French Grand Prix due to the uncertain weather conditions, with positive prospects for Italtrans Racing Team, third in qualifying with Joe Roberts.
Starting from the first row, the American rider immediately searched the lead, but unfortunately he crashed after only four laps while he was 2nd and was pushing to catch the lead.
Best performance in Moto2 for Lorenzo Dalla Porta. Starting 21st on the grid, the Tuscan rider was consistent, riding a comeback race until the 6th position. Unfortunately, in the last five laps, some problems to his arm made him slow down and finish 11th, close to the top ten.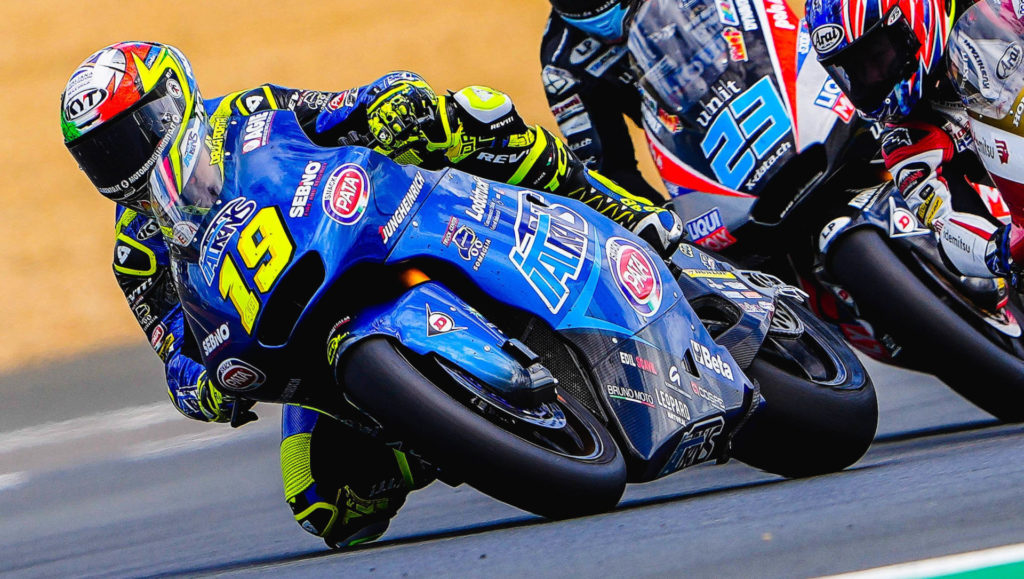 Lorenzo Dalla Porta
11°
"Today the top 6 was within our reach: I was 7th but problems with my arm made my slow down. It's a shame because the weekend started badly, but it was finishing better. I still got some important points. Now let's think about our home race".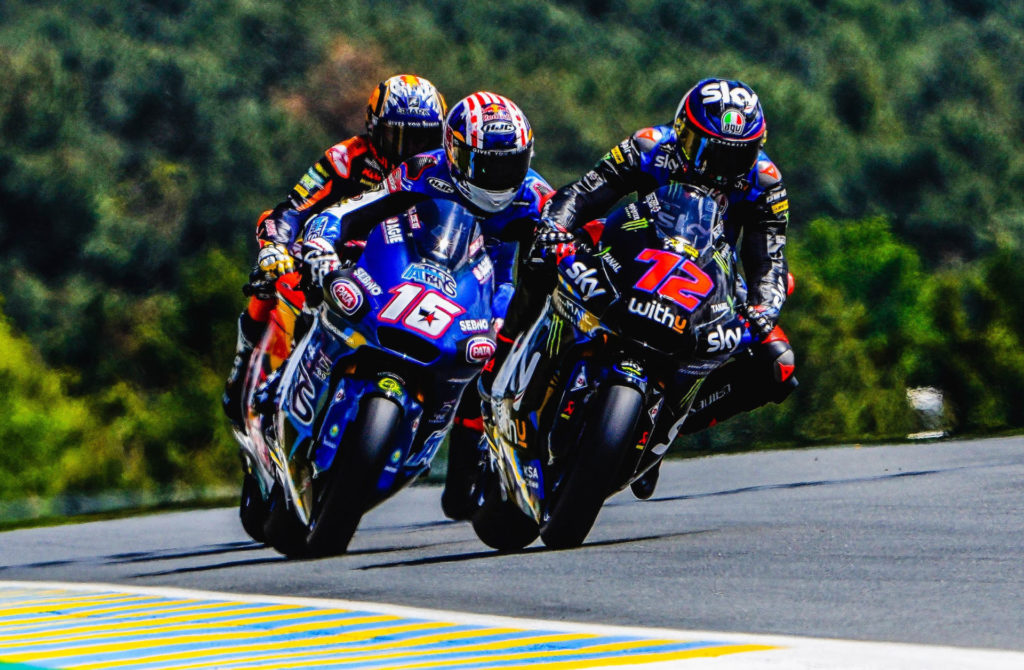 Joe Roberts
nc
"It's a pity for today. I felt really strong and from the first lap we had the pace to try win the race. I was trying to get close to Bezzecchi to make a pass but he broke a little bit more than I expected and I had to avoid him losing the front. It's a big shame. We have to take the positive side from this weekend, because we showed we can turn the tide. I'm looking for the test we have in Barcelona and the race in Mugello".
Giovanni Sandi, Technical Director
"We were better than the others, but Joe made a mistake. On the other hand, Lorenzo had a good race starting from the back and rose to 6th place. It's a shame about his forearm problem, otherwise he would have had the top six. Today we could have done more: we go home reflecting on these results and preparing for the home GP".
More, from a press release issued by American Racing Team:
Cameron Beaubier crashes out of top six Moto2 finish in France
Marcos Ramirez earns valuable championship points at Le Mans
LE MANS, France (May 16, 2021) — American Racing faced an uphill battle at Le Mans after Marcos Ramirez and Cameron Beaubier qualified deep in the 31-rider field for the Grand Prix of France, Round 5 of the FIM Moto2 World Championship.
Located southwest of Paris, the 2.6-mile Le Mans Bugatti Grand Prix Race Circuit has 14 corners, nine rights and five lefts. Beaubier, who last raced at Le Mans in 2009, struggled to reacquaint himself with the track amid rapidly changing weather conditions.
"It's been pretty wild—wet, dry, wet, dry," said the 28-year-old American. "That made it a little bit tough to learn the track in dry conditions, because everyone just lays the hammer down when it's full dry. I'm just trying to improve step by step."
Following the cold, wet morning warmup, partly cloudy skies, temperatures in the low 60s and a light wind greeted riders on the starting grid for the 25-lap race. The track surface was drying quickly, and all the three-cylinder Triumph 765-powered machines were fitted with Dunlop slicks.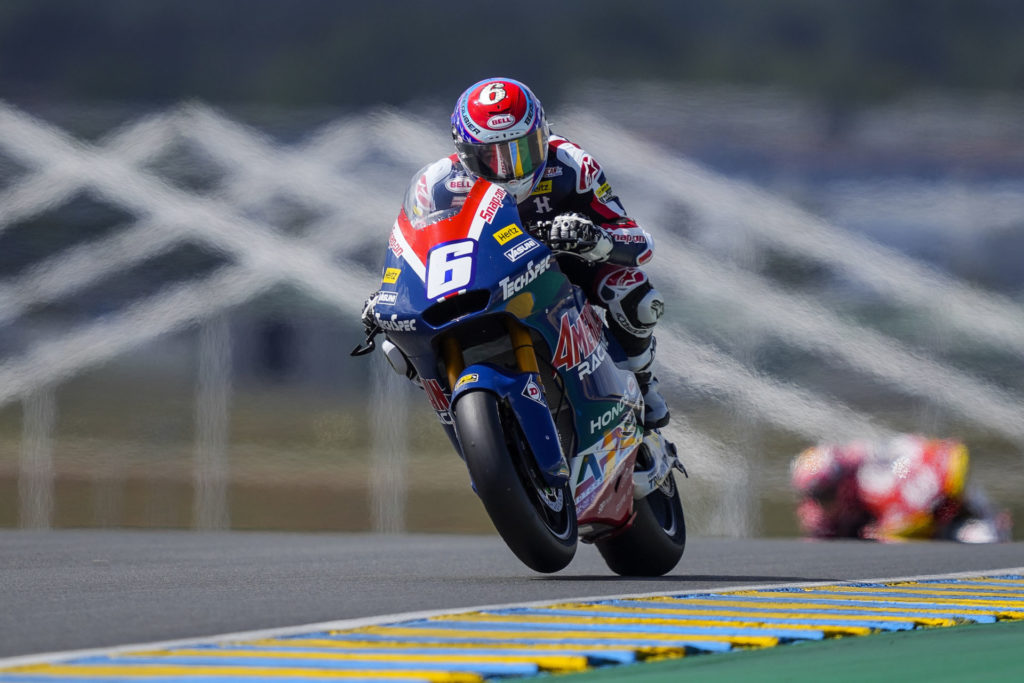 Beaubier took advantage of early attrition, marching quickly from his 23rd starting spot into the top 15. By lap 7, he was ninth. Three laps later, the five-time MotoAmerica Superbike champion was seventh.
Beaubier was sixth, leading a group of five and lapping in the low- to mid-1:38s, when he crashed at Turn 3 with five laps remaining in the race.
"Thanks to the team," he said, "I've been getting more comfortable on the bike and making some progress, but sorry at the same time, because we were so close to a good result."
Ramirez didn't move forward as quickly as his teammate, even going backward in the opening laps. The 23-year-old Spaniard steadily worked his way into the top 20 and all the way to 14th at the checkers, dipping into the 1:37s on the final lap.
"After some problems yesterday for the qualifying, I'm happy about taking two points," said Ramirez. "The race was strange: I lost so much time in the beginning. Then, I started to recover a lot. The last 10 laps were so good."
KTM Ajo rider Raul Fernandez won the race. His teammate, Remy Gardner, was second and leads the title chase by one point. After five rounds, Beaubier is 16th in the championship standings. Ramirez is 21st.
Round 6 of the FIM Moto2 World Championship, the Grand Prix of Italy at the Autodromo Internazionale del Mugello, is May 28-30.
About the American Racing Team
The American Racing Team is owned by Avner Kass and Eitan Butbul and competes in the FIM MotoGP World Championship. Based in California, the team fields two riders in the Moto2 class: American Cameron Beaubier (No. 6) and Spaniard Marcos Ramirez (No. 42). American Racing has grown under Butbul's guidance and is a respected member of the MotoGP paddock.