Celestino Vietti, riding his VR46 Racing Team Kalex, was unofficially quickest on Day Two of private Moto2 and Moto3 team testing at the Jerez Circuit, in Spain. Vietti's best lap time was a 1:41.706, which isn't far off Sam Lowes' race lap record of 1:41.313.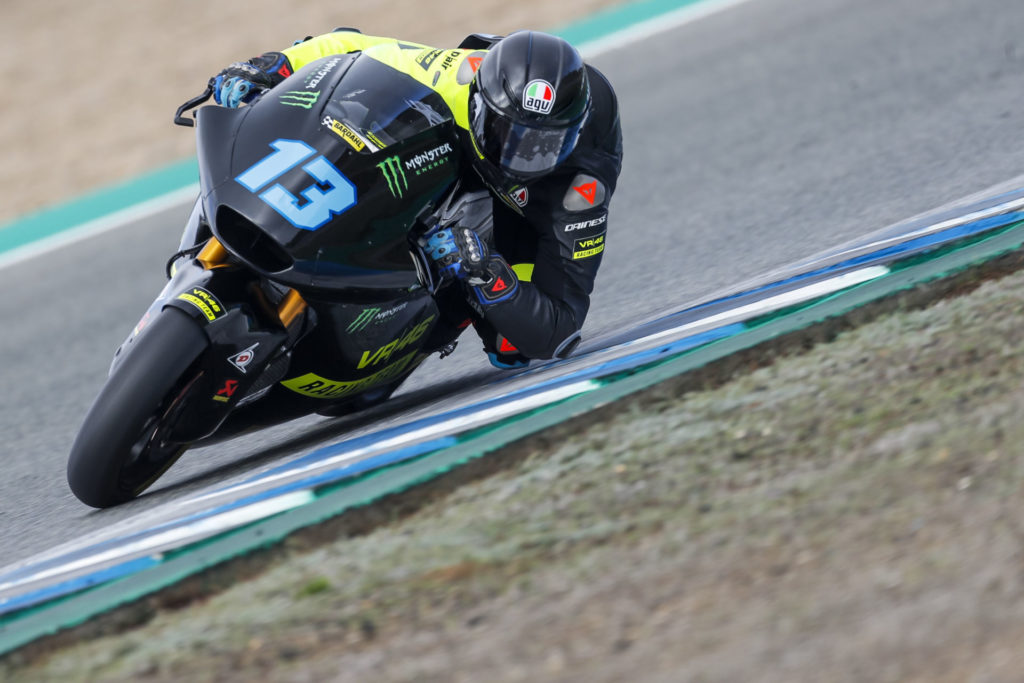 American Sean Dylan Kelly (1:42.749), the 2021 MotoAmerica Supersport Champion and a rookie in the Moto2 World Championship, was unofficially ninth out of at least 20 riders testing Monday. Kelly's teammate, five-time MotoAmerica Superbike Champion Cameron Beaubier (1:43.237), was unofficially ranked 17th on Monday.
"No words!!!" Kelly posted to his Facebook page. "Incredible test and so happy to have started working with the American Racing Team. 177 laps in 2 days! Learning, adapting, working!! Really enjoyed riding the Moto2 bike and really happy with the outcome of these two days. Now eyes on 2022!!! Thank you ALL #SDK40"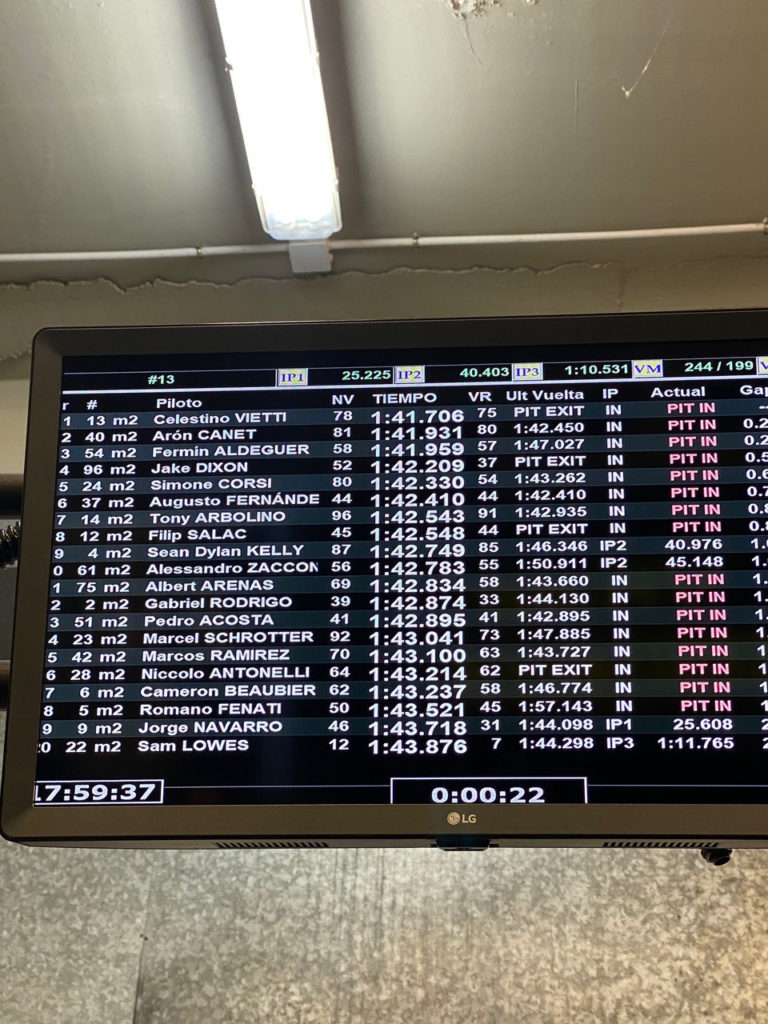 More, from a press release issued by VR46 Racing Team:
MOTO2 DEBUT ON THE KALEX FOR NICCOLÒ ANTONELLI
Two days of testing in Andalusia for the rookie of the VR46 Racing Team on track today with Celestino Vietti Ramus
Jerez de la Frontera (Spain), November 22nd 2021 – First steps towards the start of the 2022 season for the VR46 Racing Team in Jerez de la Frontera for a two days of testing for the Moto2 crew.
Yesterday Niccolò Antonelli make his debut on the Kalex and began to become familiar with the new bike. Overall a good Sunday and positive feelings with a best lap time of 1: 45.388 (51 laps) for the rookie who returned to work again today for the Dunlop test reserved to the Moto2 class, signing a good 1: 43.214 (64 laps).
Celestino Vietti Ramus was also on track today and immediately found the feeling he has in the last races and finished at the top of the standings with a best lap time of 1: 41.706 (78 laps).
Both riders will be back on track next February for the first testing session of the 2022 season.
Celestino Vietti:
A good test, definitely positive also considering the 2022 season. We tried new settings and the Dunlop compounds. The feeling was not bad at all and I am happy to say goodbye to the Team in this way. They were two beautiful days with the guys and also my new team mate (Niccolò Antonelli). Now a few weeks off and then full gas for the new season.
Niccolo Antonelli:
An incredible experience, I'm really happy to have tried the Moto2: I immediately felt at ease with the new Team. A pity for the weather, the tarmac has never been completely dry, but we have already managed to understand a lot about the new bike. Compared to yesterday, the feelings are good and we already know where to improve during the winter to be able to make a step forward. I can't wait to get back on track in 2022.
Pablo Nieto, Team Manager:
A good debut for Niccolò and Celestino in Jerez. Two days of uncertain weather and not very high temperatures where it was important, especially for Niccolò, to begin to become familiar with the new bike. Niccolò took his first steps on the Kalex and the feelings are good. Celestino also did well, on the positive trend that has characterised the last races of the season. Let's enjoy a few weeks off now and get back on track in 2022.
More, from a press release issued by Marc VDS Racing Team:
Lowes and Arbolino kick off 2022 Moto2 preparations in Jerez
Elf Marc VDS Racing has concluded a productive and positive one-day Dunlop tyre test at the Jerez track in Spain, with the Belgian squad thrilled to welcome Tony Arbolino for his first public appearance in the Team's famous livery.
Damp and cool conditions prevented Sam Lowes and Arbolino from venturing out on track yesterday, but they were able to circulate in more favourable weather today.
Arbolino enjoyed a busy but positive final day on track in 2021 while assessing a range of tyres for Dunlop and acquainting himself with his new crew for next season.
Lowes limited his time on track today while still in considerable discomfort from the right foot injury he suffered during the opening practice session ahead of the final round in Valencia earlier this month.
"I'll focus on being strong when we return in 2022"
Sam Lowes:
"We weren't able to complete as many laps as I'd hoped coming into this test, but my foot was more painful than I expected. On a race weekend there's not much time to think about an injury and the adrenaline always helps block out the pain. But at a test there's more time to think and my foot felt quite sore. Track conditions weren't fantastic, and I didn't feel like I was able to push at my limit to give Dunlop the correct information and feedback required, so it was the right decision to stop and begin the recovery in the winter. It's still been a positive test from the perspective of meeting some new members in the Team and sharing some time with Tony. The atmosphere is really good between everybody and that's a great way to go into the winter break so I can focus on being strong when we get going again in 2022."
"Already in this Team I feel we can achieve great results in 2022"
Tony Arbolino:
"Honestly, I'm feeling a bit tired at the end of the day because I did 96 laps, but it feels fantastic to begin working with my crew and this Team and we did a lot of good work. I instantly felt at home and comfortable with my crew and I felt very good on the bike, and we made some positive improvements throughout the day. The important thing now is to enjoy the winter break and have a good rest because already I feel like in this Team we can achieve great results in 2022."
More, from a press release issued by Gresini Racing:
POSITIVE DEBUT FOR SALAC AND ZACCONE WITH GRESINI MOTO2 TEAM
Gresini Racing has concluded the opening test of the 2022 Moto2 World Championship winter season – and the last track outing of 2021 – with new arrivals Alessandro Zaccone and Filip Salac, both rookies in the category. It was surely an interesting two-day test, which saw both riders trying their skills in every possible track condition, from wet to dry, with the sole goal to find the best feeling with their Triumph-powered Kalex machines.
The two days of testing have been positive, with both riders able to constantly improve both their lap-times and confidence with the new bike. Filip Salac finished eighth after completing around 100 laps between yesterday and today. Alessandro Zaccone ended up right behind his new teammate (10th) despite a crash in the final moments of the test.
8º – FILIP SALAC #12 (1'42.548)
"The first day on the Moto2 bike was perfect. We quickly adapted to this bike even though we still need a lot more to be competitive. There's a great feeling with the team already, and so with the bike: we improved lap after lap while trying to find the limit on a track which was far from ideal. We also had more reference points today with all riders on track – and dry conditions. We have been fast and I'm happy with the work done and I believe the team is, too."
10º – ALESSANDRO ZACCONE #61 (1'42.783)
"Good feeling with the team and the bike. We tried a lot of things and with the soft tyre today we were unable to be quick, but it's more due to my fitness condition than else. Despite a bit of traffic in the last split we were able to lap in 1'42.7… We could have almost been in the top five lap-time wise. Too bad for the crash at the last lap: I let the tyre cool down a bit too much, hence the crash. Generally speaking, though, things went very well and I think we can have a good season."