More, from a press release issued by Dorna:
Lowes denies Gardner by just 0.023 as the duel rolls on
The Brit remains undefeated on Saturday. But will the same be true on Sunday? Gardner is homing in…
Sam Lowes (Elf Marc VDS Racing Team) has made it three from three in 2021 as the Championship leader took pole once more for the Grande Premio 888 de Portugal. It was close though, with Remy Gardner (Red Bull KTM Ajo) just 0.023 off as the 2020 winner at the track remains the man closest on the chase. Xavi Vierge (Petronas Sprinta Racing) went from Q1 to P3 as he completes the front row.
In Q1, Somkiat Chantra (Idemitsu Honda Team Asia) came out on top, the Thai rider moving through along with Albert Arenas (Solunion Aspar Team), Cameron Beaubier (American Racing) and Xavi Vierge. Jorge Navarro (Lightech Speed Up) crashed, as did Lorenzo Baldassarri (MV Agusta Forward Racing), riders ok but the former especially losing out as he didn't set a time. Nevertheless, the clock rolled on and Q2 began.
Lowes was the early leader in Q2 as the first laps of the second part of qualifying were fired in, but Gardner soon took after after setting a 1:43.032. However, the fight between Gardner and Lowes had already begun. The British rider was back on top by 0.114s after two flying laps, but the number 22 had a hairy moment heading into the tight Turn 5 left-hander on his third flyer. Responding, Gardner improved his lap time to lie just 0.006s behind Lowes.
Q1 graduate Vierge was in P3 already, having shown some impressive pace in the early stages of Q2, and the Spaniard was ahead of two rookies in the form of Ai Ogura (Idemitsu Honda Team Asia) and Albert Arenas. The reigning Moto3™ World Champion was shuffled down to P7 rather rapidly though as Marco Bezzecchi (Sky Racing Team VR46) and Augusto Fernandez (Elf Marc VDS Racing Team) moved to P5 and P6 respectively.
Another great lap from Lowes came in next and his advantage over Gardner grew to 0.023s – not a lot – but the Brit was then down at Turn 11, ending his session a little early. No one could better him regardless, although Gardner runs him closest in P2 once again and the top two in the title fight so far line up side by side. Vierge joins them on the front row.
Ogura takes fourth and that's the Japanese rookie's best Moto2™ qualifying performance, just 0.220s down on Lowes and showing his Doha GP speed was no flash in the pan. Bezzecchi and Augusto Fernandez join Ogura on Row 2, which is Augusto Fernandez's best Saturday result of the year. Arenas is another rookie to bag his best Moto2™ qualifying in P7, the Spaniard beating one of the pre-qualifying favourites in Joe Roberts (Italtrans Racing Team) by just 0.010s. The American is P8 on the grid, just ahead of Aron Canet (Solunion Aspar Team) and a seemingly disappointed 10th fastest Raul Fernandez (Red Bull KTM Ajo). The rookie sensation, who won in Moto3™ at the track last year in some style, will be hoping to shoot through to the podium fight on Sunday.
Chantra, Hector Garzo (Flexbox HP 40), Cameron Beaubier (American Racing), Jake Dixon (Petronas Sprinta Racing) and Nicolo Bulega (Federal Oil Gresini Moto2) complete the fastest 15 in Q2.
It's three from three for Lowes on a Saturday this year, but will it be a hat-trick of wins on Sunday? And a Lowes vs Gardner shootout for victory again? Find out when the Moto2™ riders go racing in Portimão at 14:30 local time (GMT+1) on Sunday afternoon.
Sam Lowes: "It was a bit different from this morning, yesterday I think the grip was down in general, the laptimes were not so fast. Today was more similar to last year, laptimes were similar. This afternoon maybe a bit of temperature and a bit of wind and the laptimes were a bit slower but I felt good. We improved the bike a lo over the weekend. It was the first time with a new tyre and low fuel in qualifying, the bike was feeling good and we could make a good rhythm. I'm happy with the work we've done and I'm looking forward to the race."
More, from a press release issued by Marc VDS Racing Team:
Lowes powers to pole position in Portugal
Elf Marc VDS Racing Team riders Sam Lowes and Augusto Fernandez showed they have podium potential in tomorrow's 23-lap Portuguese Grand Prix after both qualified inside the top six for the first European race of 2021.
Lowes maintained his perfect pole position record in 2021 by powering to top spot for the third successive race in Q2, with Fernandez also excelling in the 15-minute session to claim a place on the second row.
The Moto2 race will conclude the action at the Algarve International Circuit tomorrow and is scheduled to follow the MotoGP clash at 14:30pm local time.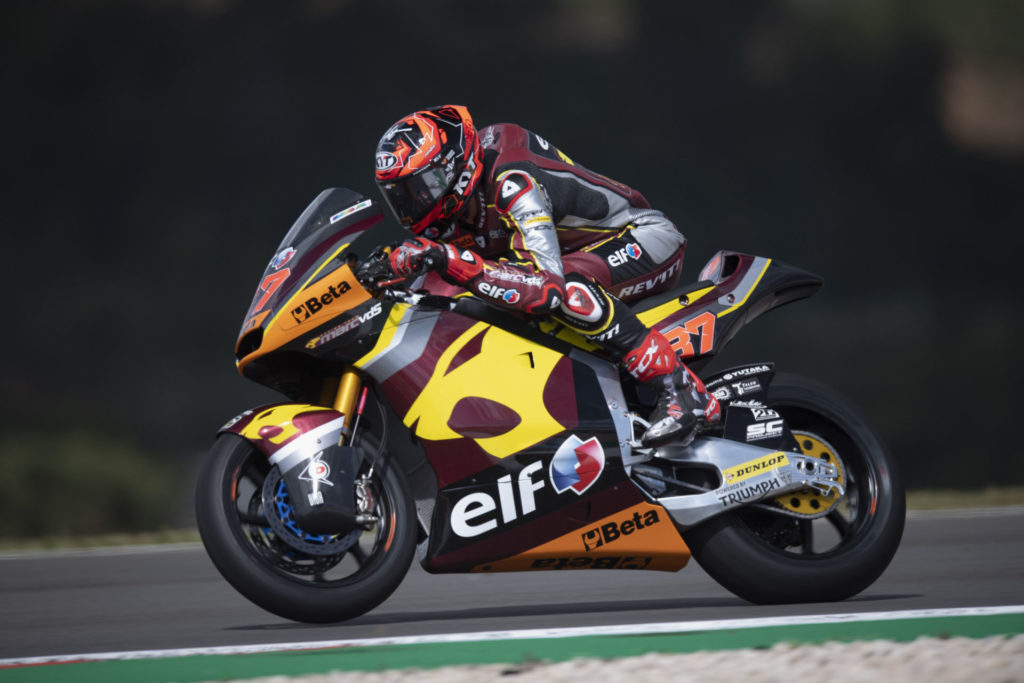 Augusto Fernandez 
6th, 1'43.259
The Spaniard went into this afternoon's crucial Q2 session with confidence high after a brilliant last lap of 1'43.239 in FP3 was only 0.3s away from the top three, with Fernandez making huge progress in finding more front-end feel this morning.
With track temperatures almost 10 degrees hotter for Q2, Fernandez produced another impressive flying lap in the 1.43.2 bracket to claim a place on the second row, with a richly deserved sixth his best grid position in 11 races since the Styrian Grand Prix in Austria.
"Starting from the second row is very positive"
"It was a good Q2 session, and we have to be happy to be on the second row of the grid. We made a very big step with the bike compared to yesterday and I was much happier with how the front-end was working. It wasn't easy to improve in Q2 because there was quite a lot of wind, but I still managed to make a good lap and starting from the second row is very positive. We can still improve in some areas to help me feel comfortable at setting consistent lap times. The good thing is we have the pace, but I'd like to feel like the times are coming a little bit easier. If we make another step in the Warm-up I'm sure we can have a strong race."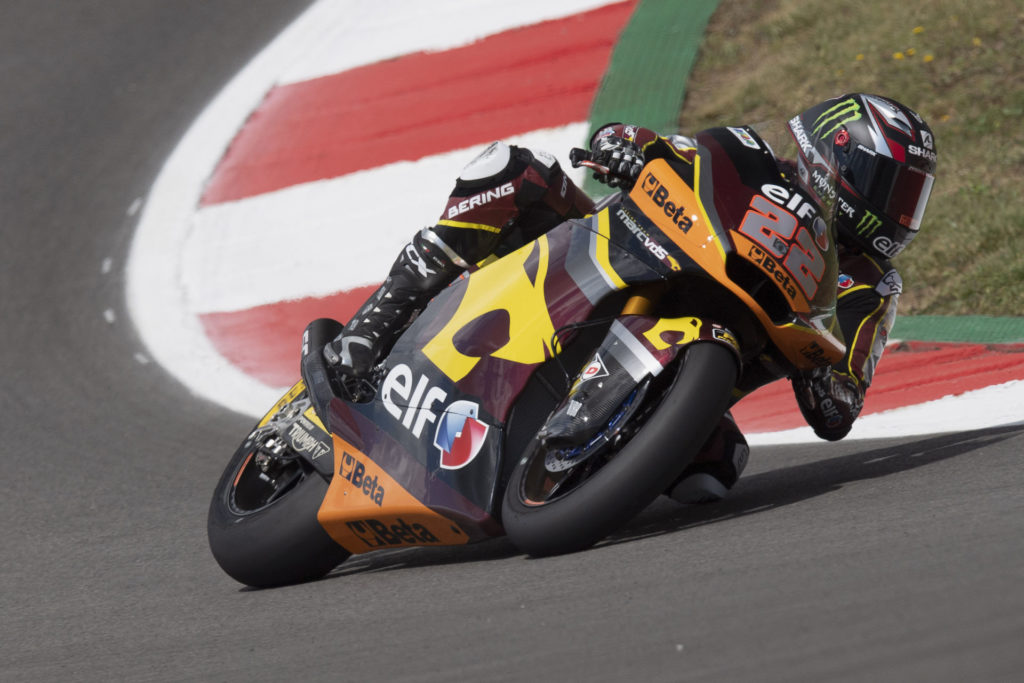 Sam Lowes
1st, 1'42.901
A lap of 1'42.939 was the fourth quickest of FP3 and ensured Briton Lowes eased into Q2 where he produced yet another masterful display to secure his third pole in three races and 14th of his Moto2 career.
A small improvement to a 1'42.901, despite a late crash at turn 11, means Lowes remains firmly on course to be the first rider in 20 years to win the opening three intermediate category World Championship races since Daijiro Kato did in the 250cc class back in 2001.
"I'm confident we can keep this great start to the season going"
"I'm really happy with this pole position because this weekend has been more difficult than the first two races in Qatar and we've had to work hard for this result. I've got to say a big thanks to the team because we have worked hard to be well prepared for the race by doing a lot of laps with a full fuel tank on worn tyres. But then we went out in Q2 with low fuel and new tyres and the feeling was incredible, so in all circumstances the team have given me a great package. Our race pace is good and I'm expecting a hard battle but I'm confident we can keep this great start to the season going."
More, from a press release issued by Italtrans Racing Team:
Joe Roberts and Lorenzo Dalla Porta to start Portuguese Grand Prix from the 3rd and 7th row.
The MotoGP World Championship is back to Europe for the third round of the season with the Portuguese Grand Prix.
After the double race in Qatar with ups and downs Italtrans Racing Team arrives to the Autodromo Internacional do Algarve, Portugal, ready to make the most of the work done here during the private tests last March, with the aim of confirming among the top teams in Moto2.
After the best lap time in FP1 and FP2 and the second fastest time in FP3, Joe Roberts went straight to Q2 finishing 8th in 1'43"314, just four tenths from Lowes' pole. An important starting point, which will allow the American rider to race in the top positions, fighting for the top five.
Tough weekend for Lorenzo Dalla Porta: he didn't make it thru Q1, but he improved his times. With a best lap of 1'43"778 he will start 21st on the grid with the aim of finishing in the points.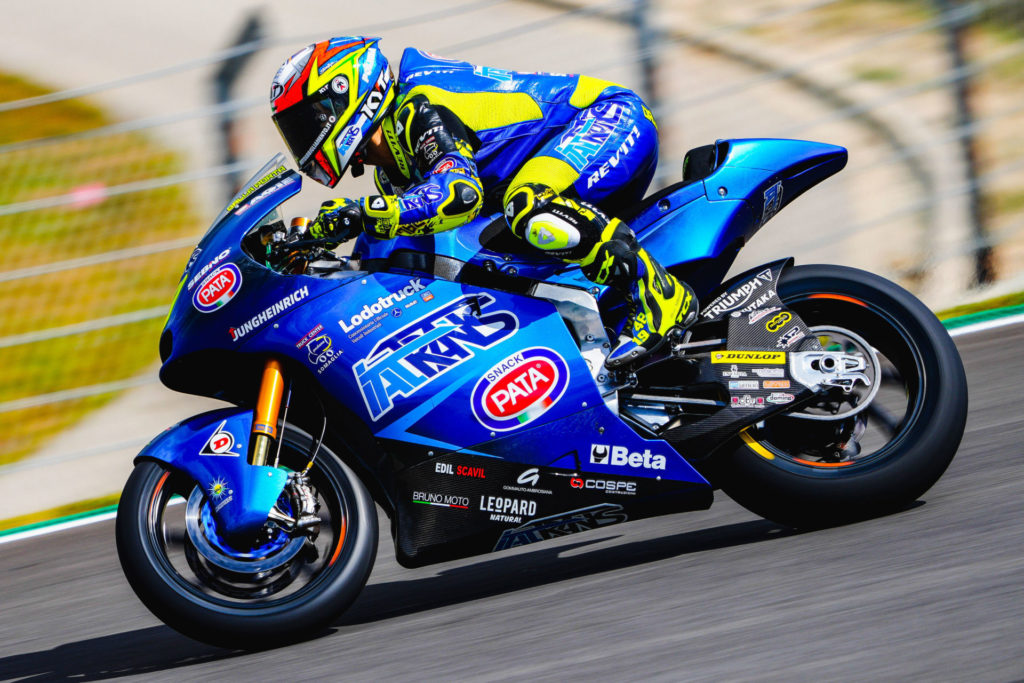 Lorenzo Dalla Porta
21° | 1'43"778
"Yesterday I struggled to keep up the pace and the gap to the other riders was a lot. Today we improved, but not enough. Tomorrow's goal is to finish in the points. We have the right skills to do that and it will be important to push from the start".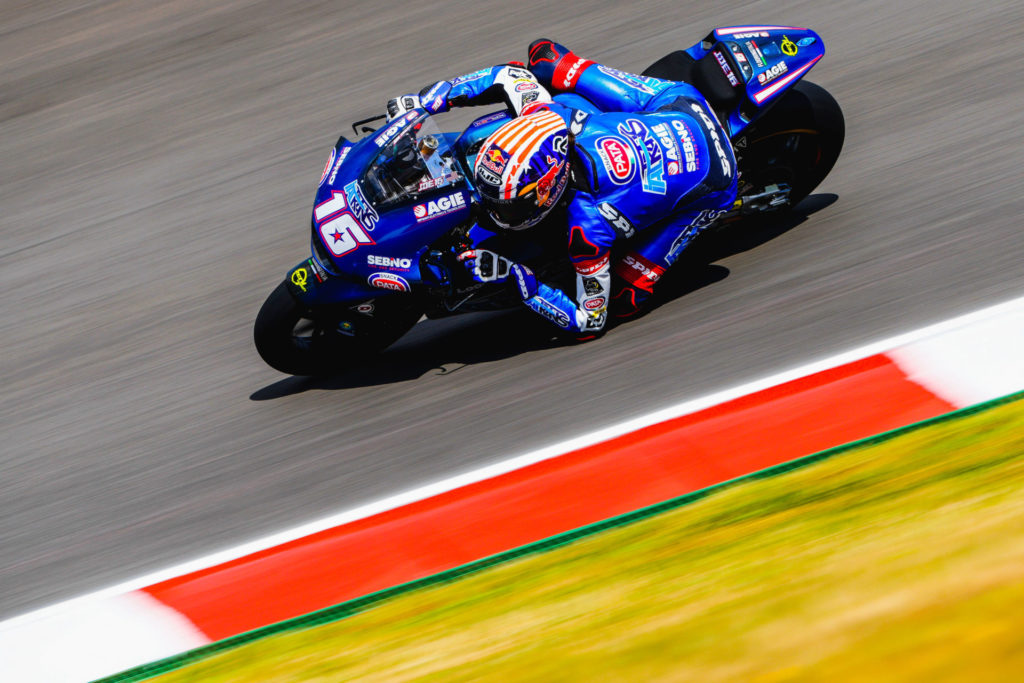 Joe Roberts
8° | 1'43"314
"I didn't finish exactly where I predicted to be, but we are really positive for the race. The pace is good and I'm feeling really strong.  I'll give my best for a good start, fighting in the front".
Giovanni Sandi, Technical Director
"We are not completely satisfied with the result, because in the free practices we were very fast, while in qualifying we slowed down. Both riders were under pressure when the conditions changed and the wind was against. Anyway, the pace is good and we can ride a good race: Joe can fight for the top five, while Lorenzo for the points".
More, from a press release issued by American Racing Team:
Beaubier, Ramirez show speed in qualifying for Portuguese Grand Prix
American Racing teammates will start Sunday's Moto2 race midfield
PORTIMAO, Portugal (April 17, 2021) — American Racing is back to nearly full strength for the Grand Prix of Portugal, Round 3 of the FIM Moto2 World Championship.
At the Autódromo Internacional do Algarve, known for its challenging elevation changes and blind corner entries, Cameron Beaubier and Marcos Ramirez delivered their best qualifying performances of the season.
In Free Practice 3, Ramirez posted the fifth-quickest lap of the session, 1:42.997, transferring directly to Qualifying 2. The 23-year-old Spaniard missed the opening two rounds of the series at the Losail International Circuit in Qatar with a shoulder injury.
Five-time MotoAmerica Superbike Champion Beaubier cut more than a second from his best lap time on Friday. He was third in Q1, advancing to Q2. The 28-year-old American will start Sunday's 23-lap race from 13th on the grid.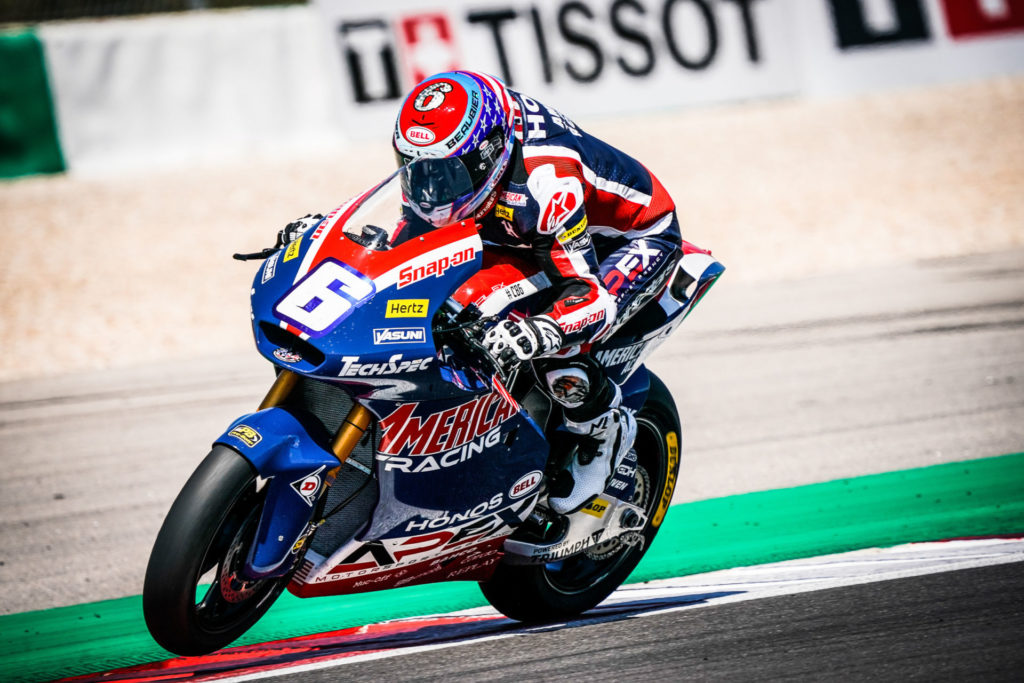 "I felt pretty good in qualifying today, with a couple changes that we made," said Beaubier. "I am happy because I know I could have been faster if I cleaned up some stuff. I definitely need to improve the last split."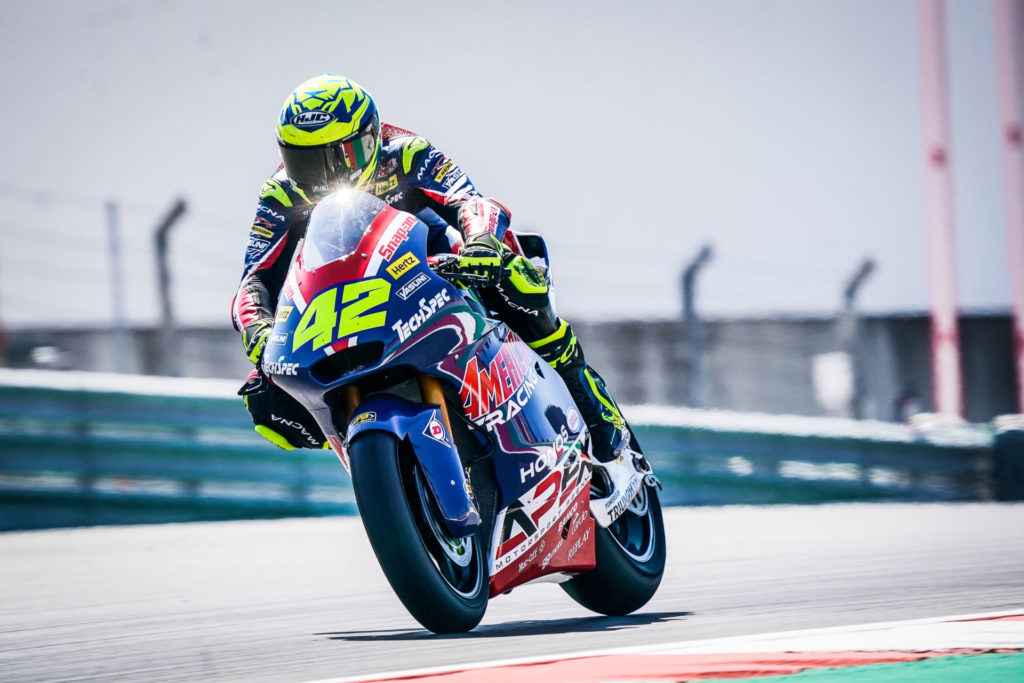 Ramirez, 11th in November's Moto2 race at Portimão, could not replicate his performance from the morning session and will start 17th.
American Racing Team Owner Eitan Butbul had mixed feelings about qualifying at the 2.85-mile circuit with its nine right-hand turns and six lefts.
"Cameron started in Q1, but he performed very well and managed to get into Q2," said Butbul. "We were sure he would be able to get into the top 10, but he got caught in traffic all session and couldn't made the perfect lap. Still, we are happy. We see his progress, and his lap times are consistent.
"On Marcos' side, we started the weekend with minimum expectation due to his injury, but he showed that he is strong and managed to finish fifth in FP3. We are a bit disappointed that he couldn't qualify in the top 10, but he, as well, couldn't find the perfect lap and ended up 17th."
For the third consecutive race weekend, Marc VDS rider Sam Lowes earned pole position. Lowes won the first two races and is the championship points leader.
"The race tomorrow will tough," said Butbul, "but I know both riders are fighters and will push hard."
About the American Racing Team
The American Racing Team is owned by Avner Kass and Eitan Butbul and competes in the FIM MotoGP World Championship. Based in California, the team fields two riders in the Moto2 class: American Cameron Beaubier (No. 6) and Spaniard Marcos Ramirez (No. 42). American Racing has grown under Butbul's guidance and is a respected member of the MotoGP paddock.