"We'll see in parc fermé": the Moto2™ and Moto3™ contenders gear up for an assault on the crown
Bastianini, Lowes, Marini, Bezzecchi, Arenas, Ogura and Arbolino talk to the media in two pre-event Press Conferences in Portugal
Thursday, 19 November 2020
At the Grande Premio MEO de Portugal, there's everything to play for in the Moto2™ and Moto3™ classes, so ahead of track action the title contenders joined two special pre-event Press Conferences.
In Moto2™, Championship leader Enea Bastianini (Italtrans Racing Team) was joined by second overall Sam Lowes (EG 0,0 Marc VDS); who trails by 14 points, third-placed Luca Marini (Sky Racing Team VR46); 18 points adrift, and Marco Bezzecchi (Sky Racing Team VR46); fourth overall and 23 points back, as they all fight it out for the crown.
Here are a few key quotes!
ENEA BASTIANINI: "For the moment, the feeling is incredible. It's been a fantastic season with three victories and seven podiums, and the team work has been fantastic. Now it's the last race and also my last race in Moto2, and I hope to be also fast on this track. It's my first time here and Portimao I think is not so easy but tomorrow I'll try to do my best to be fastest in qualifying and we'll se what happens on Sunday but I'm confident in being fast and the team is ready.
"It's important to learn from other riders because I think six or seven riders have been on this track, not with Moto2 but with other bikes.. Luca with Moto2. But I hope to learn a bit on the first runs, but after I think it's possible to be fast and the plan is to be in the first or second row in qualifying and battle in the race."
SAM LOWES: "When you can come to the last race of the year and have a chance at the championship it means the season's been good. It's easy to look at the last couple of races and say they've been bad but the championship is long and you have to be there every race. These guys have had some bad luck and unlucky race, we all arrive here with a chance which is great I'm looking forward to it, I've been to this track before, I have good memories, in 2011 I rode for the Parkalgar Honda Team, sponsored by this track, it's a good place for me. I won here in 2013 and can say this track is beautiful and great to ride, it'll be a fun weekend for everybody.
"In the end I think maybe I have a bit of advantage from that but these guy are great riders, they've been fantastic at every circuit all year, by the time we get to qualifying and the race everyone will be on the rhythm. Maybe it'll help me a little tomorrow, my hand is stills ore so maybe I can manage the session differently, but when it comes down to it, everyone will be on the pace. And for me – 2013 is the last time I was here! So I know the track, but now I'm getting older it's hard to remember that far back…!"
LUCA MARINI: "First of all it's fantastic to be here in Portimao. I rode here in the European Championship in Moto2, my first Moto2 race! It was just amazing. The track is unbelievable, a rollercoaster like everyone says. And I hope to enjoy it all weekend, try to be fast, and enjoy the weekend until the last moment. I try to do my best, work harder compared to every other weekend because it's my last race in Moto2 and I want to finish in the best way. My crew is very prepared for this race, and we want to enjoy it."
"I don't think the prior experience helps so much, the tarmac was different, the tyres were different, the bike, the engine, everything was different. It was my first race in Moto2, I don't remember anything! And in the World Championship they are the best riders in the world, so being at a track for the first time isn't a problem for everyone. It's just about finding the correct set up because it's a strange track, difficult with different points, hard braking but you need a good flow in fast corners. I think it's important to find a good setup from the beginning and work well in FP1 and FP2 to be ready for qualifying."
MARCO BEZZECCHI: "I'm very happy to arrive here and able to fight for the Championship. It's very important because I didn't expect it at the start of the season. So this already for me is a big result, then for sure it will be hard because 23 points, even if you win, something has to happen for the other riders so it would be very hard. But it's not a big problem for me, I want to focus myself and my team to do a normal race weekend, trying to fight for the win and podium and try to finish the season in the best way we can. Obviously when you fight for the title you always think a bit about it, it wouldn't be normal to say something else, but my main target is just to make the best race I can, the closer to the win the better, but if I don't achieve the title it's ok.
"In the end, this season was important . Coming from 2019 where I struggled a lot and didn't get any result, no podiums or anything, I'm very happy about the season I've had; two wins, seven times on the podium… it's very nice. For sure if I look back some mistakes I'd like to not make, but at the end you can't go back in time. This is where we are and we just have to try to look forward, be focused and try to fight to the end."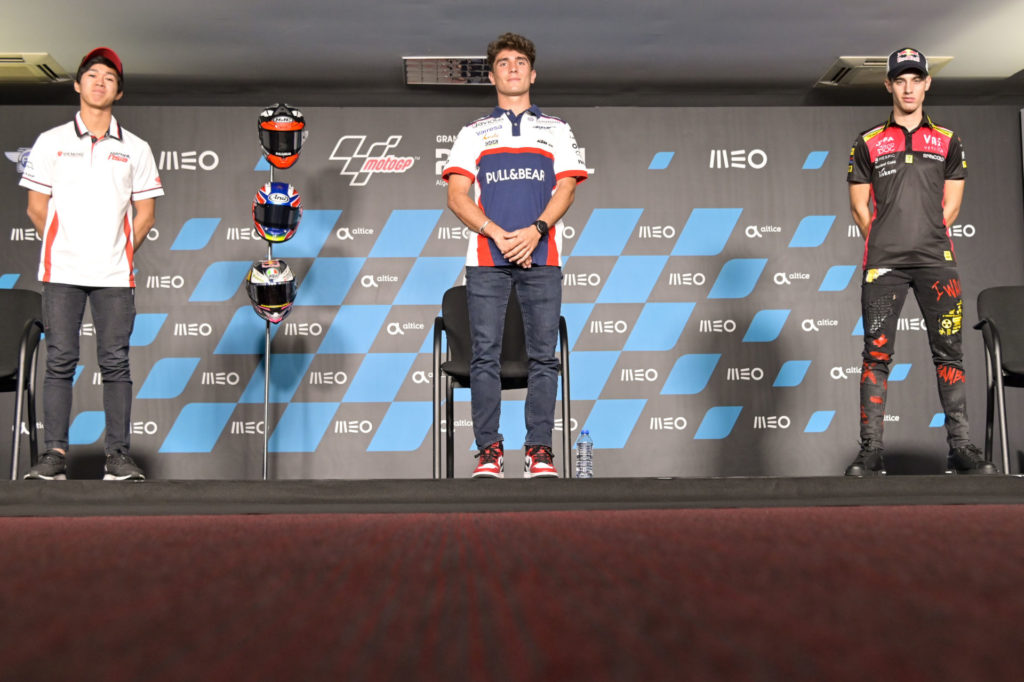 Meanwhile in Moto3™, there are three contenders remaining. In the Press Conference they were headed by points leader Albert Arenas (Gaviota Aspar Team Moto3), who comes into the Portuguese GP with an eight-point cushion ahead of Ai Ogura (Honda Team Asia), with Tony Arbolino (Rivacold Snipers Team) 11 points off the top following his win last time out.
ALBERT ARENAS: "It's special being here and being the leader in the last race of the season. From the beginning it was really good for us, winning in Qatar, and then came the lockdown and everything. No one knew if we were going to restart or not. Starting again and winning gave me a lot of confidence for the season. It's true we had some not good moments, but races are like this. We've achieved leading the Championship despite those bad moments and it's made us stronger. I think I've improved a lot in riding and also approaching the races, I'm ready for the weekend."
And racing at a brand new track?
"It will be a special moment and a big challenge or sure. I think it's good for everyone because we all start from zero. We'll see who will take the pace earlier, or if anyone can make the difference! Lets see how it goes, for sure I'm looking forward to riding this track with my bike and seeing how fast we can go."
AI OGURA: "Since the beginning of this year we've made a really good job with my team, we started the first race on the podium and then we've got may podiums, but we still don't have a victory. Now I'm in a position to not think about the Championship, and just let's enjoy the last race. We're ready to give everything. Let's enjoy the weekend.
"My motivation this weekend is the victory more than the Championship. No pressure, normal, I'm ready to enjoy the race."
TONY ARBOLINO: "Our objective is always the same. This track this weekend our objective is to win the race and try to be competitive in all conditions and practices. We've had some bad luck, but we got the victory and I'm in a perfect position, we're working so hard, to find everything in the same way, we're pushing, everyone the same, so this gives me so much energy for the weekend, The last race, we won. What can I say? I'm so motivated to make a good job. I can't think about the Championship but it doesn't matter, I just want to win the race and that's my mentality, I'll give everything to do it and after we'll see in parc ferme what we achieved.
"I can't wait to start tomorrow. I was here in 2015 and 2016, and from what I remember I enjoyed this track a lot. With new asphalt we'll see, but seeing the other Moto3 races here it looks very enjoyable. I can't wait to start the weekend, start working and start to make something good."
That's a wrap from the Moto2™ and Moto3™ pretenders to the crown on Thursday. Watch them head out on track for practice in Friday as we count down to the final showdown on Sunday, with the Moto3™ title decided from 11:00 (GMT) before Moto2™ from 12:20.