Editorial Note: Use the scroll and zoom tools in the bottom left corner of the PDF viewer to better see all of the results.
FMWS_2021_Final_Combined_QP1_3_1_

More, from a press release issued by Dorna:
Ready, set, MiniGP! The FIM MiniGP World Final is GO
Live coverage begins tomorrow as the engines fire up for the first ever World Final in Valencia
Wednesday, 10 November 2021
The 2021 FIM MiniGP World Final is now underway in Valencia, with the top finalists from the 10 Cups in the inaugural series all facing each other down over two days of track action. Free Practice and qualifying took place on Wednesday before the lights go out for racing on Thursday.
WHERE TO WATCH
The class of 2021 will contest five races to decide the overall Champion, with each broadcast live and free on motogp.com and across MotoGP™ social media on YouTube, Facebook, and Twitter. MotoGP™'s Matt Dunn and Fran Wyld will provide commentary for each race, with paddock legend and MotoGP™ commentator Matthew Birt down in pitlane.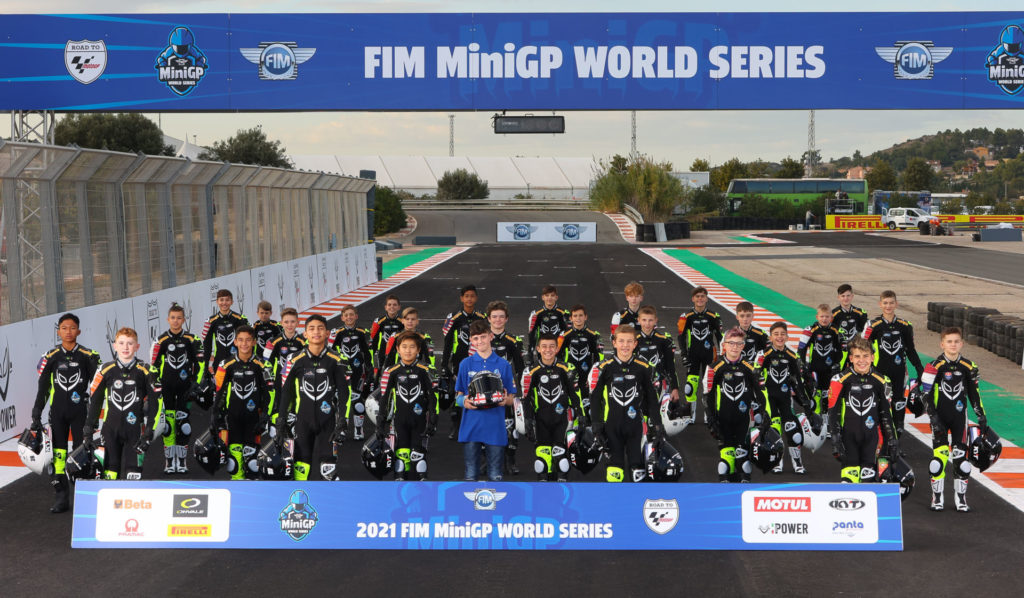 HOW IT WORKS
The riders were split into groups – A, B and C – with the allocation made randomly via lottery on Tuesday. According to the classification of each personal best from combined Free Practice sessions, the bottom 12 went straight to Q1 qualifying, the middle 10 directly to Q2 and the top eight directly to Q3. The top four in Q1 and Q2 made the cut to move through.
Qualifying saw the FIM MiniGP Spain Series dominate, ahead of FIM MiniGP Ireland Series' competitor Josh O'Brien impressing in fourth.
RACE DAY
Each of the five races will be shown live, with two qualifying races, two races awarding standard points and then the Super Final race with double points on offer.
The riders in Q3 are those automatically lining up, with more grid spots available for those who come out on top in the qualifying races.
10:45 10 laps – Qualifying Race 1 – Top 2 go to Race 1 (No Points)
11:30 10 laps – Race 1 – Standard points (25, 20, 16…)
12:22 10 laps – Qualifying Race 2 – Top 2 go to Race 2 (No Points)
13:07 10 laps – Race 2 – Standard points (25, 20, 16…)
14:00 15 laps – Super Final Race – Double points