After a racing career that has covered 35 years with National-level race wins spanning five decades, Michael Barnes, age 53, has retired from professional racing.
Barnes started his racing career in 1987 in a CCS race at Moroso Motorsports Park, in his long-time adopted home state of Florida. In 1989 he won the AMA/CCS 600cc Supersport National in the wet at Daytona, and his career was off and running.
Over the next 30+ years, Barnes competed and podiumed in every AMA Pro class except Superbike, which he competed in often, including his first AMA Superbike race on a Harley-Davidson VR1000 in 1995.
In addition to AMA Pro road races, Barnes also competed in ASRA, Formula USA, and WERA events (where he won multiple National Championships); the Macau Grand Prix (where he had a best finish of fourth); the FIM Endurance World Championship (including the Suzuka 8-Hours); and the MotoGP World Championship.
Along the way Barnes competed on 15 different brands of motorcycles and won on seven different brands of tires.
Those motorcycles included a Honda NSR500V 500cc two-stroke Grand Prix bike, a Kawasaki ZX-10R World Superbike, a Suzuki GSX-R1000-based CRT MotoGP racebike, the 780cc two-stroke Tul-aris prototype, a Lightning electric prototype, a rare Ducati Supermono, a rarer Britten V1000, and a 600-plus-pound Harley-Davidson Road Glide bagger, which gave him his final National win in the Bagger Racing League (BRL) event at Utah Motorsports Campus in 2021.
Barnes captured his sole AMA Pro Championship in 2012 on a Harley-Davidson XR1200, but the crowning moment of his long career came in 2016 when he rode a Yamaha YZF-R6 to victory in the Daytona 200. And in doing so, Barnes, 47 at the time, became the oldest rider to ever win the race by a margin of 11 years!
Barnes' final Pro race, a BRL Custom Dynamics Bagger GP, came this past weekend at – appropriately — Daytona International Speedway. Riding his Daytona Harley-Davidson/Hoban Brothers Road Glide, Barnes took pole position with a 1:55.438 — which was faster than Travis Wyman's MotoAmerica Mission King Of The Baggers pole time, 1:55.687. Then in the race, Barnes led and turned the fastest lap time, a 1:54.941, but a broken shifter linkage forced him to ride the last 1.5 laps while shifting by hand, which led to him finishing fourth.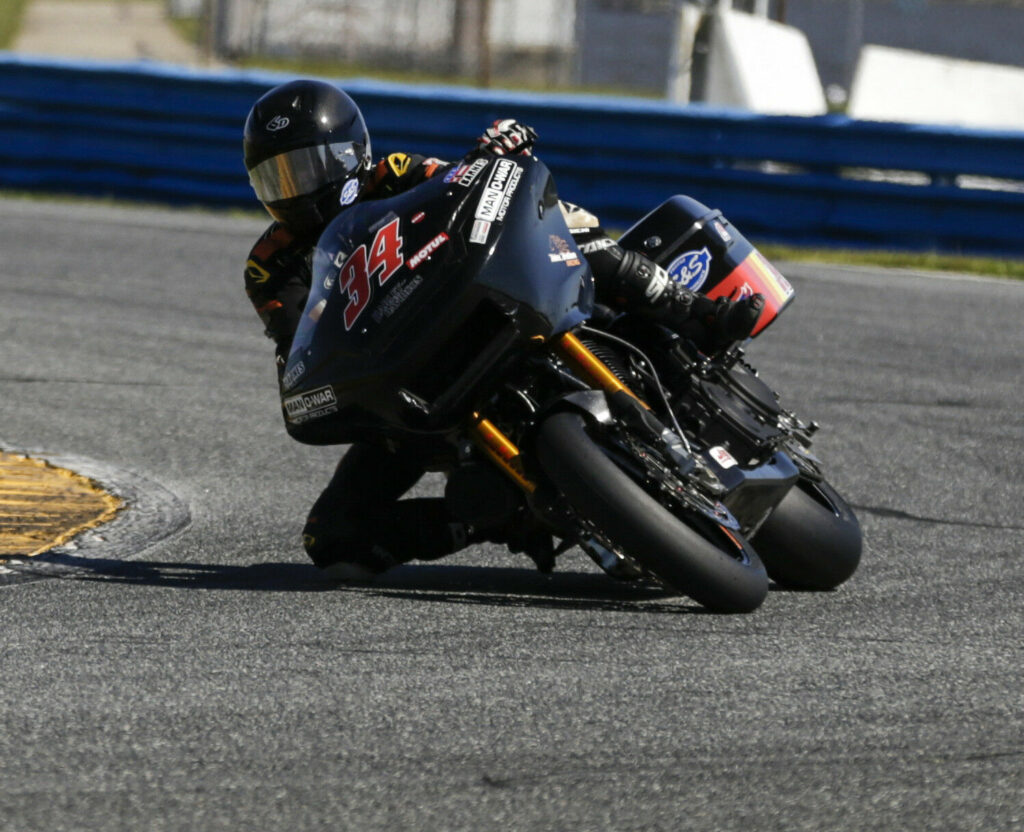 "This was the last, last race," said Barnes, who now calls the Atlanta, Georgia area home. "I had really been looking forward to doing the [MotoAmerica King Of The Baggers] race in March, so having missed that I was really looking forward to experiencing the bagger on the banking. It was a Hell of a way to finish, because I'm glad that it's over. Riding those things sure is a mindful, and Daytona adds to that. I've never been one to baulk at Daytona much, but those things are a lot to think about. I was relieved when it was over.
"It was interesting. I immediately accepted the outcome of that race. I had really hoped on going out by winning the last race. We were definitely on target to do that, but I got this quick reminder of what racing is. Little things like that happen. I've had to accept it many times before. This one was an easy one to accept, mainly now because I'm OK and now Anne [Roberts, Barnes' fiancé] and I can get on with our lives and she doesn't have to worry about me racing anymore and I don't have to worry about chasing paychecks on the racetrack."
So, what comes next for Barnes? "I just took my CDL exam and passed with flying colors. I'm taking a driving job with MotoShippers (www.motoshippers.com), and I'll be starting at the end of the month. We haul a little bit of everything, from personal vehicles to auction stuff and dealer stuff."
Asked for his thoughts when looking back on his 35-year professional racing career, Barnes said, "Many, many, many thoughts. First and foremost, I've been extremely blessed to be able to do it this long, to be involved with more teams than I think anyone's ever been involved with. I know it's up into the 70s as far as teams I've raced for. Then there's the amount of people I've met from all over the country and the world, all the trips around the world.
"I've just been truly, truly blessed to have the opportunities I've had. I've often accepted the fact that I never made it big as a factory rider on a Superbike team and made the big bucks, but I'm grateful and have no regrets because of the opportunities that that's allowed me. I've never been tied down to anybody, and that's allowed me to have these incredible experiences. I could write a book, and maybe one day I will."
Read more about Michael Barnes and his amazing career in the May 2022 issue of Roadracing World & Motorcycle Technology.