In his first visit to the historic racetrack, Sam Lochoff rode a Dunlop-shod M4 ECSTAR Suzuki GSX-R600 to overall and GTU class victories in the ASRA Team Challenge endurance race Friday during the 38th Annual Race of Champions at Daytona International Speedway, in Daytona Beach, Florida.
Lochoff, riding the same Suzuki GSX-R600 he used to take third in the 2021 MotoAmerica Supersport Championship, started the race on row eight of the grid, in the second wave, and took the overall race lead on lap 15 of a scheduled 55 laps.
Lochoff led the race into the first of two anticipated pit stop windows, and after all of the leading teams had pitted, Lochoff emerged with a 23-second advantage thanks to the quick work of his experienced M4 ECSTAR Suzuki pit crew.
Moving up to second place during the pit stops was four-time Daytona 200 Champion Danny Eslick, who had started the race late due some fuel spilling out of the fuel tank on his TOBC Racing Triumph Daytona 675R on the grid and that spilled fuel needing to be cleaned off the motorcycle.
Some very fast laps and a quick pit stop allowed Eslick to work his way up to second overall.
Shortly after the pit stops, the race was stopped when Slopoke Racing crashed into the Airfence barriers outside of Turn Six, causing a lengthy red flag stoppage.
On the restart, Lochoff got the holeshot from pole position, started ripping off some of his fastest laps of the race, and pulled away to win the race by 14.576 seconds.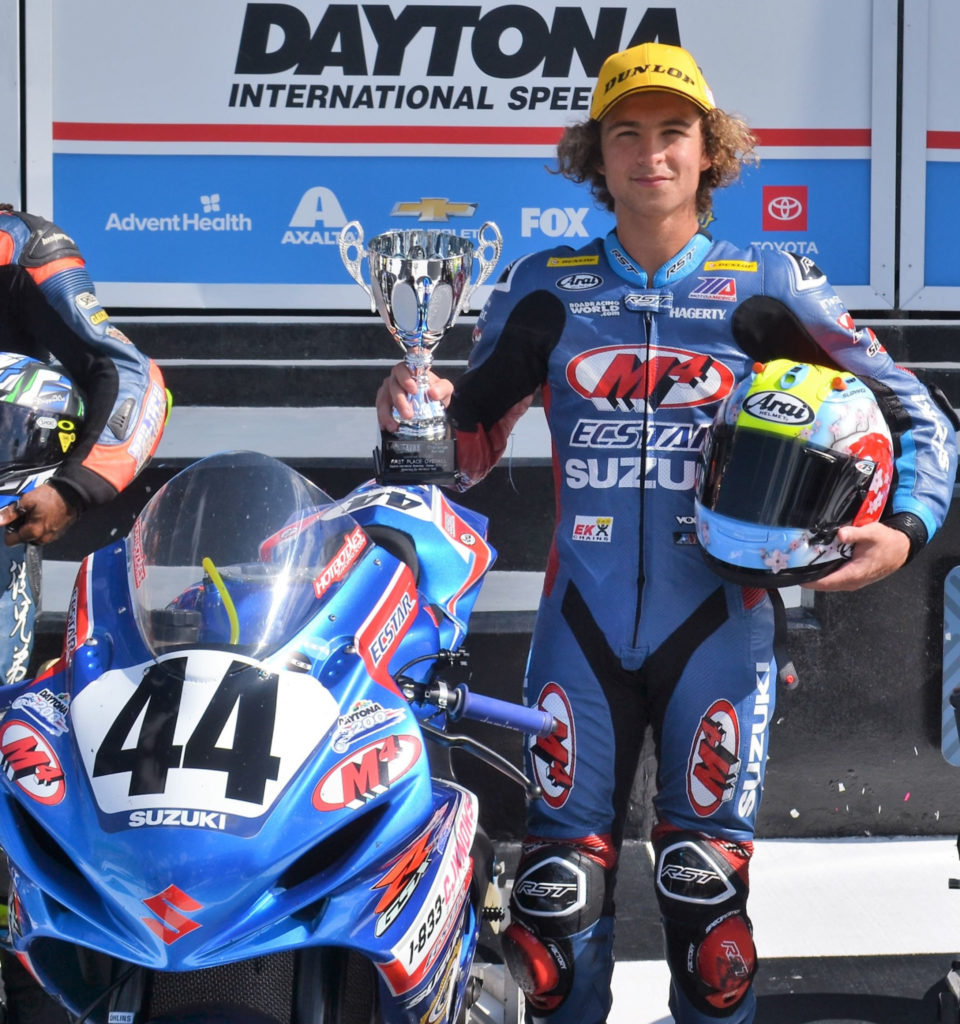 Finishing second overall and in the GTU category was Birch Racing/B&D House's Jody Barry and Dorsey "DJ" Birch on a Pirelli-equipped Yamaha YZF-R6. Taking third overall and in GTU was 16-year-old Joseph LiMandri, Jr., who rode his Pirelli-fitted Bauce Racing Yamaha YZF-R6 solo.
TOBC Racing's Eslick retired with a clutch failure shortly after the restart.
Because of the red flag, the race reached its two-hour time limit before 55 laps could be completed. M4 ECSTAR Suzuki's Lochoff completed 43 laps.
We will update this post after the official results are released.
Editorial Note: Use the scroll and zoom tools in the bottom left corner of the PDF viewer to better see all of the race results.