200+ Bikes Up For Bid Saturday, November 9th
The Auctioneer & The Collector:  The Bigger-Than-Life Racing Stories Of Charlie Mavros, Jerry Wood, And Their Final Intersection
By Michael Gougis
Kyriacos "Charlie" Mavros lived the club racer's dream. Able to purchase virtually any motorcycle he wanted, Mavros did so—and raced them hard with CCS, ASRA, WERA, AHRMA and other organizations, winning races and titles and occasionally getting himself banned from racetracks for transgressions like sharing passes he could have easily bought 10-fold…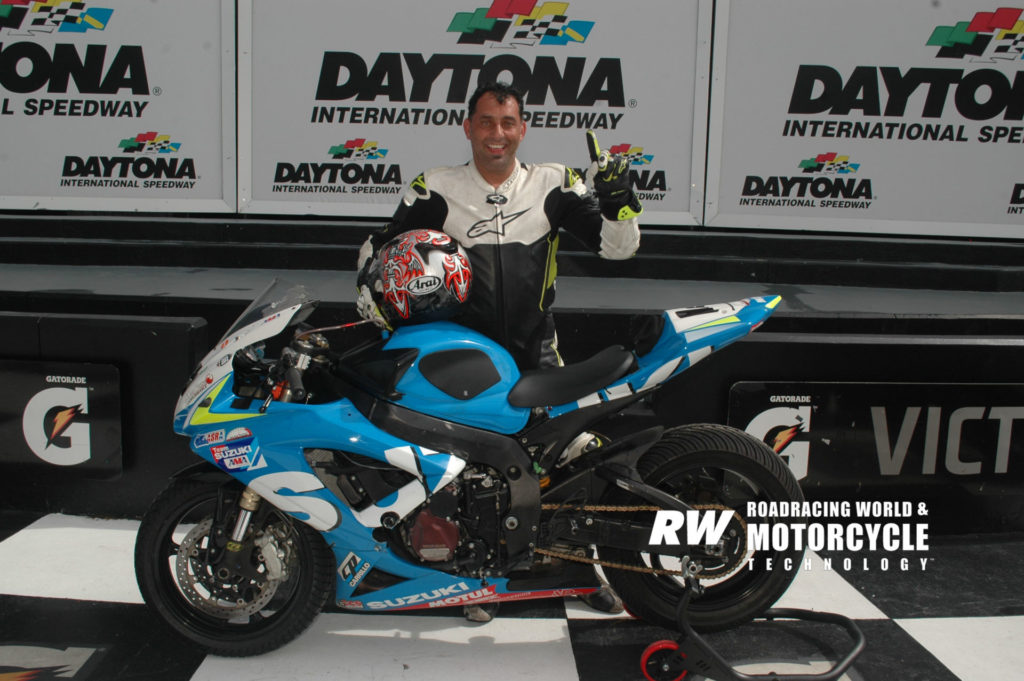 One of his competitors was Jerry Wood, founder of the Penguin Racing School, a quick, accomplished racer whose sons Eric and Jeff have carried on the family motorcycling tradition. Eric's Woodcraft Technologies company is known worldwide for its racer-friendly, high-quality aftermarket parts and the Penguin Racing School founded by Jerry and now run by Eric and Jeff pioneered teaching riders to be better and safer racers.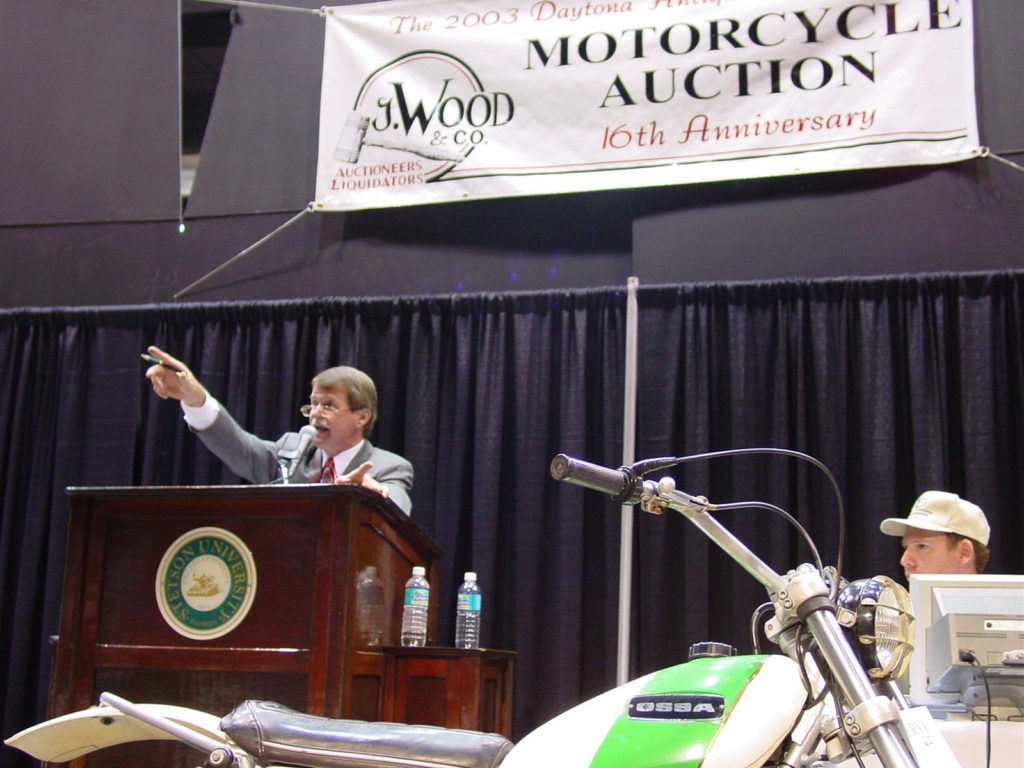 Wood and Mavros knew each other well. Not only did they race each other on the track, they both had a passion for Ducati motorcycles and knew many others in the Italian marque's circle of aficionados and employees.
Mavros died March 29th, 2018, in a motorhome crash on I-95 in South Carolina. He was on his way to an AHRMA race at Carolina Motorsports Park. He was 52. Displayed at his funeral were his leathers, boots, helmet, and an NCR Ducati racebike.
Somehow, it seems fitting that Wood, a longtime motorcycle auctioneer, would be the one called on to auction off Mavros' extensive collection of performance and racing motorcycles.
***
Who races an exotic Bimota in club endurance races? Charlie Mavros did. Mavros was known to compete in the ASRA Team Challenge GT Lights class on a Bimota DB5, and it wasn't the only bit of Italian exotica that he raced. A Ducati Paul Smart 1000, a Ducati 800 SuperSport, a Ducati 1000 SuperSport—Mavros raced all of those and the Bimota DB5 in one day of CCS Florida competition at Homestead-Miami Speedway.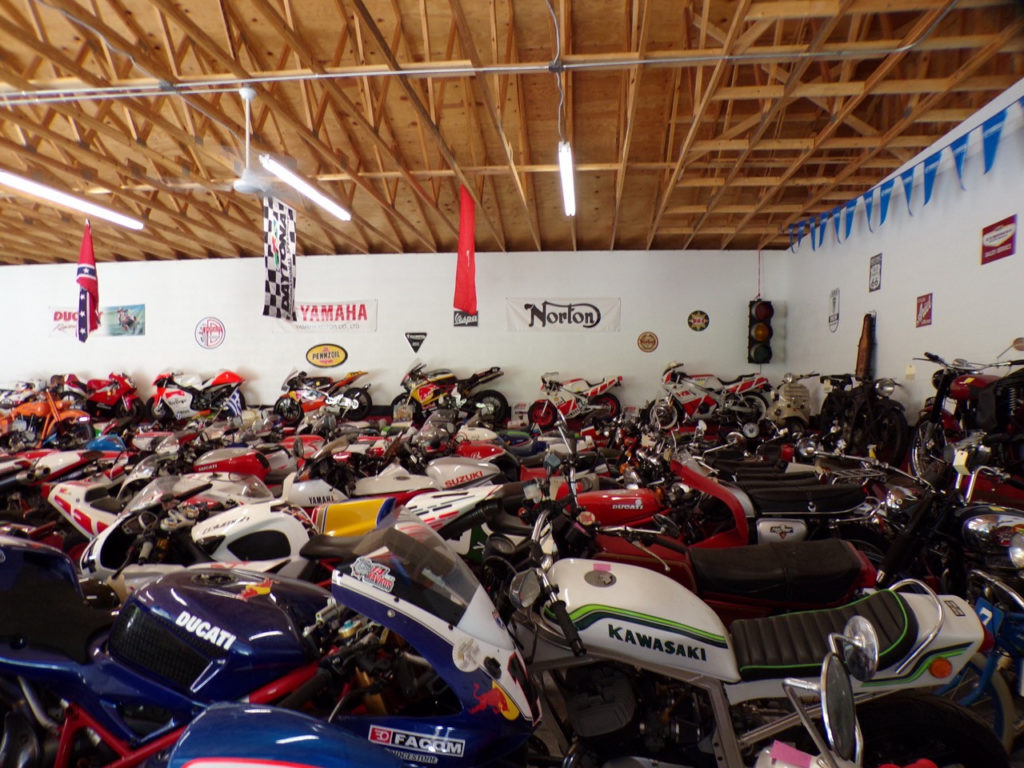 A Tampa, Florida real estate entrepreneur, Mavros also was part-owner of a strip club in New York that was well-known for the celebrities who would visit and occasionally argue and more. His business enterprises succeeded wildly. And Mavros used his wealth to pursue his passion—road racing motorcycles.
Mavros raced with WERA early in his career, entering Suzuki GSX-Rs as a Novice in 2006 and adding a Yamaha YZF-R1 to his racing fleet in 2007. But he was best-known for the trick, rule-bending Italian racebikes that he later entered in Lightweight classes. "His bikes were so good and so exotic, they would just kill the regular guys," Wood says. "I raced in Charlie's class, and he just put me on the truck. You didn't know where he went." In 2016, Mavros won an AMA Sports Expert SuperSport Lightweight Twins National Championship, just one of many titles he earned.
Mavros didn't just pursue his passion on the track. He loved having motorcycles around, and he was not shy about purchasing the ones he liked. His collection grew and grew, with a few of his truly prized possessions on display in his expansive Tampa home. He bought mountains of spares. He imported models from overseas. And no matter how exotic a bike was, he could find a way to make it even tricker.
***
Jerry Wood has been in the motorcycle business for more than 50 years, and raced for half a century as well. He got into motorcycle sales while working as a mechanic. "I realized there was more money in selling bikes than there was in fixing them," Wood says.
Wood's experience with motorcycle auctions started when he was 12 and bought his first motorcycle at a church fund-raising auction. In 1971, he opened a shop with the help of a friend and sold Ducati, Norton, Maico and Moto Guzzi motorcycles. In 1980, Jerry and his wife Dee started J. Wood & Co. Auctioneers. They sold the contents of motorcycle shops, machine shops, and factories. They were positioned perfectly for the explosion of interest in Vintage bikes in the 1980s. And Wood, an experienced auctioneer by then, thought he could bring stability to the market.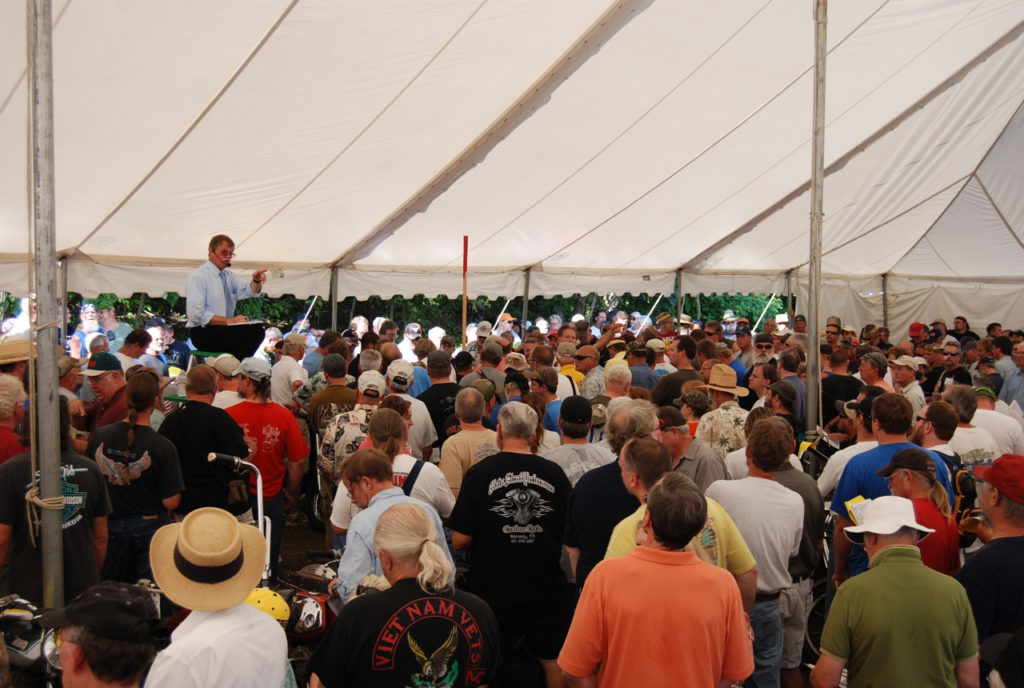 "In 1988, we thought, during Daytona Bike Week, we'll set up an international auction, and we won't have any phony bidding. We'll set it up in the old Daytona armory and we'll put the bikes up one at a time," Wood says. "If it sells, good. If it doesn't sell, we're going to write that price down and start to establish what the real market is. People liked the straightforward approach to finding out what the real value was."
The auction was a hit. And the revival of interest in vintage racing helped propel the popularity of the auction, which has been a staple of Bike Week for a quarter of a century. BMW invested in a racing series for retired racers, the BMW Battle Of The Legends, which took place alongside the other Vintage events going on during Bike Week. Wood said that series further fueled interest in the auctions and all things Vintage.
"That was such a hit to get Yvon Duhamel and Gary Nixon and Don Castro on the track again," Wood said. "We out-sold the Daytona 200! It was the best of times."
So when Mavros' estate decided that it was time to sell off the motorcycle collection, it was only logical that Wood would get the call. Mavros had spent more than a few dollars with Ducati, and he was well-known in their organization. Someone at Ducati recommended Wood for the job, and then called Wood to prepare him.
"The guy told me, 'Jerry, you're not going to believe what you're going to see,'" Wood said.
***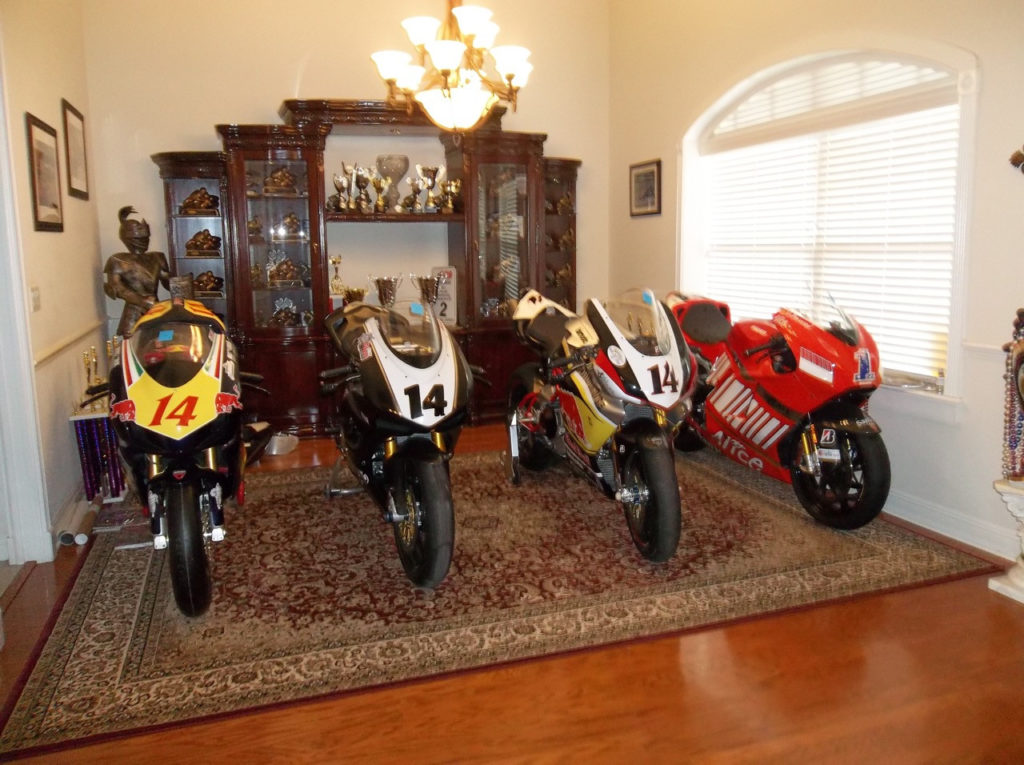 Inside Mavros' home, Wood found a four-cylinder Yamaha TZ750 road racer, a Ducati Desmosedici RR with race bodywork painted to replicate MotoGP World Champion Casey Stoner's factory racebike, and a series of Red Bull-liveried Ducati racebikes.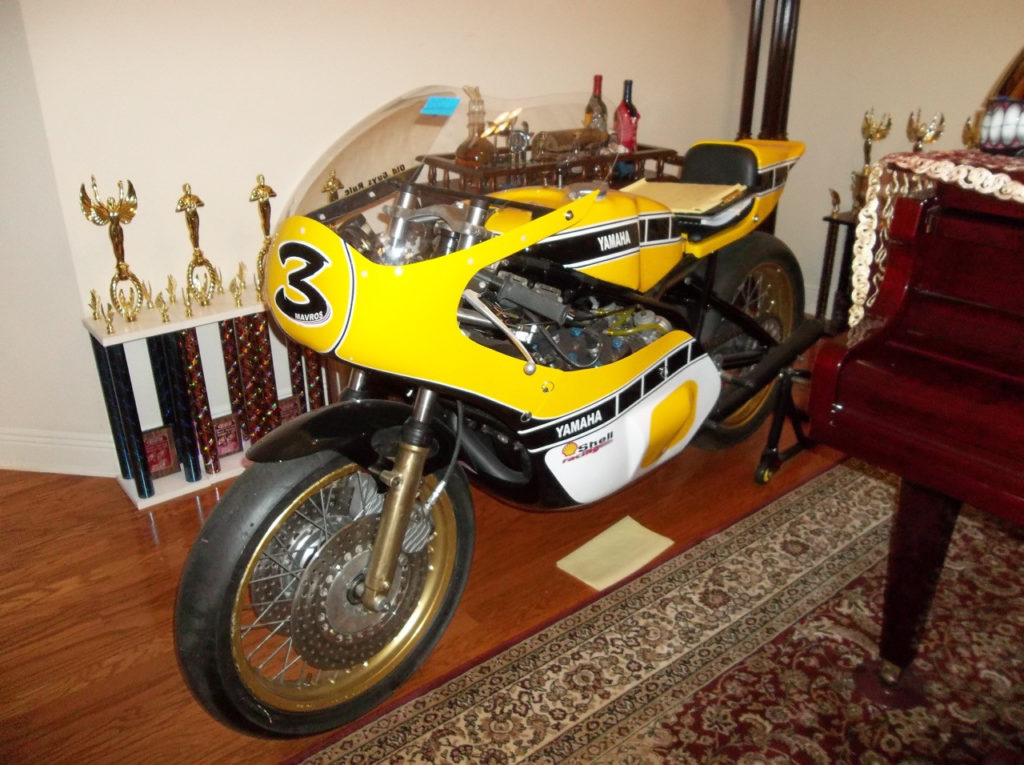 That was just the stuff inside the house.
Outside, motorcycles were found in the garage adjacent to the house and in another massive garage on the property. In addition, there was an off-site storage facility and there were the shipping containers. Wood said in October that he was still finding containers on the property, each is packed with motorcycling history.
"There are rows of 125cc GP bikes, 250cc GP bikes, two-stroke overseas street models," Wood says. "There are production racebikes and the corresponding street versions. Back when the manufacturers were building special models with flat-slide carburetors and aluminum tanks for homologation purposes—he's got those.
"And there are so many containers that when I went down with my son Jeff, Jeff found another whole container! Every time you look, there's another pile."
In total, Wood estimates that there are more than 200 motorcycles alone. And that's just the complete bikes. There are toolboxes that are far nicer what Wood remembered from his days as a mechanic. And there are spares galore.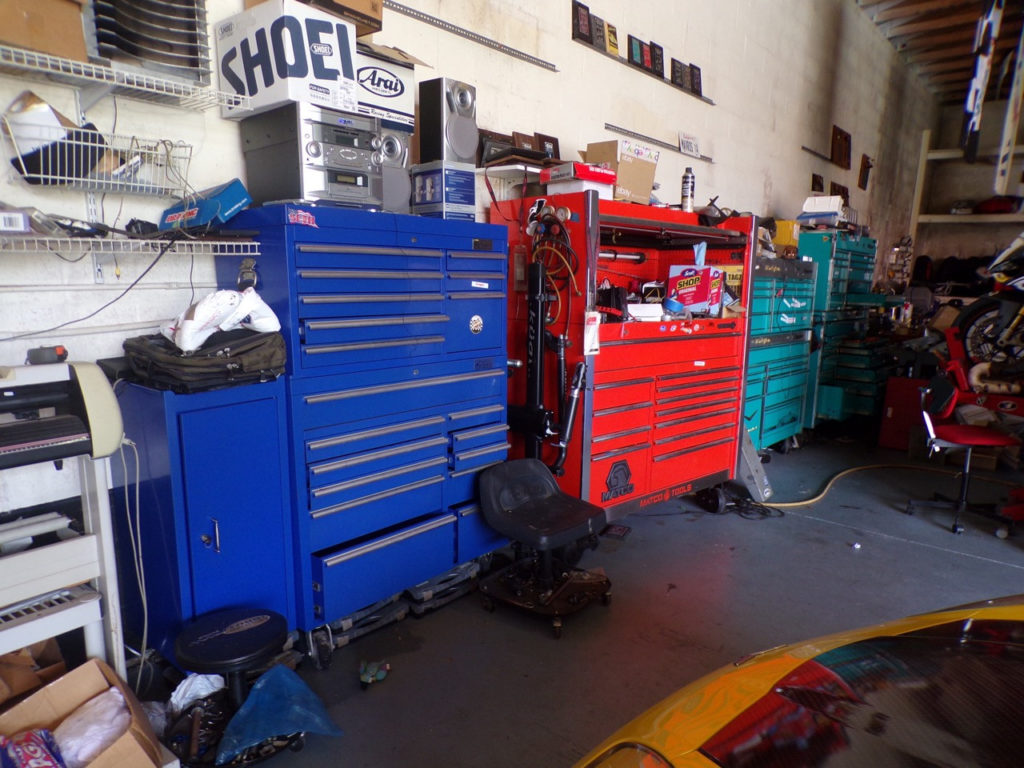 "I'm not so much up on the modern stuff," Wood says. "But Jeff kept pointing at things and saying, 'Do you know how much those forks are worth? That's original GSX-R bodywork! Do you know how much those things are going for on eBay?"
What really caught Wood's eye were the NCR machines. Wood raced Ducatis as well as selling them, and Ducatis that had been breathed on by the famed tuning house were show-stoppers to him. "The starting price for those NCRs is $50,000. And then Charlie started adding high-end, high-end stuff to them," Wood says.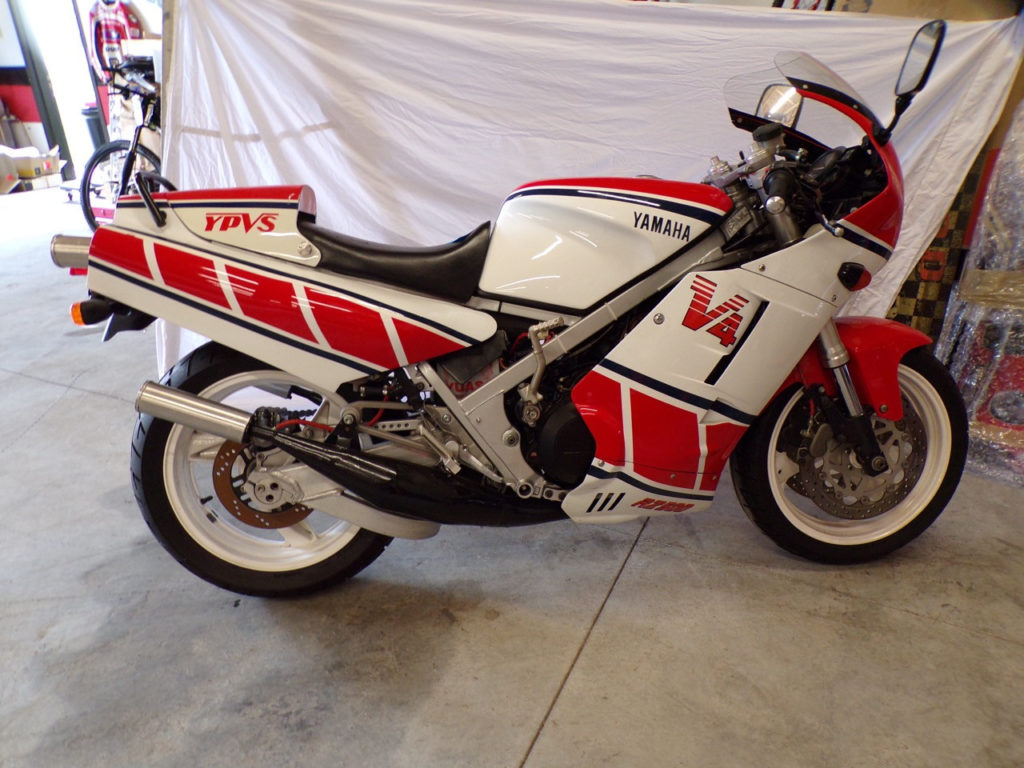 The collection is so large that it took planning to set up an auction. Wood has rented a small arena in Tampa and will move the bikes across the auction stage on November 9th. It's a larger-than-life end to a larger-than-life racer's dream, and it's not just the collection, but what it represents, Wood says—an honest appreciation for performance bikes.
"Charlie had more money than God, and he had a passion for the motorcycles," Wood says.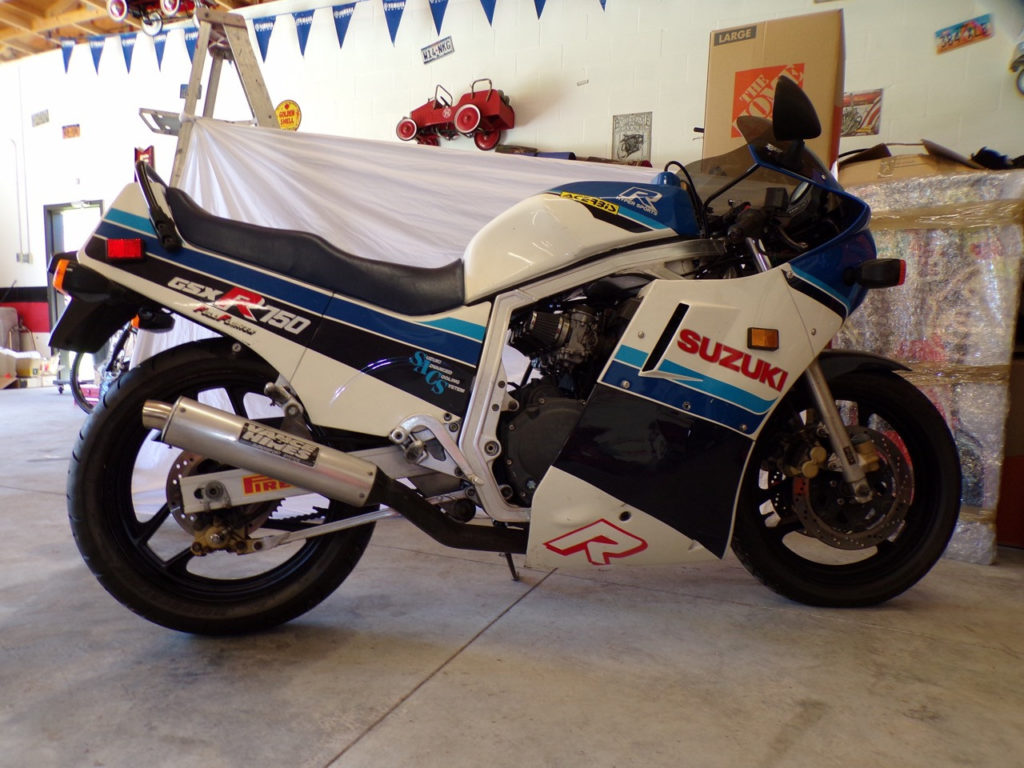 To get more information about this auction, go HERE