"If The Rear Is Not Up, I'm Not Trying Hard Enough…"
Toprak Razgatlioglu's manic late-braking style is perhaps the most visible part of what helped him break Jonathan Rea's six-season stranglehold on the Superbike World Championship. Skilled in the wet and fearless, Ratgatlioglu battled Rea relentlessly for the 2021 Championship.
By Michael Gougis
Copyright 2021, Roadracing World Publishing, Inc.
"I watch the races afterward, and it is strange," Razgatlioglu says. "When we are racing, I feel some touching and fighting, but I look after the race and it's the young boy and the Champion, fighting."
The 25-year-old Turkish rider's race craft goes far beyond just being able to nail the brakes hard. His training regimen is unique—he has spent years bashing handlebars with five-time Supersport World Champion Kenan Sofuoglu on Supermoto machines, preparing himself to fight at the front with some of the world's best riders.
And it has paid off. Razgatlioglu and his PATA Yamaha YZF-R1 were convincingly fast at nearly every round, every time he left pit lane.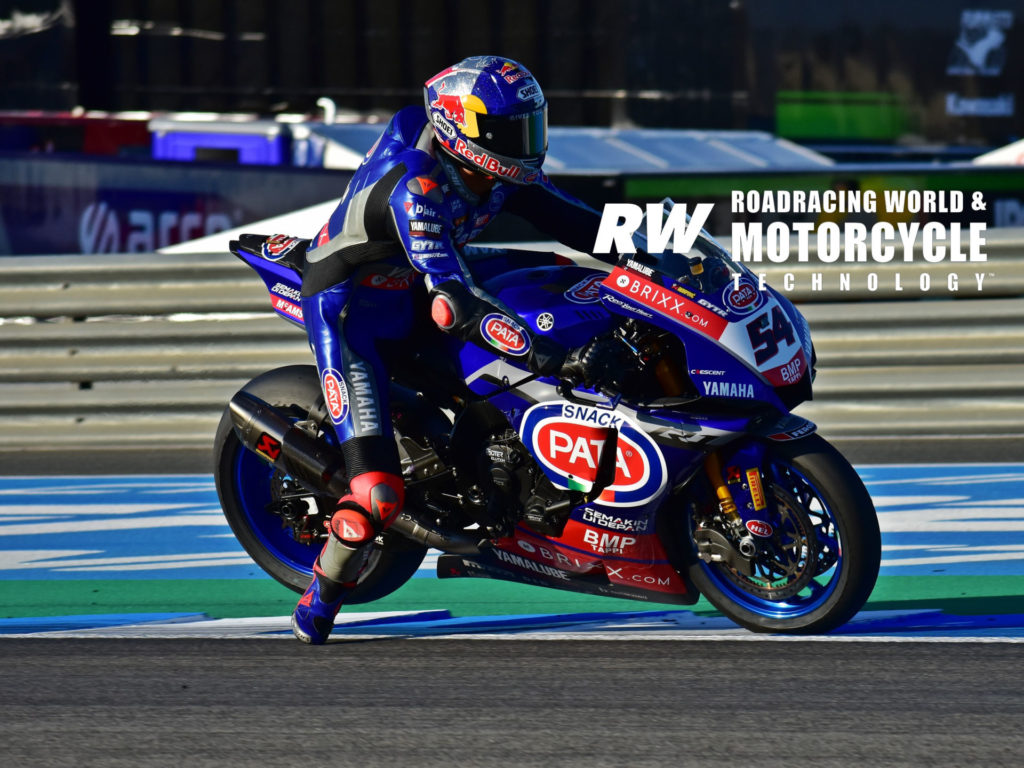 Razgatlioglu is the son of a famous Turkish stunt rider, Arif Razgatlioglu, known as Tek Teker Arif, which translates as "Wheelie Arif." A four-time Turkish motocross champion as a youth, Toprak Razgatlioglu won the European Superstock 600 Championship in his first attempt.
This is where Sofuoglu's mentoring came into play. Sofuoglu never succeeded on liter bikes, and he encouraged his protégé to get on a big machine as soon as possible. In 2016 and 2017, Razgatlioglu competed in the lower-profile European Superstock Championship, learning how to race the larger, more powerful, and heavier machinery.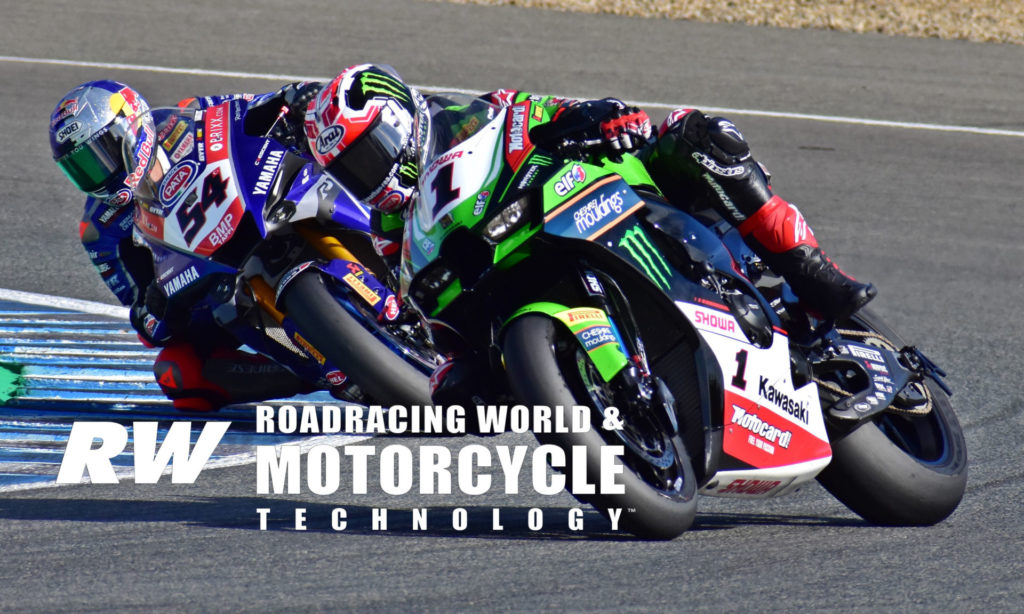 Training with Sofuoglu and emulating the elder racer's style taught Razgatlioglu to feel at home with the forks deep in their stroke, the brakes on hard, and the rear wheel doing whatever it wanted to do.
"I see Kenan use the hard braking, and I ride the 600, where I try the hard braking," Razgatlioglu says. "When I ride the bike and I try normal braking, I feel very slow. I speak with sometimes my team, they say to try normal braking, but I feel like if the rear is not sliding, if the rear is not up, I'm not trying hard enough."
Razgatlioglu says a careful combination of lean angle and braking is key to making this style of riding work. Braking in a straight line results in too much rear-wheel lift; braking too hard with too much lean angle results in a crash. Instead, he says, he applies maximum braking effort just after tipping the bike toward the apex. "You start to enter the corner with a little angle, you try hard braking, the rear does not come up really easy," he says.
Passing on the brakes means frequently being in very close proximity with another rider. And this, Razgatlioglu says, is where the training with Sofuoglu pays off. The pair have spent untold hours racing against each other—hard—and even sometimes on karts. "Now we started fighting with Johnny (Rea), sometimes touching, I feel really good. I like this because I train with Kenan always like this, always together touching, together crash, I learn like this, so I feel very good," Razgatlioglu says.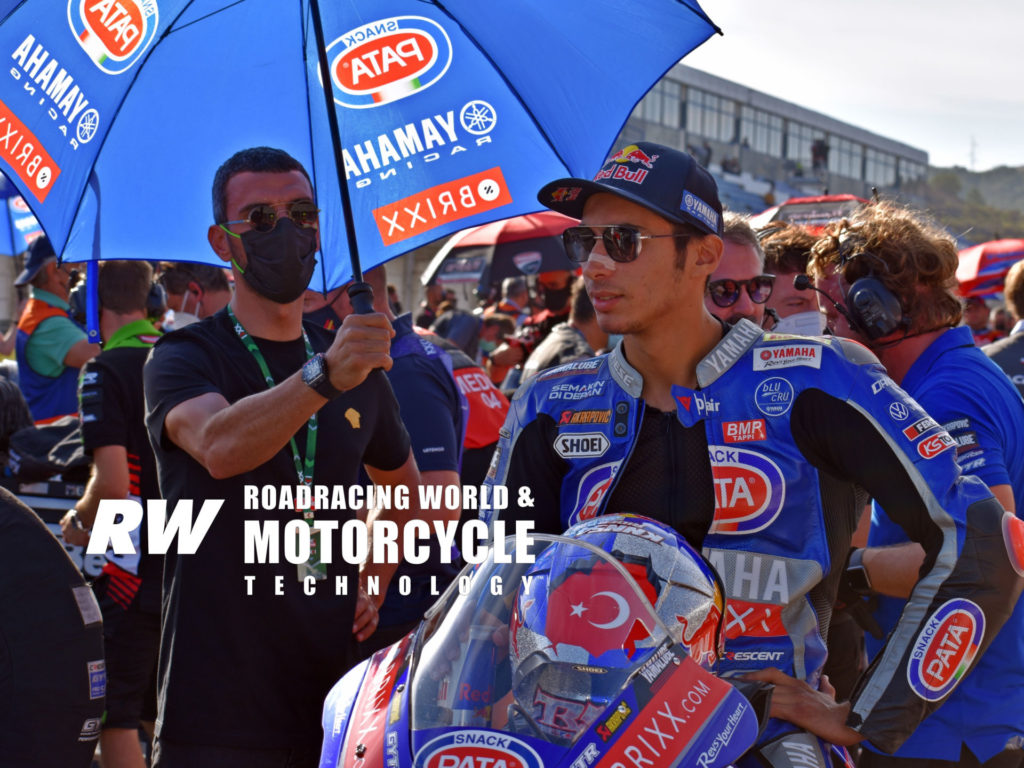 Razgatlioglu appeared set to follow in Sofuoglu's footsteps and race with Kawasaki. He literally brought the Kawasaki Puccetti Racing satellite team to new heights in World Superbike, winning two races in 2019 and racking up podiums in a way unprecedented in the squad's history.
But the relationship soured at Suzuka 8-Hours race that year, reportedly when Kawasaki's engineers looked at his tire wear on the ZX-10RR from practice and qualifying and decided it was excessive—and benched him for the race. Furious, Sofuoglu advised him to join Yamaha's factory Superbike squad. Razgatlioglu did, winning three races in 2020 to teammate Michael van der Mark's zero and edging the Dutch rider in the final points. At the final round in Estoril, Razgatlioglu won two races and finished third in the other, setting him up for the title challenge in 2021.
If 2020 was a learning year, 2021 was the year to deliver, and Razgatlioglu did. "The team was improving my bike every race, the team was learning my style, and also were learning my bike, (and) I was adapting to my bike. Together, this year we are strong," he says. "Every race, we were coming step-by-step stronger."
Razgatlioglu says he felt no pressure, and the nervousness about the title chase disappeared when he closed his visor. "I hope we are World Champion, but I never look at that side. Every race, I look at the win," he says. "I try (to have fun), I try to a little more enjoy in the race. After I close the visor, I don't feel stress."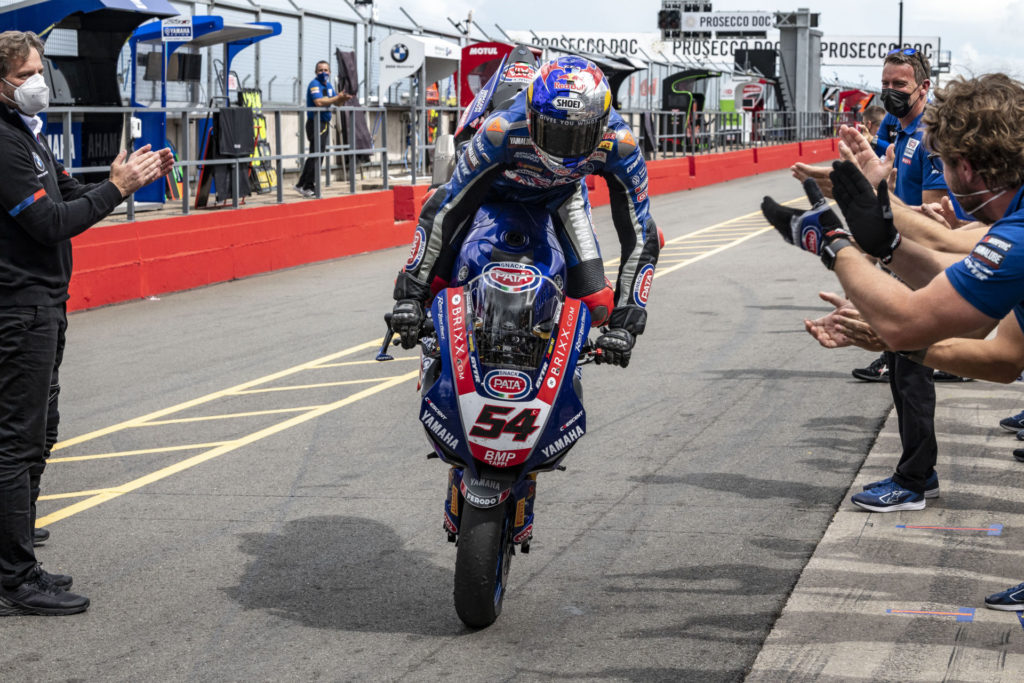 Razgatlioglu is fully focused on World Superbike. The team plans significant upgrades for 2022, and Razgatlioglu is looking forward to an even better-performing machine. MotoGP is a possibility—his name was openly discussed as a replacement for the retiring Valentino Rossi—but it comes with challenges. At his age, with Yamaha's official factory garage filled with proven MotoGP race winners Franco Morbidelli and Fabio Quartararo, he likely could get a ride somewhere, but the chances of joining the factory team are slim.
"I am 25. I am feeling old for MotoGP. Everybody come in at 19, 20, 21 now. I am not old—I know!—but…
"After I am Superbike World Champion, why not? My dream was Superbike Champion. I never dream of the MotoGP. It's like a different galaxy. Now, yeah, I have a MotoGP door, but I've never dreamed MotoGP before. I focus on Superbikes," he says. "If I am Champion here and I go to MotoGP, and I don't like it, I am not fast, I can come back here and find a good team, because everyone knows I am fast here."