GIANT TO DISPLAY AND DEMO 2021 E-BIKES AT THE IMS OUTDOORS SEASON OPENER
Giant Group USA will display 2021 Giant, Liv and Momentum brand E-bikes at select Progressive International Motorcycle Shows Outdoors in 2021, starting with the season opener at Sonoma Raceway, July 16-18. The world's largest manufacturer of performance bicycles, Giant has been an industry leader in pedal-assist E-bike technology for two decades.
As we emerge from the restrictions of COVID-19, the new IMS Outdoors show format has allowed Giant to increase our outreach to power sports enthusiasts with a new mobile exhibit trailer that communicates the culture of the Giant brands, from history to financing to the innovative technology that makes Giant the industry leader in Hybrid Cycling Technology.
"Giant Group has been crafting pedal-assist bikes since 1999, longer than any brand in the cycling space," said John "JT" Thompson, General Manager of Giant Group USA. "Our partnerships with Yamaha for motors and Panasonic for batteries create products built to our specific specifications, and, connected with our exclusive firmware and cycling know how, make for the most natural pedal performance. We know this well as we are the brand for cyclists, built by cyclists since 1972. We're proud to be the most integrated cycling brand in the world with our own aluminum foundry and composite (carbon) fabrication factories, making us the most authentic cycling brand providing farm to table products. No other brand in the cycling space cooks the food they serve like Giant. Ride one of our pedal-assist machines and experience the quality that makes for grand smiles and incredible fitness opportunities."
"While we are entering the tour's 40th anniversary, this year's nationwide tour is so much more than four decades of connecting enthusiasts with Powersports brands," said Tracy Harris, senior vice president of Progressive IMS Outdoors. "The reimagined event series will be the most inclusive tour to date—catering to both the core motorcycle enthusiast and those interested in exploring the world of two and four wheels, both gas and self-powered. This year, attendees will benefit from an expanded footprint of industry-leading bicycle brands and have the unique opportunity to demo new products on an enclosed course. We're thrilled to have Giant, Liv, and Momentum on board!"
In addition to a new stationary E-bike demo experience that lets you run through all the features without the distraction of real riding, IMS attendees can also take a real ride on select Giant, Liv — the only major bicycle brand focused on making cycling more welcoming to women — and Momentum E-bikes on a demo course laid out near the display area at the Sonoma event.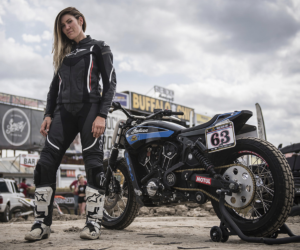 After the Northern California event at Sonoma, Giant's new rolling exhibit will make its way across the country to the Chicago, New York and Southern California IMS Outdoors shows later in the year. If you are planning on attending, please stop by and check out the E-bike action.
Editorial Note: IMS Outdoors shows continue with stops in greater Chicago August 20-22 (at Goebbert's Farm in Pingree Grove); in New York City September 3-5 (at Brooklyn Army Terminal, Brooklyn); in Carlisle, Pennsylvania September 10-12 (at Carlisle Fairgrounds); in Fort Worth, Texas October 1-3 (at Texas Motor Speedway); in greater Nashville, Tennessee October 8-10 (at James E. Ward Agricultural Center, Lebanon); in Lakeland, Florida October 15-17 (at Sun N' Fun Campus); in greater Atlanta October 29-31 (at Georgia International Horse Park, Conyers); and in Southern California on the tentative dates  of November 19-21 at a TBA location.
ABOUT GIANT
Founded in 1972, Giant has long been one of cycling's main catalysts for innovation and change. Giant introduced lighter, stronger aluminum frames when the industry standard was steel. In 1987, Giant was the first brand to make carbon fiber bikes widely available to the world. In fact, Giant builds bikes in a true farm-to-table approach. From raw carbon fiber threads that become premium composite bicycle frames and components, to alloy forged in our own foundry to build lightweight, strong aluminum bikes, Giant is the one and only bicycle brand to build bicycles from start to finish.
Giant Group USA currently has over 1,000 independent bicycle retailers across the U.S. who carry our three brands: Giant, Liv—the only major bicycle brand devoted to female cyclists—and Momentum, a fun, lifestyle, and urban mobility brand.
ABOUT OUR E-BIKES
Giant's first pedal-assist E-bike was built in 1999. This bike was revolutionary in its new approach to riding a bicycle—bringing together human power and the power of electronic technology with an exclusive power-assisted pedal system that gave riders an automatic extra boost for climbing hills or riding into a headwind. Giant's on-board torque sensor automatically adjusted to the rider's input and determined how much assistance was needed.
Over the last 20 years, Giant has refined and re-engineered this Hybrid Cycling Technology. Six sensors now read the rider's input. Multiple levels of assistance let riders decide how much, or how little, help they need. Giant's SyncDrive smooth and natural feeling motors are engineered through our partnership with Yamaha. The premium technology EnergyPak Lithium-ion batteries are designed and built through collaboration with Panasonic.
Combine these technologies with premium components, like SRAM and Shimano drivetrains, FOX suspension, and Maxxis tires, and you have the perfect machine for more fun, more action, and more miles—with less effort. Whether running to the local shop or doing multiple laps of your favorite trail, it is easier with a Giant, Liv or Momentum E-bike.
Learn more about the range of E-bikes from Giant, Liv and Momentum by visiting giant-bicycles.com, liv-cycling.com and momentum-biking.com.