Buffalo, NY: Dunlop has made two recent additions to its Sportmax® product line that benefit sport riders and sport touring riders alike.
The Sportmax line of performance tires covers a wide range of riders and uses. The sport lineup previously included the premium Sportmax Q4 track day tire, the Q3+ hypersport tire, and the value-friendly GPR-300. Now Dunlop has added the Roadsport 2, which fits in between the Q3+ and the GPR-300. The Roadsport 2 offers upgraded performance compared to the GPR-300 and is ideal for sport riders who want both performance and value.
In Dunlop's sport touring line, the all-new Sportmax Roadsmart II joins the premium Roadsmart III, giving riders who like to travel on twisting backroads and through unpredictable weather another choice. The Roadsmart II is designed to offer versatile sport touring performance at an affordable price and complements the Roadsmart III, a more premium option for riders who rack up the miles.
These two additions to the Sportmax family cover a wide range of motorcycles, and give riders more affordable options, while delivering all the quality and reliability of the Dunlop brand.
Sportmax Roadsport 2
• Sport tire ideal for riders who want performance and value
• Upgraded sport performance from the GPR-300, including:
More grip and more stability under braking
Enhanced wet and dry grip
• Nimble, predictable handling and quick turn in
• Quick warm up
• Available in popular sport bikes sizes to fit machines such as the Suzuki SV650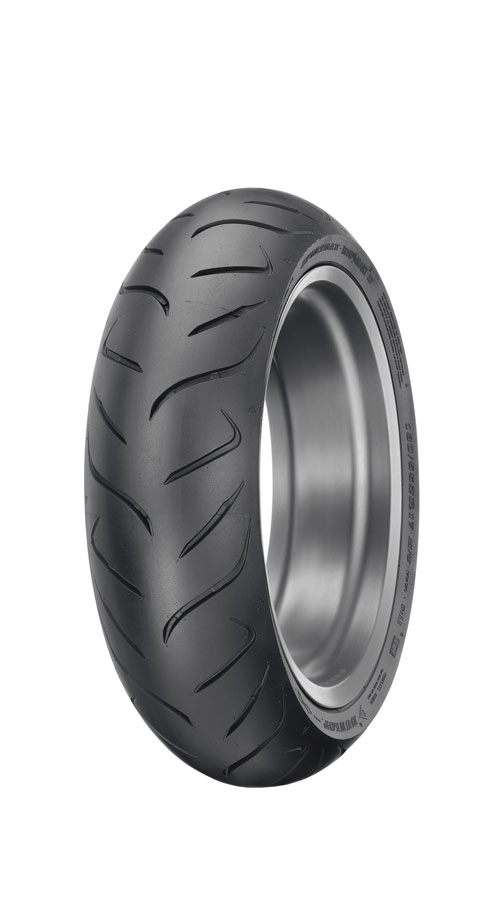 (Above) A Dunlop Sportmax Roadsmart II rear tire.
Sportmax Roadsmart II
• Designed to offer versatile sport-touring performance at an affordable price
• A re-emergence of the original Roadsmart II tread pattern with new compounds that balance performance and affordability
• Sportmax Roadsmart II is a more affordable alternative to the Roadsmart III
• Tread rubber compounds include silica to help deliver impressive performance in wet conditions and impressive mileage
• Tire profiles and construction provide nimble, responsive handling
• Available in sizes to fit a wide variety of sport-touring and naked bikes, as well as sport bikes
About Dunlop Motorcycle Tires
Dunlop is the largest supplier of original equipment and replacement motorcycle tires in the U.S.A. For more information, visit http://www.dunlopmotorcycletires.com/.