HE DID IT! WE DID IT! SAM SUNDERLAND AND GASGAS ARE DAKAR RALLY WINNERS!
HISTORY MADE WITH FIRST EVER DAKAR RALLY VICTORY FOR GASGAS FACTORY RACING
Sam Sunderland and GASGAS Factory Racing have won the 2022 Dakar Rally! Delivering exactly the kind of mature, considered performance we've come to expect of him over the last two weeks, in finishing eighth in today's final stage, Sam has claimed overall victory at the 44th Dakar Rally. And, at the end of 12 grueling days of racing across the Saudi Arabian desert, he's handed GASGAS our first ever victory at the world's most iconic rally raid event!
Sam Sunderland wins Dakar Rally 2022!
GASGAS Factory Racing claims first Dakar title!
Two stage wins for Daniel Sanders before injury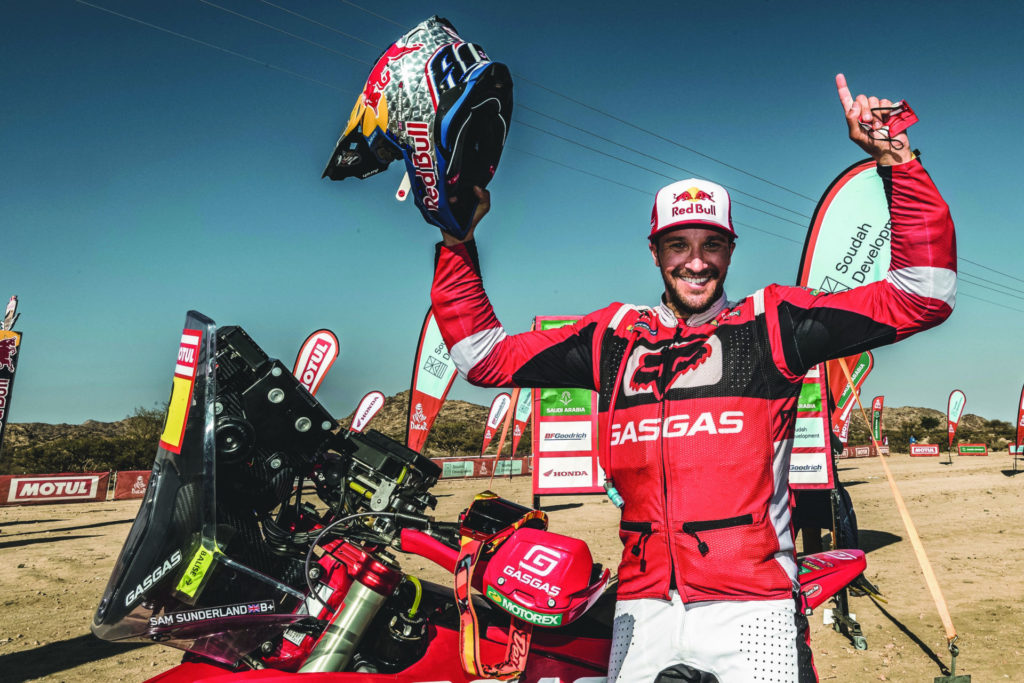 Sam Sunderland: "Wow. What a feeling! That 10-minute period waiting at the end of the final stage to see if I'd won felt like a lifetime. But this feeling, knowing I've won a second Dakar, will stay in my memory forever. This win feels better than the first as this victory was anything but easy. The times were so close this year and there was no time to let off the gas, it was a really close race, right to the end. All of the hard work, the sacrifices, and everything that the GASGAS team has done for me makes it all worthwhile. It's been five years since my first Dakar win, and it's been a long time to wait! I'm super happy to get another win and claim the first one for GASGAS. Everyone on the team has worked so hard to achieve this and it's a true team effort – together we got the job done. Amazing."
Leading the race from stage two through to the end of stage six, the Dakar began perfectly for Sam. Riding flawlessly throughout the two-week event, he delivered the goods on multiple occasions when the pressure was well and truly on. Competitive from the very beginning, GASGAS Factory Racing's Sam Sunderland is 2022 Dakar Rally champion!
Sam's second Dakar victory is not just an incredible personal achievement, it also marks the return of the title to the KTM AG Company. With 19 wins in the last 22 years, Sam's victory re-affirms the group's commitment and ongoing success at the world's toughest rally raid.
While it's all about Sam right now and his amazing achievement, it wouldn't be right to sign off from Dakar 2022 without giving Daniel Sanders the credit he deserves. Our second GASGAS Factory Racing star taking on this year's event, Chucky claimed two amazing stage wins, and on the final day of racing in week one, led Sam home for a GASGAS one-two. A crash on stage seven resulted in a fractured elbow and wrist, but the good news is that's he's had surgery and is now well on the way to making a full recovery. He'll be back at the Dakar in 2023 for another run at the title.
Congrats guys, enjoy the party!
Norbert Stadlbauer – Rally Team Manager: "Amazing, simply amazing! This Dakar was a really challenging race, right until the very end, so to win, it's an incredible achievement. Throughout the whole event Sam was smart, strong, and his speed was exceptional. I'm really happy for him and the whole of GASGAS Factory Racing. The entire team has worked so hard to be successful and it's a really special moment. There's no feeling like it. I'd like to thank all of the team's sponsors and partners, everyone in Austria, and now, after a two tough weeks, it's time to celebrate!"
Results (provisional): Dakar Rally 2022, stage 12
1. Pablo Quintanilla (Honda) 1:40:00
2. Toby Price (KTM) 1:40:18
3. Jose Ignacio Cornejo (Honda) 1:40:29
8. Sam Sunderland (GASGAS) 1:43:25
Overall Provisional Classification (after stage 12)
1. Sam Sunderland (GASGAS) 38:47:30
2. Pablo Quintanilla (Honda) 38:50:57
3. Matthias Walkner (KTM) 38:54:17
More, from a press release issued by KTM Factory Racing:
MATTHIAS WALKNER AND KTM FINISH THIRD AT 2022 DAKAR RALLY
Dakar Rally 2022 – Stage 12
Red Bull KTM Factory Racing's Matthias Walkner has claimed an impressive third-place finish at the incredibly tough 2022 Dakar Rally. Delivering strong, consistent results throughout the entire two-week event, the Austrian star fought hard right to the very end to ultimately finish less than seven minutes behind the race winner after close to 40 hours of racing. Toby Price secured a top-10 overall result with a solid second place finish on the event's 12th and final stage.
Lying third going in the final day of racing, Matthias Walkner put in a superb performance on today's stage to finish seventh fastest and secure his overall podium result. After covering more than 8,000 kilometers, the top three motorcycle class finishers were separated by just under seven minutes, such was the closeness of competition at this year's event. Walkner's third-place finish is the Austrian's fourth Dakar podium, as he adds the hard-fought result to his 2021 FIM Cross-Country Rallies World Championship title, in what has been an incredible 12 months of racing for the experienced 35-year-old.
Matthias Walkner: "I feel super happy and also lucky to be here healthy at the finish line. It feels great to be back on the podium too after a couple of difficult Dakars the past two years. It's been a super long and hard Dakar as always, but this year has been special because of the level of navigation needed every day. We saw right from the first day that you can win or lose so much time on each stage. Because of that I really tried to focus on my roadbook, and concentrate on my navigation for the whole race. The first week went really well for me, and then into the second week, everyone was pushing really hard, so you had to give your best every day as the times were so close. The new bike has been brilliant, and the team have put so much effort into making sure we had the performance needed to finish on the podium, so thank you to them. Now it's time to celebrate!"
Following a tough start to this year's event when a navigation issue on stage one cost him a considerable amount of time, Toby Price delivered day after day of solid results to fight his way back into the top-10 overall. Placing as second quickest on the final day of racing, together with his stage win on day 10, shows that the two-time Dakar Champion has lost none of his speed or motivation. Happy to safely complete the 2022 event without injury, Price now looks ahead to the remainder of this year's FIM World Rally-Raid Championship.
Toby Price: "I'm always happy to reach the finish here at the Dakar, it's been a really tough race this year. Losing time on that first day put me on the back foot a little for the rest of the stages, and the way things are now, any mistakes can lose you a lot of time on the others because things are so close. The terrain here in Saudi makes for a really fast race too, a lot of the stages are sprints to the finish, but the atmosphere is good and it's a good place to be. I'm excited for 2023 already!"
Kevin Benavides showed impressive speed throughout the whole 2022 Dakar Rally – his first riding for the Red Bull KTM Factory Racing team. Also losing time on the first day in Saudi, the 2021 Dakar Champion put in day after day of fast, consistent performances to fight his way back up the order to lie fifth overall at the close of stage nine. Unfortunately, after suffering a technical issue on stage 10, the Argentinian was forced to withdraw. Returning to complete the final two stages of the race, Benavides was immediately back up to speed, claiming a stage win on day 11. Happy to reach the finish line safely and taking the many positives from his performance, Kevin is already fully motivated for next year's event.
Kevin Benavides: "I have enjoyed this final day at the Dakar – I opened the stage, which was great, and it feels good to finally get to the finish. Obviously, it's frustrating to have had the problem on stage 10, up until that point my race had gone really well, and I believe I had the pace to challenge for the podium. These last two days have shown that, too. There are many positives I can take from this year's race and I'm really happy with how I rode and navigated through the stages. Part of the Dakar is all about learning and improving and so I'll take that away from this year and try to come back even stronger in 2023."
Making not only his Dakar debut, but also his first ever competitive rally-raid appearance at the 2022 Dakar, Danilo Petrucci raised a few eyebrows around the paddock with his consistent display of speed and skill on his Tech3 KTM 450 RALLY. Claiming a stage win at the Dakar is a huge accomplishment, to do it at your first attempt is a spectacular achievement! Attaining his goal of completing the race, Danilo was overjoyed with how his race had gone and what he had accomplished.
Danilo Petrucci: "I am so happy to finally reach the finish line and to complete the goal I set out to do. It's been a tough time both leading up to the event and the race itself, but to complete my first ever Dakar feels amazing. I'm really happy with my performance but over the last couple of days I have had some crashes and feel quite sore at the moment. Thanks to all the team for their hard work, it has been an amazing experience and one of the hardest things I have ever done."
Completing his 2022 Dakar campaign with an excellent fifth-place result on stage 12, KTM-supported privateer Mason Klein not only finished as top rookie, but also claimed an outstanding ninth overall. The 20-year-old American has shown incredible navigation and roadbook skills over the course of this year's event, as well as the speed to back it up.
Norbert Stadlbauer – Rally Team Manager: "I'm really proud of the whole team. The Dakar is simply the toughest, hardest race in the world. For all of our riders to get to the finish is a huge achievement. Big congratulations to Matthias who did an amazing job to put his KTM on the podium in third position. It's another really good result for him and even more impressive considering the level of this year's event. Thank you also to Toby, Kevin, and of course Danilo, who all performed very well over the whole race. It's been an amazing Dakar, so thank you to all who helped to make it happen."
Provisional Results Stage 12 (overall) – 2022 Dakar Rally
1. Pablo Quintanilla (CHI), Honda, 1:40:00
2. Toby Price (AUS), KTM, 1:40:18 +0:18
3. Jose Ignacio Cornejo (CHI), Honda, 1:40:29 +0:29
4. Joan Barreda (ESP), Honda, 1:41:13 +1:13
5. Mason Klein (USA), KTM, 1:41:23 +1:23
Other KTM
7. Matthias Walkner (AUT), KTM, 1:42:57 +2:57
11. Kevin Benavides (ARG), KTM, 1:45:08 +5:08
31. Danilo Petrucci (ITA), KTM, 1:55:35 +15:35
Provisional Standings – 2022 Dakar Rally after 12 of 12 stages
1. Sam Sunderland (GBR), GASGAS, 38:47:30
2. Pablo Quintanilla (CHI), Honda, 38:50:57 +3:27
3. Matthias Walkner (AUT), KTM, 38:54:17 +6:47
4. Adrien Van Beveren (FRA), Yamaha, 39:06:11 +18:41
5. Joan Barreda (ESP), Honda, 39:13:12 +25:42
Other KTM
9. Mason Klein (USA), KTM, 39:36:37 +49:07
10. Toby Price (AUS), KTM, 39:36:50 +49:20
More, from a press release issued by Husqvarna Factory Racing:
LUCIANO BENAVIDES SUCCESSFULLY COMPLETES 2022 DAKAR RALLY
HUSQVARNA FACTORY RACING RIDER DELIVERS IMPRESSIVE PERFORMANCE THROUGHOUT TOUGH TWO-WEEK EVENT TO PLACE 13TH OVERALL
Husqvarna Factory Racing's Luciano Benavides has successfully completed the 2022 Dakar Rally with a strong performance on the 12th and final stage of the event, claiming sixth fastest on the short timed special. The result places the young Argentinian 13th in the overall rally standings.
Although the final stage of this year's Dakar Rally was a long one, totalling 680 kilometres from Bisha to the finish in Jeddah, the special used to decide the final event placings was a relative sprint to the finish, totalling just 164 kilometres. As the 26th rider to enter the timed section, Benavides immediately got his head down and pushed hard right from the start.
With the special primarily made up of fast, sandy tracks, and navigation proving less of a challenge, times were extremely close at the sharp end of the timesheets. Coming in just less than three minutes behind the eventual stage winner, Luciano secured a strong result for the final stage and with it ended his 2022 Dakar on a high.
The impressive performance continued a strong run of form for Benavides who has gone from strength to strength in the second week of racing. Following a tricky start where he, like many of his rivals, lost time on the event's opening stage, Luciano has delivered six top-10 stage results to fight his way back up the leaderboard. Completing the rally in 13th overall, the former FIM Cross-Country Rallies Junior World Champion is happy to finish a third Dakar Rally and now looks ahead to attacking the rest of the world championship.
Skyler Howes had also been showing incredible form at this year's race when a crash on stage five forced him to withdraw from the event. After undergoing medical checks at the local hospital, the American was discharged and has since returned home where he will get some much-needed rest and recovery time before returning to competition later in the year.
Luciano Benavides: "I'm really happy to complete this year's Dakar, it's been a really tough event both mentally and physically. It was hard to lose time on the first stage, but since then I have been giving my all to work my way back up the standings. The bike has been great and with a few changes as the race has gone on, I've found a setting I feel comfortable with and because of that the results have been improving throughout the rally. Getting to the finish of such a long and intense event feels amazing. It would have been good to get inside the top 10 by the finish, but I'm still happy with my performance. The result and the finish have really improved my confidence and now I'm looking forward to the rest of the year and seeing what we can do in the world championship, before preparing for Dakar 2023."
2022 Dakar Rally – Stage 12 Provisional Classification
1. Pablo Quintanilla (Honda) 1:40:00
2. Toby Price (KTM) 1:40:18
3. Jose Ignacio Cornejo (Honda) 1:40:29
4. Joan Barreda (Honda) 1:41:13
5. Mason Klein (KTM) 1:41:23
6. Luciano Benavides (Husqvarna) 1:42:38
2022 Dakar Rally – Overall Provisional Classification (after stage 12)
1. Sam Sunderland (GASGAS) 38:47:30
2. Pablo Quintanilla (Honda) 38:50:57
3. Matthias Walkner (KTM) 38:54:17
4. Adrien Van Beveren (Yamaha) 39:06:11
5. Joan Barreda (Honda) 39:13:12
6. Jose Ignacio Cornejo (Honda) 39:25:36
…
13. Luciano Benavides (Husqvarna) 34:16:17
More, from a press release issued by Monster Energy Honda Team:
Pablo Quintanilla takes runner-up spot in the Dakar Rally 2022
Monster Energy Honda Team rider Pablo Quintanilla won the final 2022 Dakar Rally stage to grab second overall place in the race just three-and-a-half minutes shy of the winner. All four team riders managed to finish one of the toughest ever editions of the rally, with the Honda CRF450 RALLY once again making it through the entire Dakar without a single mechanical issue.
Monster Energy Honda Team's Chilean rider Pablo Quintanilla wrapped up the 45th edition of the Dakar Rally today in Jeddah, Saudi Arabia, in a well-deserved second place. Quintanilla, who started this morning in second place in the general standings, 6'52" behind Sam Sunderland, attempted to close the gap over the 150 kilometres of timed special involving some tricky, fast-paced navigation. Pablo earned the final stage victory, finishing 3'27" short of clinching the outright Dakar 2022 title.
Pablo Quintanilla joined Monster Energy Honda Team last May, finishing on the Andalucía Rally podium in his first outing. Later, in October, he would clinch top honours in the Rallye du Maroc. Today's runner-up position marks a third finish on the Dakar podium for Quintanilla.
Monster Energy Honda Team team-mates Joan Barreda, Ricky Brabec and José Ignacio 'Nacho' Cornejo, riding their respective Honda CRF450 RALLY bikes, also finished the race among the leaders. Spain's Barreda, fourth on the final stage, finished fifth overall, equalling the result achieved in 2017. Brabec took seventh spot overall in this edition of the Dakar, while 'Nacho' Cornejo, third on the stage today, consolidated his sixth place in the final rally classification.
All four of the team riders placed among the top seven finishers. Furthermore, a total of five stage victories (Barreda 2, Cornejo 2, Quintanilla 1) in this edition takes Honda's overall tally of partial wins at the Dakar to 97.
The next race for the Monster Energy Honda Team is scheduled from 5-10 March for the Abu Dhabi Desert Challenge.
Ricky Brabec  2
STAGE: 21TH  OVERALL: 7TH
The last day we tried to push. There was navigation and a lot of rocks. He hoped to make up time and see if someone else stumbled. We didn't give up until the end. I'm happy and healthy and ready to go home. There was not much else we could do. We tried to come back from an hour down. The first stage killed us. After the first week it was definitely hard to pick up the pieces. We'll be back next year to try and win this thing. Anything else other than winning is unacceptable. We're going to come back next year and hopefully try to win.
Pablo Quintanilla  7
STAGE: 1ST  OVERALL: 2ND
I am very happy with the result and my performance throughout the whole race, especially during the second week, which I managed well, making up time with a steady performance. I am very pleased and I wish to thank the whole Monster Energy Honda Team for their incredible work over these weeks. It was a really tough race, with a lot of tension, but I'm happy. Today there was second place at stake and there was even a chance of winning the race. It didn't turn out that way, but I'm still happy with the second place finish. Now it's time to enjoy this moment.
José Ignacio Cornejo  11
STAGE: 3RD  OVERALL: 6TH
We finished the Dakar with a good stage; I am very happy with this final stage, without any mistakes and marking some good pace. I am satisfied to have finished the Dakar like this, but not in the overall balance, because, although I recovered several positions this last week, the mistake early in the race conditioned the end. I think I should have been further ahead. This year it was our turn to suffer, but we will be back again. The team in general was very solid and I want to congratulate all my team-mates for the great work done these days.
Joan Barreda  88
STAGE: 4TH  OVERALL: 5TH
The result of this Dakar is a fifth place with a broken collarbone from a week ago and after losing 40 minutes at a waypoint on the first day. I've kept the mentality and the ambition that I've had all year, in spite of the adversities. Not giving up and going all the way to the finish. In racing sometimes things go well and other times not so well. But the important thing for me has been to be able to show all the hard work that's been done. We've been working for seven months for the Dakar, now it's time to rest a bit and then we'll think about the new goals, knowing that the ambition and motivation has to be 100%. In this Dakar, every day that I've been on the bike I've had unique sensations.
Ruben Faria
General Manager
First of all I wish to congratulate the entire team for the work done in this Dakar which was such a tough race. We managed to win the last two editions and in this 2022 we finished runner-up, but we fought until the very end for the win. In the end it was very satisfying as we placed all four riders in the top seven. The first week we started with a disadvantage, starting with the prologue. The best rider in that first special was Pablo Quintanilla, who was also the top rider in our team, finishing in second overall place. For me, the prologue conditioned the first day which had a very difficult waypoint and where the riders lost a lot of time. The result of that prologue meant that we didn't get off to the right start on those early Dakar stages. The first week was difficult for us, but we were always fighting and working to improve step by step. We would have liked to have retained the title, but this second place was really hard and has a great value for the team. There is some tough competition between the marques and the riders from different teams. We have to work harder and improve in all aspects. We finish with our heads held high, everyone has given the maximum in their respective duties. This Dakar was really tough, with long, hard special stages and with everything that a Dakar should have. Lastly, but no less importantly, I also wish to congratulate the team that was finally able to come from Japan despite Covid. They were with us and worked very hard too. I especially want to thank Taichi Honda for always being at our side.
More, from a press release issued by Yamaha:
Monster Energy Yamaha Rally Team Enjoys Positive Results At 2022 Dakar Rally
The 2022 Dakar Rally has reached its conclusion with Monster Energy Yamaha Rally Team's Adrien Van Beveren and Andrew Short successfully completing the world's toughest rally raid well inside the overall top 10. For Adrien Van Beveren, his encouraging form throughout the race saw him impressively lead the event on two separate occasions. Taking the race for overall victory down to the very last stage, the Frenchman eventually missed out on a top-three finish by the narrowest of margins. Andrew Short also enjoyed a largely positive time at the Dakar with the American claiming eight top-10 stage results on his way to finishing a highly commendable eighth overall.
Besides Ross Branch being ruled out of the event due to injury following a fall on stage seven, the 2022 Dakar Rally has been an incredibly successful one for the entire Monster Energy Yamaha Rally Team. In addition to the riders' Yamaha WR450F Rally machines running flawlessly throughout the entire event, Adrien Van Beveren narrowly missed out on the overall podium with Andrew Short demonstrating just what he's capable of during the race.
Equalling his best overall finish at the Dakar, Adrien Van Beveren has placed an impressive fourth overall at the 2022 edition of the iconic event. Leading the race on two separate occasions this year and placing no lower than fourth overall throughout the entire rally, the Frenchman was undoubtedly in fine form throughout the competition. Delivering pin-point accuracy with his navigation day-after-day, Adrien delivered one of the stand-out performances in the motorcycle category.
If not for a frustrating navigational error on stage one, which affected him as well as many of his rivals, Andrew Short may well have joined Adrien in the top five overall. After losing considerable time early on, the 39-year-old was faultless through the remaining stages at the Dakar as he worked his way up the leaderboard. At the end of 12 stages and almost 40 hours of racing, Andrew secured eighth overall, narrowly missing out on placing seventh by just five seconds.
Securing further positive results at the Dakar Rally for Yamaha, Camelia Liparoti, driving her YXZ1000R Prototype, posted strong stage results throughout the event to claim sixth overall in the Light Prototype class.
Adrien Van Beveren – Monster Energy Yamaha Rally Team
15th Stage 12
The race is over and I have mixed feelings about it, but on the whole it has been a really positive race for myself and the team. I'm really happy to have finished the race, the first time since 2017, so I'm really pleased about that. But on the other hand, it looked certain that I would podium or maybe even take the win. But with the issue yesterday, that's just part of rally racing and it wasn't meant to be. I'm really happy for the team. Everyone has worked super hard and my bike was amazing. I have no regrets about anything and I gave it everything that I had. To be fighting for the win at the Dakar, it was an amazing experience and now I'm looking forward to the future.
Andrew Short – Monster Energy Yamaha Rally Team
13th Stage 12
I'm so happy to have reached the finish line. The Dakar is such a crazy race that finishing is a great achievement in itself. The final stage was pretty cool, a bit tight a twisty with some nice terrain. Before the rally I hoped to finish higher and it wasn't through lack of effort – it was solely down to the issue I had on stage one. I did the best I could after that but that's just how rally is sometimes. The team have been amazing. They built a great bike for me, which didn't miss a beat all race and I'm happy that we had two guys in the top 10.
Dakar Rally 2022
Stage 12 Provisional Classification
1. Pablo Quintanilla (Honda) 1:40:00
2. Toby Price (KTM) 1:40:18 + 0:00:18
3. Jose Ignacio Cornejo (Honda) 1:40:29 + 0:00:29
4. Joan Barreda (Honda) 1:41:13 + 0:01:13
5. Mason Klein (KTM) 1:41:23 + 0:01:23
6. Luciano Benavides (Husqvarna) 1:42:38 + 0:02:38
…
13. Andrew Short (Yamaha) 1:45:53 + 0:05:53
15. Adrien Van Beveren (Yamaha) 1:46:36 + 0:06:036
Dakar Rally 2022
Overall Provisional Classification (after stage 12)
1. Sam Sunderland (GASGAS) 38:47:30
2. Pablo Quintanilla (Honda) 38:50:57 + 0:03:27
3. Matthias Walkner (KTM) 38:54:17 + 0:06:47
4. Adrien Van Beveren (Yamaha) 39:06:11 + 0:18:41
5. Joan Barreda (Honda) 39:13:12 + 0:25:42
6. Jose Ignacio Cornejo (Honda) 39:25:36 + 0:38:06
…
8. Andrew Short (Yamaha) 39:33:38 + 0:46:08