Editorial Note: Danilo Petrucci, riding his Tech3 KTM Factory Racing Rally 450, finished 23rd out of 144 riders in Stage 1A of the Dakar Rally January 1 in Saudi Arabia.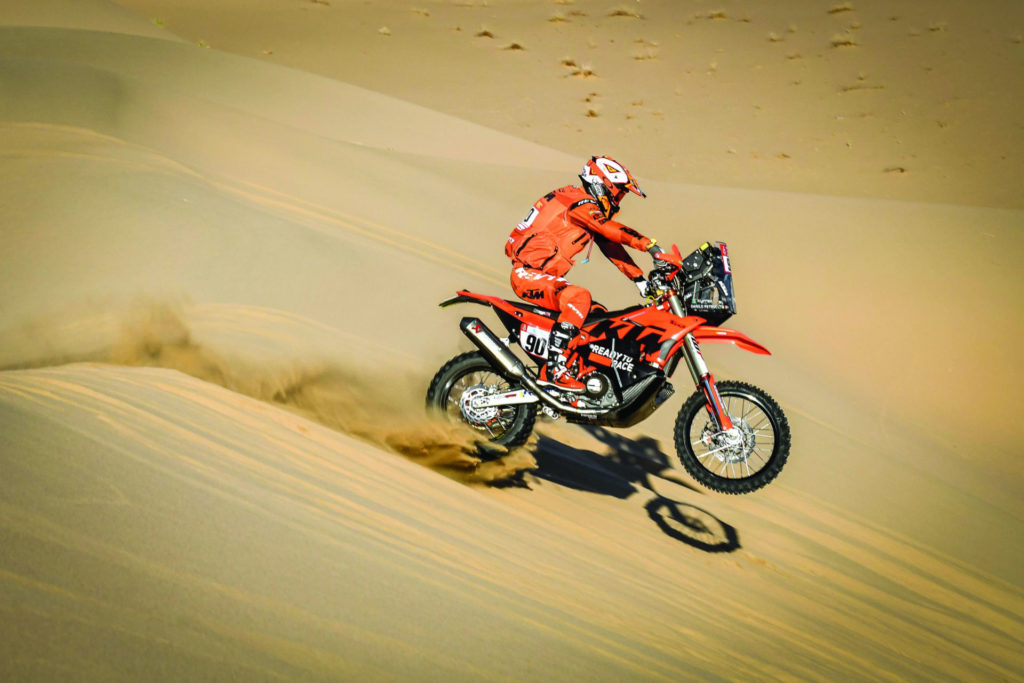 Fine prologue for Monster Energy Honda Team. Quintanilla second in the overall standings
Pablo Quintanilla posted second place in the prologue stage that kicked off the 2022 Dakar Rally, today. Barreda, ninth, Brabec, twelfth, and Cornejo, twenty-first, all completed the initial kilometres of the race without any setbacks.
The 2022 Dakar Rally is underway after the opening leg of a special stage which is set to finish tomorrow. Today saw a brief 19-kilometre prologue, for the most part over sand, but also featuring a small amount of dunes. Monster Energy Honda Team riders passed the first test with flying colours. With the curtain raiser out of the way, riders headed off to complete a lengthy liaison section which led them to the first Dakar bivouac in Ha'il.
Pablo Quintanilla came out guns blazing over the opening kilometres of the rally. The Chilean crossed the finish-line twelve seconds adrift of the day's winner, Daniel Sanders. The prologue's conversion factor, a coefficient of five, put him one minute behind the Australian, with the Monster Energy Honda Team rider now lying in second place in the rally's overall standings.
Joan Barreda was the second rider in the RallyGP group to take the start. With a lot of dust in the air over the opening stretches and without any major references ahead, the Spaniard posted tenth on the day, three minutes behind the leader. American Ricky Brabec opted not to push too hard on the first day and took twelfth place, however, without dropping any significant time to his rivals. In his usual fashion, José Ignacio Cornejo produced a fairly reserved prologue. The Chilean from Iquique, who is 25th, is likely to pick up the pace as the race progresses.
Tomorrow's stage
This evening, at the drivers' briefing, the top finishers will be able to choose the starting order for tomorrow's stage 1B, a looping stage in Ha'il, including 333 kilometres of special stage. It will be run over sandy tracks, reaching an altitude of 1,300 metres, with a fair degree of navigational complexity. However, not all of the route will be against the clock: a total of 181 kilometres of liaison section will complete the day's 514-kilometre total. The departure from the Ha'il bivouac will be at 05:45 and the first riders are expected to arrive back at the bivouac from 12:45 (local time) onwards.
Finally, tomorrow's starting order for the first fifteen riders has been reversed from today's classification. Pablo Quintanilla will start in fourteenth position, whilst Brabec will start from fourth and Barreda from sixth. Cornejo will start in the same position he finished today.
Ricky Brabec  2
STAGE: 12TH  OVERALL: 12TH
I think the Dakar really starts tomorrow. It was just a prologue and a big transfer day. Today was just really for starting positions. I didn't do the best, so it looks like I'm going to be starting from the front, more or less, tomorrow. There is still the whole Dakar to race; we have twelve days more of racing. So today was a kind of transfer day just to get to Ha'il. The team is here. We are looking healthy, so let's keep moving forwards, keep the spirits high and let's keep the finish in sight.
Pablo Quintanilla  7
STAGE: 2ND  OVERALL: 2ND
I'm very happy with the way we have started the year. It was a short prologue, but it was intense, fast, with dunes and some rocks, but it helped me to get my nerves sorted out and start to get into the swing of things little by little. My goal was to finish in the top four and I finished second, so I did it and I'll be able to choose a good starting position for tomorrow, which is an important stage with over 300 kilometres of special. It will be complicated. It will be important to start from the rear. We hope to have a good first week of rallying.
José Ignacio Cornejo  11
STAGE: 21ST  OVERALL: 21ST
We have finished the prologue of this Dakar 2022 and we have started to prepare for tomorrow's stage one. The prologue was entertaining, with an area of sand, dunes and rocks. I felt good, even though the prologue stages are not my strong point, but I rode with tomorrow's stage in mind. I know that I lost time today, but I know that I can make up for it. I'm motivated and confident to start the more "normal" stages of this rally.
Joan Barreda  88
STAGE: 10TH  OVERALL: 10TH
It was a short stage, with many types of terrain. I started with a very fast pace, until I got into Svitko's dust and it was a bit complicated. Maybe I was a bit stiff or cold, so it was hard to get back into the rhythm of the special. It was a fairly 'normal' stage, not too good, not too bad. We hope that tomorrow we can get to the front of the group and start to manage the navigation well.
Results Prologue (Stage 1A)
Pos. Rider Num Nation Team Time/Gap
1 SANDERS Daniel 4 AUS Gas Gas Factory Team 00:55'30
2 QUINTANILLA Pablo 7 CHI Monster Energy Honda Team +00:01'00
3 EVAN BRANCH Ross 16 BWA Monster Energy Yamaha Rally Team +00:01'55
4 BENAVIDES Kevin 1 ARG Red Bull KTM Rally Factory Team +00:02'00
5 WALKNER Matthias 52 AUT Red Bull KTM Rally Factory Team +00:02'35
6 VAN BEVEREN Adrien 42 FRA Monster Energy Yamaha Rally Team +00:02'40
7 SUNDERLAND Sam 3 GBR Gas Gas Factory Team +00:02'55
8 PRICE Toby 18 AUS Red Bull KTM Rally Factory Team +00:02'55
9 SHORT Andrew 29 USA Monster Energy Yamaha Rally Team +00:03'00
10 BARREDA Joan 88 SPA Monster Energy Honda Team +00:03'00
11 RODRIGUES Joaquim 27 POR Hero Motorsports Team Rally +00:03'05
12 BRABEC Ricky 2 USA Monster Energy Honda Team +00:03'55
13 BENAVIDES Luciano 77 ARG Rockstar Energy Husqvarna Factory Racing +00:04'05
14 MICHEK Martin 10 CZE Orion Moto Racing Group +00:04'15
15 COX Bradley 49 RSA BAS DAKAR KTM RACING TEAM +00:05'30
21 CORNEJO José Ignacio 11 CHI Monster Energy Honda Team +00:08'45
Rider Standings
PROVISIONAL STANDINGS AFTER PROLOGUE (STAGE 1A)
Pos. Rider Num Nation Team Time/Gap
1 SANDERS Daniel 4 AUS Gas Gas Factory Team 00:55'30
2 QUINTANILLA Pablo 7 CHI Monster Energy Honda Team +00:01'00
3 EVAN BRANCH Ross 16 BWA Monster Energy Yamaha Rally Team +00:01'55
4 BENAVIDES Kevin 1 ARG Red Bull KTM Rally Factory Team +00:02'00
5 WALKNER Matthias 52 AUT Red Bull KTM Rally Factory Team +00:02'35
6 VAN BEVEREN Adrien 42 FRA Monster Energy Yamaha Rally Team +00:02'40
7 SUNDERLAND Sam 3 GBR Gas Gas Factory Team +00:02'55
8 PRICE Toby 18 AUS Red Bull KTM Rally Factory Team +00:02'55
9 SHORT Andrew 29 USA Monster Energy Yamaha Rally Team +00:03'00
10 BARREDA Joan 88 SPA Monster Energy Honda Team +00:03'00
12 BRABEC Ricky 2 USA Monster Energy Honda Team +00:03'55
21 CORNEJO José Ignacio 11 CHI Monster Energy Honda Team +00:08'45