Double Win for Young at Grand Bend
Ben Young had a stellar weekend at Grand Bend Motorplex for the opening round of the Canadian Superbike Championship. Young won both races aboard his Van Dolder's Home Team BMW, setting him up well in the points standing for the 2022 season.
Friday's qualifying session saw Young put in a solid lap time of 1:03.021 – beating his own previously held lap record at the track. Ultimately, the time would see him placed second on the grid for the weekends races, though with a consistent pace and a strong hunger to win.
Excitement was high for the first race of the weekend on Saturday. Young got a great start off the line aboard his BMW S 1000 RR, taking the hole shot into the first corner. The first half of the 20-lap race saw the top 4 racers close, though none could make an attempt for the lead. Young reaped the rewards of his consistency and strong pace, building a solid lead as the race progressed and he ended up crossing the line with a 5 second lead.
With full intention of a repeat result, Young headed into race two with calm confidence. His Van Dolder's Home Team BMW felt great and the sun was shining. Young wouldn't get the start he was hoping for, but slotted into second and chased the lead for the first 5 laps. On the sixth lap, Young made the pass into first at turn one and never looked back. Again, he built a strong lead quickly, and took a comfortable 1st place with 6.5 second lead.
This successful weekend not only gives Young a strong 18-point lead in the Canadian Superbike Championship, but Sunday's win also gives BMW their 50th win in the Superbike class. Young is also now tied for 10th all-time Superbike wins in the Canadian Championship.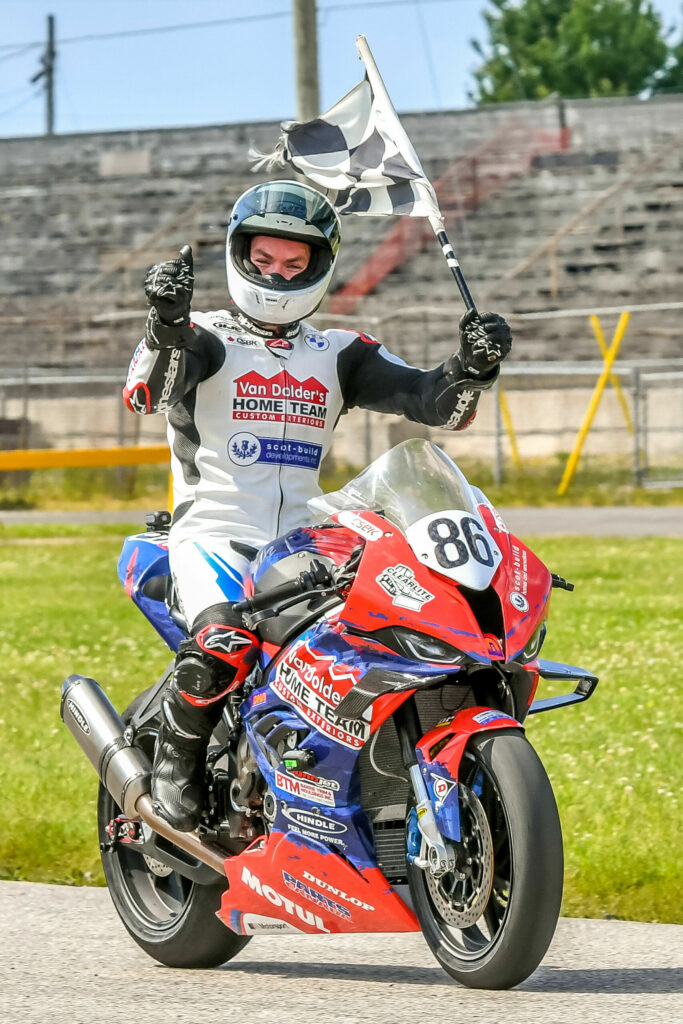 Of the weekend, Young says "It was great to open the 2022 season. Riding our backup bike was far from ideal, but we made the best of it and it did us well. We are looking forward to getting the M 1000 RR ready to roll for round two in just under a months time."
The next CSBK round will be held July 8th-10th at Calabogie Motorsports Park, where Young will look to continue his campaign for the 2022 title.
Young's partners for his 2022 CSBK Championship season include; BMW Motorrad Canada, Van Dolders Home Team, Scot-Build Developments Inc, Parts Canada, HJC Helmets, Alpinestars, Hindle Exhaust, Barrie Trim and Mouldings, Clearlite, Primitive Patterns, Alpha Racing and Vass Performance Cycle.
To keep up-to-date on Ben Young throughout the year visit; www.BenYoungRacing.com, www.facebook.com/BenYoungRacing and on Twitter and Instagram: @benyoung_86.