Dumas takes maiden Superbike win in Race One, Tremblay dominates Pro Sport Bike at Calabogie
Toronto, ON – The opening race of the 2021 Canadian Superbike Championship churned out a surprising result on Sunday, as rookie Alex Dumas scored his first career Pro Superbike victory in his debut race at Calabogie Motorsports Park.
The 18-year-old quickly made up for a poor qualifying as he got a terrific jump from the second row, placing his Liqui Moly Suzuki GSX-R1000 squarely behind reigning champion Jordan Szoke and his Canada General Warranty Kawasaki ZX-10R Ninja on lap one. Szoke managed to hold off Dumas for much of the opening laps, before the rookie made the decisive move in turn five on lap three.
His once-insurmountable gap began to come under fire in the dying moments, however, as pole-sitter Ben Young overcame a brutal start to charge his way through the field and past Szoke, with the 2019 champion lapping quicker than Dumas for much of the second half before running out of time on his Van Dolder's Home Team BMW S1000RR.
Dumas becomes the first rider in CSBK history to ever win their Pro Superbike debut, a feat no one has accomplished in the first 42-year history of the series, in what was also his first ever CSBK race.
It was a disappointing result for Young, but one he would have been happy to take after his disaster start off the grid, as he dropped back as low as sixth on the opening lap and at the back of the lead group.
Szoke, meanwhile, was forced to settle for third and the final podium spot to begin his title defence, as his strong start was undone by heavy pressure from Dumas and Young throughout the race. The third-place finish was amazingly Szoke's worst career race at CMP, snapping a five-race unbeaten streak at the circuit.
Another few laps may have seen Szoke come under pressure from another Suzuki rider in Trevor Daley, who found front-running pace in the second half to charge through the lead pack on his OneSpeed machine.
Completing the top-five in race one was Tomas Casas, who was unable to build any momentum off his career-best qualifying performance of second on Saturday. Casas managed to hang with Szoke and Dumas in the early stages, but ultimately faded aboard his Parts Canada Yamaha to settle for fifth.
The race one results also give Suzuki an early advantage in the new Constructors Championship, as Dumas and Daley provided some early momentum entering race two on Sunday afternoon.
Sebastian Tremblay also took home some early hardware in the Liqui Moly Pro Sport Bike category, overcoming a surprising lap one deficit to teammate Christian Allard to win the opening race of the season.
The Turcotte Performance Kawasaki rider initially grabbed the holeshot before the race was red flagged on lap one, and the advantage on the restart went to Allard as he paced Tremblay through most of the opening lap. An early pass for the lead was ultimately the decisive one, however, as Tremblay cruised to a two-second victory and demonstrated why he is the overwhelming favourite for the 2021 title.
Allard's early push was perhaps his undoing, as he faded towards the end to allow Phillippe Masse into second as the duo completed an all-Quebec and all-Kawasaki podium in the middleweight class.
Masse was emotional on the podium, as he captured his best career Pro finish after dealing with mechanical problems earlier in the week and making sporadic appearances over the last few seasons.
Notably finishing fourth in the Sport Bike category was rookie Jake Leclair, who settled in nicely behind the lead group in his Pro debut aboard his bLU cRU Yamaha machine.
Full results from race one on Sunday, and the schedule for the rest of the afternoon's racing, can be found on the series' official website at www.csbk.ca.
More, from another press release issued by CSBK/Professional Motorsports Productions (PMP):
Dumas wins thrilling battle in Race Two to sweep CSBK opener at Calabogie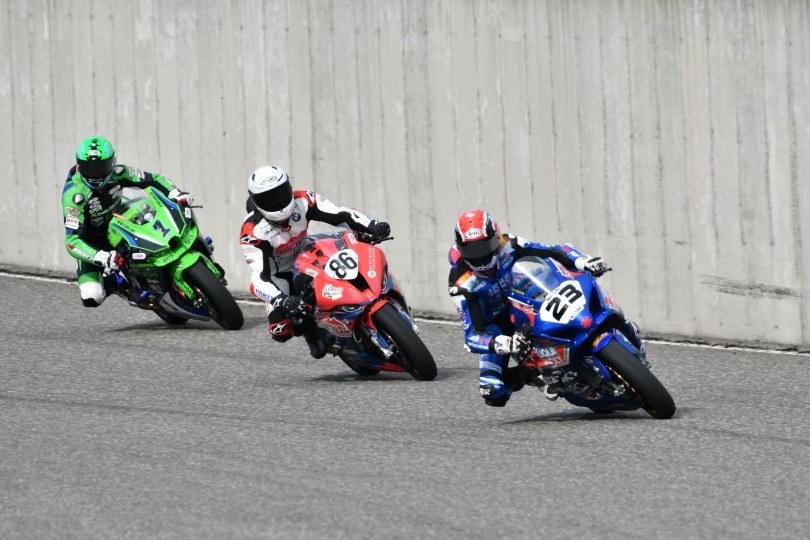 Toronto, ON – Teenage sensation Alex Dumas continued his winning ways at Calabogie Motorsports Park on Sunday, winning race two of the Pro Superbike doubleheader to sweep round one of the Canadian Superbike Championship.
Though the top-five finishers are identical to race one earlier in the day, the results were under much different circumstances in race two, as Dumas found himself trailing pole-sitter Ben Young for most of the early portion amidst a seven-rider battle.
However, the 18-year-old managed to find a little extra pace by the midway point, moving his Liqui Moly Suzuki GSX-R1000 into the lead and relegating Young to second once again. Young was able to maintain the gap aboard his Van Dolder's Home Team BMW S1000RR, and even seemed poised for a last-lap maneuver, but it wasn't in the cards as Dumas ended his historic debut weekend with another victory.
"The crash in qualifying was a bit of a setback, but we had two strong starts and now two wins, which is pretty amazing," Dumas said. "Ben pushed me really hard in that second race, but everything worked perfectly. I really love racing Superbikes."
Young will now leave Calabogie trailing Dumas by 17 points in the championship battle, and although he will head to round two expecting better results, the 2019 champion easily squashed any idea that he would be rusty in his return after a season off.
"There was a bit of a question mark, with a new bike and not having raced in nearly two years, but the BMW was amazing, and I didn't really feel like I lost anything," Young said. "I almost had Alex on the last lap, but it's so hard to pass here. I look forward to watching that second race on TSN, because it was a lot of fun.
Reigning champion Jordan Szoke was in the mix for the entire race as well, consistently lapping close to Dumas and Young aboard his Canada General Warranty Kawasaki ZX-10R Ninja, but he was unable to capitalize on the two riders ahead of him as he will exit round two with a 29-point deficit.
"I was struggling with grip out there which was really hurting our drive, but I thought our corner speed was really strong. The new Kawasaki's were phenomenal, so I think we'll get better as the season goes on," Szoke said. "Alex has been riding really well in the U.S., and obviously those are some of the best guys in the world, but we aren't slow up here either."
Continuing the trend of copycat results in fourth was Trevor Daley, who salvaged another solid performance on his OneSpeed Suzuki machine and helped extend Suzuki's lead atop the Constructors Standings.
Rounding out the top-five for the second time on Sunday was Tomas Casas, who showed better pace in the second half of the doubleheader but still was unable to find the podium for Parts Canada Yamaha.
Suzuki will exit round one with a 30-point advantage over BMW in the new Constructors Championship, with Kawasaki just an additional 10 points behind, while Dumas takes a commanding 65-point lead in the Brooklin Cycle Racing Pro Rookie of the Year fight.
Anthony Bergeron won the season opener in the MotorcycleCourse Amateur Superbike category, benefitting from a late red flag that handed the Racine, QC native an early championship advantage for BMW.
Guillaume Lavallee and a hard-charging Julien Lafortune rounded out the all-Quebec podium, with Lafortune setting a new lap record in the process, as Bergeron will lead Lavallee by ten points and Lafortune by eleven in the series table.
Mackenzie Weil unofficially won race two of the Super Sonic Road Race School Lightweight Sport Bike class on Sunday, though the results of the incident-filled race were subject to post-race protest.
Weil came away as the winner and therefore the championship leader aboard his Kawasaki, though a last-lap crash involving a number of riders led to a controversial finish behind him at CMP. Mavrick Cyr was demoted one place to third for his part in the incident and placed on probation by CSBK officials, while Jean-Francois Croteau was promoted to second after the flag.
The full results from Sunday's race and all of the weekend's action can be found on the series' official website at www.csbk.ca.