Editorial Note: American Brandon Paasch, riding his Dynavolt Triumph Street Triple RS 765, finished third in British Supersport Race One Saturday at Donington Park.
More, from a press release issued by MotorSport Vision Racing:
O'Halloran maintains winning momentum at Donington Park
Jason O'Halloran continued his winning streak in the Bennetts British Superbike Championship by claiming victory in the opening BikeSocial Race at Donington Park, following an intense battle in the opening race of the weekend.
O'Halloran launched into the lead from the pole position, but Glenn Irwin soon grabbed the advantage to put the Honda ahead. Meanwhile though Tarran Mackenzie had moved into second place as championship leader O'Halloran was initially pushed back down the order.
By the third lap, Christian Iddon had carved his way through from fourth to become the third different race leader in as many laps, before Glenn Irwin then regained the position a lap later.
The BMW Safety Car was deployed when Joey Thompson crashed out at Coppice on the fifth lap, with the pack forming up for the restart with Glenn Irwin leading Iddon, O'Halloran, Mackenzie, Andrew Irwin and Ryan Vickers.
Glenn Irwin defended his position hard, holding off the chasing pack as O'Halloran moved up the order and was holding second place by the halfway point of the race.
Two laps later and O'Halloran made a move for the lead into Redgate and started to try and break the pack. The McAMS Yamaha rider edged out a 1.866s advantage at the chequered flag over the final seven laps.
The battle for the final podium positions continued to rage right until the finish line as Mackenzie had fought back into second place, narrowly ahead of Glenn Irwin and Iddon.
However, the McAMS Yamaha rider was demoted to third on the final lap when his Honda Racing rival made a final attempt for second on the brakes at Roberts for the last time and had the edge to the line with Iddon in fourth.
Tommy Bridewell was fifth for the Oxford Products Racing Ducati team after Ryan Vickers was issued a two-second time penalty for a course cut on the RAF Regular & Reserve Kawasaki, pushing him to sixth just ahead of Andrew Irwin.
Lee Jackson finished eighth to maintain the final position in the top eight in the standings currently, with Peter Hickman and Bradley Ray completing the top ten. It was another difficult race for defending champion Josh Brookes; he ended the race in 18th position.
The victory in the opening race means that O'Halloran has put himself in contention for the £50,000 prize in the Milwaukee Summer Grand Slam, if he can complete six consecutive race wins across this weekend at Donington Park and the next event at Cadwell Park.
However, tomorrow his Bennetts BSB rivals could also put themselves in with a chance, as five victories across the six races nets a £25,000 prize and four wins claims £10,000.
Bennetts British Superbike Championship, Donington Park National, BikeSocial Race 1:
Jason O'Halloran (McAMS Yamaha)
Glenn Irwin (Honda Racing) +1.866s
Tarran Mackenzie (McAMS Yamaha) +1.944s
Christian Iddon (VisionTrack Ducati) +2.429s
Tommy Bridewell (Oxford Products Racing Ducati) +4.048s
Ryan Vickers (RAF Regular & Reserve Kawasaki) +4.671s
Andrew Irwin (SYNETIQ BMW) +5.731s
Lee Jackson (FS-3 Racing Kawasaki) +5.984s
Peter Hickman (FHO Racing BMW) +6.175s
Bradley Ray (Rich Energy OMG Racing BMW) +6.195s
Bennetts British Superbike Championship standings after Donington Park BikeSocial Race 1: 
Jason O'Halloran (McAMS Yamaha) 257
Christian Iddon (VisionTrack Ducati) 203
Tarran Mackenzie (McAMS Yamaha) 189
Danny Buchan (SYNETIQ BMW) 165
Tommy Bridewell (Oxford Products Racing Ducati) 121
Peter Hickman (FHO Racing BMW) 115
Glenn Irwin (Honda Racing) 101
Lee Jackson (FS-3 Racing Kawasaki) 96
For more information on the Bennetts British Superbike Championship visit www.britishsuperbike.com
Jason O'Halloran – McAMS Yamaha
Bike Social Race 1 winner
"The start of the race was actually quite difficult as I think all the boys know now they've got to get in front of me to try and slow me down a little bit!
"Once I get to the front I seem to be able to do my own thing and I've got really good pace, so I know I just need to get to the front.
"I was giving it as good as I was getting it, especially at the start as it was pretty frantic! I wasn't really too keen on using the kerbs in the first part of the race, which is why I kept getting passed into turn one because I wasn't committing to the last chicane.
"Once I figured out what I could do I got to the front, got my head down and once I saw plus one on the board, I just controlled the gap.
"I had a really strong pace so I am looking forward to the longer races tomorrow as I think it will suit us even more. Just another five races to go to try to win the Milwaukee money! It was definitely nice to start off with a win and keep myself in the mix for it."
More, from a press release issued by VisionTrack Ducati:
Fourth For Iddon At Donington Park
The opening race at round five of the 2021 Bennetts British Superbike Championship at Donington Park today  proved to be a challenging affair for the VisionTrack Ducati team and although Christian Iddon took a solid fourth place, team mate Josh Brookes crossed the line out of the points in 18th.
Both of Paul Bird's riders had enjoyed productive first days on the factory-supported VisionTrack Ducati Panigale V4RR at the Leicestershire circuit with the fourth and fifth fastest times putting them straight into today's second Superpicks session, but that qualifying session proved more challenging with Iddon and Brookes slipping back to eighth and 15th respectively.
Conditions changed considerably before the race as light rain steadily fell but the track had dried sufficiently for the race to be declared dry and full slicks were the order of the day.
A good start for Christian saw him move up to fourth on the opening lap and two laps later, he took the lead for the first time. From there on in, it was a major battle and with the front three riders edging away, the Tyneside-based rider had to settle for fourth at the flag.
Brookes' race was compromised by a technical issue, and he wasn't able to reproduce the pace he'd shown yesterday. Battling against the problem, he had to ride round the issue and, after one off-track excursion, crossed the line in 18th place.
Christian Iddon: "I had a reasonable race, but it was a strange start as some people were being quite steady although conditions were a lot better and drier than they thought. That allowed me to come through quite quickly but after that it was a real battle. Everyone has strong pace around this circuit, but I got caught up a bit with Glenn Irwin, rather than staying ahead of him, and that allowed a gap to open up. Fourth's disappointing as we want the podium credits and when you don't finish on the box, it's hard to be content. We'll make improvements for tomorrow's races and look to get into a good rhythm."
Josh Brookes: "We showed more potential at the beginning of the weekend but I'm not sure it was a real indicator of  performance as I'm still struggling with the 2021 bike. I've accepted I'm not going to get my 2020 bike back and need to persevere as best I can but, unfortunately, I had an issue with the engine braking during the race. That affected my entry into every corner, but I learned how to ride with the issue although too much time was lost so we'll try again tomorrow."
Johnny Mowatt, Team Co-ordinator: "It was a solid result for Christian although we're obviously slightly disappointed not to have finished on the podium. He got duffed up a little bit and didn't quite have the pace of the front three. The weekend started strongly for Josh and the qualifying position didn't reflect his performance, but such is the nature of the course, losing a couple of tenths can be a massive difference. He had an issue in the race which compromised his pace, so we'll look at all the data to see what's happened and go again tomorrow."
Tomorrow's races are scheduled to take place at 13.00 and 16.30 respectively.
More, from a press release issued by Honda Racing UK:
2-2 for Honda Racing UK at Donington Park
Donington Park's National Circuit has proved once again to be a happy hunting ground for the Honda Racing UK team, as Glenn Irwin and Tom Neave both finished on the podium in today's opening Bennetts British Superbike and Pirelli National Superstock Championship races in second place respectively, aboard the CBR1000RR-R Fireblade SP.
Having placed third overall in combined times in yesterday's free practice sessions, Tom was full of confidence heading into today's Superstock Qualifying at the Leicestershire circuit. Showing the potential of the Fireblade, Tom stormed ahead early in the session to the top of the times, where he remained to claim his first pole position of the year.
A dramatic change in weather conditions saw the Superstock race declared wet and reduced to 15 laps. Getting caught up off the line, Tom dropped down to eighth place on the opening lap. However finding confidence in the wet conditions and with a dry line appearing, he started to make his way back through the pack. Picking off his rivals and posting consistent lap times, by lap 11 Tom had moved into podium contention in second place and was hot on Luke Mossey's heels for the top spot. Passing Luke, Tom crossed the line to take the chequered flag, however the Honda-man was demoted to second place after he had passed Mossey who ran wide, under yellow flag conditions. Tom is now sitting sixth in the standings with 88 points, ahead of tomorrow's Race 2.
Celebrations continued for the first Superbike race, with Glenn placing second after a solid ride across the 20 laps. Qualifying on the front row in third place, he had a superb start off the line jumping straight into the lead. Leading the way for the majority of the race he was eventually caught by Yamaha's duo Jason O'Halloran and Tarran Mackenzie, and dropped to third. Keeping calm and staying close to Taz, Glenn made his move to take second place where he crossed the line to take his second podium of the 2021 season.
Glenn's teammates Ryo Mizuno and Takumi Takahashi are getting to grips with the 1.98-mile circuit and improving their times throughout each session. During the race the teammates enjoyed a battle with each other, with Ryo eventually pipping Takumi to the post finishing 19th with Takumi 21st.
The team will be back in action tomorrow (Sunday 15 August) for two more Superbike races and the final Superstock race of the weekend.
#2 Glenn Irwin
Today was a good day coming away with a podium and in particular a second, after the safety car we had some chatter issues once the tyre temperature had dropped, but I did my best to adapt around that. It was great to battle with Mackenzie and I felt maybe with a few more laps I could have taken the fight to Jason [O'Halloran], but we'll have to wait until tomorrow for that. I'm pleased to have got second, a huge thanks to the Honda team we've worked hard to get me in the right place this weekend. We know the Fireblade is strong at Donington, as we showed last year, but we're still trying to find something 'perfect', but as Uncle Tim said, 'perfect doesn't exist', so that helped my outlook, helped me understand and to accept things and adapt, which I think we managed in qualifying. We deserved that podium today and I'm looking forward to two more races tomorrow.
#88 Ryo Mizuno
I was able to do my best in today's race. I tried to improve my pace in each session from all free practice sessions to today's race, but after the safety car I couldn't increase my pace and got separated from the group in front. I was able to keep a good pace at the end of the race, so I will use warm up tomorrow to find my pace and aim to move up further in the two races.
#13 Takumi Takahashi
In today's race I didn't get a good speed, like I was hoping I had at Thruxton in Race 1. I managed to make up some places, but I still don't completely understand this track. I need to improve to get good speed and rhythm just after start. I'll try to push more tomorrow.
#68 Tom Neave
I feel like I've got confidence back after the podium at Thruxton and feel I'm finally back to where I need to be, picking up from where we left off last year. I knew we could be strong here; this is my happy hunting ground. We started from pole and the result shows we can comfortably win the race come rain or shine. I'm so gutted to have been demoted to second place, I worked so hard for the win after dropping down to eighth at the start. We start tomorrow again from pole after I set the fastest lap, I know I'm on good form and have some fire back in my belly and the fact I didn't win today, just makes me ever more hungry for tomorrow's race.
More, from a press release issued by Dynavolt Triumph:
Brandon Paasch on the box at Donington Park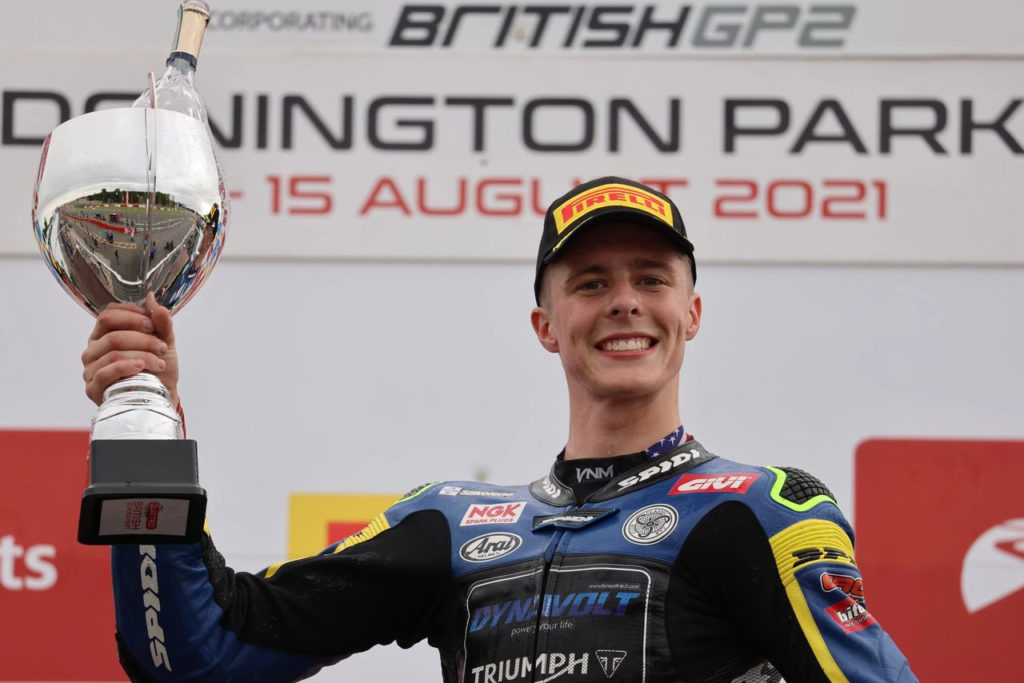 Dynavolt Triumph's Brandon Paasch achieved his aim of a podium finish in today's 20-lap Quattro Group British Supersport Championship sprint race at Donington Park.
The great British weather struck again when, prior to the race, rain started to fall at the Leicestershire circuit but the track fully dried for the start and Paasch was able to fight for his first podium in the supersport category with a third place.
Brandon Paasch: "Overall a pretty good race one here at Donington Park, got my first podium in the supersport class. Pretty happy with that but right now I think it's important to focus, get back to work and try to improve for tomorrow, try to keep going forward.  The goal is to win races and we're on our way so I'm happy with the progress, let's keep working."
Teammate Kyle Smith's day didn't go quite so well with a huge crash in qualifying.  Smith was unhurt but his Dynavolt Triumph was destroyed in the incident.  Thankfully he had posted a fast lap before the crash and started the sprint race in fifth on the second row of the grid.  Despite the tremendous efforts of the pit crew in rebuilding the bike, Smith experienced clutch issues and faded but still found great race pace to cross the line in eighth position and bag eight points, holding on to third in the championship standings.
Kyle Smith: "Little bit of a difficult race today. We had a big crash in qualifying this morning, the team did a fantastic job getting it up and running for the race but we ended up having no clutch, struggling to go down the gear box braking.  So I managed to finish the race and get some points which is good but it's not where we want to be.  Hopefully we can get that fixed for tomorrow and we'll have the pace to be running up front."
Dynavolt Triumph Team Manager Simon Buckmaster: "Superb race for Brandon, a really good job by him.  I'm pleased for him and Simon and George his technicians.  We always win as a team but it's nice for both sides of the garage to have success so congrats for that, a great job."
"For Kyle I can't say enough about the team, both sides of the garage helped to repair the huge damage to that bike.  We built a brand-new bike, new frame, new swing arm, new everything in just over three hours so fair play.  Then Kyle had clutch slip in the race.  When you have a big crash like that, these things can happen.  We'll investigate that and put it right for tomorrow.  He struggled to down shift but he learnt to blip the throttle, which he couldn't do before so there's always positives!  When he worked that out he had the pace in the race the same as the leaders so I'm sure he'll be right up there fighting for the win tomorrow and we'll have two bikes up there. Looking forward to it."