Andrew wins the battle of the Irwins to claim new Fireblade's first win on the #BSBrestart
Andrew Irwin claimed a sensational win in the opening race of the 2020 Bennetts British Superbike Championship season today (Saturday) at Donington Park, making a last lap move on brother Glenn to claim Honda Racing their first victory for the Honda Racing CBR1000RR-R Fireblade SP on its debut.
At the start of the race Kyle Ryde had hit the front of the pack on the Buildbase Suzuki from his front row grid position ahead of Héctor Barberá and the Irwin pairing led by Andrew, with Danny Buchan ahead of the two VisionTrack Ducatis.
Andrew Irwin was characteristically attacking straight from the start and he moved into second at Roberts on the second lap with a move on the brakes to pass Barberá on the Rich Energy OMG Racing BMW.
Danny Buchan was holding fifth but he crashed out unhurt at Roberts putting him out of contention on the Massingberd-Mundy Kawasaki. Bradley Ray retired his SYNETIQ BMW on lap five with Barberá also forced out of the race with a technical problem.
By lap six Andrew Irwin had grasped the lead going into Roberts with a move on Ryde, with his brother Glenn also moving his Honda Racing Fireblade ahead a lap later as the Buildbase Suzuki rider came under attack.
Josh Brookes was reeling in the brothers as their sibling rivalry continued; the Australian edging his VisionTrack Ducati ahead into Redgate on lap eight before Ryde cut back to reclaim the position. Brookes was then fighting back, but the Buildbase Suzuki rider was forced to retire with a technical issue.
At the front there was a three-way scrap forming between Honda Racing's Andrew and Glenn Irwin plus Brookes. On lap 13 Glenn Irwin grabbed the lead with a move at Redgate on his brother with Brookes instantly making a move to push Andrew Irwin back into third.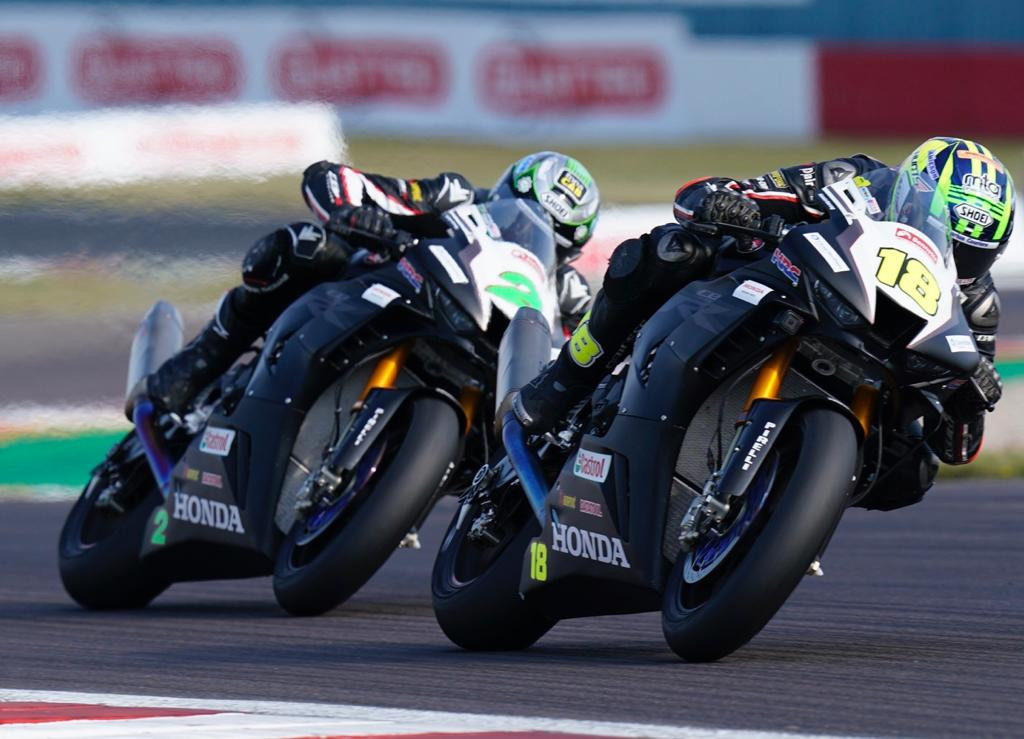 Brookes was then vying for the lead on the VisionTrack Ducati, but he wasn't able to make his move until lap 16 on the brakes into Redgate to push Glenn Irwin back into second place. However the brothers then both made a brave move at Schwantz Curve which fired the Hondas into the leading two positions on lap 18.
Glenn Irwin was then holding the lead from brother Andrew with Brookes slightly adrift, and it came down to the last lap when Andrew went for a move on his sibling which he made stick. He then defended hard giving his brother no room to repay the manoeuvre and the pair crossed the line 0.119s apart with Brookes sealing third place.
Christian Iddon held onto fourth place from Tommy Bridewell who worked his way up the order on the Oxford Products Racing Ducati. In sixth place Luke Mossey was able to get the better of Tarran Mackenzie on the leading McAMS Yamaha, ahead of teammate Jason O'Halloran. Pole sitter O'Halloran dropped down the order when he was forced to take evasive action to avoid Buchan's crash and then had to work his way back up through the field.
Ryan Vickers claimed ninth place for the RAF Regular & Reserve Kawasaki team ahead of Lee Jackson who completed the top ten ahead of tomorrow's two races.
Fans can watch all of the action tomorrow (Sunday) live on Eurosport 2 and listen to BSB Radio powered by Kawasaki K-Options, which will feature all the live timing and commentary from the track.
Bennetts British Superbike Championship, Donington Park, Race 1 result:
Andrew Irwin (Honda Racing)
Glenn Irwin (Honda Racing) +0.119
Josh Brookes (VisionTrack Ducati) +0.831s
Christian Iddon (VisionTrack Ducati) +1.568s
Tommy Bridewell (Oxford Products Racing Ducati) +5.362s
Luke Mossey (Rich Energy OMG Racing BMW) +9.122s
Tarran Mackenzie (McAMS Yamaha) +9.328s
Jason O'Halloran (McAMS Yamaha) +10.580s
Ryan Vickers (RAF Regular & Reserve Kawasaki) +15.429s
Lee Jackson (Massingberd-Mundy Kawasaki) +15.671s
Bennetts British Superbike Championship standings after Donington Race
Andrew Irwin (Honda Racing) 25
Glenn Irwin (Honda Racing)
Josh Brookes (VisionTrack Ducati) 16
Christian Iddon (VisionTrack Ducati) 13
Tommy Bridewell (Oxford Products Racing Ducati) 11
Luke Mossey (Rich Energy OMG Racing BMW) 10
Tarran Mackenzie (McAMS Yamaha) 9
Jason O'Halloran (McAMS Yamaha) 8
Ryan Vickers (RAF Regular & Reserve Kawasaki) 7
Lee Jackson (Massingberd-Mundy Kawasaki) 6
For more information on the Bennetts British Superbike Championship visit www.britishsuperbike.com
Andrew Irwin (Honda Racing)
Race 1 winner
"I knew I could pass Glenn in a normal place – he actually always says to me that I never pass people in normal places anyway! And today I couldn't do that so I had to pass him somewhere a little different, somewhere where you have to trust the front a lot. To be fair the team did a really good job from qualifying until the race today and we made a big step in the braking areas because before that I would have been even worse in the two main areas, but now I feel quite strong there.
"It was a really nice race. I just had to tell myself 'keep breathing'! I got to the lead and I didn't want to be in the lead to be honest but I was there. I thought just relax the pace a little bit and then when Glenn came by, I thought he is going to try to go. Then I think Josh passed me straight away as well, and maybe I lost my rhythm for a lap.
"I then got back in to the way of things and once we did that I just settled and found out where I was faster. Glenn did a bit of an Andrew pass on Josh and that let me get by Josh as well, and from there I just sat behind him and just tried to protect second.
"With two laps to go I knew I needed to find out where I could pass him, because I didn't really think I could. I lined it up on the penultimate lap and then on the last lap I went for it and my mouth and tongue were backwards! Not that I had to do it, but I felt that I could do it safely and I did. I was pretty much past him before we even braked and it was good.
"It is the first race of the season and there are still another 17 to go, so we have to maintain consistency, stay level head and keep doing a good job for Honda Racing, but to take this first win for the new Fireblade is fantastic."
More, from a press release issued by VisionTrack Ducati:
Brookes Kicks Season Off With Podium, Iddon Fourth At Donington
After a four month delay due to COVID-19, the VisionTrack Ducati pairing of Josh Brookes and  Christian Iddon got their 2020 Bennetts British Superbike Championship campaign up and running at Donington Park this afternoon in fine fashion with the duo taking strong third and fourth place finishes respectively in the opening race of the season.
With the track bathed in sunshine, the first round of the 2020 season saw the duo have to dig deep during free practice on the factory-supported PBM Ducati Panigale V4 Rs with Australian Brookes claiming sixth during Datatag qualifying for the defending champions meaning a second row start for the opening race.
Iddon, making his official debut for the Penrith-based team, was five places and two rows further back. But in perfect conditions all around the 1.9-mile National Circuit for the 22-lap race, both riders made good starts to slot into sixth and seventh at the end of the opening lap and the front six riders soon began to break away.
Six became four by lap nine after rivals Kyle Ryde and Hector Barbera retired and Brookes was now in third and right on the tail of Honda Racing team-mates, Andrew and Glenn Irwin. Meanwhile, Iddon was in fourth and doing his utmost to close the small gap to the leading trio.
Brookes hit the front for the first time on lap 15, grabbing the lead at Redgate, but two laps later he was back in third as the two Honda riders made their move. Indeed, they were able to edge away in the closing stages but Josh took a good third, only 0.831s adrift of race winner Andrew Irwin at the chequered flag, and with Iddon not far behind in fourth, it was a strong start to the season for the team going into tomorrow's two races.
Josh Brookes: "Qualifying in sixth made it hard and I was waiting for a pattern to emerge in the race before I was able to move forward. I got up to third just behind the Irwins and felt confident but with around six laps to go, I found it really difficult to keep that pace up. I was hoping that the others would slow a little, but they didn't and by then I was back in third. I couldn't push any harder, so I decided to settle for what I had rather than risking a crash. I'm not going to blame the bike or the tyre or anything, perhaps it was down to me but either way it's good to get a podium and we can concentrate on tomorrow."
Christian Iddon: "After we struggled a bit during testing here at Donington and not quite being where  we needed to be in free practice, to be challenging in the leading bunch today was pleasing but to just miss out on a podium after all that hard work was very frustrating. But we now have a good base setting which has proved it's possible to run at the front so I'm hoping to translate that into at least one podium tomorrow. Scoring solid points is vital in this shortened championship so it's a good start but I'm hoping for better in tomorrow's races."
Brookes will start from pole position in the first of tomorrow's two 26-lap races which are due to start at 13.45 and 16.30, respectively. Both are live on British Eurosport and also on BSB Radio (via the BSB website or TSL Live Timing link).
More, from a press release issued by Honda UK:
Debut double win for the all-new Fireblade at Donington Park
The Honda Racing team are celebrating today after the all-new CBR1000RR-R Fireblade SP took its debut victory in the opening 2020 Bennetts British Superbike Championship race, as well as the National Superstock 1000 Championship race in perfect conditions at Donington Park.
Andrew Irwin claimed his second BSB win this afternoon in fine style at the Leicestershire circuit after a nail-biting battle with his teammate, and brother Glenn, who made it a double podium finishing hot on Andrew's heels to claim second place.
Across all sessions Andrew and Glenn have been progressing with solid lap times and with all eyes on the new Fireblades racing debut on British soil, the pressure was felt in the garage as they lined up for Race 1. Launching off the line, both Andrew and Glenn made up places from their starting positions (Glenn fifth, Andrew seventh) and were in the podium mix from the start.
By just over half way it was a Honda 1-2 at the front with the Irwin brothers leading the pack, but championship rival Josh Brookes was reeling them in and made his move for the lead. On lap 18, the brothers made a brave move on Josh, to take the leading two positions and it was Glenn leading Andrew. On the last lap Andrew made his move on his brother to take the lead and his second BSB victory with the Honda team, Glenn crossed the line second – just 0.119s behind.
However, the celebrations were about to continue as Tom Neave took his debut Superstock 1000 win – making it a double victory for the Honda team with the 2020 Fireblade. Strong throughout all sessions Tom topped the timesheets in both free practices and started the race from second on the grid.
The Lincolnshire lad took the race lead early on and showed the strength of the Fireblade leading the race throughout, crossing the line 2.026s ahead of Damon Rees in second place. Teammate Davey Todd has impressed in all sessions as he makes his return to short circuit racing after a four-year break, he crossed the line ninth.
The team and riders will now put their focus towards tomorrow for two more British Superbike races and one more Superstock 1000 race.
#18 Andrew Irwin: Today was a good day, we've done a lot of hard work and from Spain I knew we'd made a step in performance. It's only one race, we have another 17 to go, so we have to maintain the focus; keep working hard and also keep improving as we know our rivals will continue to do so. It's a credit to the new Fireblade already, you look at the bike and a lot of the material is the same as the road bike, and already it's so competitive, so from that point of view it shows how good it is as a standard bike. I would like to thank all the team; Harv, Honda, my crew – everyone that's helped, I feel we're in a good place and hopefully we can improve in a few places tomorrow and have another two consistent finishes.
#2 Glenn Irwin: It feels really good, it's been a long time since I stood on the podium and I didn't expect it to come so soon. What a day for the team, me finishing second and to have my teammate and brother in P1 is a fantastic debut for the all-new Fireblade. We've enjoyed testing and also been reserved to where we are, after the official test we were quietly confident and keeping our feet on the ground, and that hard work and attitude has paid off and got us where we are today. Thanks to everyone at Honda Racing for this.
#68 Tom Neave: I can't even get my words out! I feel like I've got the monkey off back and with everything I went through last year with all my injuries, and all the work I've put in over the winter – it feels like it's finally paid off and I'm so proud to do it for Honda. It's my dream team and probably one of the best days of my life really! I feel like the weight has been lifted for tomorrow and I feel like we can improve – this is just the beginning.
#74 Davey Todd: In all honesty if someone had said at the start of the weekend a top-10 for my first race back, I would have taken it, but as we've worked through the weekend so far with Friday and this morning, I knew a lot more was possible, so I thought we were going to be more competitive in that race. In the first half we had a lot more pace than I was able to show there, I was quick in parts of the track that made it difficult to ride with other riders, there's a few things I want to tweak with the bike that we know we did wrong. But it's just my lack of track time to be honest, to get things right. But we'll get things right and have another go tomorrow!
Team Manager Havier Beltran: What a start to the season, I really want to take this opportunity to thank everybody back at Honda UK; all of our sponsors, partners and suppliers for their continued loyal support and getting us to where we are today. 2020 has been a difficult year for all of us, but what a great start to both the British Championship and Superstock Championship to be first and second here at Donington Park for Race 1, and for Tom Neave to take his debut win on the stock Fireblade – it's a fantastic achievement for all the riders and also the team. We have 17 more races ahead of us, so we need to keep our feet on the ground, focus on our objectives and not get too ahead of ourselves at this stage. I'm looking forward to seeing what tomorrow brings.