The 2022 BMW M 1000 RR 50 Years M
• Exclusive Anniversary edition of the first M motorcycle, the M 1000 RR
• Exclusive M color – Sao Paulo Yellow.
• 50 Years of M anniversary badging.
• MSRP of $36,995 plus $645 destination. ($32,495 + $4,500 50 Years ///M Package).
• Expected U.S. market arrival – late Q3 2022.
Woodcliff Lake, NJ – May 19, 2022…To mark the 50th anniversary of BMW M GmbH,
founded in 1972 as BMW Motorsport GmbH, BMW Motorrad presents the M 1000 RR
50 Years M anniversary edition in Sao Paulo Yellow with historic 50 years BMW M
badging. This striking combination pays homage to the spirit from almost 100 years of
BMW Motorrad production and from 50 years of BMW M vehicles. To get the anniversary
edition, the M 1000 RR should be equipped with the optional 50 Years ///M Package. In
addition to the extensive use of M milled aluminum and M carbon parts, this package
features a lighter silver anodized aluminum swingarm, M GPS lap trigger unlock software
as well as the M endurance chain and passenger seat and seat cover.
The M 1000 RR can also be ordered in non-anniversary guise by selecting the Light
White / M Motorsport Competition Package.
M – The Most Powerful Letter in the World
At the end of 2018, BMW Motorrad unveiled M special equipment and M Performance
parts for selected existing motorcycle models. The M 1000 RR, the first BMW motorcycle
to bear the M brand name made its world debut in September of 2020.
The letter M is synonymous worldwide with racing success as well as with high
performance BMW vehicles aimed at customers with high demands for performance,
exclusivity and individuality. The BMW M 1000 RR delivers on all of these expectations
and continues the racing tradition of BMW M by being the base bike for the BMW
Motorrad World Superbike Team since 2021 as well as being used by many race teams
around the world.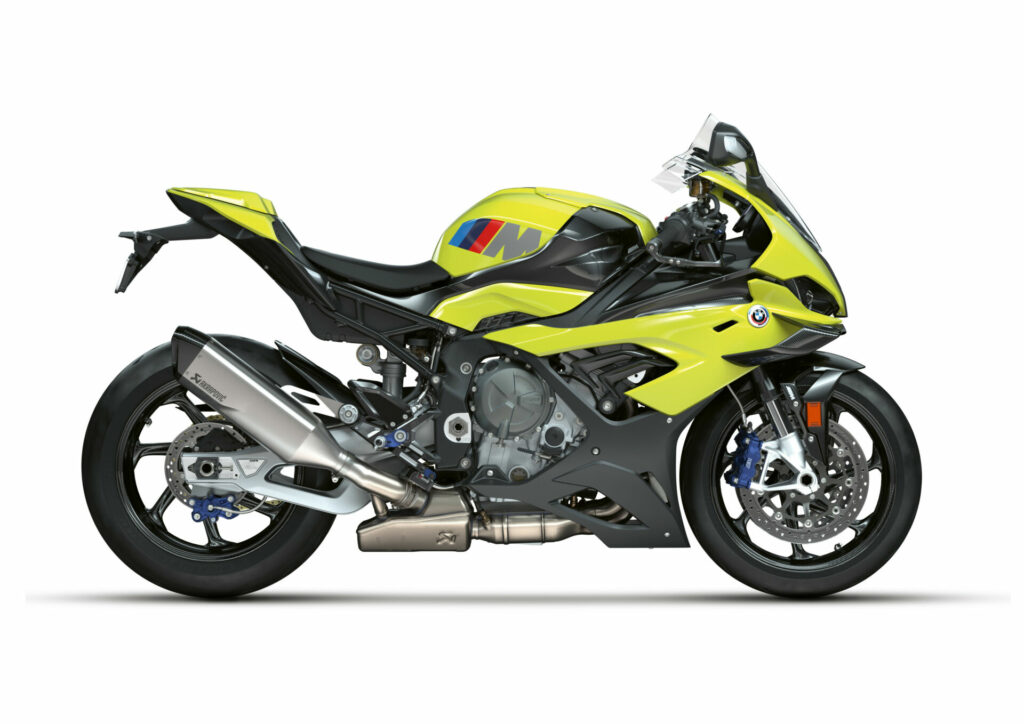 BMW Motorsport GmbH and BMW M GmbH
BMW Motorsport GmbH was founded in 1972 with the idea of uniting all BMW
motorsport activities under one roof and consolidating the construction of high performance race cars and race engines. The BMW 3.0 CSL (CSL = Coupe Sport Light)
made its debut as the first race car from BMW Motorsport GmbH in 1973. On the
occasion of the foundation of BMW Motorsport GmbH, Robert A. Lutz, member of the
Board of Management of BMW AG for Sales in 1972, stated: "A company is like a human
being. If it does sports, it stays fit, enthusiastic, more effective and powerful."
The BMW 3.0 CSL made its debut in the European Touring Car Championship in 1973
sporting the three defining BMW Motorsport colors of blue, violet and red on a snowwhite background. Today's updated Motorsport colors of are Blue – Dark Blue and Red.
This legendary color combination could be found on BMW M street vehicles which
appeared in the second half of the 1970s as well as on successful race cars. Iconic cars
such as the 1978 BMW M1 and the Brabham BMW with which Nelson Piquet won the
1983 Formula 1 World Championship.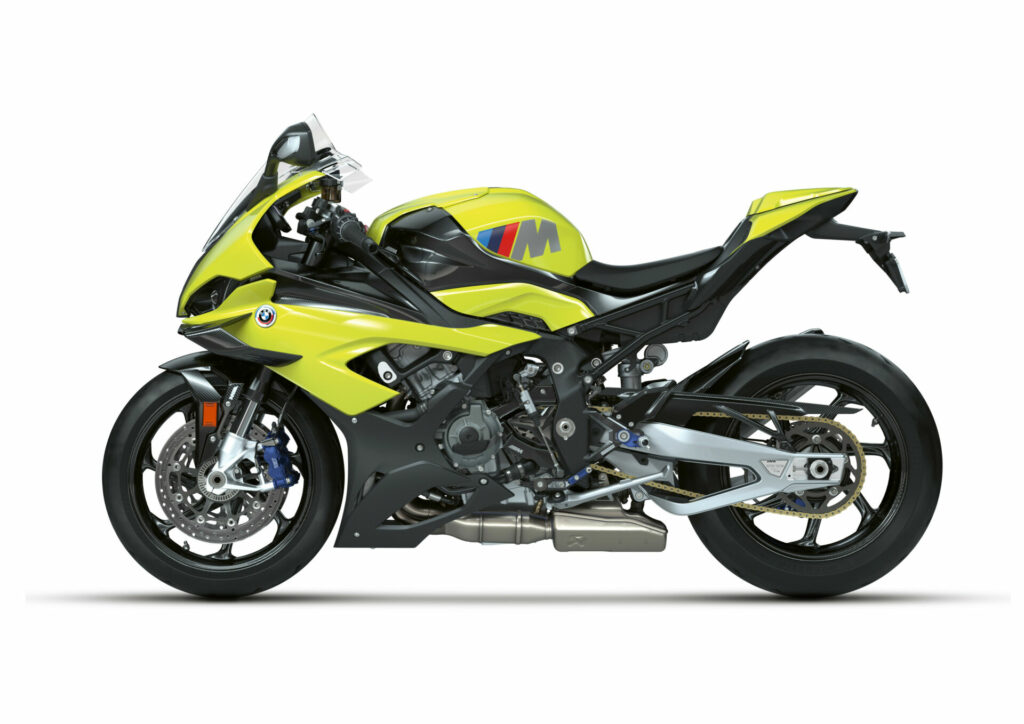 From Isle of Man to Dakar – BMW Motorrad and motorsports
Racing success was not the exclusive realm of four-wheeled BMW vehicles however.
Innovation stems from motorsport and this was especially true in the early decades. Legendary names from those early years include Ernst Jakob Henne who set no less than 76 world land speed records between 1929 and 1937 on supercharged BMW motorcycles and Georg "Schorsch" Meier who won the 1939 Senior Tourist Trophy on the Isle of Man on his 500cc supercharged BMW.
In 1976, exactly 37 years later, Helmut Dähn and Hans Otto Butenuth celebrated fifth
place in the Isle of Man Production TT class. They had actually set the fastest time on
their BMW R 90 S but due to handicap rules, they were listed in fifth place behind two
250cc and two 500cc motorcycles. Nevertheless, given the fastest time, this fifth place
was celebrated like a victory.
74 years after "Schorsch" Meier's success in the Senior TT, Michael Dunlop rode his BMW
S 1000 RR to victory in the 2014 Isle of Man TT Superbike race. In the following years,
the RR would go on to leave its unmistakable mark on the TT with more victories. BMW M colors would also be represented in off-road conditions such as the Paris-Dakar rallies of the early 1980s which were dominated by BMW GS factory riders Hubert Auriol and Gaston Rahier.
Like no other BMW motorcycles, the M 1000 RR 50 Years M model carries all of this
historic motorsport DNA within it.
Equipment
Standard Equipment
• Windshield high
• BMW Motorrad Race ABS and ABS Pro
• 7 riding modes (Rain, Road, Dynamic, Race, Race Pro 1-3)
• Pit-Lane-Limiter
• Launch Control
• Dynamic Traction Control (DTC) +/- Shift
• Wheelie Control
• Slide Control
• Hill Start Control (HSC) Pro
• Dynamic Brake Control (DBC)
• Shift Assist Pro
• 6.5″ TFT-Display
• LED-Headlight, Taillight and Turn Signals
• Heated Grips
• Cruise Control
• M Lightweight Battery,
• M Chassis Kit with rear height adjustment and swingarm pivot
50 Years ///M Package (optional)
• Sao Paulo Yellow
• 50 Years M Anniversary badges
• M GPS Lap Timer trigger software
• Rear seat cover and passenger kit
• M Carbon Package – Carbon front and rear fenders, Upper fairing side panels, Left and right carbon tank covers, Carbon chain guard and sprocket cover.
• M Billet Pack – Billet aluminum engine protectors, folding brake and clutch levers, M
rider's rearsets, front brake lever guard.
• Clear anodized swingarm
• M Endurance chain
Specifications
BMW M 1000 RR
Engine type Water-cooled, inline 4-cylinder, 4-stroke, four titanium valves per cylinder, BMW ShiftCam
Power 205 hp @ 13,000 rpm
Torque 83 lbs.-ft. @ 11,000 rpm
Compression Ratio 13.5:1
Intake / Exhaust 33.5mm / 27.2mm
Throttle Body 48.0mm
Engine Control BMS-0
Emission Control Closed-loop, 3-way catalytic converters, EU-5
Fuel Type Premium unleaded
Alternator 450 watts
M Lightweight battery 12 volt / 5 Amp, Lithium-ion
Gearbox Wet sump, 6-speed, constant-mesh, straight-cut gears
Primary Gear Ratio 1.652:1
I 2.647:1
II 2.091:1
III 1.727:1
IV 1.500:1
V 1.360:1
VI 1.261:1
Final Drive Chain 17/46
Secondary Ratio 2.706:1
Clutch Multiplate, anti-hopping oil bath clutch
Frame Cast aluminum bridge-type frame, load bearing engine
Front Suspension 45 mm upside down telescopic forks, adjustable compression, rebound and preload
Rear Suspension Aluminum swing arm, damping adjustable for compression and rebound, adjustable preload
Suspension travel front/rear 4.7 / 4.6 inches
Wheelbase 57.4 inches
Caster 3.9 inches
Steering Head Angle 66.4 degrees
Length x Width x Height 81.6 x 33.4 x 47.1 inches
Seat Height 32.8 inches
Inner Leg Curve 72.6 inches
Fuel Capacity 4.4 gallons
Dry Weight 375 lbs.
Unladen Weight, road-ready 423 lbs.
Payload 467 lbs.
Permitted Total weight 897 lbs.
Wheels M Carbon
Wheel Size, front / rear inches 3.50 x 17 / 6.0 x 17
Tire Size, front / rear 120/70 ZR17 / 200/55 ZR17
Brakes, front Twin 320mm (12.6") disk, M 4-piston brake calipers
Brakes, rear Single 220mm (8.7") disk, 2-piston fixed caliper
ABS Pro ABS Pro settings for RAIN, ROAD, Dynamic, no ABS
Pro in RACE and RACE 1-3 settings
Acceleration, 0 – 60 mph Under 3.1 sec
Top speed 189 mph
BMW Group in America
BMW of North America, LLC has been present in the United States since 1975. RollsRoyce Motor Cars NA, LLC began distributing vehicles in 2003. The BMW Group in the United States has grown to include marketing, sales, and financial service organizations for the BMW brand of motor vehicles, including motorcycles, the MINI brand, and RollsRoyce Motor Cars; Designworks, a strategic design consultancy based in California; a technology office in Silicon Valley, and various other operations throughout the country. BMW Manufacturing Co., LLC in South Carolina is the BMW Group global center of competence for BMW X models and manufactures the X3, X4, X5, X6 and X7 Sports Activity Vehicles. The BMW Group sales organization is represented in the U.S. through networks of 350 BMW passenger car and BMW Sports Activity Vehicle centers, 146 BMW motorcycle retailers, 105 MINI passenger car dealers, and 38 Rolls-Royce Motor Car dealers. BMW (US) Holding Corp., the BMW Group's sales headquarters for North America, is located in Woodcliff Lake, New Jersey.
www.bmwgroup.com
Facebook: http://www.facebook.com/BMWGroup
Twitter: http://twitter.com/BMWGroup
YouTube: http://www.youtube.com/BMWGroupview
Google+: http://googleplus.bmwgroup.com