Copyright 2019, Roadracing World Publishing, Inc.
By David Swarts
Former three-time AMA Superbike Champion and FIM Superbike World Champion Ben Spies says he is considering a return to professional motorcycle road racing, again. Spies, age 34, retired from professional racing in 2013, after he suffered a second major shoulder injury while riding for Ducati in the MotoGP World Championship.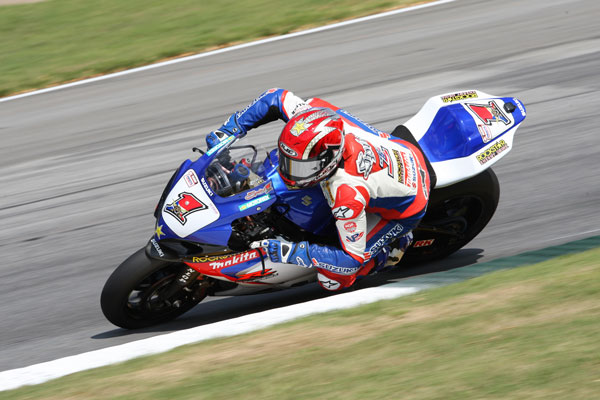 (Above) Ben Spies (1) defending one of his AMA Pro Superbike Championships on his Yoshimura Suzuki GSX-R1000. Photo by Brian J. Nelson.
Prior to that, Spies won the AMA Pro Superbike Championship in 2006, 2007, and 2008 on a Dunlop-shod Yoshimura Suzuki GSX-R1000. In 2009, Spies signed to race for Yamaha's factory team in the FIM Superbike World Championship. Racing as a rookie on a different team, a different motorcycle, on different tires, and on unfamiliar racetracks, Spies took pole position at 11 of 14 rounds and won 14 of 28 races, earning the 2009 Superbike World Championship.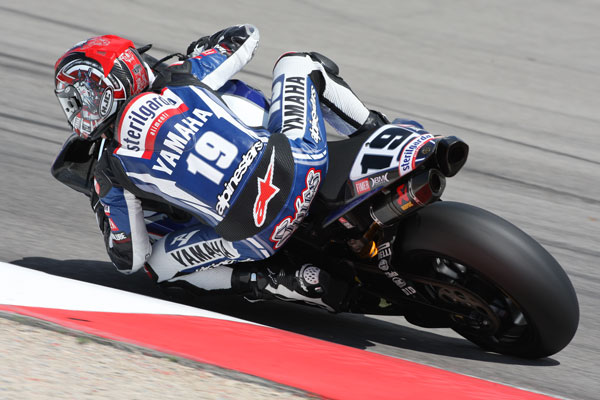 (Above) Ben Spies (19) during his 2009 FIM Superbike World Championship-winning season. Photo by Brian J. Nelson.
The Texan was then promoted to Yamaha's satellite MotoGP team, Tech3, and placed sixth in the 2010 FIM MotoGP World Championship, earning Rookie of the Year honors.
In 2011, Valentino Rossi left Yamaha to go to Ducati, opening up a spot for Spies on the factory Yamaha MotoGP team. Spies qualified on the front row five times, finished on the podium four times, won the MotoGP race at Assen, and placed fifth in the 2011 MotoGP World Championship.
But in 2012, a series of issues, including technical problems and a season-ending injury to his right shoulder, limited Spies to five top-five finishes, 10th in the World Championship, and an end to his relationship with Yamaha.
The following year, Spies signed a two-year deal to be a factory rider for Ducati and race for the Ignite Pramac Racing satellite squad, but Spies' shoulder injury never fully healed. Spies raced in the first two rounds of the 2013 MotoGP season, before sitting out to do more rehabilitation work. Spies returned to action at the Italian Grand Prix but withdrew mid-event due to continuing problems with his right shoulder injury. Spies then tried to come back at Indianapolis Motor Speedway, but he crashed during Free Practice Three and suffered a grade-five dislocation of his left shoulder.
Spies subsequently had surgery on both shoulders, and months later, Spies and Ducati jointly announced that he was retiring from professional racing due to the uncertainty over the condition of his shoulders heading into the 2013/2014 off-season.
Since then, Spies has regained enough strength in his shoulders that he took up off-road racing, which led to his name being mentioned in conjunction with various ride opportunities and possible comebacks. In late 2017, Spies made some road racing-related posts on Instagram that revealed a somewhat serious attempt to go racing in the MotoAmerica Superbike Championship in 2018, but after discussions with Suzuki and Ducati and potential team members including Tom Houseworth and Doug Chandler, the deal never materialized. One reported sticking point was Spies' demand for at least $500,000 in salary money.
Fast forward to this past weekend's World Superbike event at Misano, which Spies attended while visiting his wife's family in Italy. During the event, Spies was interviewed and said that he had the motivation to come back to racing, but only after a few successful steps in that direction and under the right circumstances.
Roadracingworld.com called Spies at his home in Texas and asked how the whole topic of him coming back to racing came up. "Everybody wants me to come back just because I'm young enough to, so they always ask me about it," Spies said. "But they just don't realize it's been pretty much six and a half years since I've been at speed. I've been riding dirt bikes for a while, and now I'm getting to the point where I'm riding my dirt bike as good as I ever have. My shoulder's not perfect at all, but I feel like it's manageable.
"I just want to get something going again where I'm working with a manufacturer and get a streetbike and do some track days for fun and do some social media stuff for them. And what that leads to I don't 100% know. But my feeling is that I could definitely be at a pace to test if needed and do whatever pops up, if I'm up to speed. But right now, I haven't ridden a streetbike enough to do anything. "
One of the things that could pop up, Spies said, would be a one-off appearance in an FIM Endurance World Championship race, like the Suzuka 8-Hours. "I've never done the Suzuka 8-Hours," said Spies. "Me and Mat [Mladin] wanted to do it. As much as we didn't get along for a few years, we asked two or three times to do it together because we knew we would win or felt like we would, at least. It's kind of the only thing I haven't done that's big."
Spies, however, is not looking to make a return to full-time racing, especially not in Europe.
"This isn't planning, trying to come back to race full-time, but I'm never going to say never to anything except for I know I'm not going to race in Europe again because of my family and the schedule. [Racing in] MotoAmerica is something I wouldn't say no to, but for a rider like me and what you've seen the last few years, I don't know how it would be possible for anything like that to happen. My first step is I just want to get back on a bike consistently enough to where I'm comfortable. And what that leads to I don't 100% know."