Pearson Upstages Stauffer in Supersport Practice
Max Stauffer may have topped the times in the opening two MotorsportsTV Supersport practice sessions at the mi-bike Motorcycle Insurance ASBK, presented by Motul at Wakefield Park today, but it was Broc Pearson who ended up as the fastest rider for the day, setting a blistering 59.5s lap time in the final session, while Stauffer crashed at Turn 6.
Pearson, who finished runner-up behind Tom Toparis in last year's series, said his team worked hard to adapt to Wakefield Park's changing conditions over the course of the day.
"We've been working a lot during the break to get a few things dialled in," Pearson said.
"The track was cold this morning but it got really hot towards the end of the day; there was some good grip out there and I can't complain – my Yamaha R6 is handling well.
"It's just practice and I'm not getting carried away, but typically when I've started off well in practice I've gone on to have a good weekend."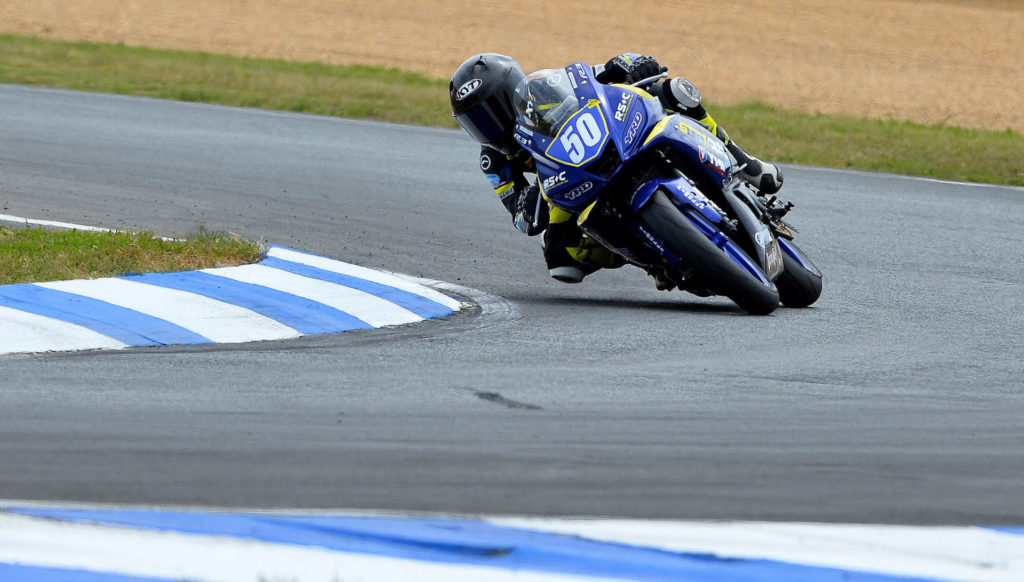 YMI Supersport 300
Last year's Oceania Junior Cup Champion Carter Thompson proved his abilities by recording the fastest time of the day in YMI Supersport 300 practice, achieving his best lap of 1:05.7 in the second of the day's sessions.
Championship leader Harry Khouri was second for the day ahead of Archie McDonald.
"The track changed a lot and we made some changes to the bike to make it suit the track – they worked well and I felt really comfortable," Thompson said.

YMF R3 Cup
Not content with topping the Supersport 300 times, Carter Thompson was also fastest in YMF R3 Cup practice. However, he was closely pursued by Archie McDonald, who topped two of the three sessions and missed out on the fastest time of the day by just 0.09s. Ben Baker ended up third overall.
bLU cRU Oceania Junior Cup
Marianos Nikolis was the clear pace-setter in the bLU cRU Oceania Junior Cup, topping all three sessions; his best time of 1:15.6 was more than a second quicker than any other rider in the field. Tom Drane ended up second overall ahead of Clay Clegg, while points leader Lucas Quinn, who dominated the opening round at Phillip Island, was 13th-fastest.
Race fans can catch all the drama and action from the 2020 ASBK Grand Finale at Wakefield Park Raceway, December 3-6, live via ASBK live streaming, and through ASBK TV partners SBSHD, Fox Sports Australia and Fox Sports Asia on both Saturday and Sunday.
Keep up to date with the latest news on the mi-bike Motorcycle Insurance Australian Superbike Championship, presented by Motul, via www.asbk.com.au and following ASBK on Facebook and Instagram.