Herfoss Fastest in Rain-Shortened Superbike Practice for Round 2 at Wakefield Park
22 March 2019
Troy Herfoss (Penrite Honda Racing, Honda CBR RR SP) has had a great start to Round 2 of the Motul Pirelli Australian Superbike Championship (ASBK, March 22-24), taking out fastest time of a rain-shortened Free Practice for the Kawasaki Superbike class here at Goulburn's Wakefield Park Raceway in Southern NSW.
Herfoss's time of 57.455 put him almost three tenths clear of Wayne Maxwell (Team Suzuki ECSTAR, Suzuki GSX-R EL R, 57.754) and the Yamaha Racing Team pair of Daniel Falzon (Yamaha YZF-R1M, 57.757) and Cru Halliday (Yamaha YZF-R1M, 57.916). The day was mostly cloudy with some sunny patches, however a sudden downpour and lightning just after 3pm led to the last session being cancelled, leaving Herfoss's time from Free Practice 2 (FP2) as the fastest of the day.
Despite the cancelled session, Herfoss was happy to perform well in front of his home crowd. "I really enjoy riding here" he said. "Even if it wasn't my home track I'd still enjoy the track, but it is pretty cool coming back and visiting all my friends and family.
"The track been good for me in the past, results-wise. I haven't always been the fastest guy but I've had a lot of good luck here, and I think part of that's been being at the front of the race at the start, so it's really important to qualify well. We had a good session in FP2, made a few little improvements with the bike and I got a clear run midway through the session and got a good lap in. It was nice to be able to repeat the laptime in the dry and now we've jut got to hope it doesn't rain or hope we can go as well if it rains tomorrow."
The day saw two spectacular crashes, the first of which came when championship leader Aiden Wagner (Landbridge Racing, Yamaha YZF-R1M, 58.677) tumbled through the gravel trap at turn two with two minutes to go during FP1. After a short delay, he was up and OK but the bike was subsequently carried off the recovery trailer in a series of bits and pieces. Wagner returned to contest the second session and finished the day in eighth. Free Practice 2 was red flagged after Ted Collins (NextGen Motorsports, BMW S RR) crashed heavily at the pitlane entry. Collins luckily managed to get up and walk away, and he finished the day in 14th (59.417).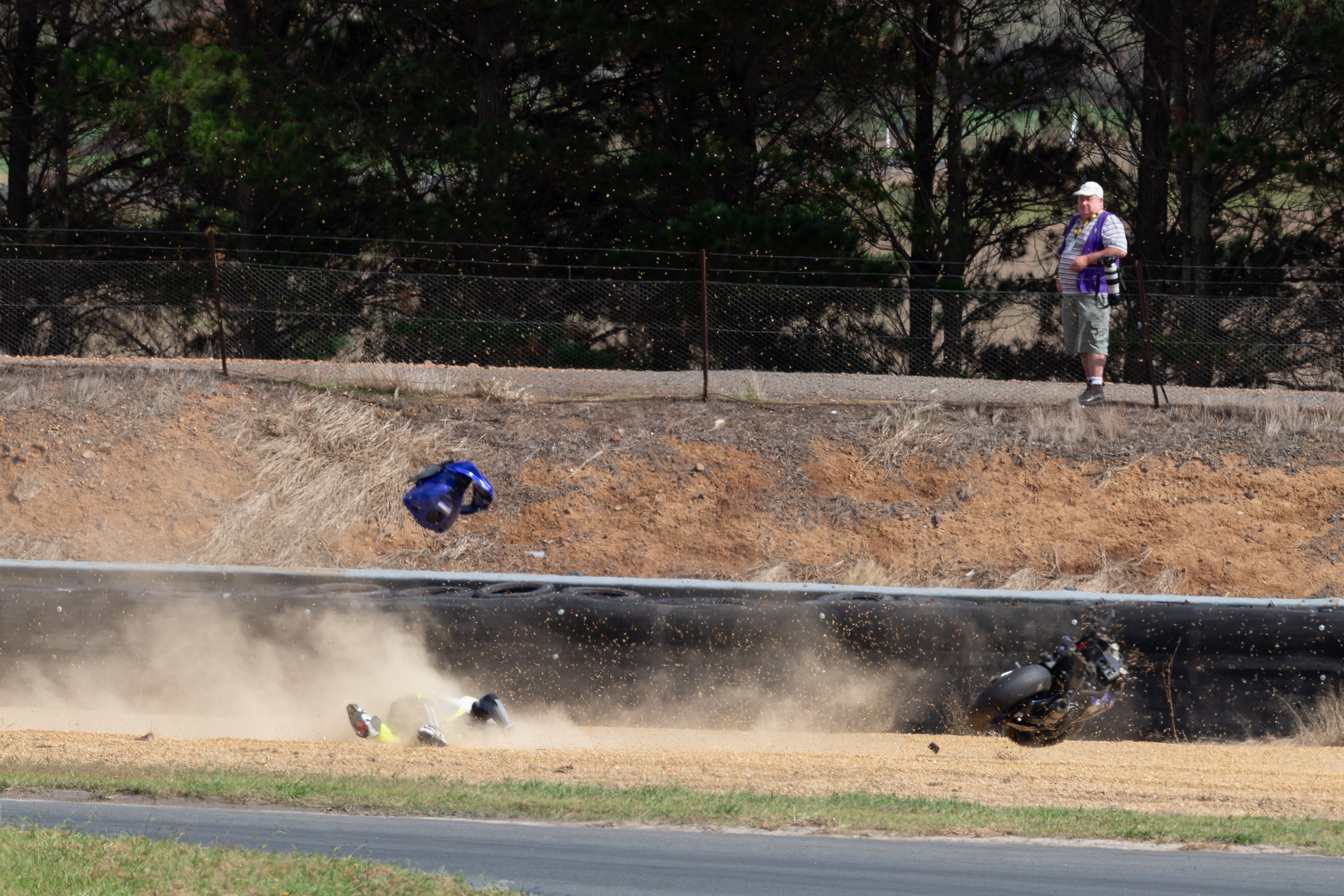 (Above) Aiden Wagner crashed during practice Friday at Wakefield Park. Photo by Andrew Gosling/TBG Sport, courtesy of Motorcycling Australia.
Injured Troy Bayliss's Desmosport Ducati ride appears to be in safe hands this weekend with replacement Mike Jones (Desmosport Ducati, Ducati 1299 Final Ed., 58.116) consistently running near the top of the table throughout the day. The 2015 ASBK Champion was one of the first riders into the 58 second bracket, and ended the day fifth fastest behind Halliday. Maxwell's Team Suzuki ECSTAR Australia teammate Josh Waters (Team Suzuki ECSTAR, Suzuki GSX-R EL R) was sixth fastest with a 58.193.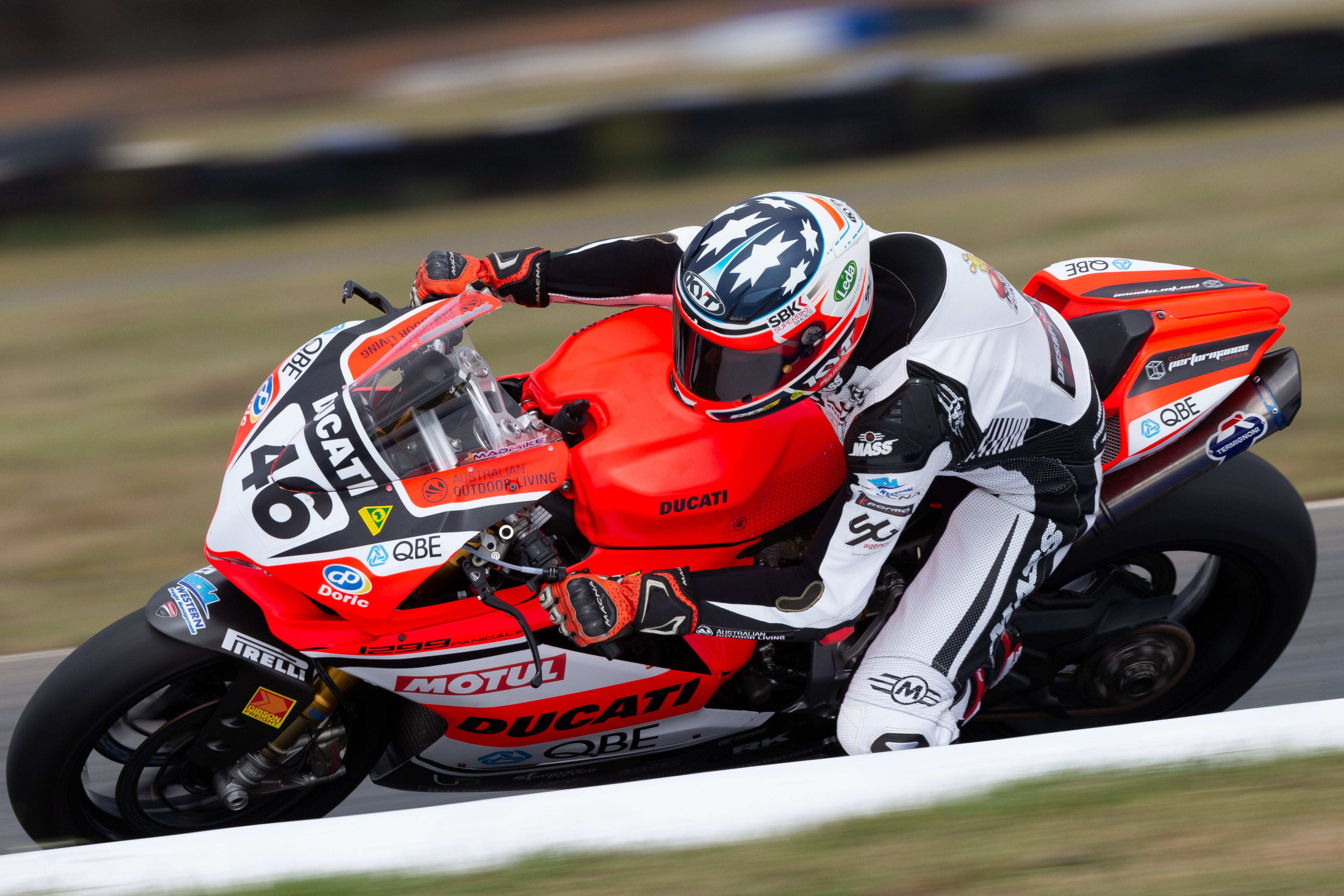 (Above) Mike Jones (46) filling in for Troy Bayliss on the Desmosport Ducati 1299 FE. Photo by Andrew Gosling/TBG Sport, courtesy of Motorcycling Australia.
The action from Wakefield Park continues tomorrow with Round 2 of the Motul Pirelli Australian Superbike Championship taking place this weekend (March 22-24). Tickets are still available, head to ASBK.com.au for information, or to purchase.
Follow all the ASBK action from Wakefield Park on Facebook and Instagram.
Watch live coverage of the ASBK on Fox Sports and SBS, check your local guides for details. For live, online extended coverage available worldwide, head to ASBK.com.au
Combined Practice Results:
1 Troy HERFOSS (Penrite Honda Racing, Honda CBR RR SP, 57.455)
2 Wayne MAXWELL (Team Suzuki ECSTAR, Suzuki GSX-R EL R 57.754)
3 Daniel FALZON (Yamaha Racing Team, Yamaha YZF-R1M 57.757)
4 Cru HALLIDAY (Yamaha Racing Team, Yamaha YZF-R1M 57.916 )
5 Mike JONES (Desmosport Ducati, Ducati 1299 Final Ed. 58.116)
6 Josh WATERS (Team Suzuki ECSTAR, Suzuki GSX-R EL R 58.193)
7 Alex PHILLIS (Team Suzuki ECSTAR, Suzuki GSX-R EL R 58.676)
8 Aiden WAGNER (Landbridge Racing, Yamaha YZF-R1M 58.667)
9 Bryan STARING (Kawasaki BCperformance, Kawasaki ZX10RR 58.699)
10 Damon REES (Carl Cox Motorsport, Honda CBR RR SP 58.760)