Young Gun Bayliss Breaks Through For Maiden ASBK Win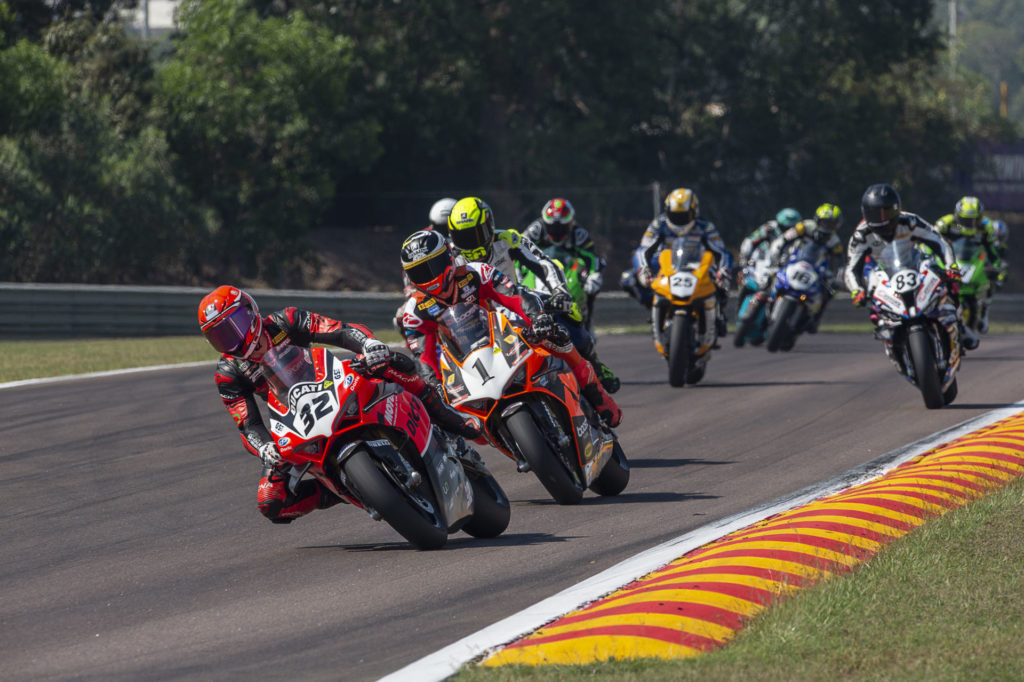 Rising star Oli Bayliss has defeated Wayne Maxwell in a nail-biting Ducati duel to snare his maiden race and round wins in the mi-bike Motorcycle Insurance Australian Superbike Championship, presented by Motul, at Hidden Valley today.
This morning's second race of the weekend was declared a non-event after an incident involving yesterday's race winner Troy Herfoss on the opening lap.
In Race 3, a strong start from Bayliss allowed him to take the lead from Maxwell heading into the first corner, but Maxwell recaptured the top spot a couple of laps later. The two Ducati riders continued their contest until the race was red-flagged after four laps due to a crash involving Matt Walters and Corey Turner at the first corner.
The race was restarted with eight laps remaining, Maxwell leading the field away. He and Bayliss each set times underneath Herfoss' Saturday lap record as they pulled clear of the rest of the field.
A committed move from Bayliss into the first corner enabled him to take the lead two laps from home and he was able to withstand Maxwell's pressure to secure a memorable first win in the Alpinestars Superbike class.
A gracious Bayliss said his thoughts were with the riders involved in crashes over the weekend, including his DesmoSport Ducati team-mate Mike Jones.
"Unfortunately Jonesy and Troy had crashes, which is a shame because I know they would have been up there with us today," Bayliss said.
"I'm happy that something clicked with me and the team, and I'm sure that as the year goes on we can keep winning.
"After the red flag, my tyre grip didn't feel the best and I had a feeling Wayne was in the same boat.
"As the race went on, I stayed behind him, worked out a place where I could pass him and tried to win the race from there."
Bayliss said he and his legendary father, Troy, are looking forward to celebrating back at their home on the Gold Coast.
"Hopefully Mum will cook us a nice dinner and then I'll get straight back into training," he said.
Another second-place finish for Maxwell saw the Boost Mobile with K-Tech rider extending his championship lead to 26 points.
"Oli rode fantastic in Race 3, it was a terrific battle," Maxwell said.
"We had our back to the wall this weekend with some of our team members not able to be here, so to come away second for the round is very good for us.
"I feel for Troy, to see something like that happen to one of your best mates is awful, so I wish him all the best for a fast recovery."
Glenn Allerton recorded another third-place finish in Race 3 and moved up to third in the standings.
"It's been a great debut for our new BMW, it's fantastic to finish on the podium even though we had some teething problems this weekend," Allerton said.
"Once we're able to test, I'm confident we'll be competitive with the front-runners, there's heaps of potential there."
Bryan Staring brought his Kawasaki home fourth ahead of the Yamahas of Daniel Falzon, Aiden Wagner and Anthony West; the second Kawasaki BCPerformance entry of Josh Waters was eighth, with Cru Halliday and Jed Metcher completing the top 10 on their Yamahas.
The next round of the ASBK takes place at Morgan Park, 20-22 August.
More, from another press release issued by ASBK:
STATEMENT: ASBK Race 2 Incident Involving Troy Herfoss
Troy Herfoss has been involved in an incident on lap one, race two of the Alpinestars Superbikes at Hidden Valley this morning for round four of the mi-bike Motorcycle Insurance ASBK, presented by Motul.
The Racesafe medical chase car was immediately in attendance at the scene of the incident.
Herfoss is in a serious but stable condition, and he is being transported to Royal Darwin Hospital for further investigations.
The race was declared with no points awarded.
The third and final ASBK race of the weekend is scheduled for 2:05pm.
More, from a press release issued by Penrite Honda:
ASBK RACE ONE WINNER HERFOSS HOSPITALISED IN DARWIN INCIDENT
Penrite Honda Racing rider and race one winner Troy Herfoss remains hospitalised in Royal Darwin Hospital following an incident in today's Australian Superbike Championship (ASBK) round at Hidden Valley.
The two-time ASBK champion starred in Saturday's opening 16-lap encounter by storming to victory with a final lap pass on-board his ER Motorsports-prepared CBR1000RR-R Fireblade SP.
Earlier, Herfoss was fourth-fastest in practice and qualified in P4 beneath the previous circuit qualifying record at 1m05.645s. From there, he went on to deliver an exceptional performance in the opening outing for the win and broke the race lap record with a 1m05.618s in the process.
With anticipation high for Sunday's scheduled pair of Superbike races alongside the Supercars as part of the Northern Territory's Darwin Triple Crown event, Herfoss unfortunately fell in turn three on lap one at over 200km/h and made contact with the outside air-fence and barrier.
Initial scans have confirmed that 34-year-old Herfoss has sustained a badly-broken right humerus and femur in the fall. Both will require surgery in order to begin his road to recovery and, at this point, he has been cleared of any further injuries.
"Our focus at this stage is obviously on Troy and doing what we can to assist him with his injuries, we certainly wish him well and hope for the best possible outcome in his recovery," commented Penrite Honda Racing team owner Deon Coote.
"As he always does, Troy was exceptional in race one yesterday to take the win and we were buzzing following that result and such a spectacular finish. Today has been a difficult one, but we thank the trackside medical crew and everybody for expressing their support of Troy."
The points scored by Herfoss in race one yesterday afternoon meant that he was credited eighth overall for the weekend and currently sits second in the 2021 championship point-standings.
Follow Honda Racing Australia on Facebook, as well as @honda_racing_aus and @penrite_honda_sbk on Instagram for the latest updates. To find out more on the Honda CBR1000RR-R Fireblade SP, visit: https://motorcycles.honda.com.au/models/onroad/supersport/cbr1000rr-r-sp