Herfoss Two From Two in Front of Huge Crowd at Wakefield Park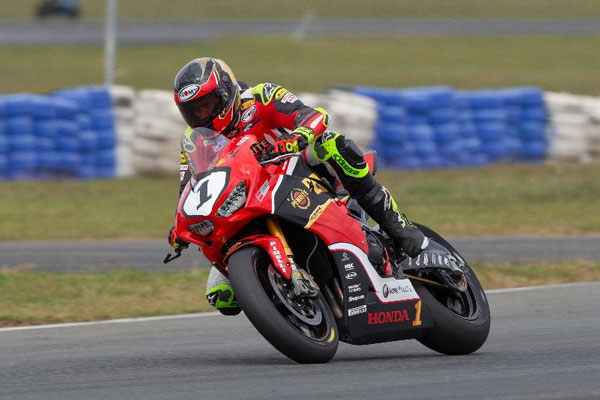 (Above) Troy Herfoss (1) at speed. Photo by Andrew Gosling/TBG Sport, courtesy of Motorcycling Australia.
24 March 2019
Troy Herfoss (Penrite Honda Racing, Honda CBR RR SP) took win number two of two in Kawasaki Superbike in front of a massive crowd here at Round 2 of the 2019 Motul Pirelli Australian Superbike Championship (ASBK, March 22-24). Herfoss's home fans turned out in force to watch the Goulburn local claim the round win, with over six thousand coming through the gate across the weekend to set a record crowd figure for the ASBK at Wakefield Park.
Cru Halliday (Yamaha Racing Team, Yamaha YZF-R1M) claimed second for the round on 41 points, and Wayne Maxwell (Team Suzuki ECSTAR, Suzuki GSX-R EL R) was third for the weekend on 35. The result sees Halliday now provisionally leading the championship on 96 points, ahead of Herfoss (91) and Mike Jones (83, Desmosport Ducati, Ducati 1299 Final Ed) who had a fantastic performance to claim fourth for the round as an injury replacement for Troy Bayliss.

(Above) The start of Australian Superbike Race Two at Wakefield Park. Photo by Andrew Gosling/TBG Sport, courtesy of Motorcycling Australia.
Race 2
As the revs rose and the riders lept away at the start, Halliday found himself on the wrong side of turn one and bundled out of the lead, Herfoss through to force Halliday into second place. Daniel Falzon (Yamaha Racing Team, Yamaha YZF-R1M) moved into third with Maxwell challenging behind him in fourth.
As the field sorted themselves out and began their third lap a small gap was emerging at the front, with a lead group of five comprising of Herfoss, Halliday, Maxwell, Falzon, and Jones. Maxwell gained a place on Falzon to take fourth, before Jones did the same thing and pushed the Yamaha rider back to fifth.
At quarter distance the lead group was well established, with no rider looking stronger than any other. Jones made a small mistake on lap six to give the chasing Falzon a chance to overtake but he managed to retain the place. Maxwell tried a few looks up the inside on Halliday but couldn't commit to any of them, having to hold his position in third for now.
Herfoss still held the lead at the front as the race passed its halfway point, with Halliday in second and Jones third after squeezing the Panigale up the inside of Maxwell's Suzuki at turn 11. The front two had built up a gap from the leaders and were looking to make a two-way battle to the finish when the race was red-flagged after thirteen laps. Kawasaki's Lachlan Epis (Kawasaki BCperformance, Kawasaki ZX10RR) had crashed and required medical attention, handing the win to Herfoss.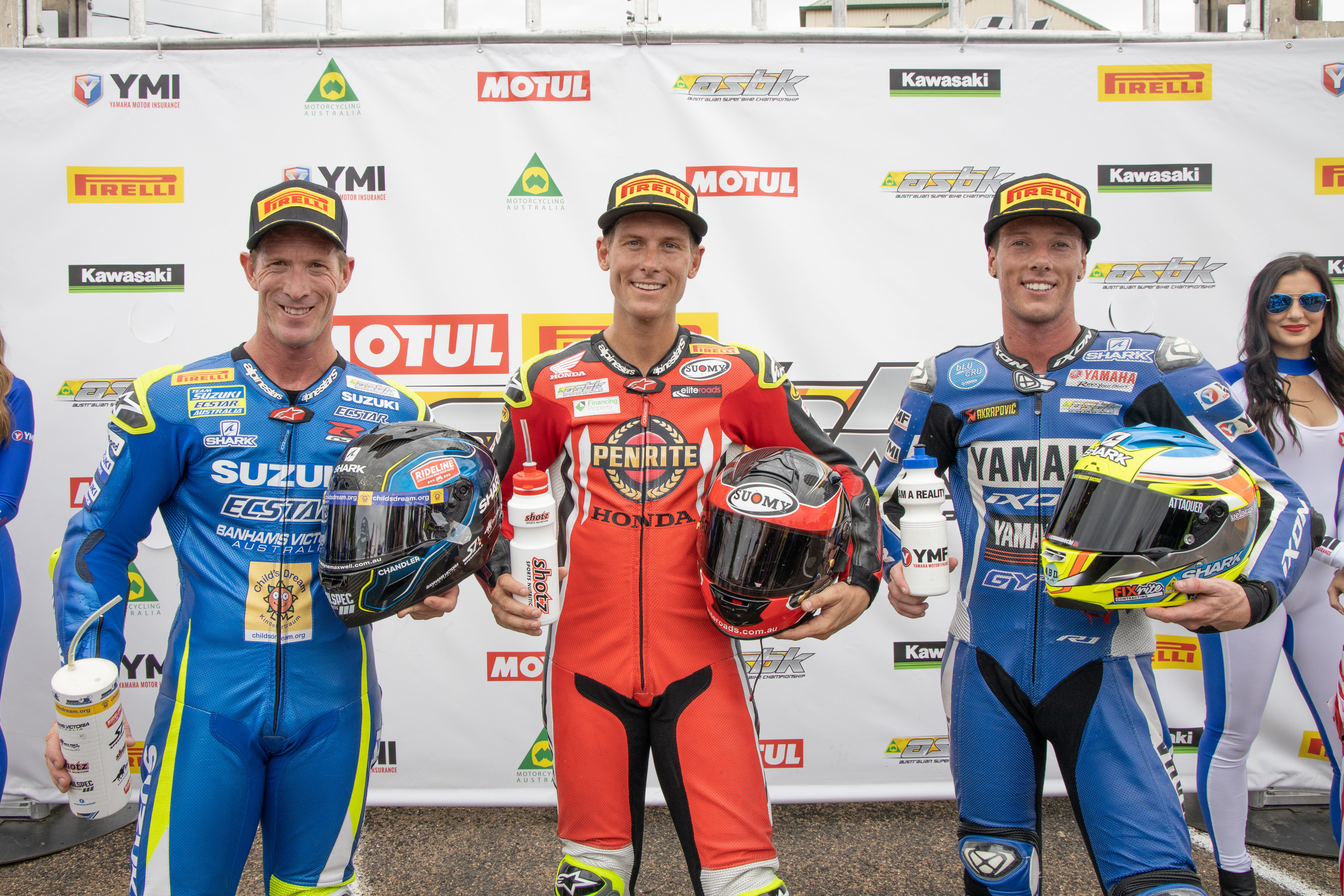 (Above) Race Two winner Troy Herfoss (center), runner-up Cru Halliday (right) and third-place finisher Wayne Maxwell (left). Photo by Andrew Gosling/TBG Sport, courtesy of Motorcycling Australia.
Herfoss was thrilled with the win in front of his home crowd. "I was just so happy to win the race, it's disappointing about the red flag but as far as the race went it was perfect" he said. "I got the holeshot and took my time on every lap. I could see Cru was there but he wasn't quite able to pass me."
"I'm so excited for the team to take two wins and claw the points gap back, we're only five points from the lead now, so I'm looking forward to Round 3 at The Bend."
Halliday was circumspect about second position in the Race 2 and the round. "I didn't make any mistakes in the race and I rode a hundred percent," he said. "So hats off to Troy, he was pushing the pace. I was just waiting for him to make a mistake and he just doesn't make mistakes."
Round 3 of the Motul Pirelli Australian Superbike Championship heads to The Bend Motorsport Park, SA, 26-28 April.
To keep up to date with all the news from the ASBK, head to ASBK.com.au. Follow all the ASBK action from Wakefield Park on Facebook and Instagram.
Round Points, Round 2:
1 Troy HERFOSS (Penrite Honda Racing, Honda CBR RR SP, 50)
2 Cru HALLIDAY (Yamaha Racing Team, Yamaha YZF-R1M, 41)
3 Wayne MAXWELL (Team Suzuki ECSTAR, Suzuki GSX-R EL, 35)
4 Mike JONES (Desmosport Ducati, Ducati 1299 Final Ed, 34)
5 Daniel FALZON (Yamaha Racing Team, Yamaha YZF-R1M, 33)
6 Josh WATERS (Team Suzuki ECSTAR, Suzuki GSX-R EL R 30)
7 Bryan STARING (Kawasaki BCperformance, Kawasaki ZX10RR 27)
8 Matt WALTERS (Kawasaki Connection, Kawasaki ZX10RR 26)
9 Alex PHILLIS (Team Suzuki ECSTAR, Suzuki GSX-R EL R 26)
10 Glenn Scott (GSR, Kawasaki ZX10RR 23)