Race 2: 16 Laps
Starts. For most riders they're just something to get done for good or ill and then get down to the actual real business of racing.
But that's not how racing works. Get a bad start and you'll find yourself with plenty to do. Motorcycle racing can be more forgiving compared to our four wheeled cousins where passing is at a premium.
For Wayne Maxwell and Arthur Sissis, they found themselves as the yin and yang of Race Two. Arthur repeated his good start of yesterday but with a little greatness thrown in this time round, taking his Yamaha from seventh to first into turn one. For Wayne Maxwell, short of crashing, he could not have had a worse start. "Like a kid trying to pop a wheelie on a BMX" was the call from the track announcer and it was hard to argue with that analysis, as the reigning champion effectively swapped grid places with Sissis.
It felt like a pivotal moment for both men. For Sissis it was the realisation that he could not only get to the front, but he could box on with the likes of Herfoss, Jones, Halliday and Allerton.
For Maxwell, it appeared to be the moment he conceded more points to Jones and with it potentially the title.
Up front, for five solid laps Arthur Sissis contested the lead and was P1 every time over the finish line. The South Australian Sissis gave as good as he got, showing that a good start was not all he had. In a field of wily, older racers, it was gratifying to see a twenty something serving up a hot bowl of quality race craft to the olde brigade. Staring had to use everything he had at his disposal- including the mighty DesmoSport Ducati's straight-line advantage- to squeeze into the lead.
Championship leader Mike Jones just did that thing he does; circulating steadily and without fanfare while everyone else dropped bombs and occasionally banged fairings. It was easy to get suckered into an MMA-style battle for position, but the blue 46 Yamaha of Jones sat comfortably in fourth. While Sissis was conceding the lead to Staring on lap five, the formerly serene Jones found himself being passed by man-on-a-mission Wayne Maxwell. There was no dicing, the #1 Ducati just blew by him as Maxwell had eyes only for the front of the field.
Herfoss barged his way past Sissis and kindly left a Mike Jones sized gap and then Arthur out braked himself into turn one, running wide and just like that, a podium chance went begging.
Maxwell remained fixated on his mission and despite the Pirellis having great grip for the whole distance thus far, it was hard to believe he hadn't somehow set them afire with his relentless pace that included a lap record (1:05.407) in case anyone needed convincing.
As the race drew closer to the checkered flag, it was a race between two warring parties: Maxwell and Staring, Jones and Herfoss. With the usual benefit of hindsight, they ought to have called a ceasefire to get away- or catch up- as their dicing was slowing their pace and the leading pair could not get away allowing the chasers to stay within a shot. Jones pulled out all he had and was able to get past Staring on the last lap.
But it was Maxwell at the flag who had been able to bang out some solid laps to deny Jones any chance of a tow to the line and take the win.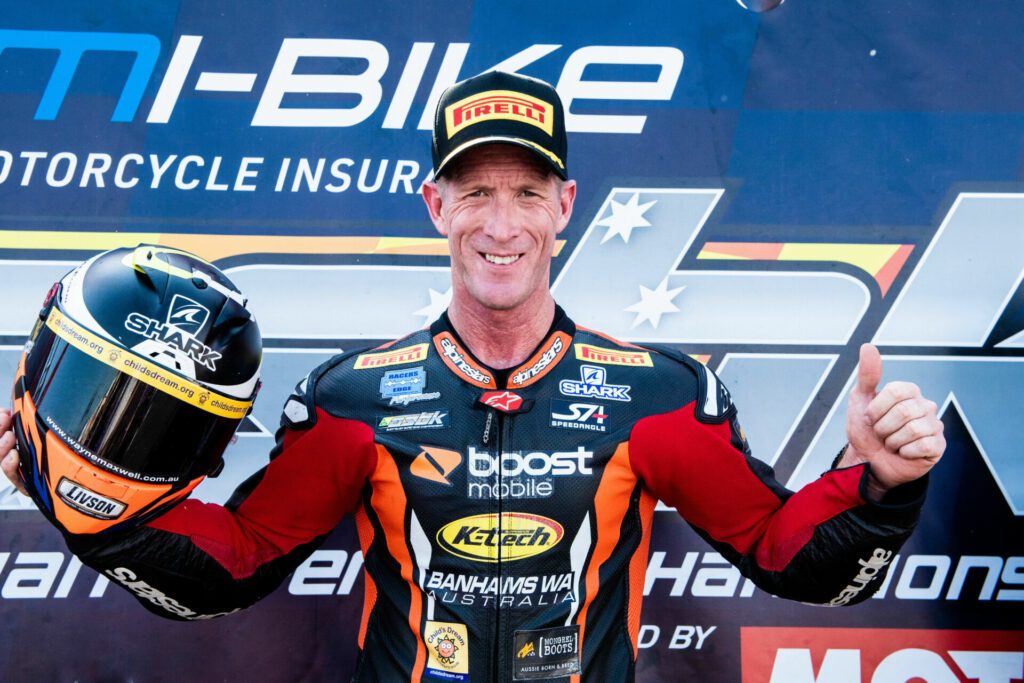 Staring came home in third with Herfoss in fourth, unable to match his heroic second from Saturday. He later conceded that his pace is his pace and there's not much left.
The top four completed the 16-lap journey inside Jones' winning time from Saturday, a fair indication of how the track was perhaps better, but also that the riders and teams found a little more to close the gap to Mike Jones. One rider noted it was a "good old-fashioned race with battles everywhere" and that was evident from the provisional lap chart.
Supercars fans unaccustomed to the frenetic pace and punch-ons that the Alpinestars Superbike class can deliver, were impressed.
Wayne Maxwell showed that he's absolutely at his best when on the ropes and that anyone thinking he was out of the hunt for '22 were very, very wrong.
…and there was still one race to come.
Race Three – Once More Dear Friend
"…it can't be reasoned with. It doesn't feel pity, or remorse, or fear. And it absolutely will not stop… ever.." The Terminator.
Motorsport remains a "funny old game" even if that is a cliche. One race- say race two today at Hidden Valley- you might pull out a ride that has commentators searching for new superlatives.
Other times you have an innocuous low side and hand your main rival not only a race win, but maybe the Championship.
When, as Wayne Maxwell did, you do this in back-to-back races, well then yes, absolutely, it is indeed "a funny old game".
Early on, it wasn't funny, but it was certainly entertaining as the leading duo in the championship were also the leading duo in race three. They swapped the lead a few times and then a resurgent and confident Glenn Allerton found himself back close to the front again. On lap four Allerton pushed past longtime rival Maxwell and with all the self-confidence we know Glenn has, he clearly began to think about winning the race.
Maxwell, however, fell into the clutches of Staring and Herfoss, and coming out of turn six he just twisted the throttle a little too much and had the easiest, slowest and costliest low side. He knew what the stakes were and did not let go of the bike, preferring to spin to a slow stop while gripping onto the bike and his title chances with both hands. Maxwell remounted, but there would be no repeat of his race two heroics, the front runners were gone and the gap to season-saving points was half a lap up the road.
This middle phase of the race made it clear that it's time Mike Jones retired the "Mad Mike" moniker. Mad has too many aggressive and wild connotations. His performance this weekend and particularly in race three was not mad. Some said it was robotic, and if this is true, then he is the Terminator. He just did everything needed to execute the mission. Solid laps, a bigger gap and then eyes were just on the battle for second as the blue R1 with the familiar 46 on it loudly drew away from the field.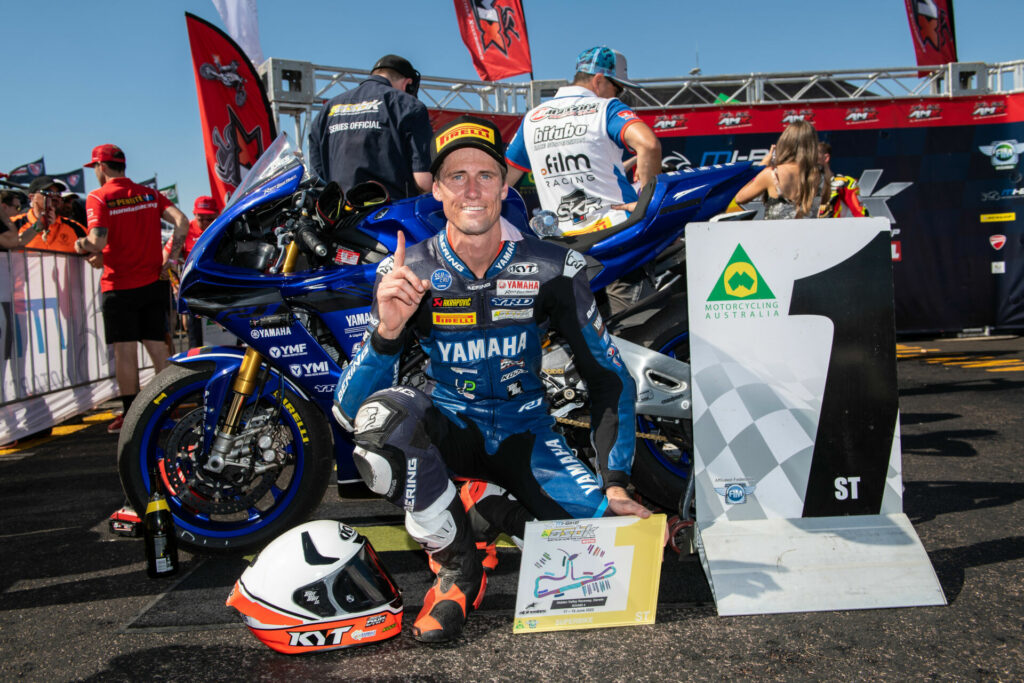 The battle for second was on in earnest with the trio of Allerton, Staring and Herfoss all rightly laying claim to the spot while Halliday and Sissis drove their Yamahas hard to stay in contact. Allerton found himself down as low as fourth, Herfoss as high as second, but also as low as fourth. With three laps to go, Staring had both Allerton and Herfoss push past and set sail for the line. Their battle would come down to the last corners and when Herfoss tried his usual up-the-inside move, Allerton placed himself decisively in his way and Herfoss was unable to perform his favorite move.
That was how they ran to the line. Jones – Daylight- Allerton– Herfoss– Staring.
Wayne Maxwell was able to move up to 11th for ten points and salvage something from the low side disaster at turn six, but now finds himself some 40 points (162) behind Jones (202).  It is not insurmountable, but every time Jones has a round where he stretches his lead, Maxwell has one less round to catch him. The maths look difficult with three rounds, six races remaining and a maximum of 153 points on offer.
For the other top contenders- Staring (155) is now within 7 points of second in the Championship, while Halliday, Herfoss and Waters find themselves – incredibly – on the same points in fourth (136). That will be some kind of battle for the rest of the season. Allerton and Sissis are next and also sit together on 131 points.
The Championship now has a mid-winter break before reconvening at Morgan Park 5-7 August, with the regular classes rejoining us for what promises to be a hectic back half of the season.
Mike Jones, First Overall:
"The team did a fantastic job and gave me a bike that I was able to race on in all conditions. When the track was in the cool conditions, we were able to go fast, when the track was hot and greasy it was a bike that was ridable and comfortable enough to be able to be super consistent on."
"Overall first for the weekend and extending our championship lead is very important for us leaving here this weekend."
"The trickiest thing was on the Sunday we've got two races, but we don't have a warmup session, we just go straight into the first race. I found that tricky because it's not something we don't normally do."
Troy Herfoss, Second Overall:
"Yesterday was pretty emotional to be honest… I won't forget yesterday anytime soon, that was a big day for me."
"Driving off the corner, especially turn one here when you're on the side of the tyre for a while, when I'm picking the bike up I'm just not driving forward. The bike's not slow, but I look like I'm slow down the straight because I'm so bad off the last corner."
"Moving to Morgan Park that issue's gonna be sidelined for now… all the corners where we brake hard, accelerate out and you can get that pitch in the bike, I'm quite good and the bike works quite well… I feel like I'll be strong at Morgan Park."
Glenn Allerton Third in Race Three:
"I feel like we were in a battle for the podium all weekend… we improved the bike for race 2 and overall the package was better but we had a mechanical problem with the seat unit and the whole ducktail coming loose with the bike, I just rode around for points in the end of that race."
"I knew that I needed to just sit on Troy and when he made a move, make a move straight away on Bryan as well… which I managed to do."
"He's (Troy) always going to go the inside up there on those last two corners and I knew it, so I rode tight on the entry to make him go even tighter than normal… All I wanted for him to do was to have to commit more than he wanted to so that he would roll wide on the exit so that I could drive down the last turn and it pretty much played out exactly how I wanted it."
Bryan Staring, Third Overall:
"We wanted more than we got, really I think we need to go back and review the weekend as to why we didn't get it… That will only make us stronger for the future."
"We were very much in the fight, we put in a massive show and huge effort to challenge all the riders… we were certainly a big part of the show for ASBK this weekend."
"The first race is a good example that I was prepared to fight in the closing laps… The last race is an example that I couldn't fight in the last laps"