Marvin Fritz and Karel Hanika, the newly crowned 2023 FIM Endurance World Champions, rode their Bridgestone-shod YART Yamaha YZF-R6 to the overall victory in the ASRA Team Challenge Friday at Daytona International Speedway, in Daytona Beach, Florida.
After riding on the 3.51-mile infield road course for the first time on Friday morning, Fritz started the race and moved YART Yamaha up from seventh on the grid to third. Fritz then pitted at the end of lap 19 for fuel, a new Medium-compound rear Bridgestone slick, and to hand off to Hanika.
With no quick-change wheels or quick-fill fuel tank on their borrowed YZF-R6, YART Yamaha's pit stop was much longer than they were used to, and they slipped back to seventh. Then just past the halfway point of the race, a red flag stopped the race temporarily.
Matt Truelove was fourth and moving forward through the field on his new Truelove Brothers Racing Suzuki GSX-R750 Next-Generation Supersport machine when his rear Pirelli lost a huge section of its tread and threw him down while running through NASCAR Turn Four at an estimated 155 mph.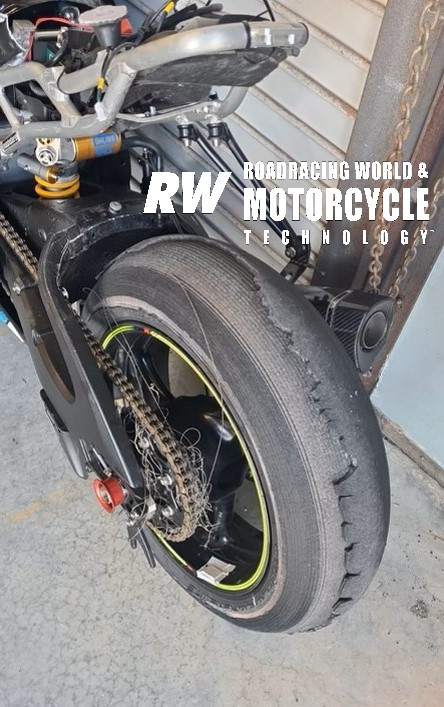 Truelove was battered and bruised but was expected to make a full recovery, according to his brother Harry Truelove.
After a 30-minute stoppage, the two-hour race was restarted.
Hanika took the restart on the YART Yamaha and raced for the overall lead with Max Angles on his Dunlop-backed Kawasaki ZX-6R and MotoAmerica Stock 1000 podium finisher Diego Garcia on his Bridgestone-equipped BPM Yamaha YZF-R6. But Garcia said he made two mistakes that relegated him to third and left Hanika and Angles to duel for the victory.
Hanika led the race at the start/finish for the last 10 laps and then played the infamous Daytona drafting game perfectly to overtake Angles on the final lap and win the race.
"All the guys told me to be careful about this, to make the tactics," Hanika told Roadracingworld.com. "Also, I watched last year's race. So, I tried to understand how it works. We knew we were losing a little bit [off] the corners with the power, so I had to take a bigger gap to be able to draft him at the end. Actually, I was closing the throttle all the way in the banking corner to pass him in the last part of the track at the finish line. It went pretty well. It was good experience for the Daytona 200. I just want to be here in the same place [Victory Lane] in six months."
Angles had to settle for second place, 0.109 second behind YART Yamaha. BPM's Garcia held on to take third.
ASRA Team Challenge
Daytona International Speedway
Daytona Beach, Florida
October 20, 2023
Provisional Overall Race Results:
YART Yamaha (Marvin Fritz/Karel Hanika), Yam YZF-R6, Bridgestone, 42 laps
Max Angles (Max Angles), Kaw ZX-6R, Dunlop, -0.109 second
BPM (Diego Garcia), Yam YZF-R6, Bridgestone, -4.250 seconds
Top Pro 1 (Alex Arango), Suz GSX-R750, Dunlop, -15.099
Bauce Racing (Joseph LiMandri, Jr.), Yam YZF-R6, Pirelli, -15.189
Grease Monkey Racing (Eric Helmbach), BMW S 1000 RR, Michelin, -58.511
Martinez Racing (Calvin Martinez), Kaw ZX-10R, -79.465
5 Star Racing, Yam YZF-R6, -83.893
Truelove Brothers Racing (Harry Truelove), Suz GSX-R750, Pirelli, -1 lap
Team Mallett (Cole LaFlamme), Suz GSX-R750, Dunlop, -3 laps
Mandalo Racing, Yam YZF-R6, -3 laps
McNology Racing (David McPherson), Yam YZF-R6, Bridgestone, -4 laps
Chris Sullivan, Yam YZF-R6, -4 laps
Galactic Unicorns, Tri Street Triple, -4 laps
Top Pro 2, BMW M 1000 RR, -4 laps
Reality 1 Group Affinity, Yam YZF-R7, -4 laps
Pirelli Tires (Shane Narbonne), Yam YZF-R6, Pirelli, -8 laps
Michael Brady, -8 laps
Hazardous Racing, Yam YZF-R6, -9 laps
Israel Gillette, -10 laps
Antal Halasz (Antal Halasz), Yam YZF-R1, -12 laps
Truelove Brothers Racing (Matt Truelove), Suz GSX-R750, Pirelli, -14 laps
Analog Racing, Suz GSX-R1000, -15 laps
Conor Coughlin, -17 laps
Bad Decisions, KTM Duke 790, Metzeler, -17 laps
Team Canada, Kaw ZX-6R, -17 laps
Bowen Racing, Ducati Panigale V2, -17 laps
Amr Habibe, BMW S 1000 RR, -18 laps
Top Pro 3, Apr RS 660, -20 laps
Coleman Powersports Kawasaki, Kaw ZX-6R, -29 laps
Brian Grasso, Yam YZF-R6, -30 laps
Coleman Powersports The Better One, Yam YZF-R6, -38 laps
Panda Racing, Kaw ZX-6R, -40 laps