American Tyler Scott has signed to compete for Monlau Competicion's Estrella Galicia 0,0 Team in the 2020 European Talent Cup.
Prior to 2019, Scott won an AMA Moto3 Road Race Grand Championship, a WERA Formula Three National Challenge Championship, two WERA Sportsman regional Championships, five CCS regional Championships, six AMA Flat Track Grand National Championships, and was named AMA Flat Track Youth Rider of the Year…twice.
Then in 2019, Scott was selected to be the sole American in the Red Bull MotoGP Rookies Cup, replacing the graduating Sean Dylan Kelly.
Scott, however, endured a season filled with setbacks, including a high-speed crash when his front brake pads fell out and another crash that nearly cost him a finger.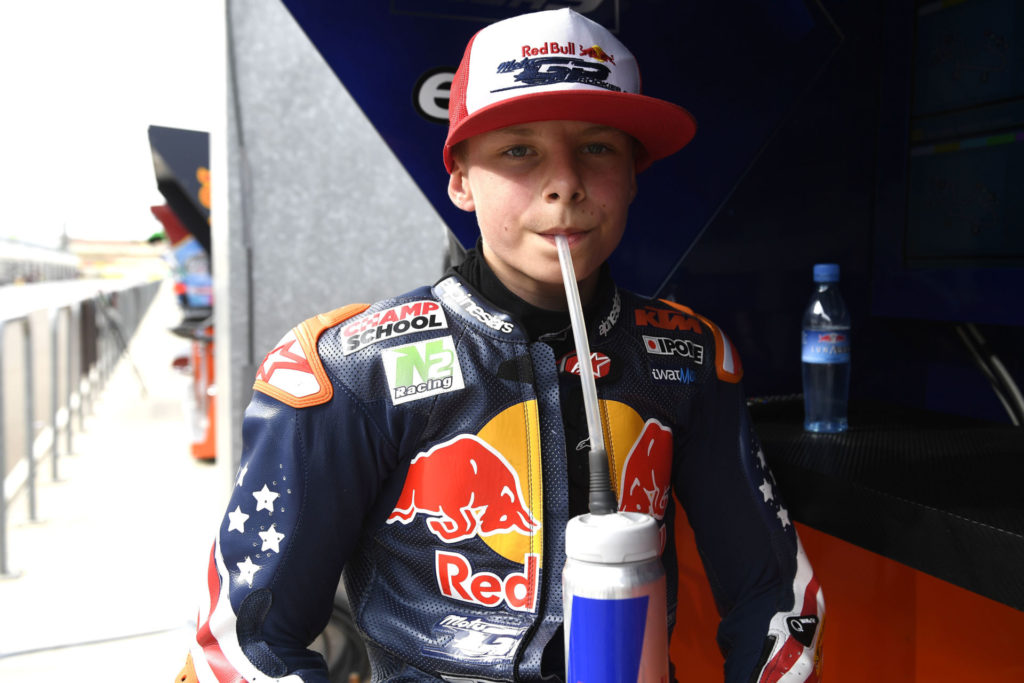 As 2019 came to a close, the rider from Pennsylvania had only managed to score two top-10 finishes in the Red Bull MotoGP Rookies Cup while showing some flashes of potential but little in the way of actual results in the European Talent Cup, which runs at Repsol FIM/CEV events in between MotoGP rounds.
This lack of standout results led to Scott not being offered a ride in the 2020 Red Bull MotoGP Rookies Cup, and he and his father Mike Scott thought their time racing in Europe was over.
"Finishing the year out we weren't sure we were coming back and we were looking toward coming back to the U.S.," said Mike Scott. "I had spent a bunch of money to race in the European Talent Cup, and we couldn't afford to do that again. So we were planning on coming home and doing some dirt track racing and racing in the MotoAmerica Junior Cup. Then, we got approached from a friend of ours who worked on the Estrella Galicia [0,0] team."
Estrella Galicia 0,0 is the beer brand that sponsors some teams fielded by Monlau Competicion. Monlau Competicion runs the Monlau Repsol Technical School for motorsports technicians and in parallel runs the Monlau Competicion Rider Development Program, which has teams in the RFME (Spanish) National series, the Repsol FIM/CEV International Series, and the FIM Moto3 World Championship. And Monlau Competicion and Estrella Galicia are partners in the Marc VDS Racing Moto2 World Championship and MotoE World Cup.
Some of the riders who have come through the Monlau Competicion Rider Development Program include: Francesco Bagnaia, Aleix and Pol Espargaro, Jorge Lorenzo, Alex and Marc Marquez, Tito Rabat, and Alex Rins – to name a few.
"It's awesome. I can't fully realize how good this deal is right now," Tyler Scott told Roadracingworld.com in a telephone interview. "Last year, I never rode with kids that ride at the level they ride at, and they ride differently. But overall, it was a good learning season. I learned a lot and it made me become a better rider. Now, I'm looking forward to the 2020 season because I know I'll do better and learn a lot more."