American Mikey Lou Sanchez achieves his best results thus far in the ESBK Spanish Superbike Championship Moto 4 class at MotorLand Aragon.
Mikey Lou, age 12, started the race weekend off well on Friday feeling confident because last year he was able to finish on the Cuna de Campeones Moto5 podium at MotorLand Aragon.
In Friday's first practice session, he was able to get in the top 10, but he struggled in FP2. He was not worried going into Saturday morning's Qualifying session; He was determined and ready. With that confidence, he was able to qualify P4 – his best qualification so far this year.
In Race One, Mikey got off to a great start and ran with the front group. On lap three, he made a mistake in Turn One, which put him back 1.6 seconds from the leaders. He was able to catch back up quickly, however, and had an intense battle with the other five riders in the lead group and finished fourth – 0.163 second behind the race winner!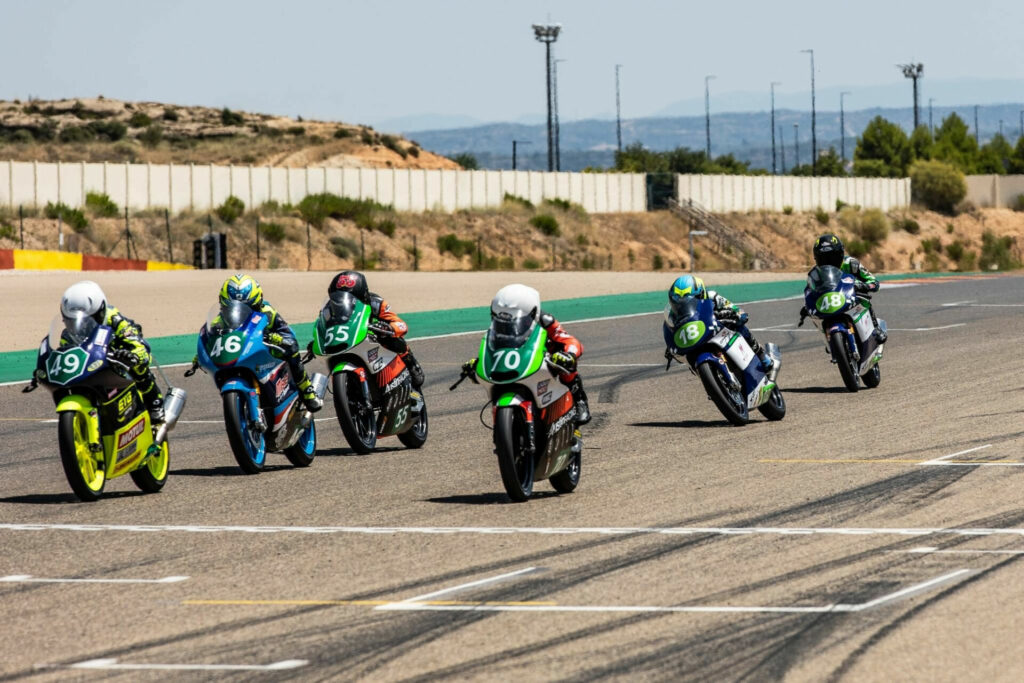 Going into Race Two on Sunday, Mikey said, "I'm going to win today! I know exactly where I need to be on the last lap to make it happen!"
But unfortunately, Mikey and another pilot were taken out on lap four by another rider's mistake.
"The entire family was confident," said Trinity Richardson, Sanchez's mother. "We knew Mikey could win here. It's an unfortunate situation, but we're glad Mikey and the other riders are ok and we are even more confident that he will do well in the next race at Circuito de Navarra on September 3-4!"
We would like to thank everyone who supports Mikey: Shawn Knoche, Roadway Traffic Control, Williams Custom Painting, Fondu, San Marcos Iron Doors, Texas Motorcycle Academy, Harris Hill Flattrackers, Moto Liberty, Paul Stamper, and Niemi Fine Art.