RED BULL KTM TEAMMATES SHARE PODIUM HONORS AT TEXAS HALF-MILE
KODY KOPP EDGES OUT TEAMMATE MAX WHALE TO CLAIM SECOND IN AFT SINGLES CLASS
Red Bull KTM Factory Racing – Round 2 AFT
FORT WORTH, Texas – Following 1-2 finishes at the opening round, Red Bull KTM Factory Racing teammates Kody Kopp and Max Whale once again shared podium honors at Round 2 of the American Flat Track Championship, delivering strong 2-3 results at the Texas Half-Mile.
Australian native Max Whale came out swinging from the start as he powered his KTM 450 SX-F FACTORY EDITION to the front in Semi 2. Sweeping all eight laps in dominant fashion, Whale secured pole position for the AFT Singles Main Event. Kopp also had a strong performance in Semi 1, where he raced in third from start to finish to secure a second-row start for the main.
In the Main Event, Whale once again asserted himself at the front of the pack with a second-place start, while Kopp worked his way into fifth and battled just outside podium contention early on. A red flag came out to re-set the field after a downed rider and this time it was Kopp who established a good jump off the re-start. Overtaking Whale for second, the 17-year-old chased down the race leader and the Red Bull KTM duo held on the pressure late into the race. Despite being within striking distance of the win, Kopp made the decision to play it safe and bring home a second-place finish, crossing the line only 0.123 seconds behind the leader.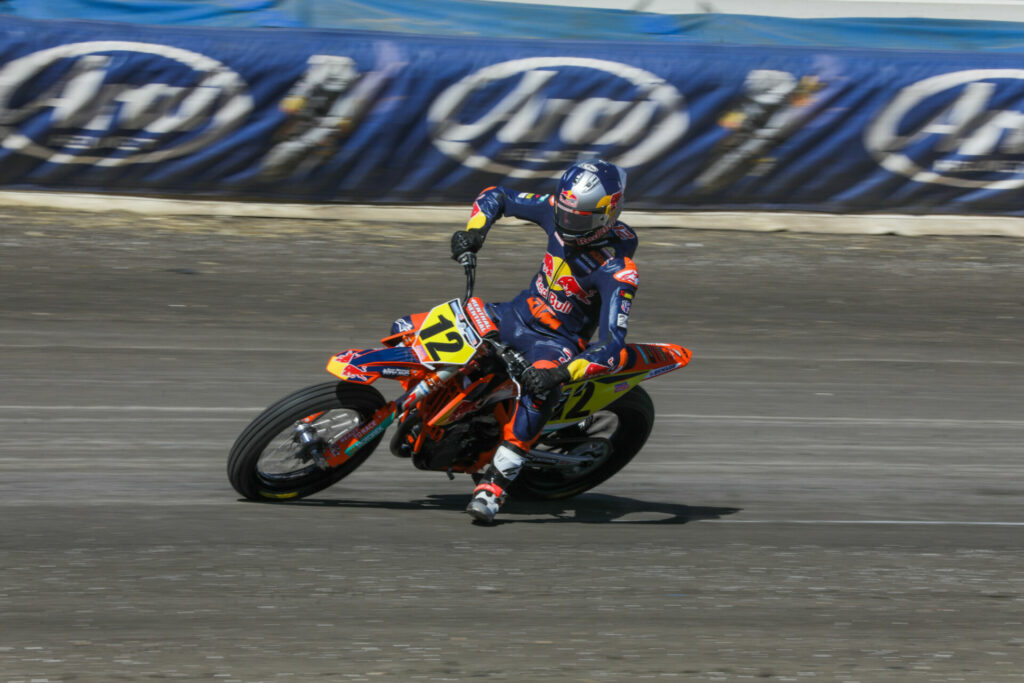 Kody Kopp: "Texas was a very big weekend for me, I learned a lot and felt like I made a lot of progress throughout the day. I qualified 11th and then to come out with second was a win in itself. We changed a decent amount of stuff and it all came together in the Main Event. We narrowly missed a collision on the back straightaway and that allowed me to keep fighting through the pack. I got a killer re-start after the red flag and was up to second but just couldn't make the move for the lead. I knew I had the speed and the bike to do it but it was such a sketchy track that if I went for it, I didn't think I was going to finish on two wheels. We stuck it out and got some good points with second for a 1-2 to start the season."
Whale, charging hard, finished another 0.210 seconds back for third.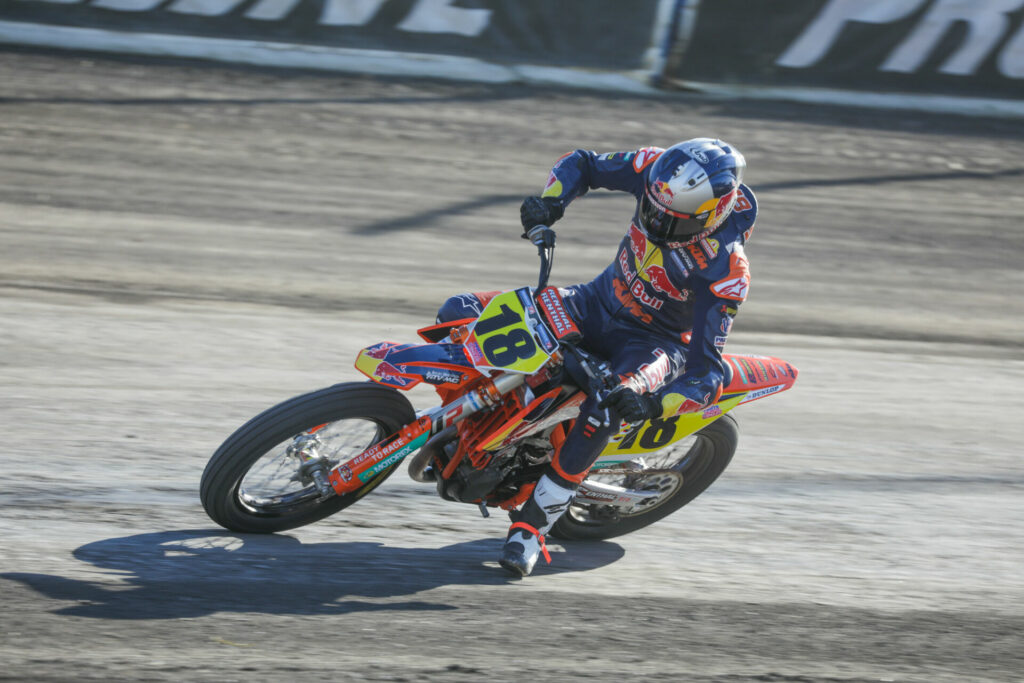 Max Whale: "Texas was good, it went well for me personally and another double-podium for the team, which is great! I felt awesome all day but the track was hard to pass on and I struggled with that. All-in-all, it was a good weekend and I'm looking forward to the next one."
Next Race: I-70 Half-Mile – Odessa, Missouri – April 23, 2021
Round 2 Results – Texas Half-Mile
 
AFT Singles Main Event 
1. Morgen Mischler, Honda
2. Kody Kopp, Red Bull KTM Factory Racing
3. Max Whale, Red Bull KTM Factory Racing
OTHER
7. Hunter Bauer, KTM
9. Ryan Wells, KTM
14. Logan McGrane, KTM
17. Tanner Dean, KTM
AFT Singles Point Standings (After Round 2)
1. Kody Kopp, 45 points
2. Morgen Mischler, 39
3. Max Whale, 37
OTHER
10. Ryan Wells, 15
12. Hunter Bauer, 12
14. Tanner Dean, 11
More, from a press release issued by Indian Motorcycle:
INDIAN MOTORCYCLE RACING WINS TEXAS HALF-MILE WITH DOMINANT PERFORMANCE BY JARED MEES
Reigning SuperTwins Champion Secures First Win of 2022 Season, Jumps to Second on Leaderboard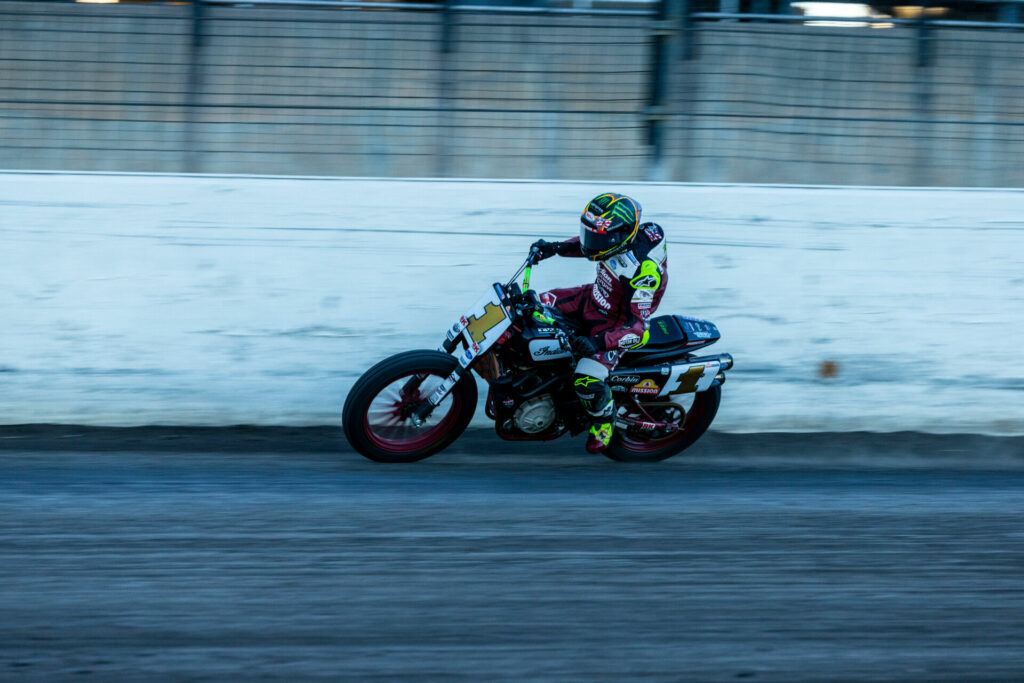 Minneapolis, MN. (March 21, 2022) – Indian Motorcycle Racing, presented by Progressive Motorcycle Insurance, secured its second consecutive win of the 2022 American Flat Track season following a dominant performance by reigning SuperTwins Champion Jared Mees. Mees' first win of the season places him in second on the championship leaderboard, just one point behind fellow Indian Motorcycle Wrecking Crew rider Briar Bauman.
Following a fifth-place finish at the Volusia Half-Mile season opener, Mees, the defending champion, was seeking redemption at the Texas Half-Mile. After winning his semi and the #2Fast2Tasty Challenge, Mees demonstrated his racing prowess during the Main event. While JD Beach jumped out to an early lead in the Main, it was Mees who took control after just two laps. He quickly pulled away from the rest of the field, riding unchallenged the remainder of the 32-lap racing, to ultimately capture his first win of the 2022 season.
"This was a classic Jared Mees, bounce-back performance. After missing the podium last round, Mees answered with an impressive round that reminded everyone why he's the No. 1 rider," said Gary Gray, Vice President Racing, Service & Technology for Indian Motorcycle. "Though it's early in the season, this was an important win for Jared as he looks to stay out front and at the top of the leaderboard throughout the entire season."
In 2021, Mees demonstrated one of his finest performances of his career. After a mid-season knee surgery cost him critical points, Mees went on a historic run to earn his seventh career championship – securing nine consecutive podiums and winning five of the last seven races of the season. The strong finish edged him over fellow Wrecking Crew rider Briar Bauman and got Mees one championship closer to his career goal to meet Scottie Parker's record of nine championships.
The 2022 American Flat Track season continues April 23 for the I-70 Half-Mile at I-70 Motorsports Park in Odessa, MO.
Sponsors for Indian Motorcycle Racing's American Flat Track efforts include Progressive Insurance, S&S®, Indian Motorcycle Oil, Bell Helmets, Drag Specialties and Parts Unlimited.
For more information on Indian Motorcycle Racing, visit IndianMotorcycle.com and follow along on Facebook, Twitter and Instagram.
ABOUT INDIAN MOTORCYCLE®
Indian Motorcycle is America's First Motorcycle Company®. Founded in 1901, Indian Motorcycle has won the hearts of motorcyclists around the world and earned distinction as one of America's most legendary and iconic brands through unrivaled racing dominance, engineering prowess and countless innovations and industry firsts. Today that heritage and passion is reignited under new brand stewardship. To learn more, please visit www.indianmotorcycle.com.