MAX WHALE RISES WITH RED BULL KTM FACTORY RACING FOR SENOIA SHORT TRACK VICTORY
Round 3 – American Flat Track Championship
SENOIA, Georgia – Red Bull KTM Factory Racing's Max Whale captured his first AFT Singles victory of the 2023 American Flat Track Championship season in Saturday night's Senoia Short Track, as defending champion and teammate Kody Kopp finished in fifth position to maintain his points lead following three rounds.
After winning the opening Heat of the round and then going on to earn P1 in the Dash-for-Cash, 21-year-old Whale controlled proceedings in the 22-lap Main Event onboard his KTM 450 SX-F with a wire-to-wire performance. His winning margin was eventually 1.483s, which sees him climb to third in the standings.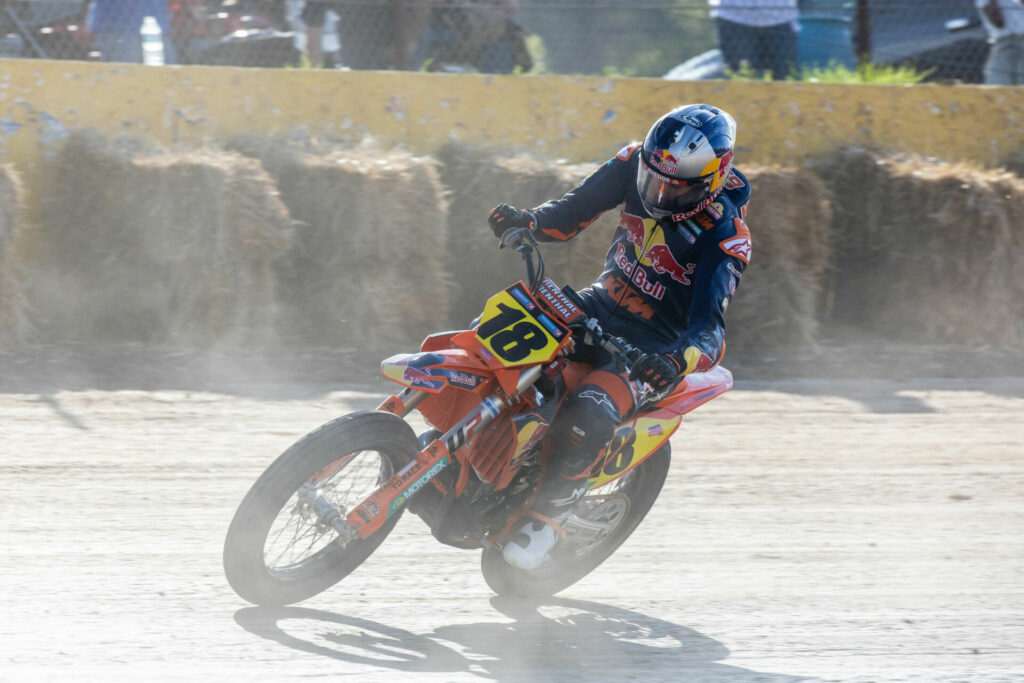 Max Whale: "What a day! We started off on the wrong foot with P7 in qualifying and we had to work hard from there. But, I worked my way through the field to win my Heat, then won the Dash-for-Cash as well. In the Main Event, I rode an awesome race and my 450 SX-F was working so good. I didn't put a foot wrong, really, was able to check out by 1.4 seconds, which doesn't seem like a lot, but it is in the slick conditions like this. I'm so pumped to get the win, it's been a long time for me and a lot of hard work in between – I'm so happy and can't thank my Red Bull KTM team enough!"
As for current AFT Singles number one Kopp, after sweeping Daytona's opening double-header rounds, he finished fourth in Heat 2 and then was in podium contention during the Main Event. It was a determined ride for the 18-year-old, however, he took the checkered flag in fifth place and continues to hold the series lead with a five-point advantage.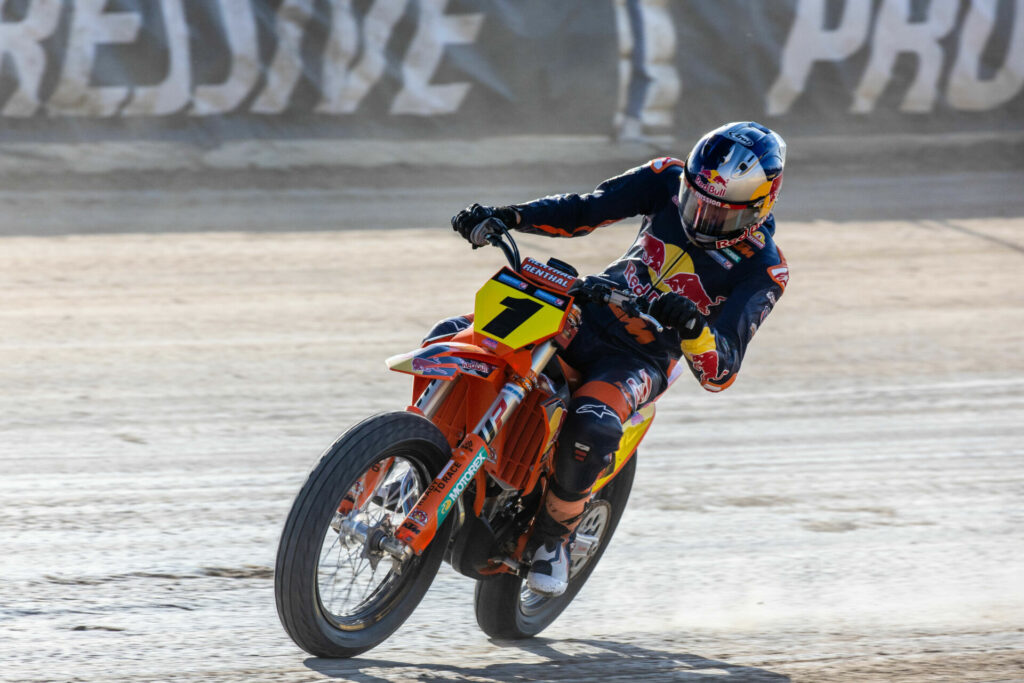 Kody Kopp: "I felt like I faced a little more adversity than I probably have in six or seven rounds, including last year. It's hard to push through that when everybody's so competitive. We ended up P5 in the Main Event, so there are positives and negatives to take from Senoia – a lot of positives in the end. In practice, I was 17th, so it was pretty gnarly to end up where we did with a top-five result. We've gotta be stronger to start on tracks like this that are new to everybody, so we will learn from that. Thanks to the Red Bull KTM team, we still have the points lead going into Arizona next weekend."
Next Race: Arizona Super TT – Chandler, Arizona – April 1, 2023
Round 3 Results – Senoia Short Track
AFT Singles Main Event
1. Max Whale, Red Bull KTM Factory Racing
2. James Ott, Husqvarna
3. Dalton Gauthier, KTM
OTHER KTM
5. Kody Kopp, Red Bull KTM Factory Racing
9. Shayna Texter-Bauman, KTM
14. Tanner Dean, KTM
17. Travis Petton IV, KTM
19. Justin Jones, KTM
2023 AFT Singles Point Standings
1. Kody Kopp, 65 points
2. Dalton Gauthier, 60
3. Max Whale, 53
OTHER KTM
11. Justin Jones, 24
12. Logan Eisenhard, 22
16. Travis Petton IV, 12
17. Shayna Texter-Bauman, 11
18. Hunter Bauer, 11
19. Tanner Dean, 9
23. Clarke Morian V, 5
More, from a press release issued by Indian Motorcycle:
INDIAN MOTORCYCLE RACING AND JARED MEES SECURE FIRST WIN OF 2023 SEASON AT SENOIA SHORT TRACK
Mees Edges Out Competition for Win Aboard Indian FTR750, Jumps to Second in Season Standings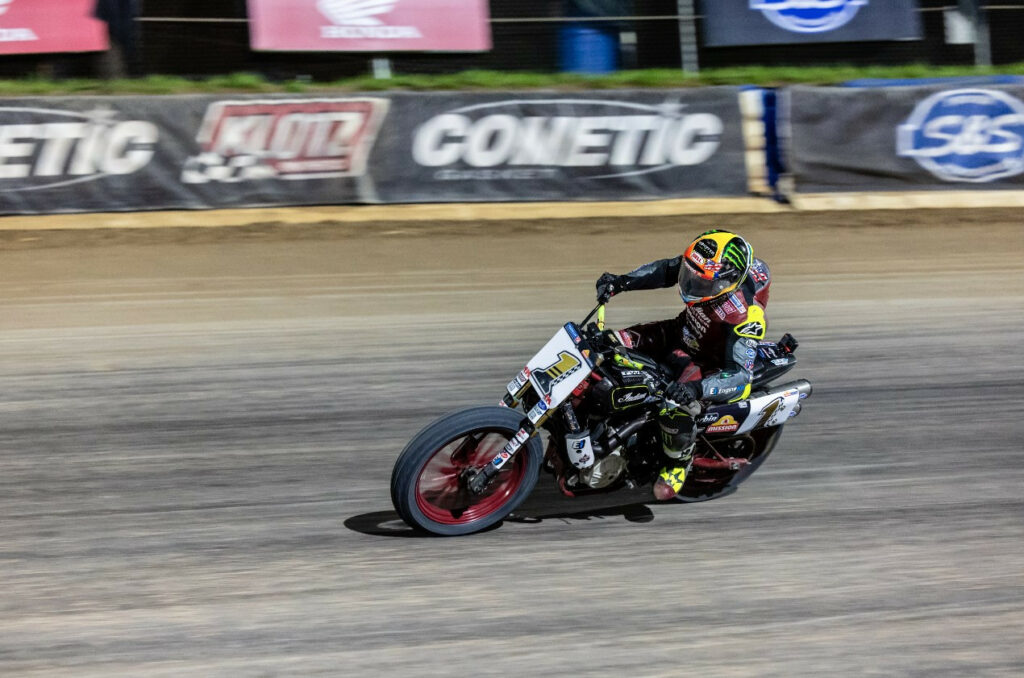 Minneapolis, MN – Indian Motorcycle Racing, presented by Progressive Motorcycle Insurance, secured its first win of the 2023 American Flat Tracksm season following a nail-biting performance by reigning SuperTwins Champion and Indian Motorcycle Wrecking Crew rider Jared Mees. Piloting the championship winning Indian FTR750, Mees and Dallas Daniels went head-to-head at the Senoia Short Track, as the exciting Main event ended with Mees passing the finish line mere .174 seconds before Daniels.
Having missed the podium at the season-opening doubleheader in Daytona, Mees arrived at Senoia Raceway seeking redemption. After securing the top qualifying position, Mees took advantage of his prime starting position and demonstrated his racing prowess during the Main event. Though he relinquished the lead to Daniels around the halfway point, the bar-to-bar battled continued into the final lap, where Mees ultimately took control and edged out Daniels and captured his first win of the 2023 season.
"This was the bounce-back performance Jared needed, and we all expected," said Gary Gray, Vice President Racing, Service & Technology for Indian Motorcycle. "Though it's early in the season, Jared came into the race with a must-win mentality, as he fully understands the importance of keeping the points close as he competes for his ninth career championship."
Through three races, Mees' win and two fourth place finishes rank him 14 points behind Daniels, who sits atop the season leaderboard. As a highly decorated veteran flat track racer, having won four of the last six SuperTwins championships aboard the Indian FTR750, Mees is now just one shy from his personal career goal to reach Scottie Parker's record of nine championships. Mees has more than 60 career wins and multiple records.
The 2023 American Flat Track season continues April 1 for the Arizona Super TT at Wild Horse Pass Motorsports Park in Chandler, AZ. For more information on Indian Motorcycle Racing, visit IndianMotorcycle.com and follow along on Facebook, Twitter and Instagram.
ABOUT INDIAN MOTORCYCLE®
Indian Motorcycle Company is America's First Motorcycle Company®. Founded in 1901, Indian Motorcycle has won the hearts of motorcyclists around the world and earned distinction as one of America's most legendary and iconic brands through unrivaled racing dominance, engineering prowess and countless innovations and industry firsts. Today that heritage and passion is reignited under new brand stewardship. To learn more, please visit www.indianmotorcycle.com.
INDIAN and INDIAN MOTORCYCLE are registered trademarks of Indian Motorcycle International, LLC.  Always wear a helmet, protective clothing and eyewear and insist your passenger does the same.  Ride within the limits of the law and your own abilities.  Read, understand and follow your owner's manual. Never ride under the influence of drugs or alcohol.