RED BULL KTM TEAMMATES STORM THE AFT SINGLES PODIUM AT PORT ROYAL HALF-MILE
KOPP TAKES THE CENTER SPOT FOR THE FOURTH-STRAIGHT ROUND; WHALE IN THIRD
 
PORT ROYAL, Pa. – With AFT Singles points leader Kody Kopp at the helm, the Red Bull KTM Factory Racing team celebrated a double-podium finish at the Port Royal Half-Mile – their fourth of the season – with teammate Max Whale rounding out the third step of the box. Notching his fourth-straight win in the 2022 American Flat Track Championship, Kopp further boosted his points lead as the series surpassed its halfway point with Round 9 of 17 in Port Royal, Pennsylvania.
Kopp qualified second, just 0.027 of a second behind the first-place qualifier. Starting on pole for Semi 2, he launched off the start and commanded the race, leading all eight laps aboard his KTM 450 SX-F. Also grabbing the Dallas Lamb Challenge win after leading all laps in the hot and humid conditions, Kopp headed into the AFT Singles Main Event with a confident start position. He got off to an incredible start out front and his stamina and skills did not waiver as he led all 21 laps en route to securing his sixth victory in the first nine rounds of racing.
Kody Kopp: "We were able to keep the winning streak alive, making it four-in-a-row, which felt awesome. The track was really good to start the day and it kind of deteriorated as the day went on, which made it a challenge for not only myself but every rider in the paddock. It was just who could adjust the best to the conditions we were given. All-in-all, we found a really good setup on the bike that I was happy with and I could push comfortably, and we were able to go green-flag-to-checkers and win our sixth main event of the season."
In only his second race back since knee surgery, team rider Max Whale qualified seventh aboard his KTM 450 SX-F. Starting from the front row in Semi 1, he jumped into second off the start and he diced back-and-forth inside the top-three for the rest of the race. Overtaking second a couple laps before the finish, he held strong in the runner-up position. Lining up on the front row in the AFT Singles Main Event, Whale grabbed third off the start and he held firm in the spot until the checkered flag waved, taking his fifth podium of the season.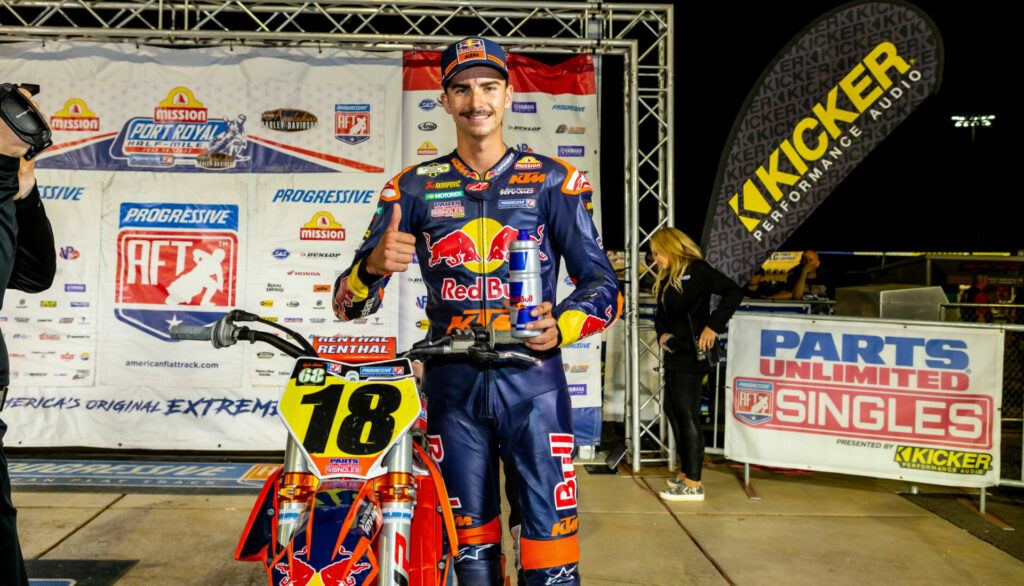 Max Whale: "The day started out pretty tough, I was pretty far back in qualifying but it seemed like every session I felt better and better on-track. It still feels kind of fresh – it's been a long month-and-a-half trying to get back to 100 percent. In the semi, I had a front row start, which was huge for me. I had a good start and then struggled a little bit early on before I found a rhythm. In the main, my line went away mid-race and I really struggled with trying to hang onto Dalton and Kody but all-in-all, it felt so good to be running back up front. Still on the mend, but feeling way better every day."
With eight podium finishes this year, Kopp extends his lead in the AFT Singles Championship standings to 55 points, while teammate Whale moves up to fifth. In addition to wins, Kopp has led 122 laps this season, which is more than double that of his nearest competitor.
Next Race: Peoria TT – Peoria, Illinois – July 30, 2022
Round 9 Results – Port Royal Half-Mile
 
AFT Singles Main Event
1. Kody Kopp, Red Bull KTM Factory Racing
2. Dalton Gauthier, Honda
3. Max Whale, Red Bull KTM Factory Racing
OTHER
8. James Ott, KTM
10. Hunter Bauer, KTM
11. Travis Petton IV, KTM
15. Damon Ream, KTM
AFT Singles Point Standings (After Round 9)
1. Kody Kopp, 205 points
2. Morgen Mischler, 150
3. Dalton Gauthier, 134
OTHER
5. Max Whale, 119
8. James Ott, 75
10. Hunter Bauer, 67
14. Travis Petton IV, 49
More, from a press release issued by Indian Motorcycle:
INDIAN MOTORCYCLE RACING CRUSHES THE COMPETITION AT THE PORT ROYAL HALF-MILE WITH BAUMAN, VANDERKOOI AND MEES SWEEPING THE PODIUM FOR THE SECOND CONSECTUVE WEEKEND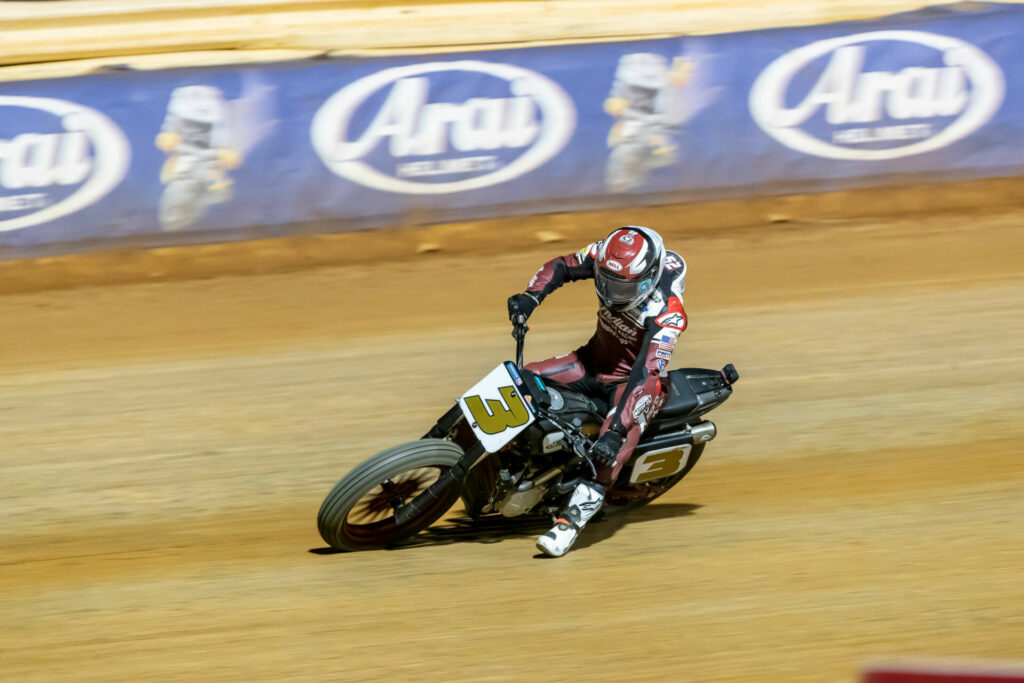 Win Marks Briar Bauman's Third of the Season and Closes Championship Chase to 8-points
Jarod Vanderkooi Continues to Impress with Back-to-Back Second-Place Finishes
Minneapolis, MN. (July 18, 2022) – Indian Motorcycle Racing, presented by Progressive Motorcycle Insurance, had another outstanding night of racing at the Port Royal Half-Mile in Port Royal, Pennsylvania, with Briar Bauman riding unchallenged throughout the 26-lap Mission SuperTwins Main Event to claim his second consecutive victory.  In another FTR750 podium sweep, Bauman was joined by  privateer Jarod Vanderkooi in second and current points leader, Jared Mees, taking third.
In the main event, Bauman was swift off the starting line, getting the hole shot and an immediate lead over Mees, running close behind in second. Despite early attempts by Mees to overtake him, Bauman remained unphased, opening up a gap on Mees and the rest of the field. Bauman led wire-to-wire, ultimately taking the checkered flag for his third win of the season. Meanwhile, Mees was entangled in a heated battle with Vanderkooi for second. With less than a minute and two-laps remaining, Vanderkooi made a bold move, taking the higher outside line to pass Mees and secure his second-place spot on the podium.
"Tonight was another incredible night of racing and a testament to the talent and grit of our riders. Considering the restrictions that have recently been imposed on the FTR750, it's all the more gratifying to sweep the podium for the second consecutive weekend," said Gary Gray, Vice President Racing, Service & Technology for Indian Motorcycle. "Briar's [Bauman] incredible will has been on display at these past two events, and as a result, he's back in the hunt as the battle for the championship tightens. It's looking to be an absolute dogfight over the remainder of the season."
Mees continues to lead the championship with 173 points, while Bauman now sits solidly in second place trailing by a mere eight points.
In addition to the incredible racing action, the night was filled with emotion for Bauman and the entire paddock, following the tragic loss of a fellow racer, Ryan Varnes, at the recent New York Short Track. Bauman paid tribute to Varnes throughout his winning night, memorializing Varnes' by donning his number 68 and including Varnes' girlfriend, Jennifer Hoshauer, with him on his victory lap.
The 2022 AFT season will continue on Saturday, July 30 at the Peoria TT in Peoria, IL.
Sponsors for Indian Motorcycle Racing's American Flat Track efforts include Progressive Insurance, S&S®, Indian Motorcycle Oil, Mission Foods, Bell Helmets, Drag Specialties and Parts Unlimited.
For more information on Indian Motorcycle Racing, visit IndianMotorcycle.com and follow along on Facebook, Twitter and Instagram.
ABOUT INDIAN MOTORCYCLE®
Indian Motorcycle is America's First Motorcycle Company®. Founded in 1901, Indian Motorcycle has won the hearts of motorcyclists around the world and earned distinction as one of America's most legendary and iconic brands through unrivaled racing dominance, engineering prowess and countless innovations and industry firsts. Today that heritage and passion is reignited under new brand stewardship. To learn more, please visit www.indianmotorcycle.com.