THREE-IN-A-ROW FOR RED BULL KTM'S KODY KOPP AT THE NEW YORK SHORT TRACK
Round 8 – American Flat Track Championship
WEEDSPORT, N.Y. – Making it three-in-a-row in AFT Singles competition, Red Bull KTM Factory Racing's Kody Kopp has further extended his points lead in the 2022 American Flat Track Championship after claiming Main Event victory No. five with a dominant performance at the Round 8 New York Short Track in Weedsport, New York.
Kopp set himself up well for the evening, claiming the second-fastest time in qualifying. Sitting pole in Semi 2, he blasted off the line aboard his KTM 450 SX-F and controlled the lead for all eight laps. The young rider then went on to sweep the Dallas Lamb Challenge, once again leading all laps of the race. Continuing to showcase his dominance throughout the evening, Kopp rocketed out of pole position to lead all 21 laps of the AFT Singles Main Event for the third-straight round.
Kody Kopp: "I'm just really feeling comfortable with my team and my bike right now. We have a winning package that I feel like we can show up to any track and do very good at, and I just have to thank my team. They've put in a lot of work this year, and it's starting to really pay off."
In his first race back since knee surgery, teammate Max Whale put in a powerful performance in the Semi and Main event, despite qualifying 14th earlier in the day. After getting off to a sixth place start in Semi 2, he took fourth at the checkers. He kept the momentum going in the main. Starting from the second row of the grid In the Main Event, Whale promptly powered his way into the top-five and held steady. Nearing the halfway point, he lost a couple positions to settle into seventh but he put on a late-race charge to go after the sixth-place spot. Re-claiming sixth right before the line, Whale secured a valiant six-place result in his first race back from injury.
Max Whale: "First weekend back since the Red Mile incident and I had a tough weekend, just really struggled at the start. It took me a while to get back into the flow of things with my knee feeling a little bit uncomfortable but I improved all day, which I'm absolutely hyped about. Sixth-place is definitely not what I wanted, but it's a good start. It's been four weeks off the bike, which is probably the longest I've been off the bike in a very long time. I rode through the week but just still not 100 percent. Hopefully before the next one, we're 100 percent and ready to fight for the win."
Kopp extends his lead in the AFT Single Championship standings, while teammate Whale sits in sixth.
Next Race: Port Royal Half-Mile – Port Royal, Pennsylvania – July 16, 2022
Round 8 Results – New York Short Track
AFT Singles Main Event (Round 8 – New York Short Track)
1. Kody Kopp, Red Bull KTM Factory Racing
2. Trevor Brunner, Yamaha
3. Hunter Bauer, KTM
OTHER
6. Max Whale, KTM
12. Travis Petton IV, KTM
13. James Ott, KTM
17. Damon Ream, KTM
AFT Singles Point Standings (After Round 8)
1. Kody Kopp, 180 points
2. Morgen Mischler, 138
3. Dalton Gauthier, 114
OTHER
6. Max Whale, 102
9. James Ott, 64
10. Hunter Bauer, 58
14. Travis Petton IV, 41
20. Ryan Wells, 18
22. Logan McGrane, 13
23. Damon Ream, 13
24. Tanner Dean, 11
More, from a press release issued by Indian Motorcycle:
INDIAN MOTORCYCLE RACING DOMINATES NEW YORK SHORT TRACK, SWEEPS PODIUM WITH BAUMAN, VANDERKOOI AND MEES
Win Ties Briar Bauman for Second in Championship Points Chase
Jarod Vanderkooi Scores Second Podium Finish of Season
Reigning Champion Jared Mees Maintains Top Position on SuperTwins Leaderboard Following Third-Place  Finish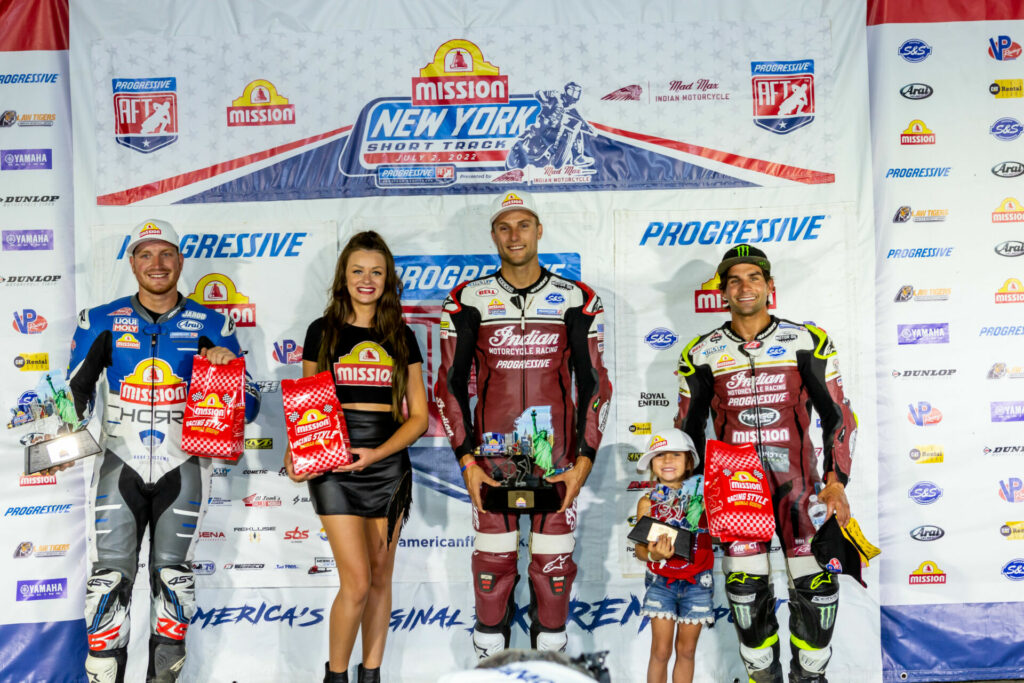 Minneapolis, MN. (July 5, 2022) – The 2022 American Flat Track (AFT) season returned to action this past Saturday for the New York Short Track, where Indian Motorcycle Racing, presented by Progressive Motorcycle Insurance, swept the podium. Indian Motorcycle Wrecking Crew rider Briar Bauman triumphed after a hard-fought battle with fellow Indian Motorcycle Privateer Jarod Vanderkooi, as Bauman's second win of the season propelled him into a tie for second on the SuperTwins season leaderboard. Rounding out the all-FTR750 podium sweep in third was reigning Indian Motorcycle champion and current points leader Jared Mees.
When the 10-second card dropped on the main event, Mees launched off the line to a second-place start and quickly began challenging for the lead. Meanwhile, Bauman started the race in fifth place from the second line. On lap two, Mees took the high line to sneak into the front position and swiftly began pulling away from the field. Unfortunately, a big mistake a few laps later saw Mees almost go into the fence, which allowed the competition to close in on his rear wheel. Vanderkooi took advantage, taking over the lead at the six-minute mark. Despite a slow start, Bauman was relentless in his pursuit to the front of the pack. In the final four minutes, Bauman crept to the inside of his teammate to take over second and tuck in behind Vanderkooi. Throughout the late stages of the race, an intense game of cat and mouse ensued as Bauman and Vanderkooi diced back and forth and meticulously maneuvered their way around lappers. Bauman continued to ride masterfully, sliding to the inside of Vanderkooi to take over the lead with only 30-seconds plus two-laps remaining, ultimately taking the checkered flag and the win. This victory marks the former two-time champion's second of the season.
"This is a huge win for Briar [Bauman]. He's been struggling a bit over the past few rounds so it was great to see him fight through the pack tonight. This victory also puts him right back in the thick of the championship chase so hopefully he can continue to carry this momentum through the second half of the season," said Gary Gray, Vice President Racing, Service & Technology for Indian Motorcycle. "We could not be more proud of our team and all the Indian Motorcycle riders to come away with a podium sweep. I'm very impressed with Jarod's [Vanderkooi] effort. He was so close to pulling out the win."
Mees continues to lead the championship chase with a 16-point advantage, while Bauman's win moved him up one spot in the standings, now tied for second overall with 140 points.
The 2022 AFT season will continue on Saturday, July 16, at the Peoria TT in Peoria, IL.
Sponsors for Indian Motorcycle Racing's American Flat Track efforts include Progressive Insurance, S&S®, Indian Motorcycle Oil, Mission Foods, Bell Helmets, Drag Specialties and Parts Unlimited.
For more information on Indian Motorcycle Racing, visit IndianMotorcycle.com and follow along on Facebook, Twitter and Instagram.
ABOUT INDIAN MOTORCYCLE®
Indian Motorcycle is America's First Motorcycle Company®. Founded in 1901, Indian Motorcycle has won the hearts of motorcyclists around the world and earned distinction as one of America's most legendary and iconic brands through unrivaled racing dominance, engineering prowess and countless innovations and industry firsts. Today that heritage and passion is reignited under new brand stewardship. To learn more, please visit www.indianmotorcycle.com.